It wasn't long ago that most people thought of digital nomads working from laptops on beaches in some of the world's most beautiful but affordable countries. While digital nomads still love beaches in Southeast Asia and South America, the world is so much bigger!
Not many people think of Switzerland, with its chilly winters and high cost of living, as a top nomad destination. But the mountainous regions of central, northern, and eastern Europe are slowly but surely attracting an increasing number of digital nomads.
Europe's mountainous regions are beautiful, ideal for skiing in winter and hiking and swimming in summer. They are home to farms and wineries, plus a farm-to-table ethos when it comes to food. The region is also home to an increasing number of sanctuaries for digital nomads.
We have already talked about the digital nomad hub that we are creating in Lenk, Switzerland. There is also the community in Bansko, Bulgaria, and the large annual Bansko Nomad Fest, also Semkovo and the new community for digital nomads there that is attracting investors. We have also talked about the Burgas Wellness Coliving Experience recently. A lot is going on in this part of the world.
Frilingue Coliving, which has coliving and coworking spaces in Canton Glarus and Canton Valais in the Swiss Alps, Montenegro, and in Bulgaria, is now offering an exciting addition to the European scene. Not only do they offer hostel-style coliving and coworking spaces with support programs to help you make the most of where you are staying, but they have just held the first Nomad Fest Switzerland.
Read on to learn more about the festival.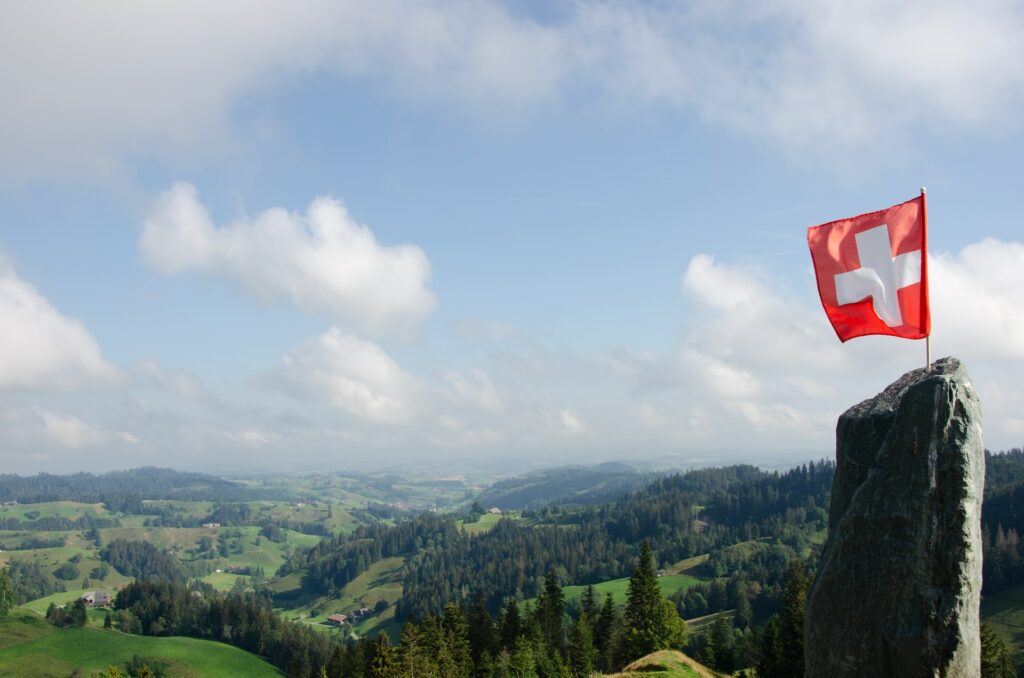 Nomad Fest Switzerland
The festival, which took place between 20-27 August 2023, was born thanks to the vision and determination of Philipp and Stefan from Coliving Frilingue.
It was primarily inspired by their experience at the Bansko Nomad Fest, which was first held in 2020. The pair decided to create a festival that reflects the unique charm and beauty of their own coliving spaces in the Swiss Alps.
The location
The festival was held along the Grand St Bernard Pass, in the picturesque village of Liddes. Perched high in the Swiss Alps, it is just a 30-minute drive from the Italian border. The festival's primary venue, Relais de Dranse, is nestled in a valley surrounded by majestic mountains.
This region is extremely popular with outdoor enthusiasts thanks to its extensive network of hiking trails that transform into skiing trails in the winter, and a spectacular lake in a nearby village known as "Little Canada." It is connected with 14 waterfalls known as Les Gorges du Durnand.
The festival
The festival aimed to unite digital nomads from across the globe in a week-long celebration that would provide business inspiration, but also foster deep connections and community building.
While the festival felt diverse, there were only about 70 attendees. This was a deliberate choice to ensure that participants had a better chance to form connections over the course of the week.
The program was a blend of keynote sessions, workshops, and unconference sessions led by participants, plus communal meals, morning yoga sessions, and afternoon adventures to nearby attractions. The festival ticket included a Saint Bernard Pass, which meant that attendees could use the public transport system to access the surrounding area.
While the schedule feels packed, because it is spread over a full seven days there was also lots of downtime for attendees to organize their own fun and really get to know the region (plus squeeze in some necessary working hours).
Keynote speakers
Piera Mattioli works on human-centered design, and she talked about curiosity and creativity and how to create new and meaningful ways of living and working. She talked about how digital nomadism is fueling broader social innovation.
Haz Memon talked in a similar vein about how companies can embrace a remote working culture. He is the founder of Escape, a coliving and working brand with spaces in Crete and Switzerland.
There was also a focus on wellness within the speaker program. Journalist Ute Korinth talked about her book "Buddha Loves Rafting", and how to develop resilience and why it is the key to a healthy lifestyle. Roberto and Ivano, the pair behind Out Quarters, one of the biggest digital communities for coliving and coworking in Italy, talked about finding a work-life balance as a digital nomad.
Veronika Peterka, a health and fitness coach for nomads, talked about avoiding burnout and creating a healthy lifestyle as a digital nomad. Her expertise spans everything from nutrition to neuroscience.

Value for money
The fest has a variety of options for those wishing to participate. You could stay for 2 weeks in a shared hostel-style room for just €500 or get a private room for €800 for the same period.
The price included accommodation, participation in all conference sessions and activities, all excursions, and full access to coworking spaces. It also included three meals a day, breakfast, a light lunch, and dinner, though guests were expected to help with the preparation of some meals.
The ticket also included a Saint Bernard Pass for the period of the stay, which allows access to all public transport in the region.
This is a pretty affordable price tag for almost two weeks in the region and we hope to see similar prices available next year.
Digital nomad conferences
A huge number of digital nomad conferences are emerging in Europe to build and strengthen the community of traveling remote workers. Nomad Fest Switzerland is certainly one to add to the calendar. But it is only one of several that we are excited about.
The Nomad World Fest is due to take place in Albufeira, Portugal from 9-15 October 2023. It promises keynotes from serial entrepreneur Dave Williams, the co-founder of NOMADX, and Kate Shipman, the founder of the Family Workation. All this while enjoying the beaches of the Algarve.
Coworking Europe 2023 is set to take place in Porto from 28-29 November. And while it is a much shorter conference, it is sponsored by many of the big names in the digital nomad sphere including Instant Offices, Shared Access, Social Workplaces, and the national coworking organizations in Spain, Switzerland, Italy, Ireland, the Netherlands, Germany, Canada, Belgium, the United Kingdom, and more. This promises to be an excellent networking event.
The repeople Conference, set to take place in the Canary Islands in November, is another big conference that seems to have everyone on board! It is a big event with 74 speakers and 35 sessions and panels.
Nomad Island Fest is due to take place on Madeira Island in December 2023. It promises to be a productive co-creating event for entrepreneurs looking to break their ideas on an international market while living the life of a digital nomad.
Of course, we are also looking forward to the next edition of Bankso Nomad Fest, officially scheduled for 23-30 June 2024.
Are you planning to attend any of these conferences? Do you have more conferences/events to suggest? Let us know!