For digital nomads who move about from one location to another in quest of, at the very least, a temporary change of culture, perspective, and way of life, coworking spaces are a must. Because digital nomads still need to work despite the need for change. 
Additionally, coworking spaces can provide all the tools necessary for them to operate efficiently, like high-speed wifi and a designated area where everyone is working toward the same goals. You, as a digital nomad, will feel the same motivation when everyone around you is driven to give their best effort at work.
This week, we'll discuss the finest coworking spaces in Bucharest, a city that's growing in popularity among digital nomads because of its closeness to other top tourist locations in Europe as well as the fact that it's still a reasonably priced place to visit. 
There are several excellent coworking spaces in Bucharest where you may meet other digital workers and get the inspiration you need to work your hardest. In actuality, it is through the people of a place that you can learn the most about its culture, and that is also what coworking spaces are about.
Let's get on with our journey!
Commons Unirii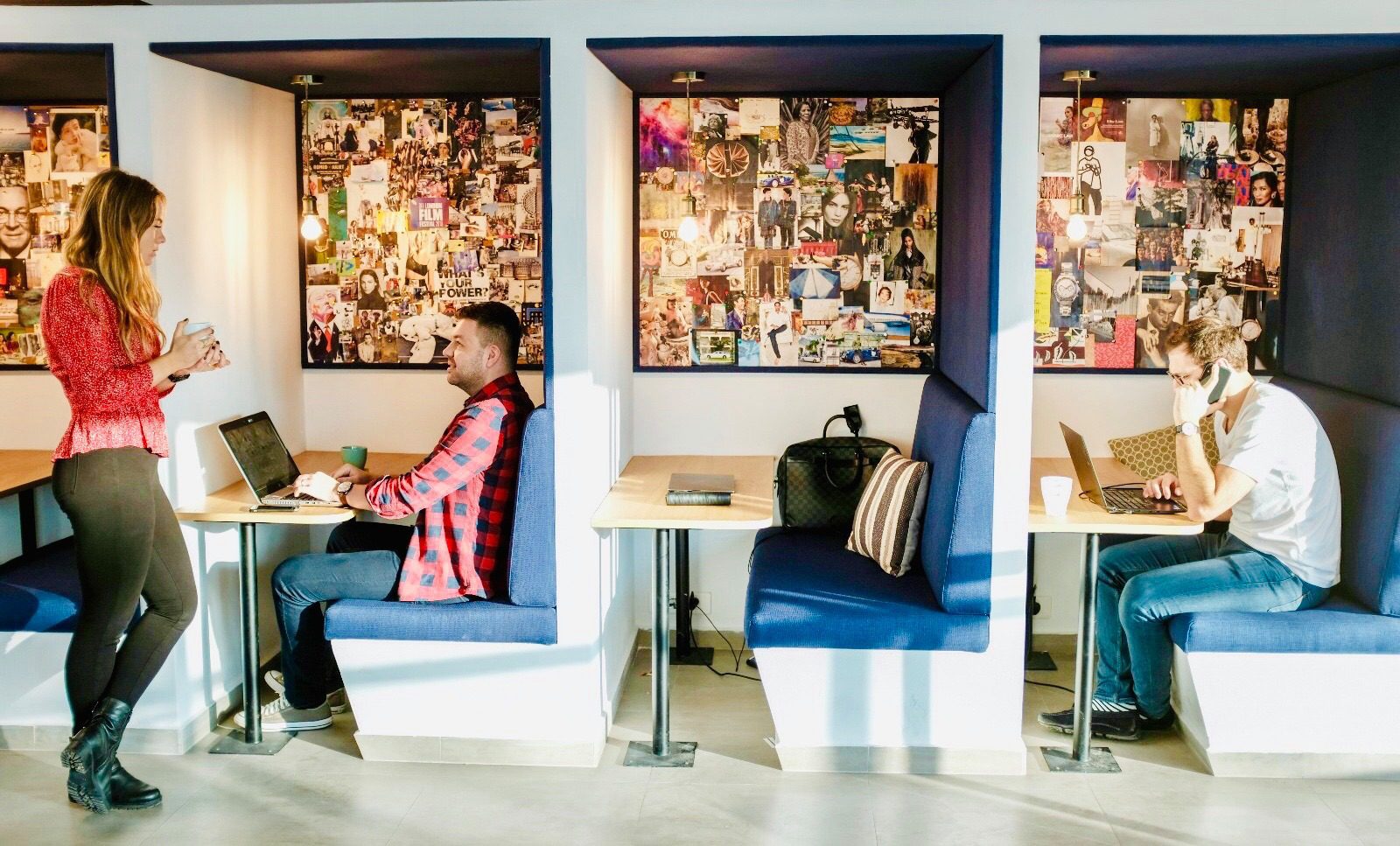 Commons Unirii is the ideal coworking space for you if you wish to work in a comfortable setting while being in the centre of the city. There are three Commons locations in Bucharest, but we suggest visiting Unirii to get a true sense of the city.
With its English vibe and high-speed wifi, Commons Unirii is a very fashionable location where you can work without interruptions. Romania actually has some of the greatest Internet in the world.
Given that you will only have to spend 18 euros per day or 190 euros per month, you will work at this location at a low cost, while still feeling sophisticated. As you work on your project, you can drink their free tea or hand-roasted South American coffee.
They offer various meeting rooms, so if you require privacy, you will always be able to enjoy it.
In addition to offering a wide variety of "extra-work" opportunities, Commons Unirii places a strong emphasis on building an authentic social and professional community. Members receive discounts from neighbourhood retailers, access to benefit platforms, mentoring from business experts, and special access to a variety of entrepreneur and start-up groups. 
Additionally, members have subsidized access to outside events sponsored by Commons in designated event locations. 
This coworking space offers everything a remote worker would require, and its facilities are spread out over three stories. In fact, Commons Unirii also offers a yoga studio where you can unwind after spending some time at one of their hot desks.
Before moving on to another coworking space in Bucharest, it's important to note that Commons Unirii is open around-the-clock, allowing you to go whenever you're feeling creative.
TechHub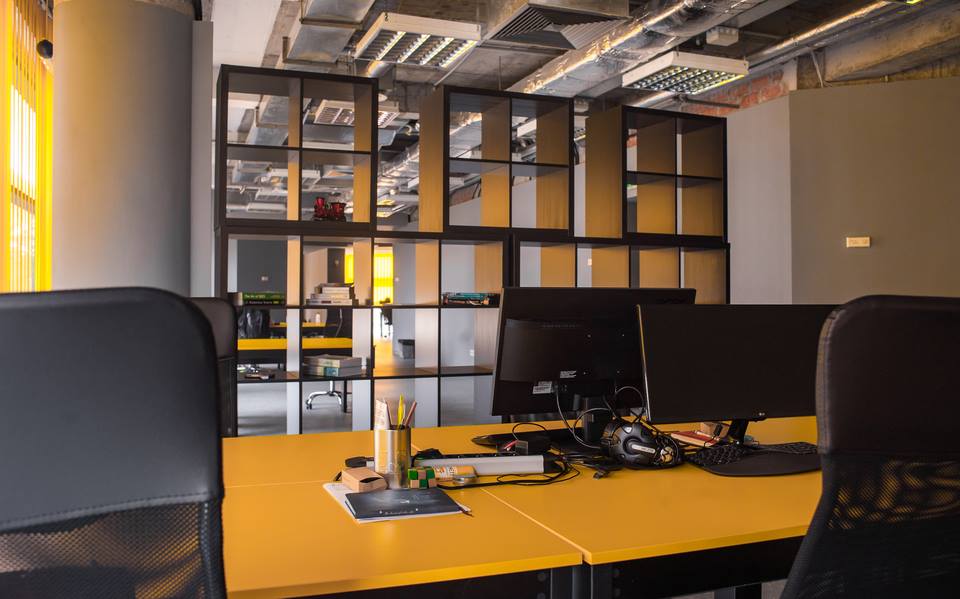 Despite not being in the city centre, TechHub is another excellent coworking space in Bucharest that we highly suggest. It is easily accessible by metro. Additionally, there are many cafés and restaurants close by, making the lunch break very enjoyable.
The common workspace at TechHub is quite adaptable because you can move your desk anywhere you wish to feel comfortable while working on your projects. Furthermore, TechHub has a fully equipped kitchen, several meeting spaces, and a lounge area.
This location has plenty of powerful technology, so you can even work with dual-monitor computers.
When we consider all the networking activities the location hosts, it is clear that the community is inclusive and diverse. Members have access to a hot desk for €105 per month, and it is available around the clock.
In addition to enormous amounts of coffee and toast you can have for free, there is rock-solid Wi-Fi to connect to, and all the office supplies you could possibly need.
Since TechHub and Google for Entrepreneurs have a global agreement, TechHub members have access to Google support and programs like mentorship, demo days, exchange programs, and Google Cloud Platform credits for qualified firms.
TheAtelier.ro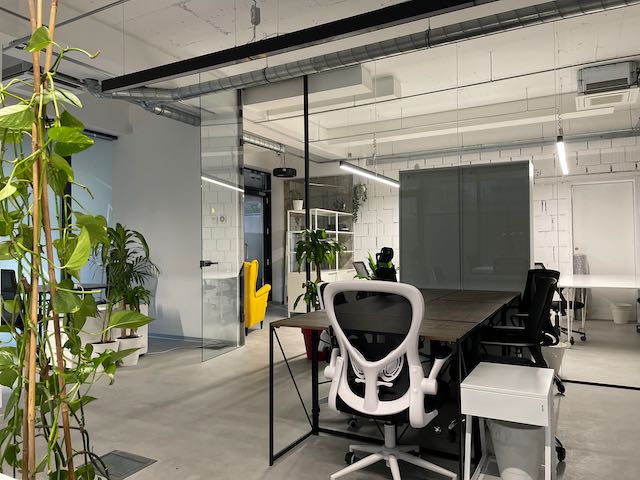 Since TheAtelier.ro is located in the heart of the old town, you can always stop for a drink after work in an area where having fun and unwinding are priorities. However, if you want just a cup of coffee, you don't even need to go anywhere, because there is a tiny cafe bar on the first floor of this coworking space.
It is crucial to note that this coworking space only accepts payment by the hour or the day, making it ideal for lone freelancers and passing tourists. Less than two euros will be required for an hour's worth of service, while just eight euros will be required for a whole day.
You'll enter an open space with many tables, outlets, and USB ports after ascending the stairs from the ground-floor cafe bar. There are several seating options available. There are also standing desks available if you prefer to stand up while working on your projects. 
The amenities available include a sizable conference room and a private meeting room for your important video calls, or simply for your moments of silence. 
We Love Digital
On the enormous Unirii Square in the heart of Bucharest, another great coworking space you can find is We Love Digital. From this location, you can go wherever you want by just using public transport. Also, there are a lot of restaurants and pubs in the area, so lunch will be spectacular. 
When it comes to what We Love Digital offers, we can say that there is a lot of space for everyone, so you don't need to worry about jostling for space. There is plenty of room for each digital nomad. Some desks even have dividers in order to provide more privacy.  There are also smaller, private offices available if you require even more seclusion. A sizable conference room is also included.
For a day, you must pay about 8 euros, while a month's worth of service costs about 70 euros.
The fact that these coworking spaces don't have the comfiest seats is a drawback, but they do include stand-up desk choices. There isn't a lot of natural light either, but the interior is nice and has pleasant lighting, so we can get by with these disadvantages.
Impact Hub
Impact Hub is a network of more than 100 coworking spaces spread over the world. There are three Impact Hub sites in Bucharest, all in popular areas, but we particularly recommend the one at Timpuri Noi Square.
There is a lot of room and all the required tools you would need to do your job perfectly. You have the option of sitting in a tastefully decorated open space with walls covered in vibrant flower designs or you can always choose to go to a more private office. 
Impact Hub attracts a diverse, worldwide clientele because it is well-known to digital nomads all over the world. Even the Impact Hub community includes a Slack channel for members and its own app, so everyone joining the Impact Hub network can stay connected to each other. 
From comfortable office chairs to standing workstations, and soft couches, there are many different sitting alternatives, so we can say that this coworking space is everything you need.
In order to use this wonderful coworking space, you will have to pay a pretty high price, compared to other coworking spaces, of around 300 euros per month. 
V7 Startup Studio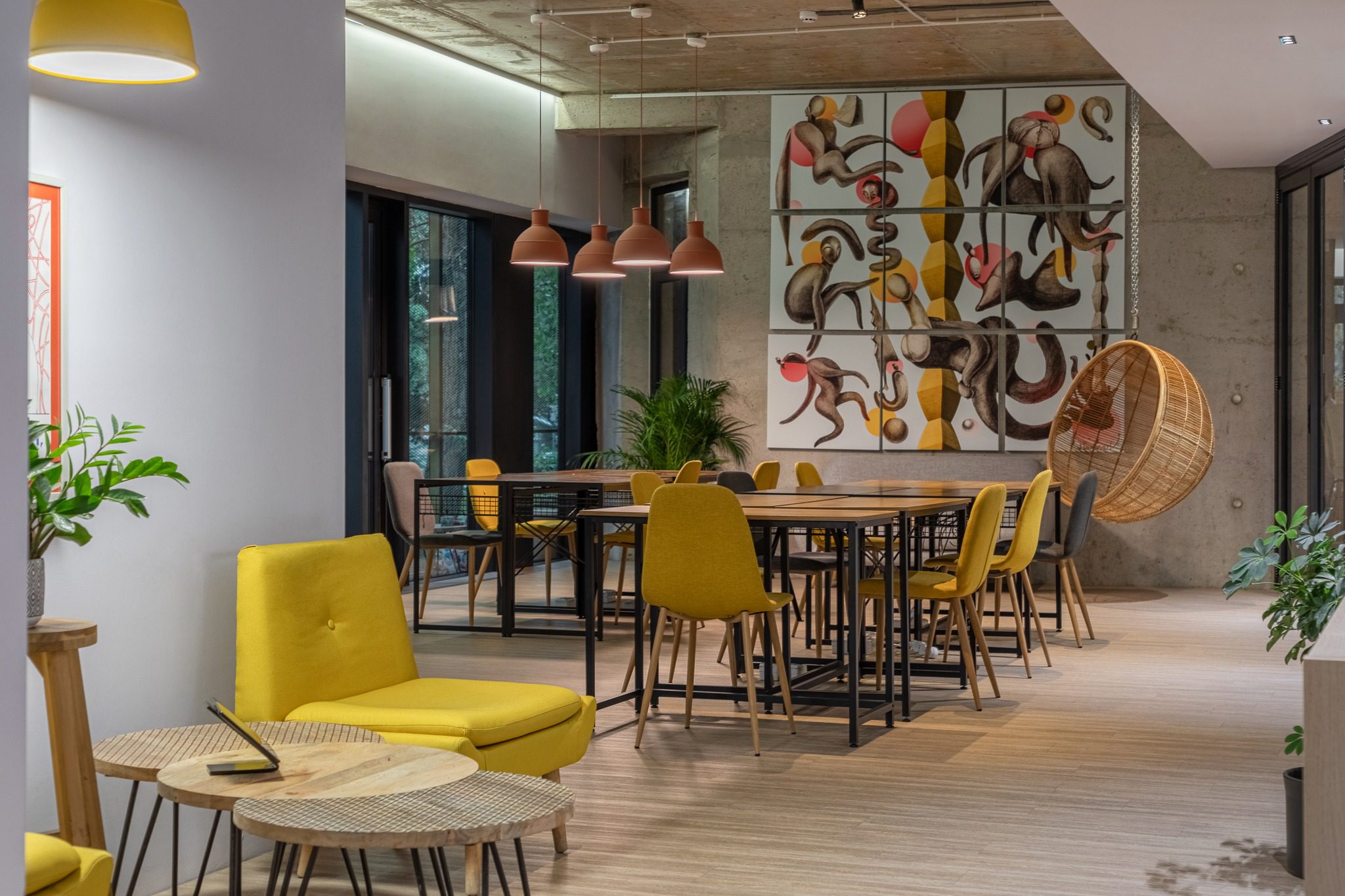 V7 Startup Studio is a coworking space with brilliant colours, stylish furniture, and a genuinely relaxed, pleasant atmosphere.  Additionally, there are several hotels and Airbnbs around this coworking space, which is located in Sector 1, one of Bucharest's nicest neighbourhoods, so you may stay very close to it. 
The National Museum of Romanian Literature is also accessible on foot if you have an interest in literature.
You'll like the delicate pastel colours and sturdy wooden beams in each of their rooms. Also, you are welcome to treat yourself to free snacks, coffee, and tea.
Working from V7 Startup Studio will make you more productive than working from home or a coffee shop because it encourages invention and gives you access to everything you need. The membership fee is around 22 euros per day or 220 euros per month.
Lucrativ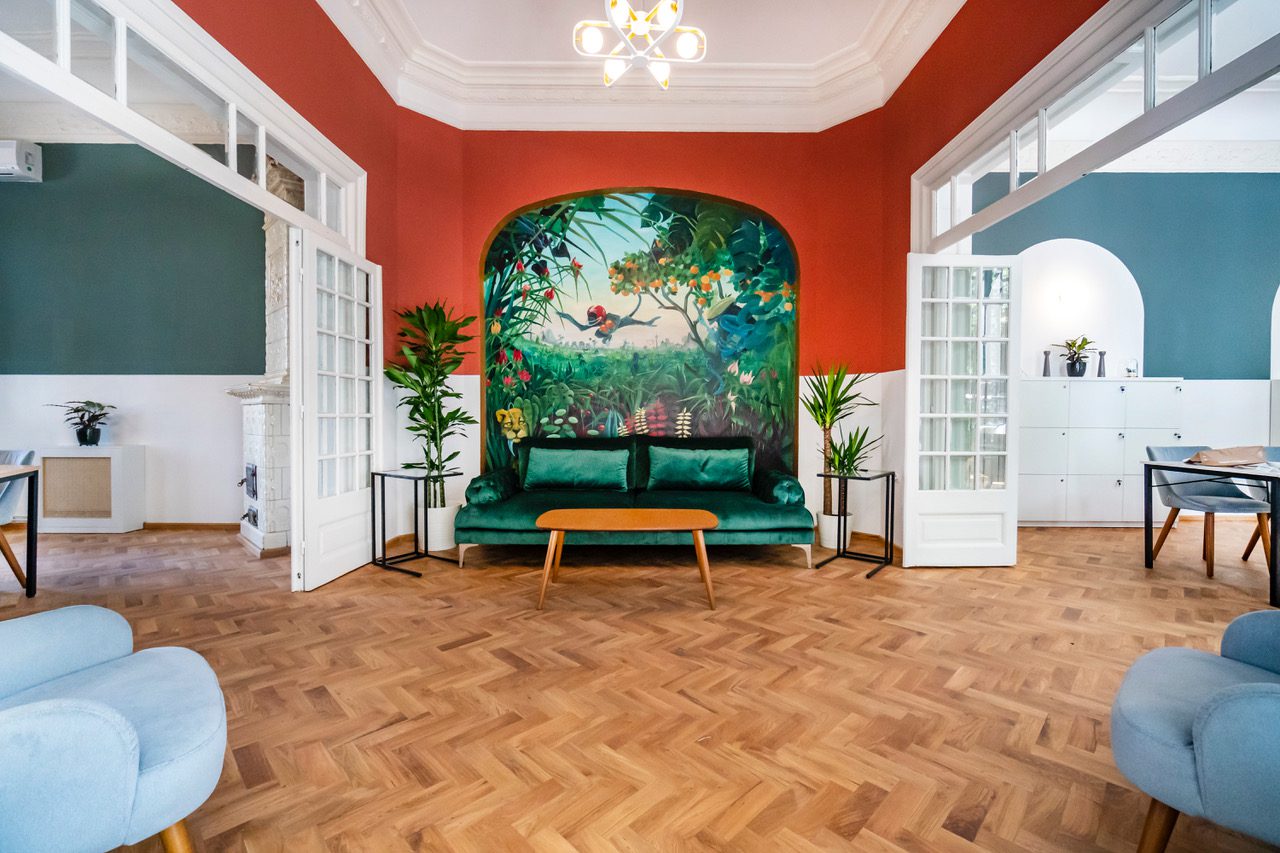 The Lucrativ coworking space, which is a particularly unique location and is located in a 100-year-old house that has been converted for coworking, will be the last location we explore in this article. Situated I n Sector 2 of Bucharest, it is near the well-known Foişorul de Foc (The Fire Tower), a listed landmark.
People looking for inspiration while sipping delicious free coffee or tea should definitely visit Lucrativ.
If you sign up as a member, you can use this stunning space whenever you want. Aside from attending Lucrativ-curated events, you may also book the space for a variety of events. Although it costs a little more than other coworking spaces in Bucharest—€65 per day and €100 per week—you will feel incredibly pampered while working here.
At this upscale coworking space, you'll find fast internet, delicious coffee, business owners and creative individuals who can forge lovely collaborations, brainstorming sessions, and fruitful discussions.
The Verdict
Especially since the COVID-19 pandemic, when everything shifted online, coworking spaces are becoming more and more well-liked. You understand the importance of this type of work as a digital nomad, and we are confident that you need a space to unleash your creativity. After reading this article, we hope you will be able to find the perfect coworking space you're looking for, while in Bucharest.
Our top pick is Commons Unirii because it is centrally placed and provides everything you need to complete your work perfectly, as you undoubtedly desire. You can choose any of the other options we've provided, and you won't regret it, because they are all excellent.
For instance, we advise you to visit the Lucrativ coworking space, the final one we've described here, at least for a day so that you may recharge while being surrounded by beauty and history. If you want to feel at home while working, you can also choose Impact Hub, a company with coworking spaces all around the world.