New York City is the city of dreams, as the song goes, "a concrete jungle where dreams are made of" But, how popular is it for digital nomads?
When people think of the world's greatest cities, they often think of London, New York City, and Tokyo – often referred to as the "Big Three." NYC has a massive economy of over 1.3 trillion USD, a global finance hub, arts hub, media hub, entertainment hub, and a city with many of the world's most excellent restaurants.
Did you know there are over 800 languages spoken in New York City? As far as cosmopolitan cities go – New York City is right at the top. It is the most linguistically diverse city worldwide.
And New York City is home to the world's most famous landmarks, including the Empire State Building, the Chrysler Building, and the Statue of Liberty.
It does not matter what you are looking for – New York City is home to it, and 65 million visitors visit the Big Apple yearly.
This article gives insight into what it is like to be a digital nomad in New York City.
The cost of living in New York City
New York City is not cheap. That is an understatement. The city is such a global and economic hub the GDP is the world's second-largest. Furthermore, the city is the USD's home, one of the world's most powerful currencies.
How does New York City compare to other cities in the west? It is on par with all of them. Plus, Asian cities like Singapore, Tokyo, and Hong Kong are as expensive as New York City.
Many digital nomads will avoid cities like New York City because it goes against the living cheap from anywhere in the world message. But, there is still a sizable remote community.
Accommodation expenses
New York City accommodation is one of the world's most expensive and one of the cities biggest pitfalls. If you're looking to be a digital nomad in the city you're going to have to spend money on accommodation. The average digital nomad living cost is almost 5,000 per month.
Moreover, the average cost of a month in a hotel is over 2,500 USD per month. That is much higher than most of the world. Also, the average Airbnb cost is 2,600 per month.
The price of a one-bedroom studio rent in New York City's center is 2,750 monthly.
Food and drink expenses
Food is expensive in New York City. The average cost of a dinner is $15 per meal, and beers aren't much cheaper at $6 per beer. Many New Yorkers love a good coffee in the morning, but you'll pay an average of $4 per coffee.
Although some of New York City's most diverse neighborhoods, including the Bronx and Brooklyn, offer reasonable food prices if you find the right restaurants.
Transport expenses
Transport in New York City is one of the fairer priced aspects. You can get around the city via yellow taxis for reasonable prices. Plus, the metro isn't overly expensive, and you can get a monthly pass for $127.
Generally speaking, transport in New York City is what you'd expect from one of the world's most influential cities, and many people even opt to cycle and walk around New York City instead.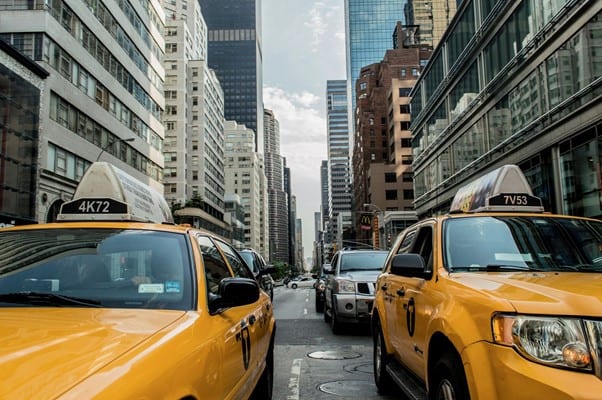 Pros of living in New York City
The city is home to everything and anything.
As a digital nomad, you'll want an eclectic range of things to do. And New York City is home to the most diverse range of things to do on the planet. There is not another city on the earth with such a powerful array of fun to have.
New York City is the home of global theatre – and the Broadway shows have millions of visitors yearly. Also, if you're looking for a city with a substantial artistic culture, you will love the enormous amount of art galleries in NYC – there are over 1,500 art galleries; it is an art lover's dream.
Plus, there are various top NYC artistic cities, including Red Hook, Navy Yard, Sunset Park, and Crown Heights.
New York City has an incredible buzz and atmosphere
New York City has one of the world's most vibrant, energetic, and inspiring cities. When you walk around New York City – notably Times Square – visitors feel like they are in the world's center. The city is crowded, loud, and overwhelming at times. Plus, you might get pushed around a bit on the subway during rush hour. But you have to love the immense city feeling.
Moreover, the city has an incredible 65 million visitors yearly, with tens of millions of international visitors on vacation. So, if you're looking for a city with an inspiring hustle and energy – New York City is the ultimate choice.
The incredible range of food
New York City is home to some of the world's most outstanding food options, and as a digital nomad, you'll never run out of dining options. There is food from every corner of the planet, and it matches the incredible cosmopolitan nature of the city.
Popular food dishes include the delicious New York City Bagel. There are various excellent spots to grab a bagel in the city, and Russ & Daughters is a 103-year-old shop that offers delicious New York Bagels that locals and visitors love.
And it wouldn't be New York City without mentioning the incredible pizza within the city. You can dollar 1 dollar pizza everywhere. Plus, the city has some of the best pizza restaurants outside of Italy. A popular chain is the 2 Bros chain, offering 99 cent pizza.
Cultural diversity
Digital nomads love cities with diverse nature, and if you're a world traveler, you'll adore the variety of culture within New York City. Over 36 percent of New York City's population is foreign-born. The growth in diversity in recent years has been tremendous, including a rise of 16 percent in foreign-born citizens since 2004.
Queens is one of the world's most diverse areas globally, with around 800 languages spoken in the area alone. Did you know that only 51 percent of New Yorkers speak English while at home, and the other 49 percent speak a different language? Moreover, there are more Chinese people in New York City than anywhere outside of Asia. Plus, in over 30 New York neighborhoods – English is no longer the first language.
If you love true cosmopolitan nature – you will love the Big Apple.
It is a city of opportunity
New York City is one of the world's most prosperous cities – on par with Hong Kong, Tokyo, and New York City. It is a fantastic place to become an entrepreneur, and thousands of people start businesses yearly. Furthermore, New York City is home to various excellent careers, including media, journalism, apparel, marketing, and banking. Therefore, you'll find a fantastic range of young professionals.
Despite New York City only accounting for 1 percent of the U.S. area, it creates over 8 percent of the nation's GDP. Plus, the city has more billionaires than any other global city, with over 103 billionaires. Did you also know that New York City's economy is almost the same size as the entire of Canada? That conveys the sheer power and economic might of the big apple.
Although New York City doesn't have the world's biggest GDP – only Tokyo has more – it will overtake the Japanese capital by 2035, showing New York's robust future ahead.
The infrastructure is superb.
If you are looking for an excellent city infrastructure – you will struggle to find a better city than the Big Apple. New York City has one of the world's best underground systems, and numerous airports surround the city. That includes JFK airport, one of the world's busiest and most international airports.
Furthermore, the city has a well-priced public transport system. You can get a monthly MetroCard for $127, offering an affordable price to catch the metro systems whenever and wherever. Plus, another great benefit of the infrastructure is you do not need a car, which is a vast difference from Los Angeles.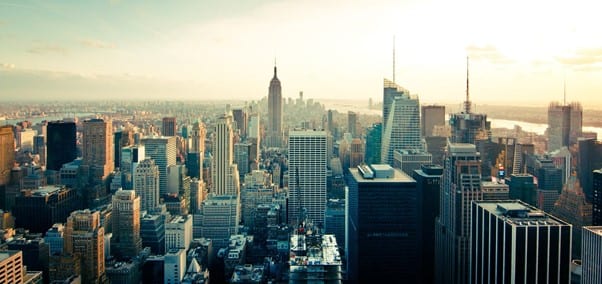 Downsides of living in New York City
It's very, very expensive.
New York City is not as cheap as Asia, and you're probably not overly shocked about that. But, even by western standards – New York City is incredibly expensive. It is one of the world's most expensive cities. If you're not making 2,000 USD monthly, you'll struggle to live in the Big Apple.
Also, the food in the city is very expensive. Although it is possible to get cheap pizza, hot dogs, and reasonably priced fast-food, the restaurants are costly. Plus, accommodation is expensive, and unlike areas in Asia, you wouldn't want to live in an AirBnB or a hotel. Have you seen the prices in Manhattan?
It is a concrete jungle.
So, we have established that New York City is one of the world's busiest, most vibrant, and densest cities globally. But, that is not a benefit for everyone. In fact, many people would hate this.
You have to love the big city vibe to love New York City because it is home to a hectic lifestyle. If you dislike traffic, stressed people, and squashed on the metro-system – you should avoid New York City. Does that mean all American cities are so busy? Not at all. You could be a digital nomad in cities like San Francisco, Los Angeles, and Chicago, where the city is far quieter.
It is not the most friendly city.
One of the biggest complaints that many New Yorkers say is how lonely the city can sometimes be. Do not be surprised if you go a full day without speaking to a single soul. Many people suggest New Yorkers are cold and unfriendly – although that is not always the case, people in New York City can be cold.
But, the flip side of this is the extreme city diversity, meaning you can meet a lot of people if you push yourself to explore coworking spaces, local clubs, and events.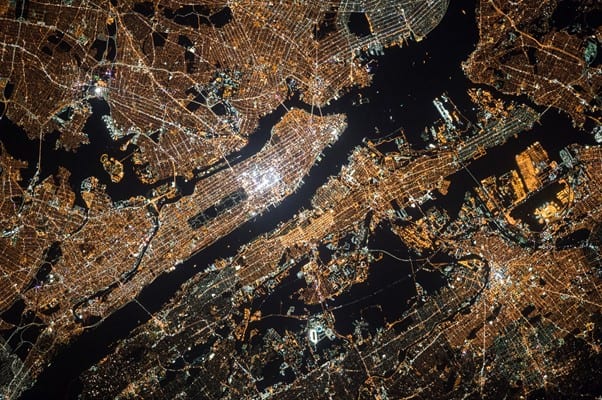 Other things to consider
Visas
There is no digital nomad visa in the United States, and there is unlikely to be one anytime soon. Immigration tends to be very strict within the country, and you can expect to face scrutiny on why you're visiting and what you're going to do here.
Although many citizens visit on a tourist visa, which you can apply for online, there are business visa options if you're running an established online business. However, the process is not straightforward, and you should consult an immigration lawyer.
Make sure you have travel and health insurance arrangements for your trip. Providers like SafetyWing understand the lifestyle and needs of digital nomads and offer them special packages.
Coworkings
If you're a digital nomad in a big city like NYC, you're going to need to visit some coworking spaces to find some excellent like-minded people. Here are some of the best options.
Voyager HQ
Voyager HQ is one of America's leading travel industry digital nomad hotspots, and it offers a superb range of facilities.
All digital membership benefits
An hour of private meeting room space every visit
Coffee, food, and printing facilities
Voyager HQ community events and support.
The Wing
The Wing coworking space has become synonymous with Instagram pictures due to the skyline's incredible views, and it offers excellent facilities.
Weekly guest speakers
Shower facilities
Networking events
Private desks, shared desks, and communal spaces.
Freelancers hub
The Freelancers Hub is a great freelancer coworking space – and better still, it is free entry. The Mayors Office of Media and Entertainment created it.
Private desks and shared desks
Free legal advice
Financial management
Workshops to independent workers in NYC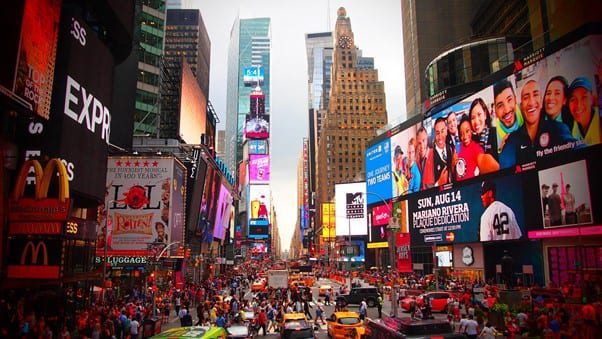 New York City is one of the world's greatest cities, and although it isn't a typical nomad destination – such as Bali, Indonesia. You can find an array of incredible benefits from living in one of the world's most powerful, cultural, and developed cities. There is a large freelancer community, and digital nomads will fit in well.