Greece has always been a dream destination for vacationers and retirees longing for the calm, laidback lifestyle with the timeless beauty of the sun setting over the crystal blue waters that surround Greece from all directions. However, in the recent years Greece has been attracting another category of visitors, digital nomads.
After the financial crisis of 2008 the startup scene in Greece started growing and in 2020 the scene is still growing, however it is considered small compared to other European countries.
With the slow but steady economic recovery, more and more digital nomads are heading to Greece to enjoy its sun, history, beaches and relaxed lifestyle, striking one of the highest goals of the nomad living which is getting the work done while enjoying life and travel.
If you ever thought about being a digital nomad working remotely from Greece, here are the steps you need to consider before packing your bags.
Do you need a visa to go to Greece?
Non-EU citizens wishing to visit or work in Greece require a visa; if you plan on staying less than 90 days you don't need a residence permit, just a tourist visa would do. Here you can find all the information you need on the papers required to apply for a visa.
Make sure you choose a travel and medical insurance provider that understands your lifestyle and your needs. There are providers who have packages for digital nomads, like SafetyWing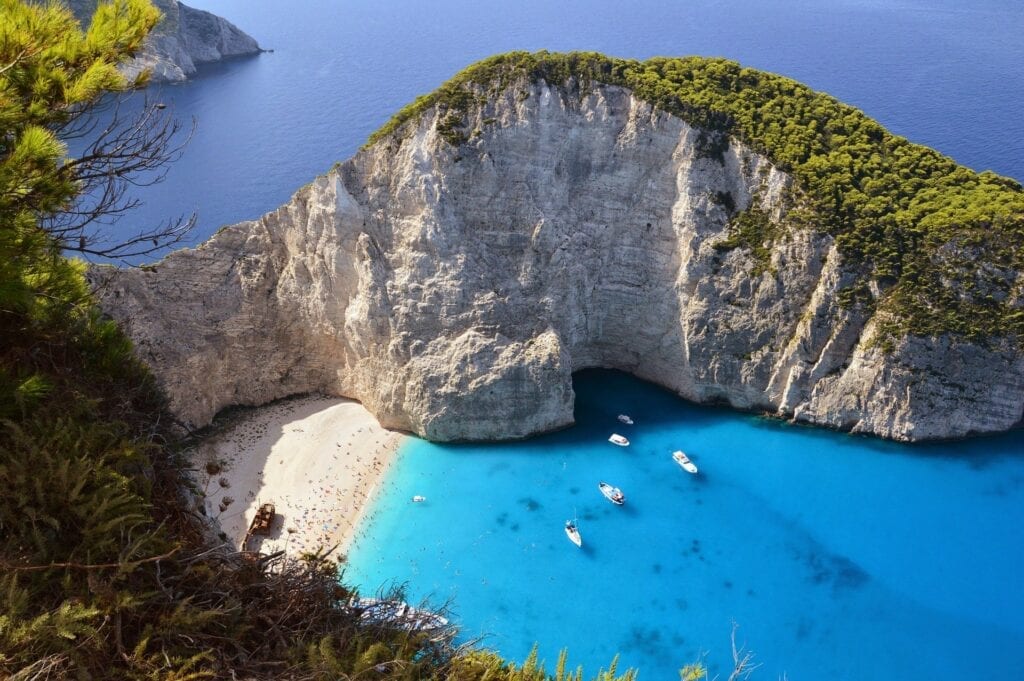 What's your budget?
One of the best things about Greece is that it's relatively affordable to find accommodation within your budget and this affordability applies to a wide range of budgets! Whether in Athens or on an island, you will able to find an Airbnb or an apartment/room for rent within the limits you put.
In Athens for example you can find a studio apartment for as little as 200 euros ($241) per month, while Airbnb prices range from 25-45 euros ($30-$55) per night depending on the area. If you plan on renting a room connect with the expats community on Facebook where they post rooms for rent. If you plan on staying for a few month and want to rent an apartment or a studio visit xrisi efkiriya or spitogatos both available in English.
Food and living expenses are relatively cheap compared to other European countries, a cup of coffee with a delicious big piece of cheese pie can cost up to 5 euros ($6), a souvlaki wrap (grilled skewers of meat in pita bread) costs around 2.5 euros ($3), a one-way metro/bus ticket is about 1.2 euros ($1.45) and travelling to/between islands with ferries depends on the distance however the majority are under 100 euros ($120).
What are your priorities?
This question will help you decide your choice of residence and how to go about your daily routine. For example, do you want to work with a sea view? Then maybe you should aim to stay on an island, the majority of Greek islands have good internet connection and facilities that will allow you to do your work and head to beach without rush or difficulties. Maybe your priority is connecting with the digital nomad circle or the startup scene, in this case you should consider a bigger island with a digital nomad community like Rhodes, Crete or Corfu. If your priority is both sea and coworking spaces with likeminded nomads then staying in a coastal neighborhood of Athens like Glyfada or Vouliagmeni is the solution, however in this case, you need to expand your budget a bit.
There are many options in Greece for digital nomads, historical areas close to the center offer connections to international expats, however you have to deal with the traffic jams and volumes of tourists. Accommodation on a very tight budget is available in Athens away from tourist-y areas or on small islands (especially in winter). Seclusion and relaxation on small islands like the Saronic islands (Poros, Aegina, Agistri, Spetses) is possible, affordable and comes with acceptable internet connection and the joy of the island life while being 1 to 1 and a half hours away from Athens.
Ready to enjoy Greece?
Once you figure the visa, the budget and your priorities, you are ready to enjoy all that Greece has to offer, and these are many:
360 days of sun a year and thousands of islands and beaches.
Food: It's not a coincidence this comes high on the list. The Mediterranean diet has international fame for being healthy, natural and absolutely delicious. Greece is famous for its wide range of natural options from land and sea like the Greek souvlaki (grilled skewers of meat or chicken in pita bread) its seafood and its pies. Greeks worship their coffee especially the cold coffee (freddo) which they drink all year round.
Internet connection: the main asset you need as a digital nomad is a good internet connection which is easy to install and affordable anywhere in Greece. Mobile internet is a bit more expensive compared to other European countries but you can always find good deals and packages. Besides, most cafes are open till night and almost all have free wifi.
Coworking spaces: There are not many of these in Greece, however there are few in Athens and in Thessaloniki like The Cube, Impact Hub, Stone Soup, Romantso, Found.ation however expect to pay about 10 euros ($12) a day. You can also visit Stavros Niarchos cultural center, it has many coworking areas and library-like spaces open for everyone with an excellent internet connection. If you are looking to enjoy the culture even more, head to a local café, you can stay 4 or 5 hours with just a coffee and most of them open till late.
Fun nightlife: the night scene in Greece is quite a vibrant one, people love to go out, enjoy all types of music, dance and drinks. Athens is always alive especially in the center but even in every neighborhood there are the local restaurants and bars. Psiri area near the center of Athens is usually packed with students but has some of the most amazing and unique bars, Keramikos area is famous for the clubs and Northern suburbs of Athens like Xalandri are famous for its chill bar scene. Thessaloniki the 2nd biggest city has a big nomad community and an even bigger party scene.
Hospitality and safety: If you are travelling as a digital nomad on your own, Greece is a place you will feel safe and an amazing place to meet friends. Greeks are very open and always happy to make a new friend. They are also very good in making you feel like one of the crowd and not a stranger.
Suitable time zone: another important factor for nomads, Greece serves you well when it comes to working with time zones. If you work with Europe, the difference is around 1 or 2 hours max, If you work with the US your work day will start in the afternoon (around 3 or 4 pm Greece time) if you work with Asia you will need to be an early riser but you will be done around noon, and have the rest of the day to enjoy the sun, the sea or visit historic sites.
No stress: One of the most important things Greece offers, is the laidback lifestyle. The environment and the weather just pull you into this relaxed dimension where there is no stress. You will learn to be calm, almost mindful which can help you lower your stress level or handle difficult tasks. However, beware, this could be a trap if you lean too much into it and miss your deadlines; enjoy the relaxed tempo responsibly.