Although famed for its stunning beaches, Barbados is a Caribbean island that has it all. Fine powdery sand and bright turquoise bays, bustling nightlife, a UNESCO World Heritage-listed capital, the list goes on. Not only is it breath-taking to see, but it is also inhabited by a proud and welcoming community.
Barbados has well and truly opened its doors to digital nomads with the introduction of its 12 Month Barbados Welcome Stamp in July 2020. Attracting over 2000 applicants from across the world, in particular Europe and North America, since it was introduced the scheme has been deemed a great success! It has given Barbados a much-needed boost of $4 million to its economy, which usually relies heavily on tourism. With its sunny climate, tropical landscape, and chilled vibe its no wonder people are flocking here! Not only that, but you can also work from the beach itself with some offering strong Wi-Fi connections. Like other Caribbean islands, eligibility depends on your yearly income as well as visa fees and health insurance.
Providers like SafetyWing offer valid travel and medical insurance in Barbados and all countries in the world. 
If you have dreamed of living and working on an island, why not take this incredible opportunity without having to worry about a visa?
We have got you everything you need to know about Barbados to make this decision a lot easier.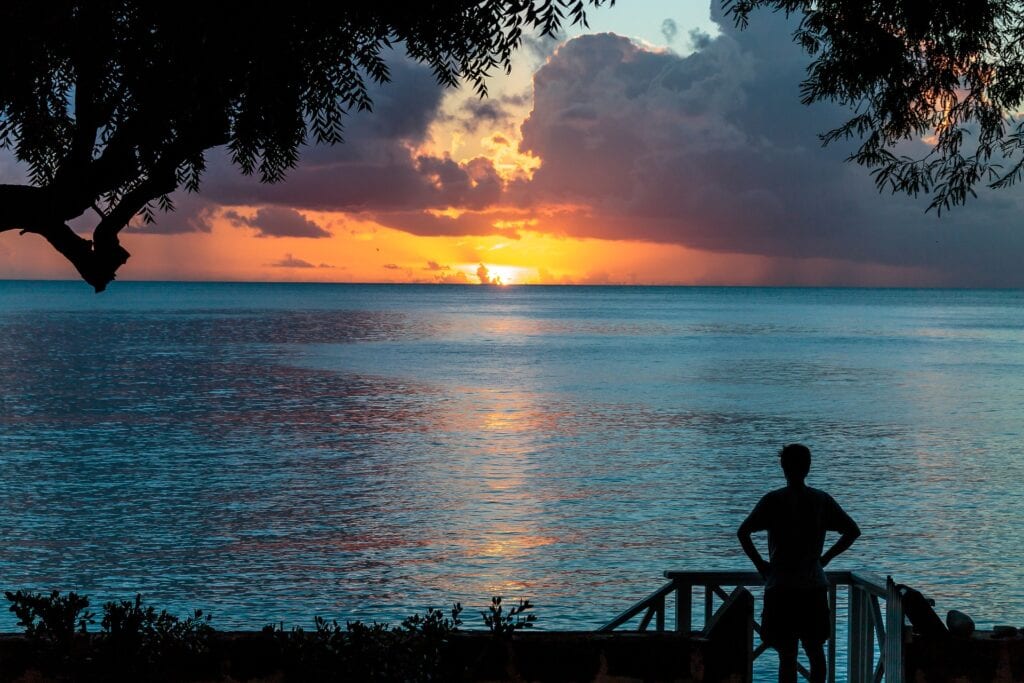 What is your budget?
Barbados offers amazing opportunities in terms of accommodation and other necessities with your budget. A single person estimated monthly costs are $1000 without rent, with rent in Barbados. The average rent in Barbados in the city centre for a one-bedroom apartment is around $650 whereas outside the city centre you are looking at around $415.
Food and living expenses are slightly more expensive compared to most countries, at around $2,75 for a loaf of white bread. Due to its island location many items must be imported which can drive up costs. This is counteracted by the cost of basic utilities- electricity, heating, cooling, water, garbage collection- which averages around $110 per month.
Working from Barbados?
Barbados offers a handful of coworking spaces perfect for Digital Nomads to keep on track with all their work. Limegrove Lifestyle Centre for one has recently converted one of their spaces into an open office, called the Barbados Pop Up Cowork Project. This open and airy space provides the perfect opportunity to get some work done, with anyone able to utilise the co-working facility – although it is encouraged to purchase a meal at their sister company Food Stories Barbados. They offer organic, healthy, plant-based meals and drinks. Another amazing coworking space in Bridgetown is Ten Habitat which also provides informative courses and seminars, COVID permitting, if you are looking to boost your skill set. However, if you prefer more of a coffee shop vibe head to the Artsplash Café in Bridgetown – an insta-worthy café with free Wi-Fi and delicious smoothies. In Oistins, be sure to visit Surfer's Café if you want a desk with a view, this open-air café offers beautiful ocean views and strong Wifi.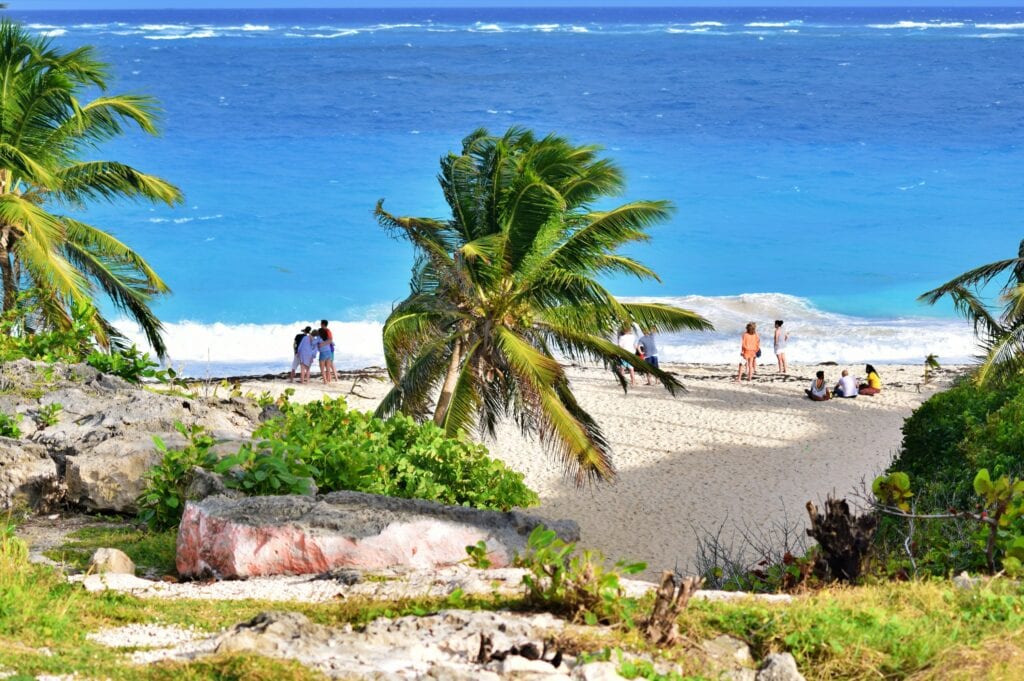 Where to Stay in Barbados?
When considering the best area to stay in Barbados, it is best to consider what you want and base it on the following regions: the upscale west coast, the rugged north coast, the modern south coast, and the rustic east coast. The most popular areas are along the south and west coast of the island however you will find a different experience in each region. If you are after a lively beach vibe complete with amazing surfing opportunities the south coast is for you. Christ Church is also home to the island's main airport as well as the entertainment hub of the island, St Lawrence Gap. This is where you can find the best restaurants, bars, clubs, and shops.
The western coast of Barbados is where you will find high end resorts and sprawling mansions. Previously known as Jamestown, Holetown was where the British first settled on the island. However, things have changed a lot since then. A little way up the western coast is St Michael, home to the capital city Bridgetown. This is the place to stay if you want to be in the heart of it all.
If you are not interested in the hustle and bustle and want to reconnect with nature head to the east coast. The perfect location to go on a hike, as well visiting some of the most beautiful botanical gardens such as the Flower Forest, a reclaimed sugar plantation. This is like the north, where St Lucy provides a true breath of fresh air. Ideal for those visitors who want paradise and the simple things – rustling trees and ocean views almost everywhere you look.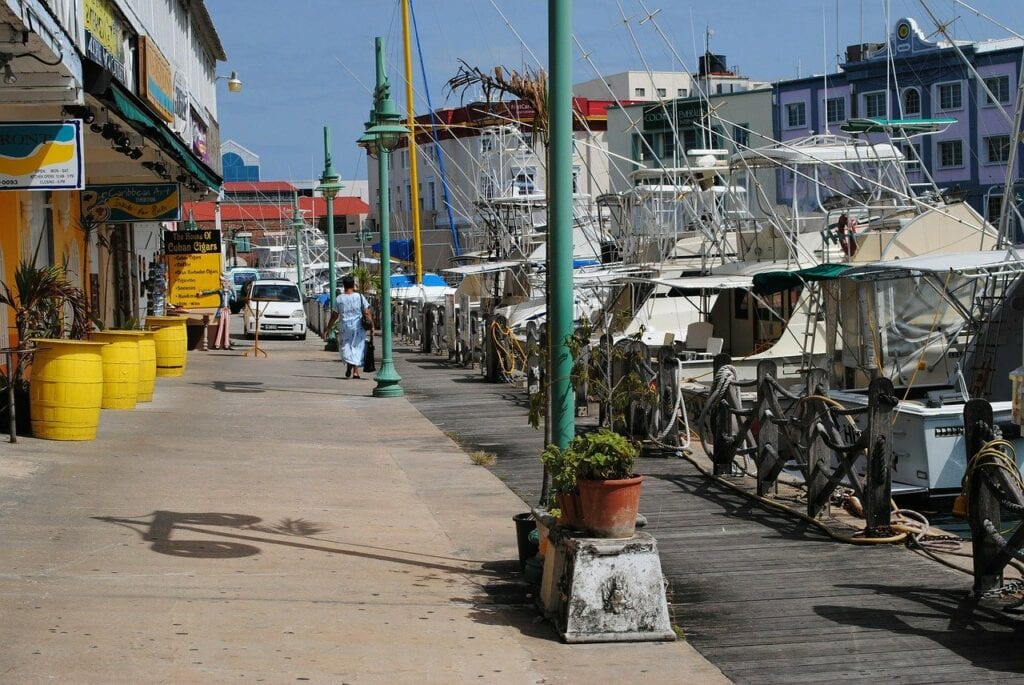 Top Places to Eat
Oistin's Fish Fry
Attracting masses of tourists and locals alike, this fresh fish spot has become legendary and truly built a name for itself. People flock for a fish meal and a beer, with Friday and Saturday nights being prime time. Located next to the fish market, it does not get much fresher than this with stalls serving grilled fish, pork chops, ribs and chicken. In the centre a stage hosts a DJ belting out a beat for the dancers to show off their moves.
Golden Sands
If you are looking for traditional Bajan dishes in a lowkey setting Golden Sands is for you. Particularly famed for its souse – pickled pieces of pork served with cold steamed potato and blood pudding – as well as its 'steam and lean'. It is recommended to make a reservation or be prepared to queue as it's hugely popular with locals. On Fridays there is an 'Eat Bajan' set menu for B$25 that includes plenty of other local specialties.
Bay Tavern
This is the east coast's more tranquil version of Oistin's, home to Martin's Bay fish fry. What was once a simple shack has been transformed into a three-floor structure offering plates of fresh-from-the-boat marlin or snapper and macaroni pie. Grab your dinner and head across the road to the picnic tables to dine on the water's edge. Most popular day is Thursday although it is bustling all week.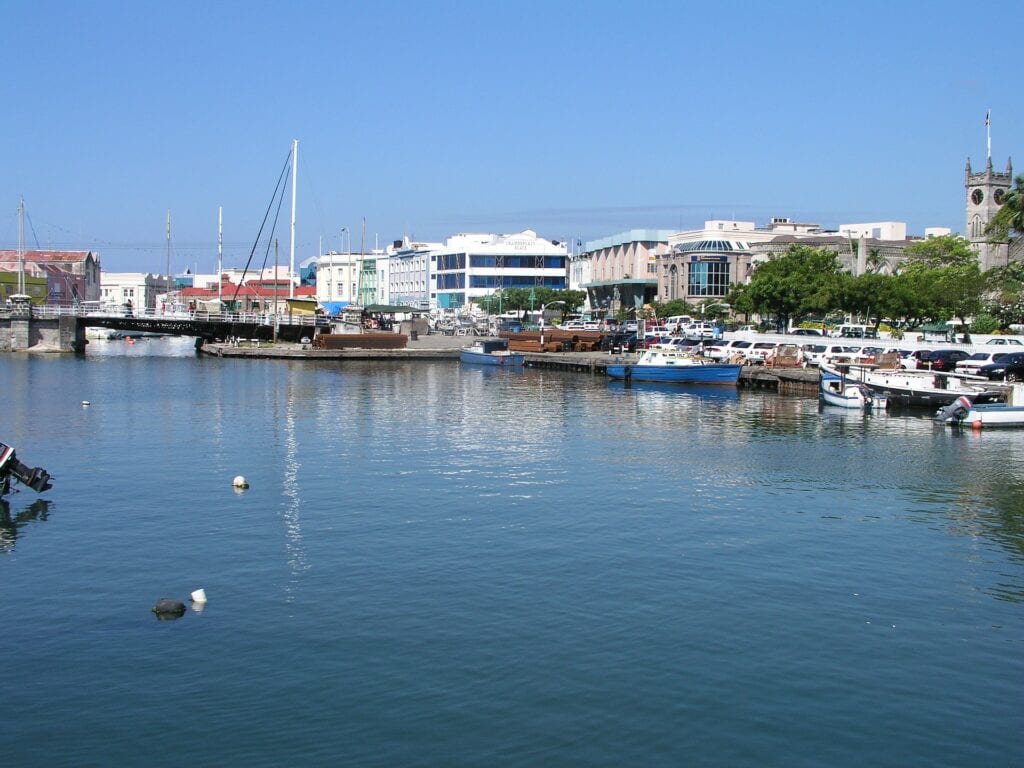 Top Places to Visit in Barbados
Shark Hole
Head down a short flight of steps and you will be greeted with a small stretch of delicate white sand enclosed by rocks. This perfect secluded cove is off the beaten track, and the type of place that photos just do not do justice. Its offshore reef calms the water, creating a natural saltwater swimming pool. All in all, it is the perfect place to relax after a busy week and soak in the sun. If you fancy a midweek break – you may even be treated to the whole place to yourself. A magical experience.
Carlisle Bay
This crescent shaped bay and natural harbour on the west coast is the postcard picture of Barbados. At Carlisle Bay, traditional fishing boats coexist with modern catamarans and the super yachts of the rich and famous. It is also a favourite sport for scuba diving and snorkelling, with six shipwrecks attracting an eclectic mix of marine life including tropical fish, sea horses, sting rays, octopus, and turtles. It is calm waters and soft sandy beaches make it the perfect place for sunbathing and swimming while the Boatyard offers water sports such as sea trampolines and jet skis.
Kensington Oval
Kensington Oval has witnessed some exciting sports history, including the final of the 2007 Cricket World Cup. It is a must whilst living in Barbados to head to a cricket match, which run throughout the year. As the national sport of Barbados thousands of locals and tourists alike flock to watch powerful batsmen and fast bowlers. It must be said – whether it is an international Test Match or One-Day at Kensington Oval, you will be sure to catch a good game almost any time in Barbados. Of course, you can then join in the celebrations afterwards too!