Tenerife has boomed in recent years as a destination for vacationers and expatriates searching for a laidback lifestyle by the coast. However, in recent years Tenerife has been attracting many digital nomads, with its sunny year-round climate and excellent coworking opportunities.
This extraordinary island boasts extraordinary beauty and diversity, with quaint villages and charming historic towns as well as bustling nightlife and white sandy beaches. If you are thinking about experiencing this for yourself here are the steps you need to consider before packing your suitcase.
Do you need a visa to go to Tenerife?
As Tenerife is part of Spain, EU citizens can visit the island without any restrictions. If you do not have a passport from an EU country – including Iceland, Norway and Switzerland – you will need to apply for a visa. You can find out everything you need to know about applying for a visa to work or live in Tenerife here.
It's recommended to have travel and health insurance. There are providers that are devoted to digital nomads like SafetyWing, and cover all your needs like trips back home, Covid coverage and family members.
What is your budget?
Out of all the Canary Islands, Tenerife comes out as one of the most affordable in terms of finding accommodation with your budget, with prime locations even offering options for variety of budgets. Whether you want to be on the coast or inland, you will easily be able to find the perfect apartment or room to suit your budget.
The most expensive areas in Tenerife are Puerto de la Cruz and La Laguna, followed by Santa Cruz. This, however, does not mean there are not plenty of options to suit everyone. In Santa Cruz a one-bedroom apartment in the city centre can be rented for €595 ($709), while one slightly out of the city centre comes in at an affordable €512 ($609).  If you are planning on staying for a while, and want to rent out an apartment head over to Idealista for new rental properties on the market that are available, all information is available in English.
Where you will see a difference in prices is with your food and utilities, especially compared to other European countries. A three-course meal for two at a mid-range restaurant costs around €45 ($53), a beer around €2 ($2.38) and a pint of milk under €1 ($1). A one-way bus ticket is around 1.35€ ($1.61) or you can get a monthly travel pass for €40 ($47). Monthly basic utilities cost in total around €71 ($85) per month, which includes electricity, heating, air conditioning, water and rubbish collection.
Where to stay?
Your own personal interests will really play a factor on where you will want to stay in Tenerife. If you want constant access to the beach and the sea
If you thrive within a city, Santa Cruz de Tenerife is the place for you. As Tenerife's capital, it is a cosmopolitan, action-packed, modern city. Though it is relatively large, you can still walk the city easily or use the trams that link the city. For the bars and restaurants head to the Noria district, with pedestrianised streets that extend into the avenues.
If you want to experience true Canarian living, consider La Laguna one of the most beautiful towns in Tenerife. This historic town has beautiful architecture whilst being within easy reach of Puerto de la Cruz. It boasts straight cobblestone lined streets and pastel-coloured mansions and welcoming tavernas. It is also offering a slightly cooler climate compared to the coast.
If you want plenty to do in your spare time, Costa de Adeje has everything on offer. Although this coastal resort has a reputation for being a tourist spot, there is still plenty of offer in terms of coworking spaces and apartments for Digital Nomads. However, it also boasts plenty of sandy beaches, exciting excursions and trips as well as the famous Siam Water Park.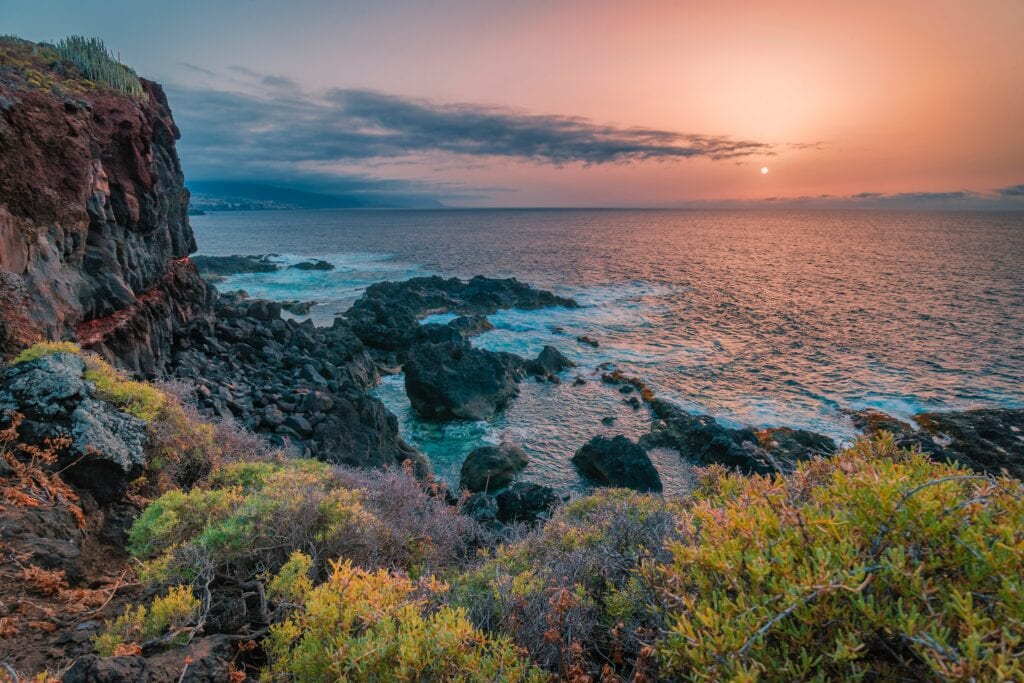 Ready to enjoy Tenerife?
Climate
Potentially the best thing about this beautiful island is its glorious weather, all year round. The sun shines for more days here than majority of other places worldwide, with sun expected throughout the day even through winter. The south is always the warmest and sunniest with the least cloud. The north is very warm; however, you can expect a bit more rain and cloud compared to the rest of the island. It has a volcanic region called Mount Teide National Park which causes some slightly changeable weather the closer you get to the peak – where some snowfall can sometimes be found even though the coast remains sunny.
Food
Traditional Canarian food can be described in just three words: simple, delicious and fresh. Canarian dishes usually compromise of grilled meats or fish, soup, stews and vegetables to create hearty meals. The best place to sample this food is to head to downtown tavernas, family-run restaurants and street food to taste delicacies and traditional dishes.
Culture
Spanish and Canarian culture can be seen all round Tenerife, especially in the island's small villages – with Spanish architecture and festivals directly from Spain. An example includes the Sabandeno Festival in La Laguna which is a highlight of Canarian culture. Locals are extremely friendly, especially away from the tourist resorts of the south.
Coworking Spaces
There are various co working spaces across the island with many offering days passes with lots included. The Sheraton La Caleta offers luxury for just €15 ($17) a day, for which you receive a buffet breakfast, 30 printer copies, premium Wi-Fi and unlimited coffee and tea, as well as use of the public facilities to the hotel for a slightly increased cost. If you are looking for more of a monthly option, Coworking Nomad, Santa Cruz, offers discounted rates for residents and visitors. For just €80 ($95) per month you receive 24-hour access to their facilities including a dedicated workspace, meeting room access, printers, lockers and kitchen facilities. Coco Coworking, Costa Adeje, offers a beachside office that suits all your needs with daily and monthly passes available from €20 which includes a dedicated workspace, Wifi, coffee and parking.
Time Zones
The Canary Islands uses Greenwich Mean Time (GMT). This means the time zone is the same as the UK while mainland Spain and other European countries are one hour ahead. Spring officially begins in March meaning clocks go forward by one hour for daylight saving time, then go back one hour in late October.