Seoul is one of the world's newest developed cities. With a population of nearly 10 million people, Seoul is one of the world's biggest megacities.
Visitors and locals love Seoul because of its incredible nightlife, vibrant energy, and strong cultural feeling. It is home to some of Asia's most exciting spots and has a fascinating history.
Did you know that Seoul has the world's fastest internet? It has the quickest wifi and a culture that loves gaming – that's perfect if you're a digital nomad.
Seoul is also home to the world's best airport, and the Airport Service Quality Awards gave Seoul the title of the world's best airport for the 12th year running because of the sauna, gardens, and free showers.
Seoul offers one of the world's biggest economies. South Korea's GDP is $1.4 trillion, and much of that comes from within Seoul. It is the 11th largest economy in the world and the third-largest economy after Japan and China.
There are many excellent reasons to visit Seoul for any digital nomad; it is developed, has a great technology scene, delicious food, fantastic nightlife, and most importantly – the wifi is sensational.
Let's look at what else makes Seoul such a dream digital nomad destination.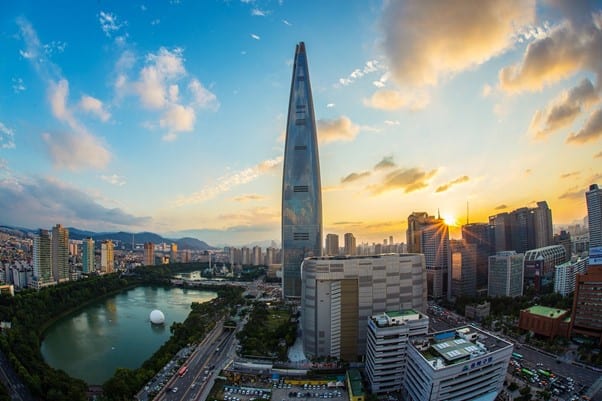 The cost of living in Seoul
Seoul will surprise a lot of digital nomads because it is affordable. Despite being such a mighty city on the economic stage, most digital nomads – of all budgets – can afford to live here.
How does Seoul compare to other cities in the region? Seoul is at a similar price to places like Taipei, Shanghai, and cities in Central Europe. It is not as affordable as Southeast Asia – but it is not as expensive as the west or other Asian cities such as Tokyo, Singapore, or Hong Kong.
The country uses the currency South Korean Won, which equals 0.00090 USD. It is a surprisingly weak currency vs western currencies, but that is excellent for a digital nomad who earns money through USD.
One of the essential things a digital nomad needs to consider before choosing the city they want to live in is its affordability. Let's look at some of Seoul's highest costs.
Accommodation expenses
Accommodation is affordable for digital nomads in Seoul. You can find hotels for around 1000 USD per month (46 USD per night) and excellent hotels. Many digital nomads who aren't looking to spend an extended period within the city will opt to stay in a hotel instead. You can find cheaper hotels if you visit the outskirts of Seoul.
You can also find monthly Airbnb's for an average of 1,356 USD per month (44 USD per night). And the great thing about Airbnb's is the privacy, and most Airbnb's offer outstanding wifi speeds. You can find fast wifi in hotels, but there are more users, which means slower wifi than in apartments.
The price of accommodation in Seoul is very budget-friendly and surprises many travellers or digital nomads.
However, if you're looking to spend an extended time in Seoul, you might look at getting yourself an apartment. The average one-bedroom rental in Seoul's center is $994 monthly – that is not a reasonable price for an apartment in a central location.
Alternatively, if you're on a stringent budget, you can find hostels for as little as 10 USD per night – with incredible wifi speeds.
The average total living cost for a digital nomad in Seoul is 2,335 monthly, and accommodation will be a significant proportion.
To be honest, if you're looking to find a mixture of budget, culture, and comfort, you're going to struggle to find better options than Seoul.
Food expenses
Food in Seoul can be very affordable. A popular meal is Korean BBQ, which you can find for just 5 USD per meal. Alternatively, Seoul has excellent 7/11's, and you can find a heap of excellent snacks there.
You can opt to cook at home if you have a kitchen, but you can find very well-priced food almost everywhere. Most digital nomads will eat out frequently, even if the average cost of a restaurant meal is 10 USD.
Drink expenses
Seoul is one of the world's most fantastic partying cities, and the affordable prices of alcohol reflect that. You will find many locals partying until the morning. The average price of a beer is 3.61 USD – more expensive than many cities, but still on the affordable side.
You can get soft drinks for good prices, with the average price of cola being 1.22 USD. The prices of alcohol do vary depending on the night, and if you know where to go, you'll find many bargains.
Transport expenses
Seoul has one of the world's most incredible infrastructures. The city has improved the infrastructure hugely over the past 25 years, and they have an excellent metro system within the city. Citizens can use a T-money card to get around the city; train fares tend to start at around 1.20 USD for the beginning 10 kilometres of travel. Furthermore, a T-money card tends to cost around 2.30 USD.
Bus routes can be a little bit difficult to navigate due to the lack of English translation, but you can catch the buses for 1.17 USD per ride.
Another alternative – and perhaps the best – is to catch a taxi. You can hail taxis down effortlessly in the city, but prepare yourself to find drivers that speak almost no English. You need to have a Korean translation if you're not getting an Uber.
However, taxis are well-priced as long as you have a metered taxi. Scams do exist in the city, and some drivers will pretend to speak zero English – and show zero understanding – to charge you a lot of money. You should opt for Uber if you're not with a local, speak some Korean, or have a good translation.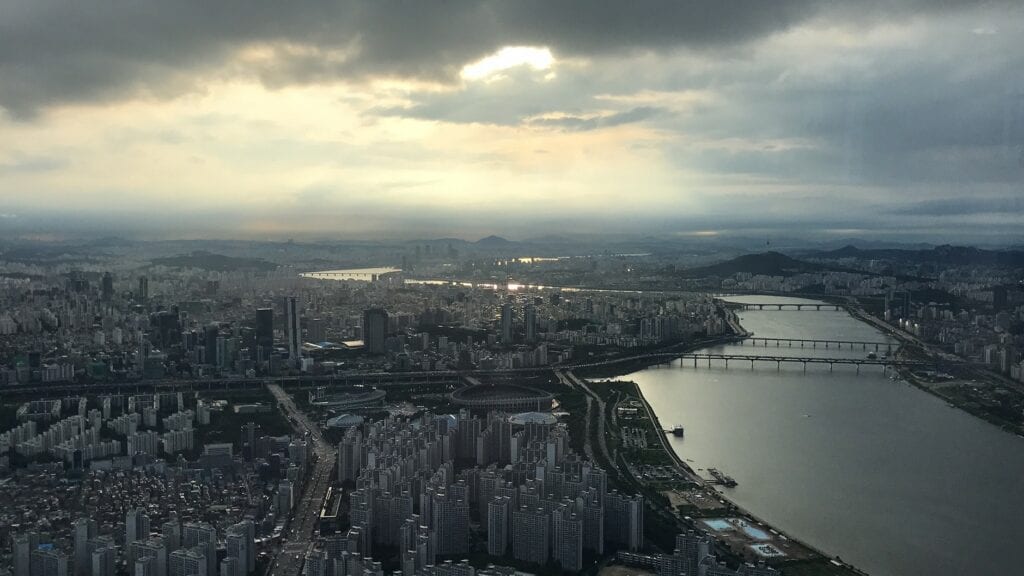 Benefits of being a digital nomad in Seoul
Fast WIFI
As previously stated, fast WIFI is one of South Korea's biggest benefits. Why is WIFI so fast? Predominantly because South Korea has a massive gaming culture. Therefore, it is important that the country has fast and effective WIFI.
But it wasn't always like that, in 1995 only one person out of every one hundred people had access to the internet. After a huge government project over the next decade, most of the country had access to WIFI and fast WIFI too.
Furthermore, competition in South Korea is very healthy. There has been heavy deregulation in South Korea – and that led to fighting for competition and gradual improvements in the WIFI speed.
Highly developed
Seoul is a very developed city, and many visitors refer to Seoul as a lighter version of Japan. Visitors adore the incredible neon lights, technology, and electronics that the city has to offer.
Also, Seoul has one of the world's best infrastructures, and you can find buses and trains everywhere in the city – and they are very punctual. Furthermore, the city has excellent telecommunications making it perfect for digital nomads.
If you're looking for a city that is a mixture of unique culture but offers western comforts, Seoul is for you.
Interesting culture
Seoul is one of the most exciting cities globally. The culture is incredibly unique, and the culture is one of the world's most homogenous.
Korea is home to an eclectic mixture of fashion, food, and entertainment, and you can't find another country that can compare.
Amazing hiking opportunities
Seoul is one of the world's greatest hiking cities. Locals love hiking around the city, and it is one of the most popular hobbies in the city. One of the most popular hikes in the city is the Bukhansan Mountain, and the views from the mountain's peaks are phenomenal.
Alternatively, you could opt to hike up the Gwanaksan Mountain, which is located in Southern Seoul and offers amazing views of the city. In addition, Inwangsan is 339 meters above sea level and offers amazing city views. From the mountain's peak, you can see the entire city.
Excellent nightlife
Seoul has one of the world's most incredible nightlife environments. There are various amazing nightlife suburbs, such as Gangnam and Hongdae. You can find nightclubs that open until the morning hours, and the country has a heavy drinking culture. If you enjoy listening to K-pop, there are many K-pop bars and clubs.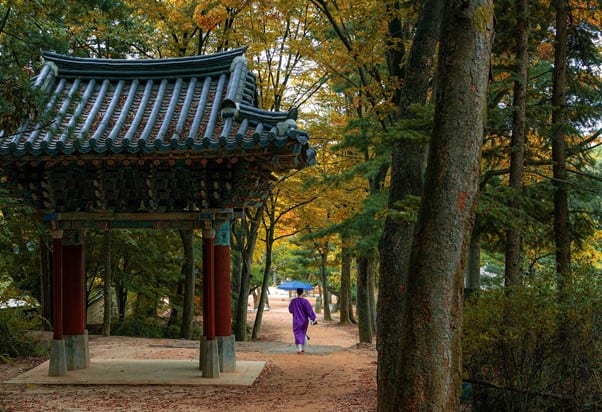 Cons of being a digital nomad in Seoul
Very limited English
Although many youngsters are beginning to speak good English, you'll find that many citizens over the age of 50 can't speak the language. It is going to be an issue if you're a digital nomad because you might need to communicate regularly with the locals if you are running a business in South Korea.
However, there is enough English language communication in Seoul to get around the city as a traveller, but as a digital nomad, you might have issues. Unlike other neighbouring far-eastern countries like Japan – there isn't a lot of English translation on signposts or directions, and that makes it considerably difficult.
Another issue is google maps because there is no English translation on the app. The other alternatives are the Korean apps, but again, they don't have any translation on them. It will benefit any digital nomad to learn Korean.
Cold winters
Seoul has fantastic summer weather, with long and hot days, but winters are bitterly cold. The average low temperature in Seoul in the winter months is -5 to -7 degrees. Therefore, during the wintertime, the weather could become annoying.
Also, you're not overly close to the tropical countries of Southeast Asia. Countries like Thailand and Malaysia are hot all-year-round, but flights take around 3-4 hours. Many digital nomads would rather skip the bitterly cold winters – and head to Southeast Asia during the winter months.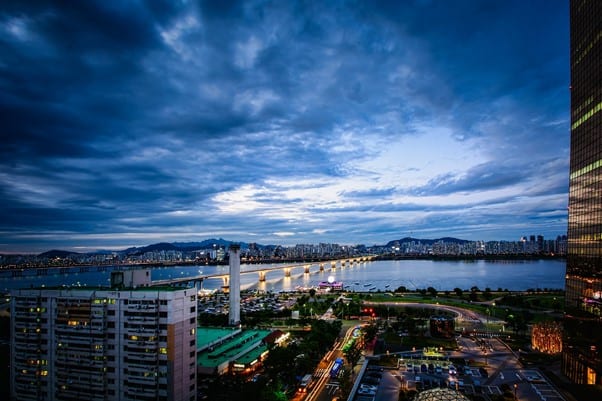 Other things to consider
Visa
Seoul does not have a digital nomad visa, nor has the country discussed introducing one. However, South Korea does offer generous stamp-on-entry visa-free options. Most digital nomads from western countries will work on a tourist visa.
However, if you're looking to stay in Seoul for a long-time, you might want to consider looking at other visas, including business visas and other options.
For your visa, make sure you have the right health insurance that fits your lifestyle as a digital nomad. SafetyWing has travel and medical packages for nomads and remote workers.
Coworking Spaces
Seoul has many fantastic coworking spaces throughout the city. It is important to find a coworking space in a city like Seoul, which has a small expat population compared to other cities. You can meet other digital nomads and even locals who can help you understand the local culture better.
Fastfive
Fastfive is a superb option for digital nomads because it offers outstanding views of the city and an eclectic mixture of other excellent facilities, here are some of the best features
24-hour access
Great prices with no deposit
An on-site cafe, kitchen, with free tea/coffee.
A fantastic nomad community with events
Private and shared desks.
Fab Lab
Fab Lab is one of Seoul's coolest coworking spaces. The coworking space is a digital fabrication set up to inspire future entrepreneurs.
An excellent creative crowd and community
3D printers and laser cutters
24/7 hour access
Monthly-memberships with multiple pricing options
On-site cafe
Wework
Wework offers various locations around Seoul, and they offer a vast array of facilities, including
Flexible month to month options
Access to numerous locations
Super high-speed internet
Private desks, shared desks, and dedicated desks
24/7 facilities
Garage
Garage is in Gangnam and offers a state-of-the-art coworking space that is excellent for digital nomads and entrepreneurs, the facilities include
Open 24/7
Parking options
The option of daily passes
An on-site cafe
The option to purchase a 'virtual office'.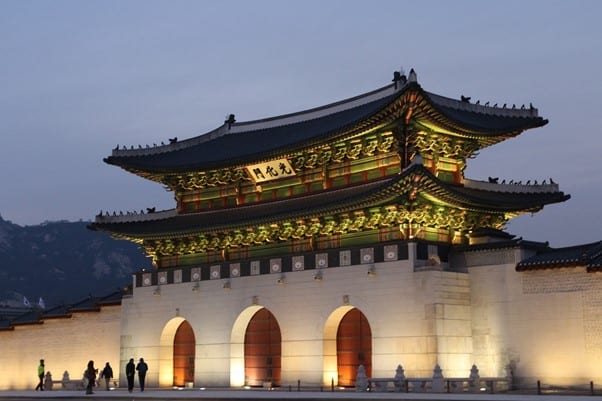 Seoul is an incredible megacity that is going to play a hugely important rule during the 21st century. Although it doesn't have a massive digital nomad community, there is likely to be a growing nomad community in the future. You'll love the mixture of far-eastern culture with the western comforts of an economic powerhouse! It is an excellent spot for remote workers.