Manila is one of the world's busiest and most vibrant cities. The city is the Philippines capital city and home to nearly 13 million people. It is the economic, social, and political capital of the Philippines.
Digital nomads have a growing love for Manila because of the affordable living costs, friendly locals, and excellent nature within the Philippines. The country is home to some of the world's most stunning nature.
Manila is the most densely populated city globally, with 1.6 million people crammed into 16.56 sqm. Also, the city has the oldest Chinatown globally. Locals founded the Chinatown in the 16th century, and it has massively grown over the past 400 years.
Manila is home to the San Agustin Church, a UNESCO World Heritage Site, and a Baroque-designed church with stunning colonial architecture. If you're a digital nomad in Manila, you'll find incredibly cheap food, shopping malls, and a mixture of shopping malls.
The city remains a developing city, but it is one of the world's fastest developing places.
This article is a guide to being a digital nomad in Manila.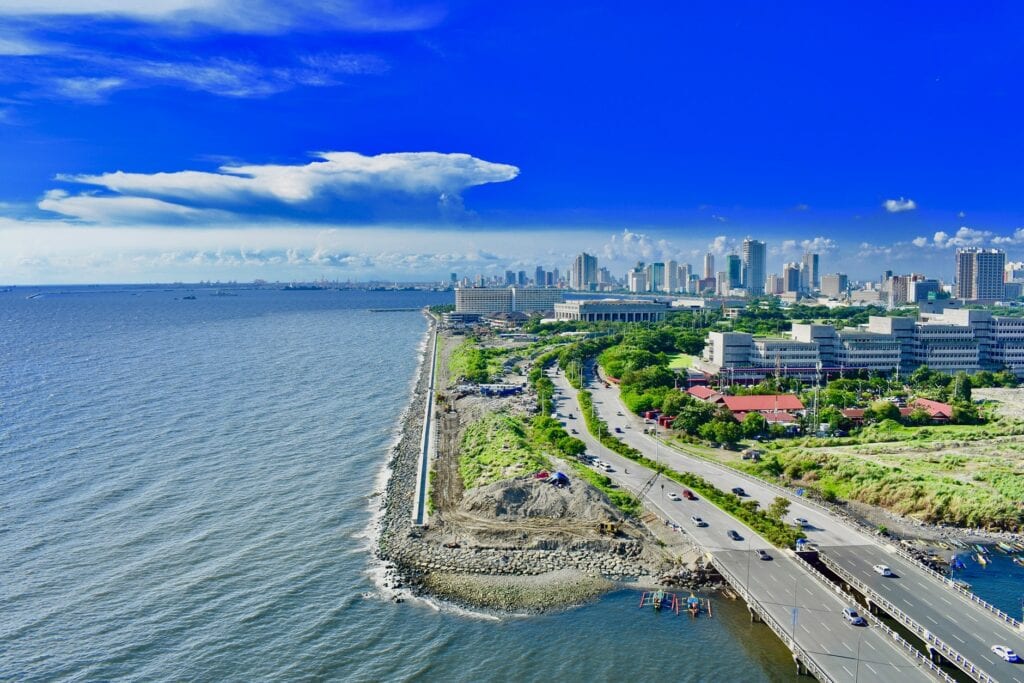 The cost of living in Manila
Digital nomads always love the tremendous cost of living in the Philippines. It is as cheap as most other Southeast Asian countries. Many digital nomads decide to live there because of the reasonable price of living.
Why is it so affordable? Manila remains a developing city, and much of Manila is under the poverty line. The Philippine Peso is relatively weak, with 1 USD equalling 49 PHP.
So how does the city compare to other Southeast Asian cities? It is on par with cities like Bangkok and Kuala Lumpur. It isn't as affordable as Vietnam, Laos, or Myanmar, but it is much cheaper than in the west. If you're earning your digital nomad income via USD – you will live well in Manila.
When you're a digital nomad, one of the essential things is considering your budget and how much you need to spend. Let's look at some of Manila's highest costs.
Accommodation expenses
Accommodation is one of the most critical aspects for any digital nomads, and Manilla has a vast array of excellent accommodation options. The average cost of 1 bedroom studio rent in the upmarket Manila area is 411 USD monthly – which is a fantastic price.
Also, the average cost of a hotel is 823 USD monthly, more than other Southeast Asian cities. In general, hotels in the Philippines tend to be more costly than in Thailand, Indonesia, and Cambodia.
Furthermore, the average cost of an Airbnb is 1,442 USD monthly. However, Manila is home to some of the world's most impressive Airbnb's, and you find Airbnb's in skyscrapers and at extremely affordable prices. A great thing about Air BnB's is the better opportunities for high-speed wifi, which can be a massive challenge in the country.
Alternatively, if you're on a tight budget, you can find hostels for around 10 USD per night. However, this isn't something you'll want to do long-term, and the wifi speeds can be troublesome.
The average cost of living for a digital nomad within Manila is 1,452 USD monthly, including accommodation costs.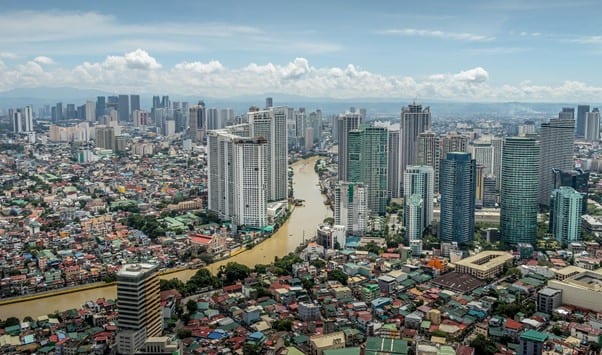 Food expenses
Food in Manila is incredibly affordable, and you find cheap food at all the shopping malls and markets. A prevalent food option – although not always healthy – is Jollibee, the premier Filipino fast-food chain. You can get delicious fast food here at very affordable prices, and it is one of the country's national icons.
Also, you can find an array of affordable street food in all markets around Manila. Popular Manila food markets include the Tutuban Night Market, Dangwa Flower Market, and the Greenfield Weekend Market.
Drink Expenses
The average cost of a beer is about 2 USD, and the most popular beer is San Miguel. You can get a good dinner at a restaurant for 4 USD. The average cost of a cola can is 0.70 USD – or you can get a coffee for 1.37 USD.
Transport expenses
Transport in Manila is not as varied as in many other cities. The infrastructure is disappointing, and the metro system is poor. The best way to get around is via taxi because you can use Grab Taxi, and get superb fares if you book via Grab.
Unfortunately, taxi scams are very prevalent in Manila, and if you don't use a metered taxi airport or an application you could pay western prices for taxis. The other alternative is to use a jeepney, these are incredibly famous in the Philippines, and you can jump on them for very cheap.
The U.S. military used Jeepneys to carry soldiers around the country during world war 2, but the jeepneys stayed in the country and went on to be the main form of transport. There are no set prices on the jeepneys, so the driver could charge you anything. However, because the jeepneys are full of locals, you're unlikely to get scammed in front of everyone.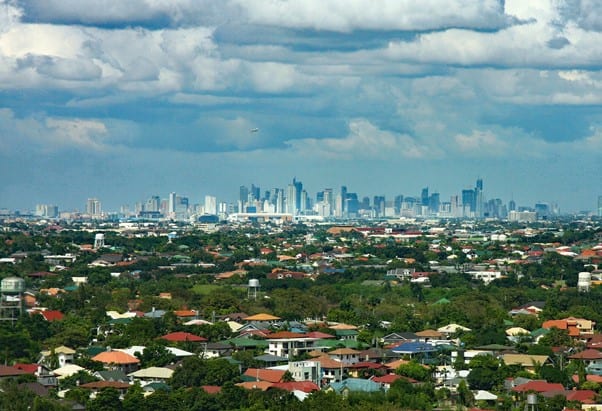 Benefits of being a digital nomad in Manila
Affordability
The best benefit of being a digital nomad in Manila has to be affordability. In comparison to cities in Europe, Australia, and the United States, living in Manila is considerably cheaper. Everything from coworking spaces, apartments, food, and nightlife costs are cheap in Manila and digital nomads love this.
Furthermore, it is very easy to get around the country. The Philippines has some of the world's most incredible nature, and getting around the country is very cheap. You can fly to different islands for less than 50 USD, and it remains affordable for most digital nomads.
The sheer beauty of the country
Many people believe the Philippines is the world's most beautiful tropical paradise because there are over 6,000 incredible islands with the best beaches you could ever imagine. Popular islands in the Philippines include Boracay, Siargao, Palawan, Cebu, and Bantayan Island.
Whether you're looking for a secluded tropical paradise, the greatest scuba diving spots globally, or majestic hiking trails with outstanding views, the Philippines will have what you want. Also, if you're looking for stunning mountains you should head north of Manila to the top of Luzon, you'll find gorgeous rice terraces.
Excellent levels of English
The Philippines has an outstanding level of English, and many argue it is the greatest level of English outside of the English-speaking world. The excellent level of English is because it is a national language in the country. Therefore, kids learn it from a very young age.
Many global companies base their call centers out of the Philippines, and that is because of the superb level of English. Even in countries like Thailand, which attracts over 40 million tourists yearly, the level of English is considerably lower. If you're looking to run a business out of Manila, you will love the amazing levels of English.
Filipino Hospitality
There are many countries globally that have reputations for being hospitable, but the Philippines leads them all. Filipino culture prides itself on being open and hospitable to all guests and tourists.
It doesn't matter where you are, the Filipino's will always go out of their way to help you. Sometimes, they will invite you to their house to eat with their family. It is a real benefit of Filipino culture.
The ability to buy western products and goods
The Philippines is an excellent place to buy western goods. If you visit a 7/11, you can find all the best western chocolate, sweets, and drinks. Also, Manila is home to some of the world's most extensive shopping malls.
You can find so many western clothing products, electronics, and much more. Unlike other parts of Asia, the Philippines has a very close relationship with western culture and it reflects in many ways.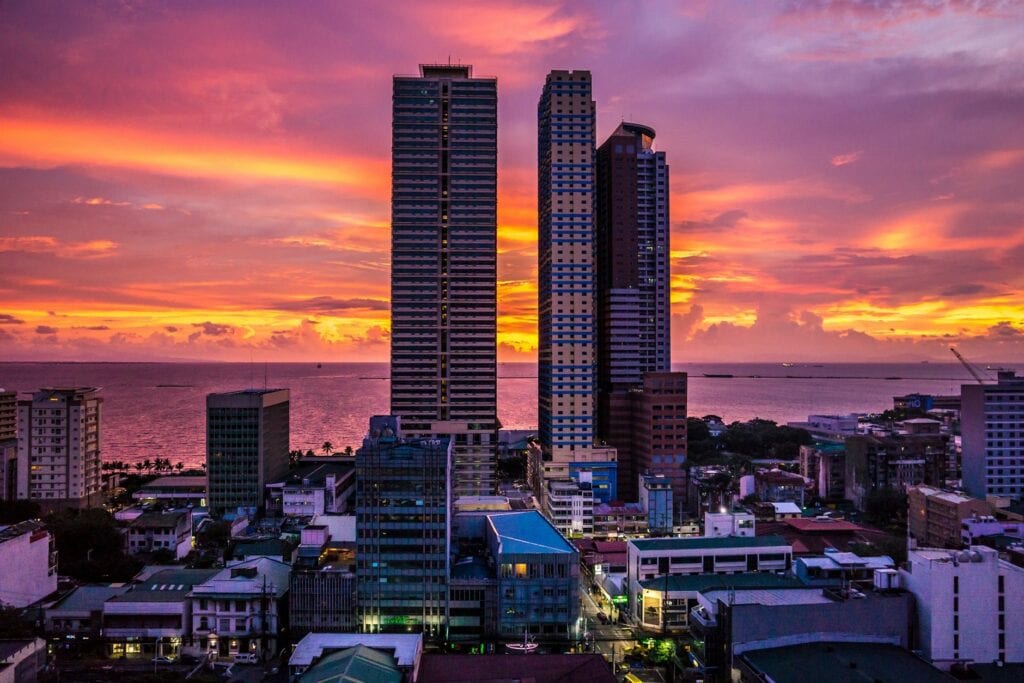 Downsides of being a digital nomad in Manila
Poor wifi
Unfortunately, Manila's biggest downside is a huge blow to any digital nomads. The wifi in the Philippines is very poor, and it frustrates millions of visitors and digital nomads. Many Filipinos suggest the lack of competition from within the country is the main reason for poor wifi.
There aren't many telecommunication companies in the Philippines and the lack of competition is a considerable reason for the poor performance. So how does this affect the life of a digital nomad? Luckily, there are various coworking spaces in the city that offer good wifi speeds. However, if you're working outside of your apartment or coworking space, you will struggle to rely on the Filipino internet. You can pay extra and get a good internet deal for your apartment, but you're going to pay a lot for it.
Pollution
Manila is one of the world's most polluted cities. If you are looking for a city with clean air and healthy living – Manila is not for you. The pollution of the city can rank extremely high on the global pollution index because of the high traffic, motorbikes, and lack of regulation and rule enforcement on dropping trash on the floor.
The Philippines has so many cities that aren't busy, and offer that exotic relaxed tropical vibration. You cannot get this feeling in Manila because it is one of the world's busiest cities.
Crime
Although many parts of Manila are safe, there are equally many parts that are not. Manila is a city that has a bad reputation around the world for high crime. However, on the whole, you should be fine if you take standard precautions.
Locals often recommend that expats and tourists should always take a taxi at nighttime and never walk around by themselves if you're outside of the main touristic areas. There are many slums in the city, and some of them are shockingly close to the main tourist areas. The locals that live in the scums tend to be fantastic people, but you should always pay attention to pickpocketing and potential mugging.
Other things to consider
Visas and Taxes
Most digital nomads work on tourist visas when they are in the Philippines, but the government has suggested introducing a tax on all people who are working online in the Philippines. Although no such tax has been introduced yet – it has been concerning a number of digital nomads. It is possible to obtain business visas to enter the Philippines, but the process can be bureaucratic.
Alternatively, getting a tourist visa if you're on a western passport is effortless. Furthermore, you don't have to do visa runs, and you can easily extend whilst inside the country in just a number of hours.
To be better prepared for any situation, make sure you have travel and medical coverage. You can get a digital nomad package from SafetyWing that covers all your needs as a digital nomad anywhere in the world.
Coworking spaces
Manila has a vibrant and growing coworking space scene. The city is home to an increasing number of entrepreneurs, and the coworking spaces are where you'll find them. Also, it is the best place to find like-minded nomads.
WeWork is one of the world's best coworking space companies, offering 425 coworking spaces globally. Furthermore, they have a huge array of benefits, such as
Art-filled lounges
A central location in the upmarket BCG
Private and shared desks
On-site cafe with food and drinks
The Clock In coworking space is in the heart of the BCG area, and it is a superb coworking space to meet the rest of Manila's digital nomad community.
The option to use hotdesks
Private rooms on offer
Meeting rooms and skype rooms
High-speed wifi
Another popular spot for digital nomads is Bullish, situated in the heart of Quezon City. The coworking space offers a superb mixture of facilities, such as
Free brewed coffee
High-speed fiber wifi
Private desks, hot desks, and private rooms
A contemporary modern design
In conclusion, it is clear that Manila has various downfalls for digital nomads. However, if you can put up with a dodgy internet connection and you don't mind living in a developing city with an enormous amount of hustle and bustle – Manila might be for you. You will enjoy the locals, the levels of English, and the affordability of living in Manila.