With history, art, culture, great food and nightlife it is not surprising that Krakow is one of the most popular tourist destinations in Poland. But how about coming to Krakow as a digital nomad?
In our opinion, Krakow is also the right choice for freelance travelers: in addition to cultural richness and cheap living expenses, it has a thriving startup scene and one of the largest growth potentials in the technology sector in Europe. Besides, being one of the leading cities in the field of outsourcing, Krakow has a large international community of employees and expats. Sounds interesting? Read on, in this article we will try to convince you that the Poland's second largest city deserves to be considered as your next place to settle as a digital nomad as well as provide you with some insights on the life in Krakow!
Where to Stay in Krakow
As a digital nomad you would probably want to stay inside the old town or at least close to it as here you can feel that historical and at the same time modern vibe of the city and integrate into the community of locals and tourists. Of course the rent prices in the central area are a bit higher than in other districts of the city, but in this case it is definitely worth paying more – especially now, when the number of tourists and the demand for accommodation went down and there is a wide choice of flats to choose from for both short-term and long term rent. A really nice one-bedroom Airbnb apartment with a living room and a kitchen would cost you no more than $50 a night.
If for whatever reason you don't want to stay in the city center, there are lots of options to book something outside the old town. The good thing is that unlike many other major European cities Krakow has no good or bad districts – all the districts are safe, have good infrastructure and transport network – it usually takes no more than 20 minutes to get to the city center from every spot of Krakow.
Where to search for an apartment
Apart from Airbnb, which can surely be used as a short-term solution, there are 3 main websites where you can search for an apartment, if you are planning to stay in Krakow longer. These are: olx.pl, gumtree.pl and Otodom.pl. On the first 2 websites there are mostly private advertisements, while Otodom.pl is mostly focused on the advertisements from real estate agencies. Unfortunately, none of the websites has an English version, but since they are intuitive to use, you will have no problem finding the right accommodation. The rental contract is usually signed for a 12-months period in Poland.
Coworking spaces in Krakow
Now, when you have found your apartment, it's time to think of the place to work from.
Krakow offers great opportunities for professional development that is shown by the lowest unemployment rates around the country. Apart from the great number of headquarters of major international corporations being located here, the number of private enterprises also goes up every year.
There are around 40 coworking spaces in Krakow, so there is definitely something to choose from. The most popular ones are Coworking Rynek 28, Bioro, hub:raum Kraków, Krakowski Park Technologiczny, Business Link Kraków High5ive, Cluster – all of them are conveniently located and easily accessible by public transport. An average cost of a coworking desk is 100-120 euro a month.
The cost of living
In general, life in the city is quite affordable. According to Nomadlist the average monthly living expense for an expat in Krakow is 1136 $ (4300 PLN) a month.
| | |
| --- | --- |
| Monthly rent would probably take the biggest portion of the budget. If you want to live in the city centre, be ready to pay 2,250 PLN (€ 500) for a one-bedroom apartment, while an apartment in an inexpensive area would be considerably cheaper – around 1700 PLN (€ 380). | |
When it comes to the prices in restaurants, they are very reasonable, taking into account the high quality of food and level of service. A dinner for two at a mid-range restaurant in the old town including main course, wine and dessert would be around 120 PLN (€ 27), a cup of cappuccino in a café usually costs 10 PLN (€ 2,2).
Public transportation system consisting of buses and trams is great too. One ticket for 20 min which is valid for all kinds of transport is only 3.40 PLN (€ 0,8).
Taxi prices are reasonable, and since the city is relatively small and walkable, a ride from the outskirts to the city center should be no more than 20 PLN (€ 4,5).
Shopping in Krakow is not only more affordable than in other European cities, but also very enjoyable, since there is a big range of mid and big-sized shopping centers and malls.
The average cost of the Internet (60 Mbps or more, with unlimited data) is 55 PLN (€ 12) a month. Free wifi is widely available around the city.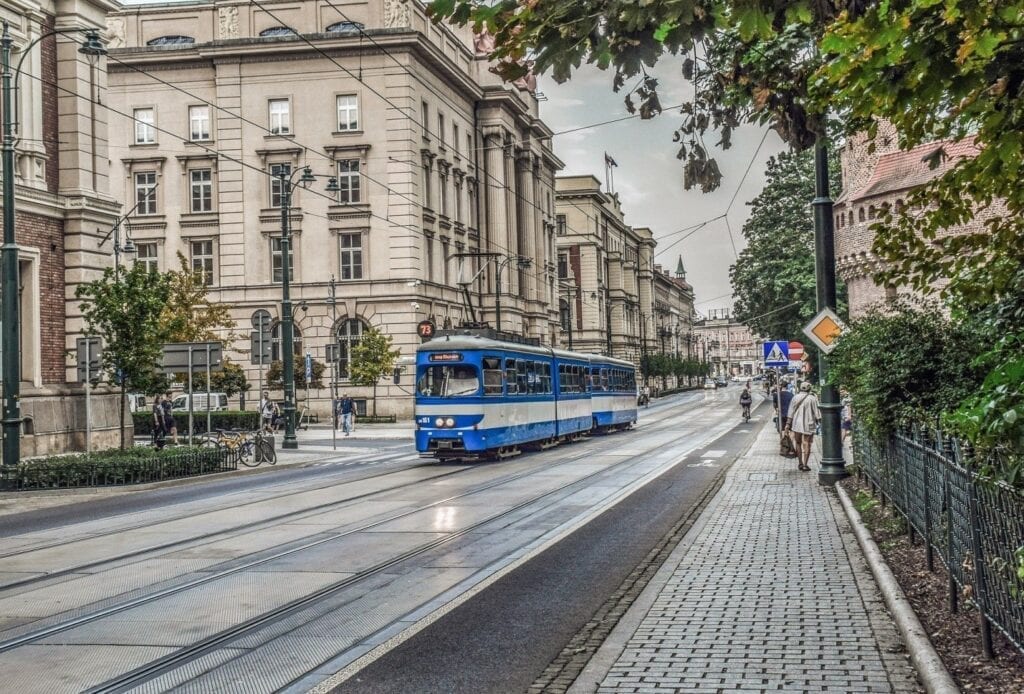 What to do in Krakow
As a digital nomad you would probably want to discover the city you will be living in. And being well-preserved during WWII, Krakow has a lot to offer: lovely churches and remaining synagogues, beautiful museums and art galleries as well as a rich variety of historic architecture.
If it is your first time in Krakow, we recommend joining a Free Walking Tour around the old town and Kazimierz (Krakow's former Jewish quarter). Among the other must-do historical sites are Wawel Castle, Schindler's Factory and the Auschwitz-Birkenau Memorial and Museum (located outside the city). For those who are not into history there are hundreds of bars and restaurants to hang out at night mostly located in the Old Town and Kazimierz.
So, with all the advantages listed above Krakow is a really great choice for both tourists and digital nomads.
And for any unforeseen thing that is not on this list, make sure you have travel and medical insurance coverage for your trip. Providers like SafetyWing, who were made by digital nomads for digital nomads, know exactly what you need and cover you even on trips back home.
Do you agree? Would you consider moving to Krakow for some months? Share your thoughts in the comments!