For decades, you expected to meet Poles elsewhere in Europe, working in bars and restaurants to make good money to send home. But has changed significantly in recent years.
Poland joined the EU in 2004, and although this led to an immediate exodus, it also led to significant economic growth. Traveling Poles are now returning home to invest, and the country is slowly but steadily thriving. Though there are certainly still hangovers from the communist era.
Gdansk is a smallish coastal city that is incredibly popular with Polish tourists since it is one of the few places in Poland with a beach! Though you'll want to restrict your swimming to the summer months as temperatures are freezing for a lot of the year.
While Gdansk is not yet a digital nomad hotspot, its status as a tourist destination means that it is more than ready to welcome visitors. Good infrastructure, an affordable cost of living, and great access to some of the most interesting Nordic cities make Gdansk a very attractive destination for digital nomads.
Whether you already arrived in Poland, or want to plan your journey, make sure your insurance covers you everywhere. There are providers like SafetyWing, who let you start your insurance even if you already started your journey. Their nomad travel medical insurance also covers you all over the world.
Cost of Living in Gdansk
In Poland, the currency is still the Polish Zloty, which is currently worth around EUR0.22, or UDS0.22. In this article, we will talk in Euros to make for easier comparison.
Gdansk is a very affordable city by European standards but is a bit more expensive than some of Poland's other visitor hotspots such as Warsaw and Krakow.
Accommodation Expenses
If you tend to stay in hostels while you are traveling you can expect to pay around EUR10.00 per night for a form and EUR25 per night for a private room. If you want privacy, rooms in an Airbnb start at around EUR40 per night.
If you are looking for a longer-term stay, you can rent a single-bedroom apartment for ERU500-600 per month. There is also a culture of shared accommodation, and you can get a room in a shared house for maybe EUR250-300 per month. You can expect utilities for an apartment to cost around EUR200 per month, to be divided between residents.
Food & Drink Expenses
Food is highly affordable, but there aren't as many cheap "day-to-day" restaurants and Milkbars in Gdansk as in other cities. So, if you are looking for a healthy, homemade-style lunch, expect to pay around EUR7.
That said, as a tourist location, there are lots of options for eating out. A decent meal for two at a restaurant will probably cost around EUR30.
But that is without drinks, and there is a pretty big drinking culture in Poland. Both beer and vodka are frequently on the menu. A beer in a restaurant will cost around EUR2. You might pay a little more for a glass of Vodka, and you are better off getting the bottle, which will probably cost less than EUR10.
Groceries are also highly affordable. Expect to pay around EUR0.60 for a litre of milk, EUR0.80 for a loaf of bread, and EUR2.20 for a dozen eggs.
Transport Expenses
Gdansk is a small city and highly walkable. It also has one of the most extensive cycle path networks in Poland. Since Gdansk is also a very safe city, these are your two best options for getting around.
But in the winter months, when the temperatures fall below zero, you just might not be up for that. There are buses and trams that operate across the city, and they are affordable and use the same ticketing system.
A one-way ticket costs less than EUR1, and there are also monthly discounted tickets for those who use public transport frequently.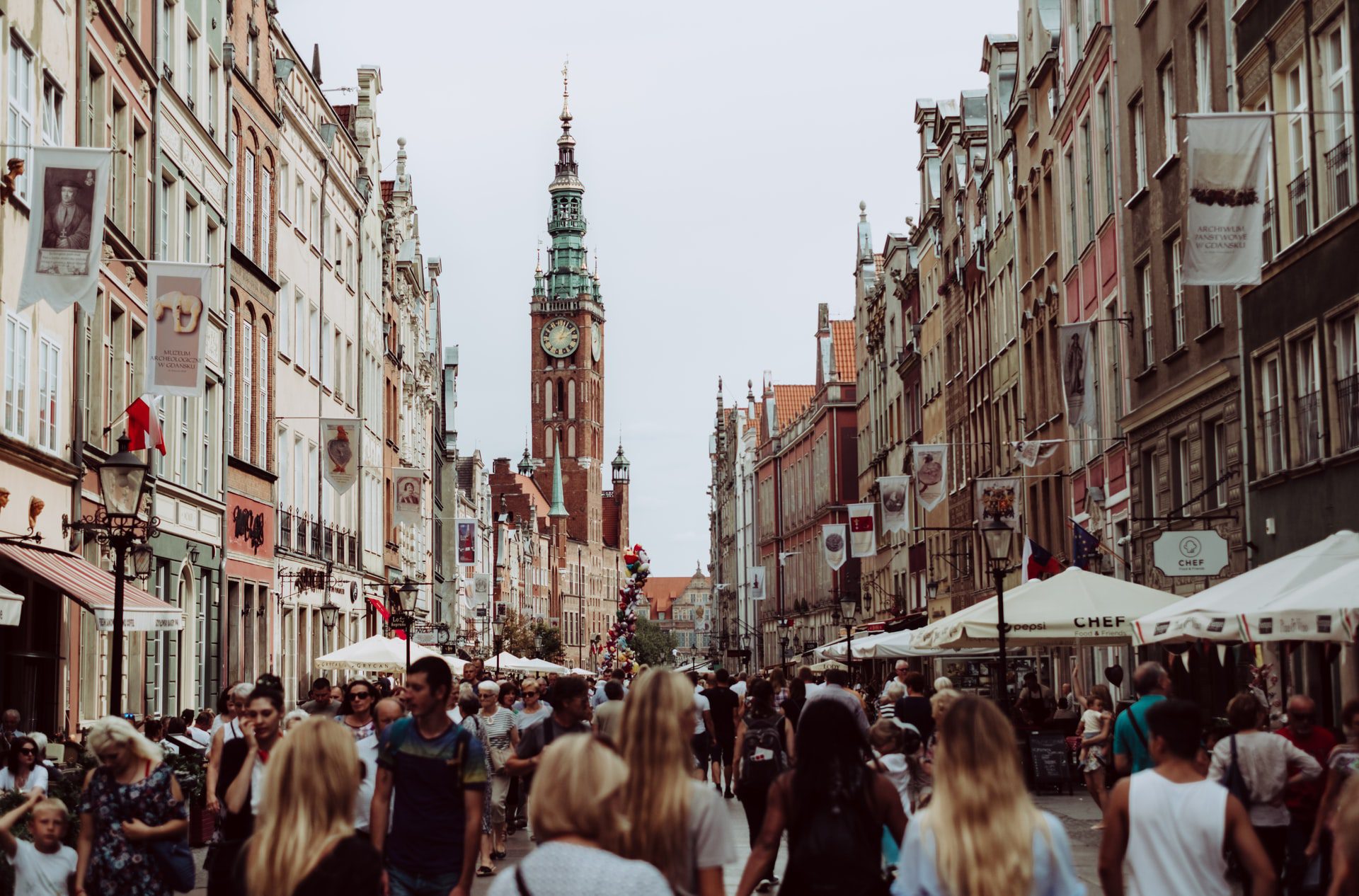 Benefits of Being a Digital Nomad in Gdansk
Good Access
One of the attractions of Gdansk and Poland is that while it is a bit off the beaten track, it is still very central. Since it is part of the European Union, EU citizens don't need a visa to set themselves up there as digital nomads for a while. Outside digital nomads interested in Europe will find Poland an affordable base from which to explore some of the more expensive Western European countries.
Anyone interested in Northern Europe will also consider Gdansk a great option since you can get on a boat for a short trip to Helsinki, Tallin, or Stockholm.
Language Accessibility
While it would be wonderful to learn Polish, it is not one of the easiest languages to learn for English speakers, and it is going to take time. But you will find that most people in Gdansk have a conversational knowledge of English and you'll be able to order and go shopping without any Polish.
Beautiful City
The people of Gdansk claim that it is the prettiest city in Poland, and it is very lovely. It is one of the only places in Poland where you will find white sandy beaches, and it also has stunning architecture with Polish, German, and Nordic influences to explore. The city has a tumultuous history, which has also led to the creation of many fascinating cultural institutions. There is a vibrant but laid-back cultural life to explore.
Good Internet
You will find that you get pretty good internet in Gdansk, though not as good as in Warsaw and Krakow. Standard download speeds are around 90mbps. You can get a faster connection if you are staying for longer and you are willing to pay for it.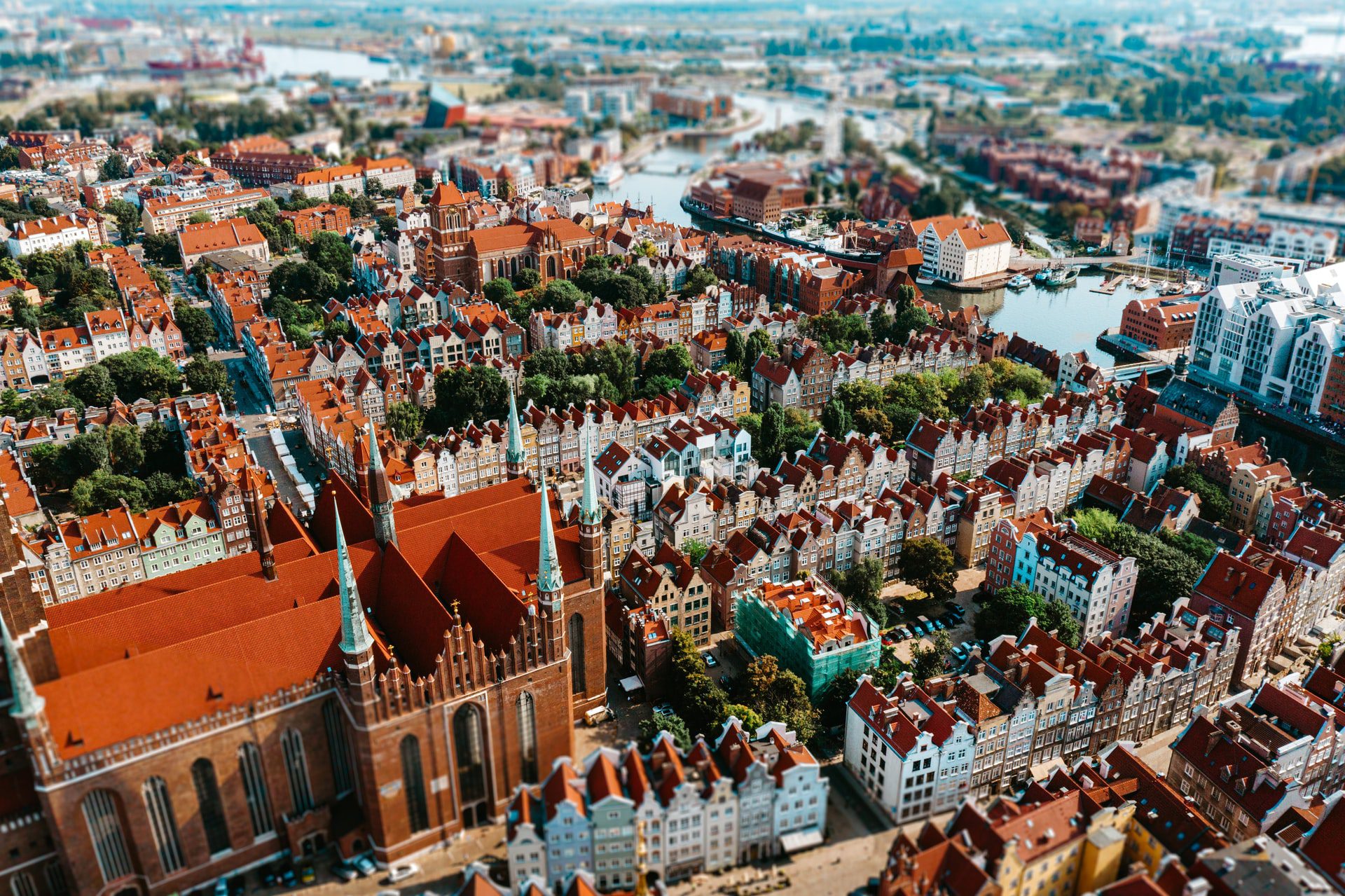 Negatives of Being a Digital Nomad in Gdansk
Limited Digital Nomads
This can be positive or negative. Digital nomads looking for kindred spirits to share experiences and be inspired by will find that there are relatively few digital nomads and local digital entrepreneurs. There are also fewer facilities for digital nomads than in other locations. But this is something that is changing. But those who want to dive into the local culture rather than hang out with people like them may consider this a positive.
Climate
While Gdansk has some great sandy beaches, you can probably count on your fingers the number of days each year you will be tempted to take a dip. It's cold. Temperatures rarely get above the low 20s, even in the height of summer, and it can still be almost as low as 10 degrees Celsius at night. In the winter, say hello to negative temperatures at night and just a few degrees above freezing during the day. Brrrr.
Conservatism
Poland is still one of the most conservative countries in the EU, and popular politics means that it seems to be getting more rather than less conservative. Sexism is rife and access to abortion is limited. Be careful displaying an LGBTQ lifestyle as it can provoke a reaction from others. Plus, there is a lot of administrative red tape to do most things.
People of colour should be aware that Poland is 97% ethically Polish, so at the very least you can expect to draw a bit of attention.
Where to Stay
It is worth noting that Gdansk is often considered part of a three-city union with Gdynia and Sopot. But Gdansk is the more commercial of the three, with the other two more resort and spa towns. We'll look at these two regions, but if you are staying for a while, we recommend staying in Gdansk itself.
Old Town
If your budget stretches to accommodation in Old Town, it is worth it! After World War II it was reconstructed along the lines of its appearance in the Renaissance, which has left it incredibly atmospheric. You are also walking distance from most of the top attractions and very well connected by transport links to the rest of the city.
Look for accommodations near Mariacka Street (Amber Street), Dlugi Targ (Long Street), and Dlugie Pobrzeze (the waterfront street).
This district is sometimes divided into Main Town, around the Mariacka District, and Old Town, near the Train Station.
Oliwa
This neighbourhood is built around a 13th-century cathedral which is the central node of this quiet, residential area. You are also very close to some of the best sandy beaches in the city, which you can reach on the tram with just a few stops.
Olowianka and Granary Island
This region is just across the river from Old Town and it has recently been rejuvenated with some great apartments, but rules mean that the area as a whole has retained its aesthetic. It tends to be more affordable, but still has the attraction of lots of great restaurants and bars.
Neighbouring City – Gdynia
This is the place to stay for each landscape and a resort atmosphere with lots of touristy bars and restaurants. It is a little too far if you want to be connected with Gdansk and is a minimum of a full day trip from the main city.
Neighbouring City – Sopot
Sopot feels like a small and wealthy enclave for celebrities and the like to relax on the beach and hit up the nightclubs. It is pretty much a 24-hour party district, and doesn't have much else going on beyond that.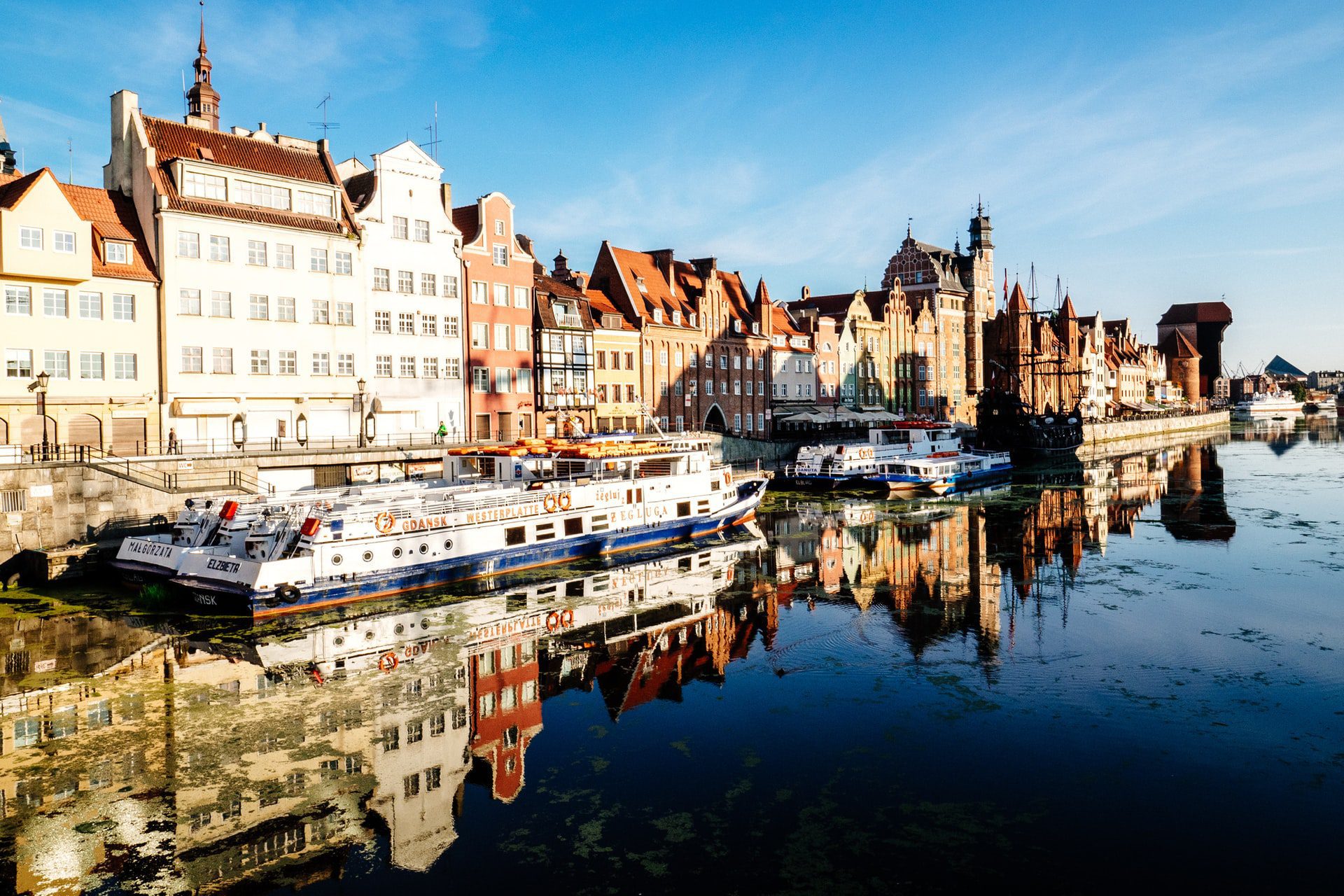 Co-Working Spaces
While Gdansk does not have as many coworking spaces as some other Polish cities, there are certainly options for those who enjoy working in this environment. There is also a big coffee shop culture where you can set up shop. Try:
This modern coworking space occupies two floors at the top of the historic Dyrekcja building near the centre of Gdansk. There are various different options from hot desks to private offices depending on what you need.
This is a simpler and more affordable coworking space still in the centre of Gdansk. It has a good vibe, that feels a little like a university common room.
This space was initially created by two women working in the creative industry who needed a meeting spot, and it soon expanded into something more. This space will appeal most to those who are looking for the social element of coworking, to boost creativity, or to fight digital nomad loneliness.
This one is a bit further out of Gdansk but is on the main arterial route that connects Gdansk to the nearby cities of Sopot and Gdynia, so it is ideal if you are doing business in the region. They provide desks, private offices, and meeting rooms as needed.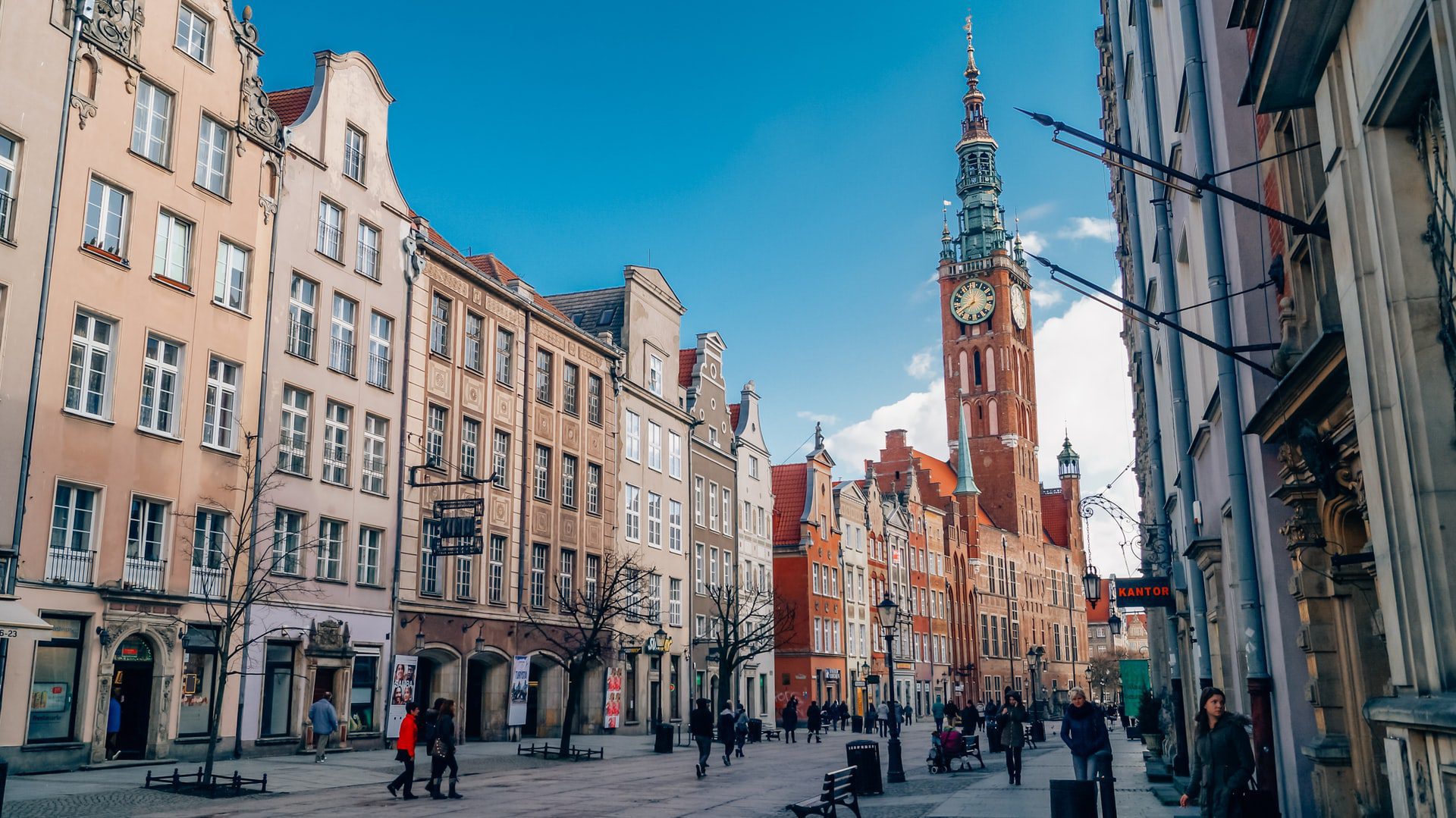 The Verdict
Gdansk is a popular Polish holiday destination, but it may soon become a popular location for digital nomads. An accessible and affordable corner of Europe, it is an especially good base for exploring Northern Europe and encountering the cultures there.
While the digital nomad infrastructure is very much in its infancy, it is growing. And since the city has long been a tourist destination, it is more than ready for new visitors who want to explore the city.
It is worth noting that the conflict in Ukraine is changing the face of Poland today. As a member of the EU, Poland is stable despite sharing a long land border with Ukraine. But the influx of Ukrainian refugees is having an impact all over the country. It is impossible to predict what the long-term impact of this will be.
Poland has opened its borders to all Ukrainian refugees who wish to pass and are pouring resources into accommodating and supporting new arrivals. More than 3.5 million Ukrainians have already passed into Poland.