Fancy discovering the limits of the known world? You aren't that far off it when you make your way to Perth, Australia.
This is the only large city located on Australia's west coast, with around two million people, and is far away from all of Australia's other major cities. Once you have made your way to Sydney (about 24 hours on the plane from Europe), it is another five hours on the plane to reach distant Perth.
But why visit Perth? It is the Australian outback with the convenience of decent Wi-Fi, restaurants, and bars! Not to mention spaces for digital nomads to stay and work.
It is Australia's sunniest city surrounded by beaches for every temperament. The city is rimmed by nature reserves, including Penguin Island, and animals wander more or less freely in the city. The culture of the native Noongar people is strong and well-represented in the community. This all makes Perth a unique place to pass some time in Australia.
Read on as we take a closer look at everything you need to know about being a digital nomad in Perth.
Cost of Living in Perth
Once you get there, Perth is about as expensive as the big east coast cities. Flights from Sydney to Perth will usually set you back somewhere between AUD$300-500.
The currency in Australia is the Australian Dollar (AUD), and the current exchange rate is around USD1=AUD1.50. Below we'll give costs in Australian dollars.
It is also worth noting that while GST applies on all purchases in Australia, it is included in the sticker price. There is also not a big tipping culture. Service fees are also included in the price of items to pay serving staff a decent wage.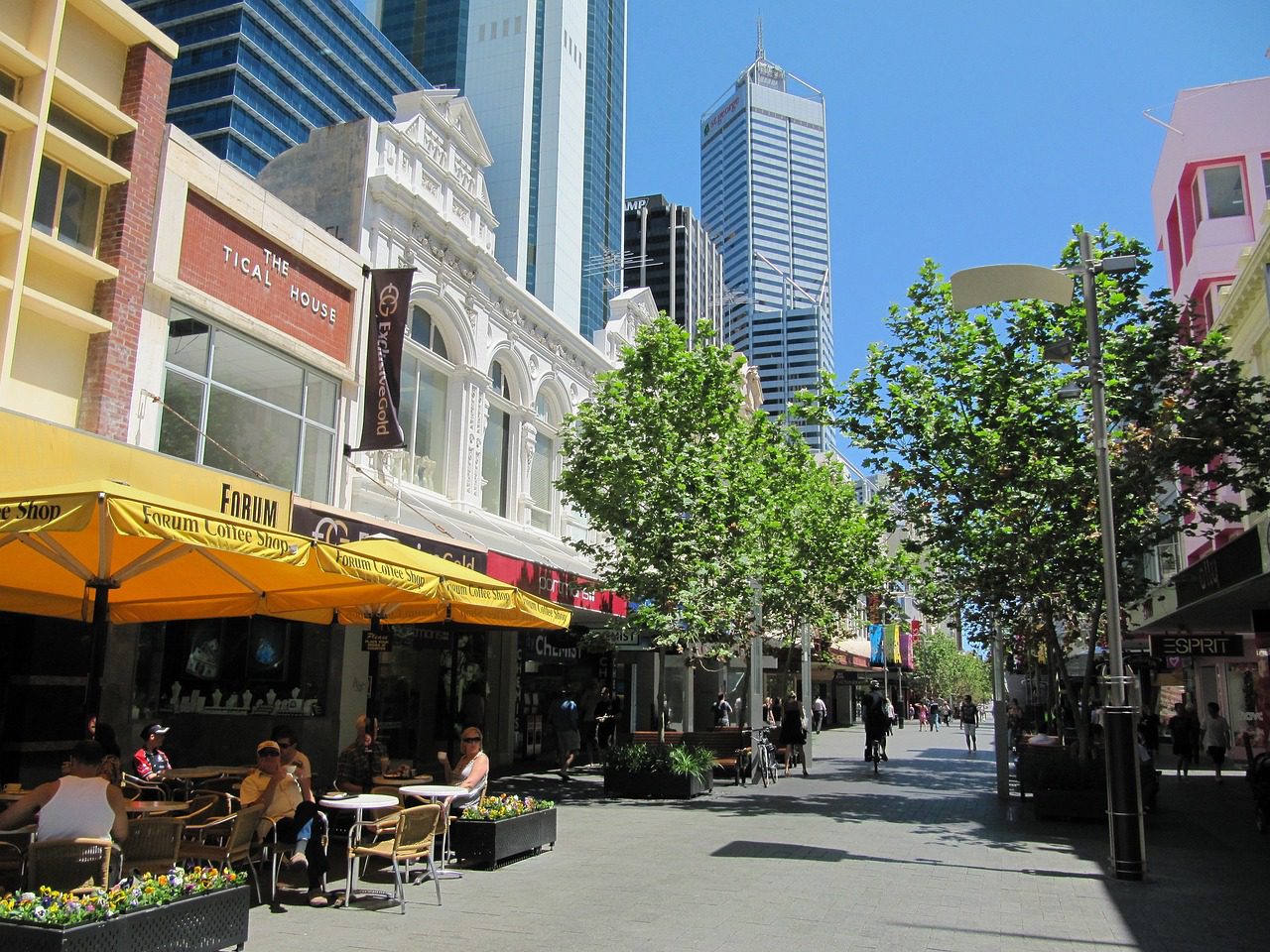 Accommodation Expenses
Accommodation is probably the costliest thing you will need to pay for in Perth. Getting your own apartment in the inner suburbs is about $1,800 per month, and utilities can cost another $200 on top of that. Then you are looking at almost $100 a month for a decent Wi-Fi connection.
You can find shared accommodation, often with students and young professionals. This will cost around $200-300 per week, so $800-$1,200 per month.
There is no shortage of Airbnbs in Perth, but they tend to be pricey. Expect to pay at least $150 per month. You can also find good quality hostel accommodation, with best starting from around $40 per night.
Food & Drink Expenses
You can eat and drink on the cheap in Perth if you are happy to cook for yourself and shop around for good deals at restaurants.
You can get a filling meal at a restaurant for around $25. But if you want to have a nice meal out, expect to pay around $100 for two people before drinks. Beer is pricey at around $10 per glass. A decent but not top-end bottle of wine will cost you $20-25 or buy it cheaper at a bottle shop and take advantage of BYOB (bring your own booze) policies. But be aware there is a corking fee.
It is also worth bearing in mind that in Australia you can't buy alcoholic drinks in places like supermarkets. They are only available in licensed restaurants and specially licensed bottle shops. But since these shops tend to serve a big community (there isn't much competition), prices are good and they have a wide selection, and Australian wine is very good. There are some excellent wineries in the state of Western Australia.
When it comes to grocery shopping, fresh produce is widely available but not cheap. Expect to pay $5 per kilo for apples and tomatoes and $4 per kilo for oranges and bananas. A liter of milk costs around $2.25, while a loaf of bread is $3. Beef is around $20 per kilo, while chicken is currently selling for $13 per kilo in most places.
Transport Expenses
Perth is serviced by an integrated bus, train, and ferry system which offers good value and coverage of most of the city. A one-way trip will cost around $5, but you can make savings with multi-trip tickets. A monthly access pass costs around $130.
Like most Australian cities, Perth is sprawling and built for cars. Gas costs around $2 per liter and there are plenty of rental car companies. Uber and taxis are both available and relatively affordable as well. You have been able to pay for taxis on your card in Australia for decades.
Benefits of Being a Digital Nomad in Perth
The Weather
All Australians like to boast that they have excellent weather, but things hit another level in Perth, considered Australia's sunniest city. It gets more sunny days than other cities, and it is more likely to rain at night than spoil your sunny day. But when it rains between May and August, it pours!
In the summer months, temperatures hit the low 30s (degrees Celsius), but the sea breeze means that this is highly tolerable. Temperatures rarely drop below 10 degrees Celsius, even at night in the depths of winter.
Natural Wonders
Perth is a gateway to some of Australia's most untouched natural wonders. The beaches have perfect white sand and clear blue waters, and the Swan River that runs through the center of the city is clean enough to swim in! The surrounding region is peppered with national parks, wineries, and picturesque outback towns that are dying out elsewhere in the country.
It's more "Australian"
Many of Australia's other big cities in particular Sydney and Melbourne have a very international vibe. While this is great, if you are looking for authentic Australian culture, you are more likely to find it somewhere like Perth. This means a surf in the morning before work, shorter working hours, and laidback and friendly people who will probably start making fun of you within a few minutes of meeting you, but that just means that they like you.
Negatives of Being a Digital Nomad in Brisbane
Isolation
Perth is one of the most isolated cities in the world. Sydney is closer to New Zealand's major cities than it is to Perth! While many people enjoy feeling like they are at the edge of the world, it can be stressful if you aren't accustomed to being so far from family and friends. Time differences can mean that organizing phone calls is also challenging. Perth is 7 hours ahead of London and 13 hours ahead of New York.
Expensive
Perth is pretty much as expensive to live in as Sydney but without the benefit of being a major international city that is a cultural melting pot and well-connected.
Connectivity
Perth is set up for Wi-Fi and mobile data, but you will find that connectivity is not as good as you are accustomed to in Europe or the United States. This is a result of the distances that need to be covered and the ruggedness of the surrounding terrain. Also, when you leave Perth to explore the surrounding region, expect connectivity to be pretty terrible. Online work will be very frustrating.
Where to Stay
Perth is another sprawling city with big houses with lots of green space attached. While some suburbs have a unique vibe, you will often find the same markets and chains popping up which can make things feel "samey". But there are the best suburbs to make your base in Perth.
East Perth
This is probably the best inner suburb of the city when it comes to restaurants, cafes, and bars, and most of the major shows and cultural events happen here too. Of course, being in the heart of the city, rents are high, and it can be noisy well into the wee hours.
Joondanna
While this suburb is still close to the city centre, it is characterized by green parks and lots of great recreational activities for families. This is another quite expensive suburb with larger houses on the market.
Marylands
Yet another inner-city suburb, Marylands runs along the riverside for some of the best views in the city. It is also a cultural and creative hub with lots of restaurants, bars, and galleries. Prices are cheaper than other central locations, and the public transport links are excellent (largely thanks to the ferry).
Scarborough
This is the suburb to stay in if you want to be on the beach, hitting the surf whenever the waves are good. There is also a strong café and bar culture with a laidback hippie vibe that is very appealing. The Thursday evening markets are also a bonus.
Freemantle
If you want to stay in a more historic area of the city, this is where you will find the old ports and markets, which are now home to a fashionable arts district. It is an affluent and therefore expensive region of the city, but this comes along with excellent drinking and dining options.
Co-Working Spaces
Perth doesn't have as many coworking options as other major cities, but the ones it does have are excellent. The strong café culture also means that there are plenty of places to set yourself up for a couple of hours with a brew.
Flux
This coworking space is targeted as tech workers and start-ups, providing lots of specialized facilities such as 3D printers and a virtual reality lab. Located right in the city center, Flux tries to deliver personalized solutions rather than offer a standard day rate. Speak to their management for a specific package for your stay in the city.
Officenexus
Officenexus feels a little more like a private members club than a coworking space but in a good way. As well as the sophisticated décor, the organization provides a lot of special services for things like hosting events and virtual office services.
Regus
Regus is certainly the biggest coworking operation in Perth with five locations across the city, mostly close to the center but also at Scarborough beach. It comes with different workspace options, and also fully equipped facilities for meetings and events. It has some of the most affordable plans for those just passing through and wanting to hot desk, starting at £130 per month.
Soto Coworking
Soto Coworking is located in the city center around Mount Lawley and is surrounded by great burger joints and coffee spots. The office space is very green with open-plan working options and plenty of break areas to stop and recharge. Membership comes with lots of perks, including discounts at local shops and free coffee and snacks.
Spacecubed
Located in the Central Business District, Spacecubed is probably the most popular coworking space in the city. Choose from hot desks, private desks, or your own private working "cabin". There is a monthly membership fee ($35) and then you need to speak to the management for a personalized fee for what you need.
The Verdict
When you look at a map, Perth can feel like it is at the end of the world, and that is one of the attractions of spending time there. It sits at the center of a large state with many untouched natural wonders.
But Perth offers the convenience of city living in this "wasteland" with decent internet connections, coworking spaces, and short-term accommodation options for digital nomads.
Perth is not one of the more affordable places where digital nomads can base themselves, but it delivers value when it comes to the standard of living.