Rhodes is one of the most historical cities in Greece after Athens, and with a booming travel economy, as well as plenty of opportunity for part-time work in its city center, it's a pretty ideal location for digital nomads to enjoy.
This Greek city has a stunning array of surviving medieval architecture in its Old Town, and proudly presents its heritage in the crusades and Ancient Greece. The modern area of the city has great shopping and accommodation potential, making it an up-and-coming city in Greece.
With a successful place for travel in the Dodecanese islands, read on to find out how you can benefit from Rhode's economy as a digital nomad, and learn how the cost of living, accommodation prices, and much more will affect you in Rhodes.
This is a guide to living in Rhodes, Greece as a digital nomad.
The cost of living in Rhodes
Although the state of the Greek economy currently is not ideal, it is beneficial for tourists and foreigners wishing to stay in Greece – it means the cost of living is much lower than in other countries.
Using London as an example, Rhodes is 14.71% less expensive, and rent in Rhodes is, on average, 81.35% lower than in London. The average cost of living in Rhodes is 995 USD which is close to the world's average cost of living – a pleasant surprise given Rhodes is a large tourist destination.
Whilst the cost of living in Rhodes is the 7th highest of all Greek cities, this still makes it notably cheaper than the rest of the world.
Accommodation Costs
Digital nomadism can mean staying in a wide variety of accommodation types, so your main options are all covered below: renting, hotels, and Airbnbs.
The average monthly rent in Rhodes (for an apartment with 1 bedroom) is around 300 USD. This increases as you get closer to the city center, but a 1 bedroom apartment is on average never more than 400 USD a month – which is shockingly reasonable.
Given that the average monthly salary in Rhodes is 900 USD, this means renting in Rhodes is a relatively cheap option.
Or, you can stay in one of Rhodes' many hotels.
Hotel deals start from just 20 USD a night in 2-star hotels or can climb up to 100 USD for the fancier hotels in the city center, or by the beach.
It can be said that the west coast is less crowded than the east coast, and hotels can be found in Kramasti and Theologos (aka Tholos) where they are few and far between. It is the perfectly sized resort for a 'get-away-from-it-all' stay in a hotel in either of these small towns.
The most rustic hotels are situated in the Old Town, whereas the hotels in the modern city center are perhaps more efficient for digital nomads.
Airbnbs are significantly more expensive in Rhodes than hotels.
The average Airbnb apartment is around 100 USD per night, but you can rent Airbnb studios for as low as 34 USD per night in the town of Faliraki – but this is 13 km away from the city center.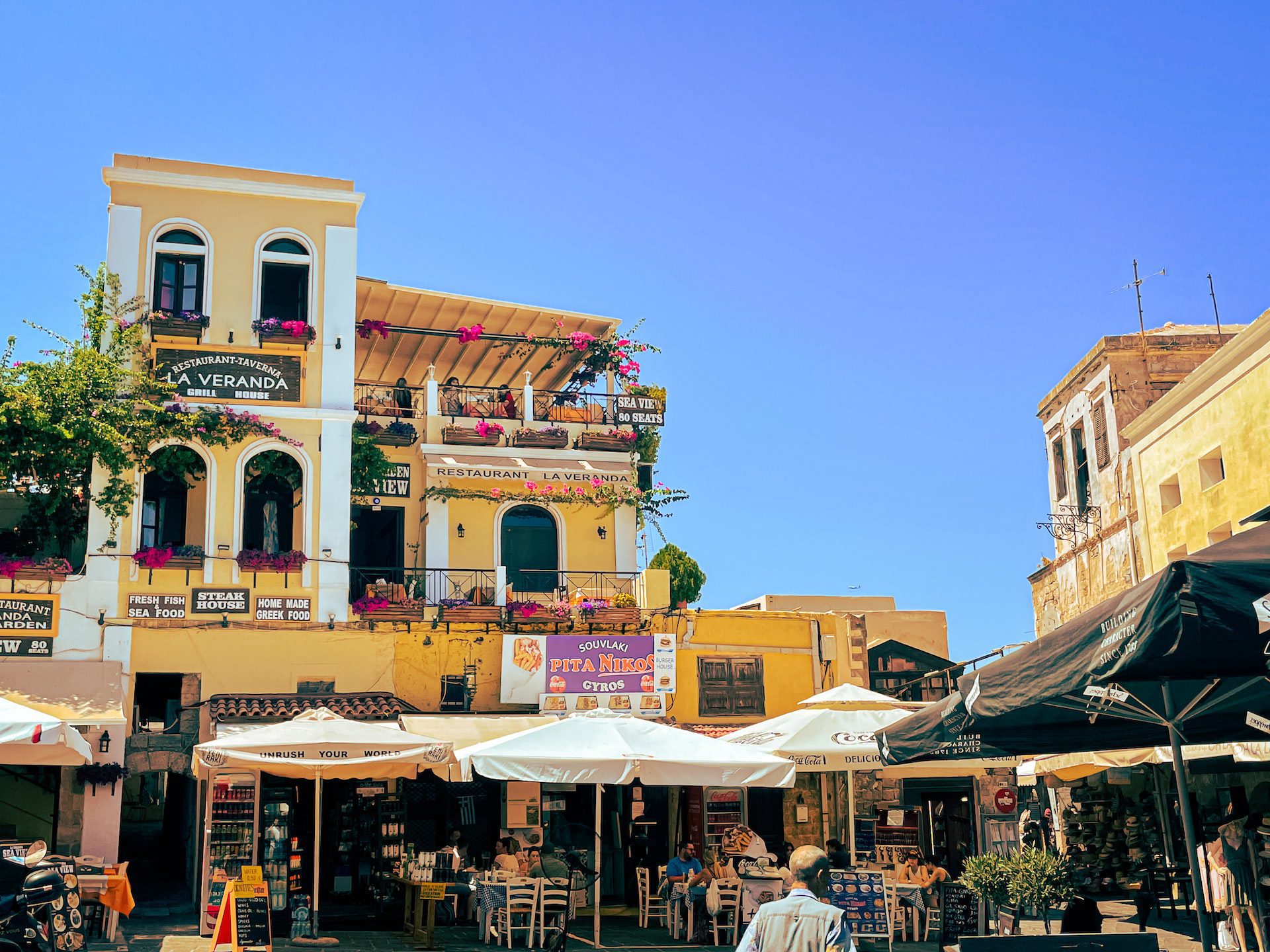 Food Expenses
Rhodes, unlike many cities mainly filled by resorts, is renowned for its cheap eating-out prices, especially where fast food restaurants and cafes are concerned.
The average cappuccino, for instance, is around 4 USD, and the average fast food combo meal is just over 8 USD, making eating on the go very economical.
In a low-range budget restaurant in the city center of Rhodes, a meal with a couple of courses for one person is around 14 USD, so eating out is another reasonable option.
In terms of buying groceries, we can measure Rhode's economic nature by taking a look at the basic groceries you might buy. In a standard local supermarket, for example, you would expect to buy a dozen eggs for around 2 USD, and a loaf of bread for less than 1 USD.
Drink Expenses
Popular nightlife areas in Rhodes mainly include Hippocrates Square in Rhodes Town, as well as Faliraki, which is famous for its clubbing scene.
Drinking in Rhodes can also be very cheap, as the average bottle of local beer can be found for less than 2 USD, while imported beer can be as much as 6 USD – however, this is very cheap, especially considering that Greek beers are certainly worth trying.
Transport Expenses
Rhodes is the largest island in the Dodecanese, so getting around is a large concern.
Fortunately, to see the main landmarks around the city center, you can get the "hop-on hop-off" bus around the city. On the other hand, public buses can be cheaper and more efficient for getting to specific places.
Tickets for the buses to get from one end of the island to another can be up to 8 USD, whereas the shortest journeys can cost less than 1 USD.
Renting a car is not recommended, as driving is restricted in the Old Town, and it can be expensive. Taxis are also not cheap, and charge the same rate for any amount of passengers; certainly not ideal for digital nomads traveling alone.
Therefore, KTEL and RODA buses are your best, and most economical, choice.
Benefits of being a digital nomad in Rhodes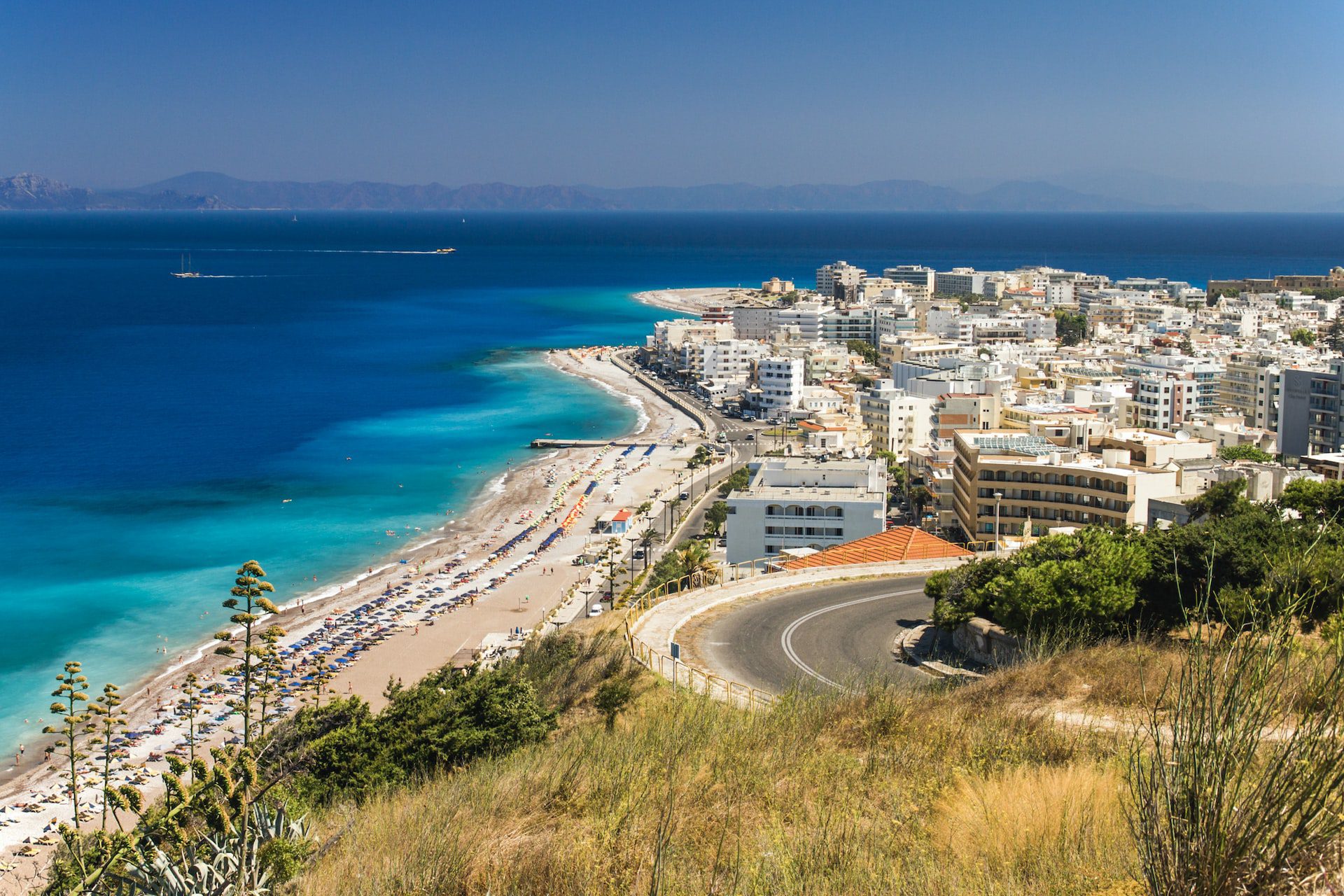 Amazing weather
As a digital nomad, you can leave the office behind and easily work outside in Rhode's gorgeous weather conditions.
Rhodes is officially the sunniest place in Greece – with more than 300 days of sun every year, and a 68% chance of clear skies every day.
Due to this great weather, you can wind down by visiting Rhodes' many beaches and parks to soak up the endless sunshine.
An Endless History to Explore
Whether you're into knights and medieval history, or you're fascinated by Ancient Greece, Rhodes has a deep history in many eras of time.
Rhodes is home to the oldest habitable medieval city in Europe – located in Rhodes Old Town, this UNESCO site is breathtaking. Or, visit one of the many ancient temple ruins in Rhodes, such as the Temple of Apollo near the Acropolis.
You can also visit the site of the Colossus in Rhodes Town, where one of the Wonders of the Ancient World once stood.
Immersive Culture
Although Rhodes is just one island in Greece, it's the perfect place to get a taste of real Greek culture.
Rhodes, for instance, can provide the perfect authentic taverna experience in the Old Town: popular and locally-owned tavernas in this area include To Megiston and Niohori.
The island also has the most comprehensive selection of local Greek food like meze, pitaroudia, and tzatziki which is also notoriously healthy and is sure to set you up for a motivational work experience as a digital nomad.
The Best Areas In Rhodes
Rhodes Town
As the center of the island, Rhodes Town is the perfect place to stay if you like a busy, urban experience – with a lot of historical architecture thrown in.
Your cost of living is likely to be higher in this area due to the scale of tourism, however it's the ideal location to get a taste of both the modern island with fashionable bars, whilst also enjoying traditional Greek nightlife with the many tavernas in the Old Town.
Faliraki
This area of the island is famous for its nightlife. Particularly popular among younger people, Faliraki is a good location if you want access to bars and nightclubs – as well as the opportunity to meet a lot of new people.
Due to its reputation, this area is not popular with locals, so you won't be as immersed in Greek culture if you decide on Faliraki.
Lindos
This town has been called the most beautiful town in Rhodes. Its cobbled streets, towering acropolis, and white-painted houses certainly give the impression of a traditional Greek community.
Lindos is not only pretty but also has a wide range of tavernas and bars for when you want to socialize. The downside to this area is the fact that it is most accessible by boat – around 2 hours on the regular ferry.
Negatives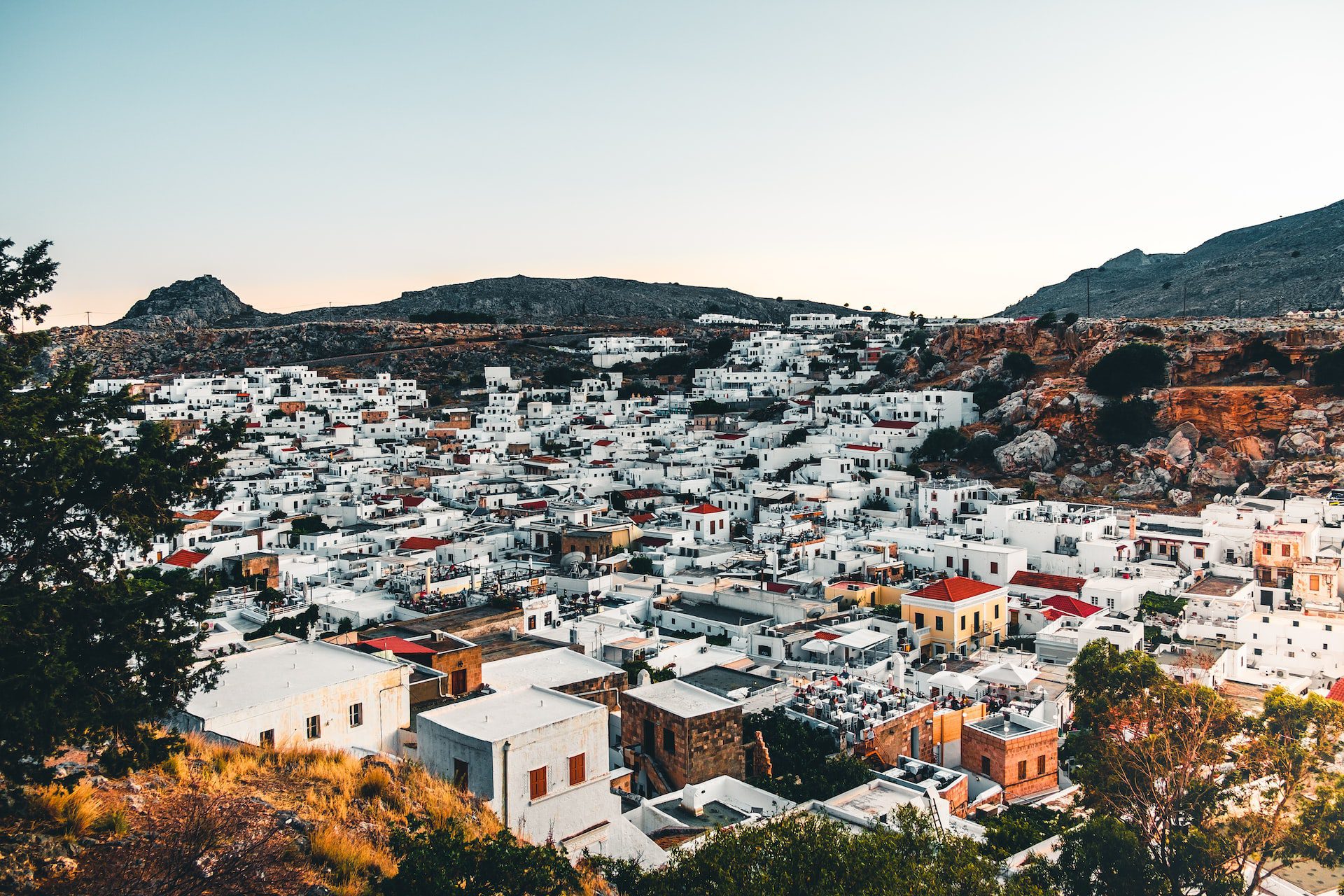 Overcrowding
Like any substantial tourist destination, Rhodes is starting to develop a problem with overcrowding. This is particularly visible in July and August.
In the last few years, this has increased queueing and traffic congestion – as well as an increase in pollution and waste.
As a digital nomad, these problems might be more prevalent when you're trying to get around the city, as tourists on short trips aren't likely to notice. It's best to travel to Rhodes in May or October to avoid this overcrowding.
Getting around the island
As previously covered, there are many beautiful areas of Rhodes to explore. However, getting around the island can be difficult, if not downright expensive.
To get to the most beautiful areas, such as Lindos or Symi, travel can be either uncomfortable or expensive.
The bus routes don't cross the whole island, and getting a taxi or renting a car can be very expensive – especially as a foreigner, as you won't be offered the best deals.
Commerciality
Rhodes, although very historical, has a large shopping center in the modern town – this is often overrun with families or people seeking top brands like Sephora.
The Nea Agora market in Rhodes allows businesses to thrive, but prices out locals and imports many of the goods, causing Rhode's economy to suffer.
If you worry about the ethics of your purchases, or you don't want to live in a commercial area, this is something to bear in mind.
Lack of Coworking Spaces
As the accommodation of digital nomads is a relatively new concept in Greece, there is a lack of coworking spaces – as you will see by the meager options available below.
Of course, coworking spaces aren't necessary to do remote work, but it's important to consider whether you would find working from home or working in a location such as a rented office, acceptable.
Other things to consider
Visa Requirements
Anyone not from the EU will require a Visa to stay in Rhodes for more than 90 days, whereas those from the EU just need a residence permit.
Luckily, Greece does offer a Digital Nomad Visa as of 2021. It allows digital nomads to live and work in Greece for up to 12 months.
You're eligible for this visa if you work remotely for a non-Greek business, or if you're self-employed. The fee of 70 USD is cheap, but non-refundable if you do not meet these requirements.
How to find accommodation
In Rhodes, you can either be hosted by a local or rent out an entire property. Let's look at some of the best websites available to do this.
With Airbnb, you can rent a room or a small apartment on the coast for as low as 25 USD per night – due to the layout of the island, you're also almost always guaranteed a great view!
Or, if you're looking to rent an apartment, Spitogatos.com has a great range of rentals with unlimited criteria. This site's average rental price per month is 600 USD.
Another site to find property for rent in Rhodes is Spiti24.com. This site is your best option for finding a property in the center of Rhodes town, instead of other areas such as Faliraki. This site also offers cheaper options for rent, such as around 200 USD per month for a studio apartment.
Coworking Spaces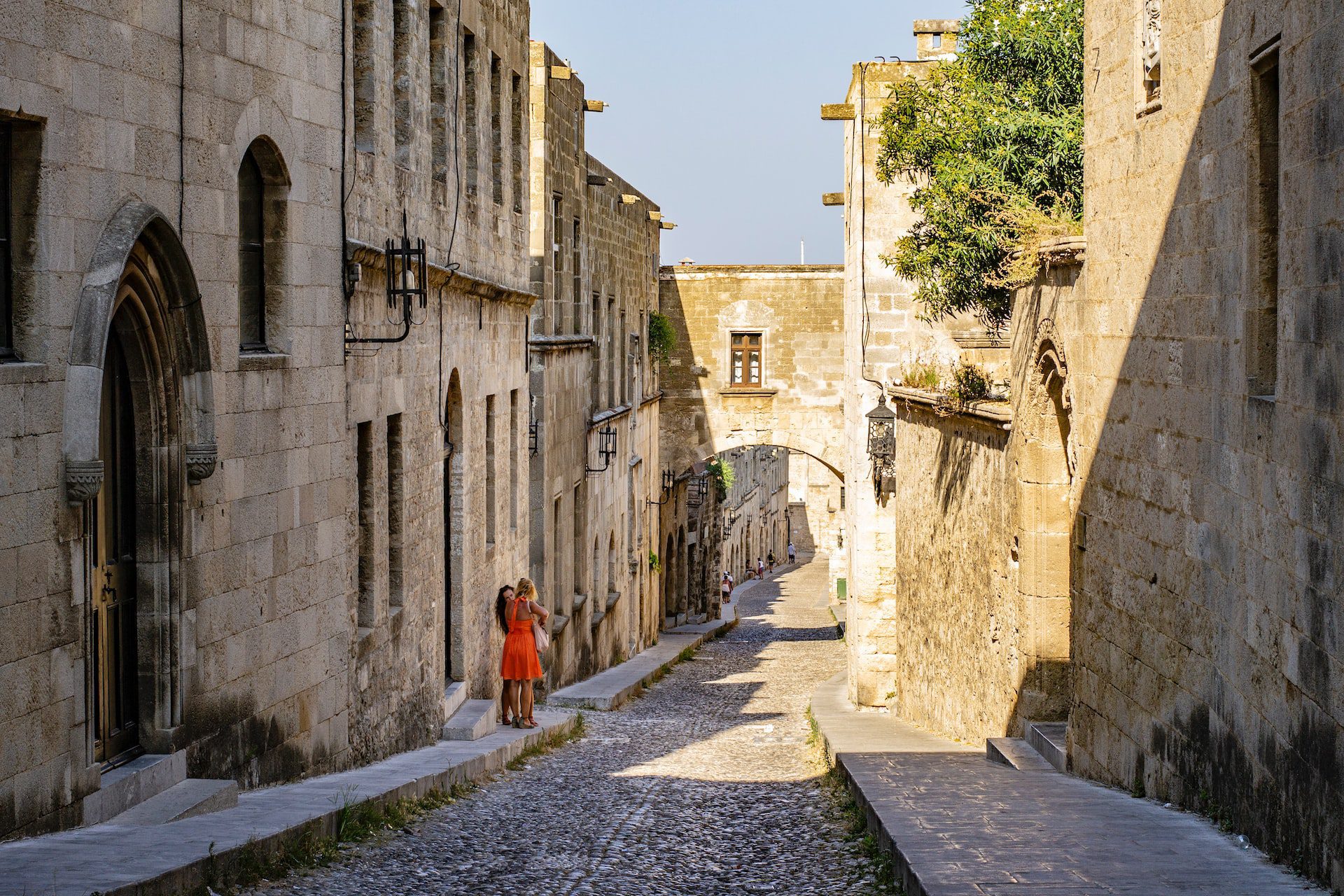 Industrial Open Space
Situated in a peaceful neighborhood in the center of Rhodes town, this space is small but can provide an excellent atmosphere for work. Its facilities include:
English hosts
Free wifi
Laptops for use
Accommodation of up to 3 people
Stay Hotel
If you're looking for a larger, and more luxurious coworking space, Stay Hotel is ideal. It has a range of amenities, such as:
A bar and restaurant in the same building
Up to 12 coworking spaces
A spacious conference call booth
Conclusions
Rhodes, Greece has all the features of an idyllic island: sunny beaches, thriving culture, and excellent cuisine. If you enjoy a laid-back atmosphere, whilst also having the option to party when you'd like, Rhodes may be the island for you.
Saying that, it's still important to note that Rhodes is relatively small and relatively new to the concept of digital nomadism – it may be harder to set up your working space and your lifestyle here than in other areas.
Whether you choose to work in Rhodes long-term, or just want a working holiday there, it certainly has plenty to offer and is a stunning place to access.