Namibia is the latest country to launch a digital nomad visa to attract remote workers to diversify the business ecosystem, attract talent, and inject foreign investment into the economy.
The new visa was launched in October 2022, and government agencies are currently developing an online portal that will allow interested parties to apply and pay online. But there is no need to wait! You can apply now by emailing the Application Form to nomadvisa@nipdb.com.
About the Visa
This new digital nomad visa will allow foreigners to live in Namibia for a period of up to six months. However, it does not provide access to employment in the country, and applicants must show that they have an adequate source of income coming from outside of the country to qualify.
The minimum monthly income requirement has been set at US$2,000 for the principal applicant. If the applicant intends to bring a spouse, they must show an additional US$1,000 per month in income, plus an additional US$500 for each child they wish to bring.
The application is made by sending an application form via email to nomadvisa@nipdb.com. This is a generic application form that does not apply specifically to this visa, and a number of other documents are required.
A cover letter explaining that you are applying for the digital nomad visa and explaining your reasons for wanting to apply.
Proof of employment or income coming from outside of Namibia. This can take the form of payslips, an employment contract, etc. The minimum required income in US$2,000 for a single person, with an additional US$1,000 required for a partner and US$500 per child.
Six months' worth of bank statements demonstrating a stable income.
Proof of relationship for any dependents that will be traveling with you, such as a marriage certificate or birth certificate.
Original police clearance document from the country of origin, translated into English and authenticated by an Apostille.
Proof of health insurance for the full period that you intend to stay in Namibia. SafetyWing provides affordable and comprehensive combined health and travel insurance for digital nomads.
A chest x-ray/radiology report for everyone over the age of 12 who is traveling, demonstrating that all travelers are free from tuberculosis.
If your application is approved, you will receive the relevant documentation via email. You will be provided with your visa upon arrival in Namibia where you will also be required to pay a fee of US$62 per person.
Things To Know Before Traveling to Namibia
Namibia has become one of Africa's most popular travel destinations for ex-pats and digital nomads thanks to a combination of high quality of life, low cost of living, and beautiful natural landscapes.
Namibia is located just north of South Africa and matches a desert interior with a long Atlantic Ocean coastline. It matches gorgeous beaches with desert savannahs and stunning wonders such as the Fish River Canyon and the red sand dunes of Sossusvlei.
The country was developed over the years by a mix of tribes, including the San Damara and Nama people, and was then dominated by the Bantu and Ovambo people. The country was incorporated into the German Empire in the 19th century, during which time acts of genocide occurred. After the First World War, it was taken over by South Africa, which imposed its own racial laws on the country. Protests and guerrilla warfare began in earnest in the 1960s, and Namibia eventually won independence in 1991.
Today Namibia is one of the most sparsely populated countries in the world, with a population of just 2.6 million, about a 5th of which live in the capital Windhoek. Most ex-pats call the capital home to have access to facilities, and there is little of the overcrowding and traffic seen in other big African cities. A majority Christian country, English is the leading language, but Afrikaans and German are also widely spoken.
Namibia has a cost of living that is about 50% less than the United States but offers a high standard of living. Crime is low, but most foreigners live in gated communities. Private health insurance is necessary for foreigners living in Namibia.
Pros and Cons of Living in Namibia

Namibia Pros
Affordable Cost of Living
The cost of living in Namibia is about half of what it is in the United States. You can expect to get a decent apartment in a gated community for around US$500-700 per month.
Climate and Weather
Namibia is a subtropical nation, which means that it is warm but not sweltering. Temperatures hit highs in the low 30s (degrees Celsius) in the summer and rarely drop below 10 in the winter, even at night. While summer is the wet season, rain is mild in Namibia, one of the driest countries in the world.
Natural Wonders
Those looking for nature will love Namibia. It has miles of sandy beaches, stunning deserts, and national parks full of wildlife.
Transport
Public transport is not great in Namibia, but the roads are good, and traffic is not bad, so that foreigners can drive in the country. It is recommended to get a four-wheel drive for excursions outside of the city and not to drive at night as wildlife on the road can be a hazard.
Safe
Namibia is generally considered a safe country, with crime limited to pickpocketing and petty theft. It is generally safe to be in the streets with proper precautions and common sense.
Language and Culture
English is widely spoken in Namibia, which is a majority Christian country, which can make it more accessible than some nearby Muslim countries.
Namibia Cons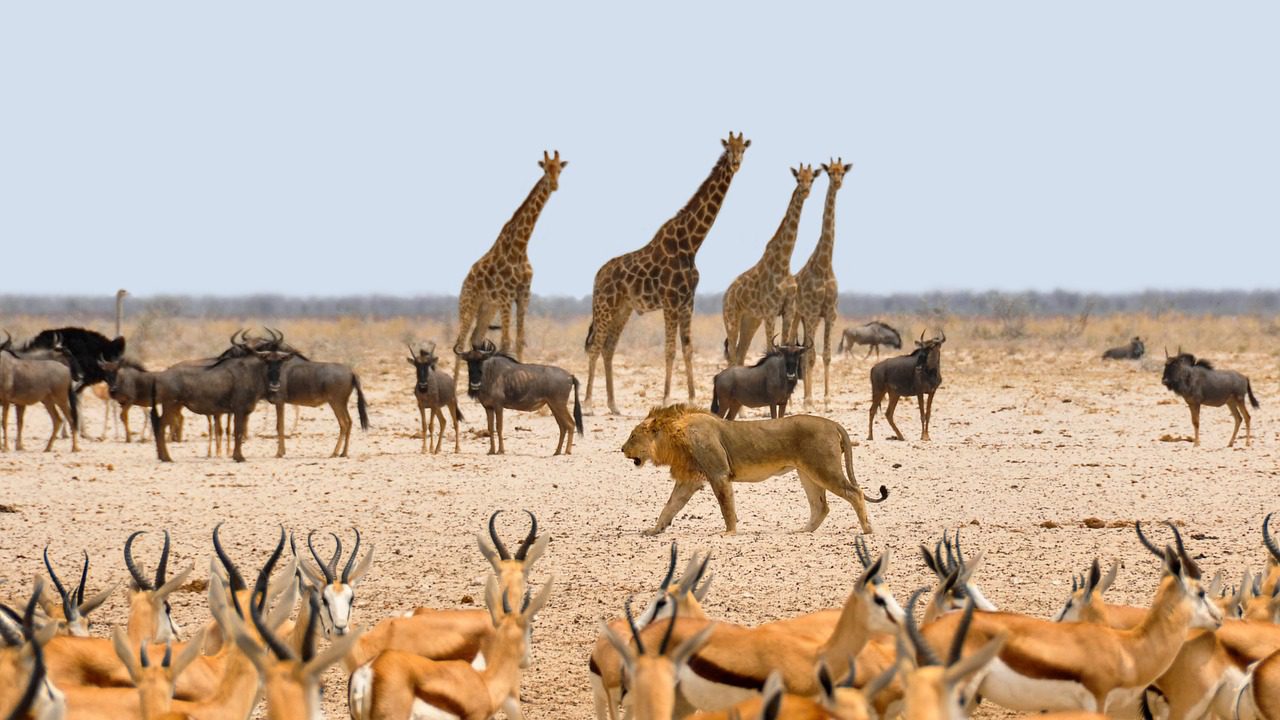 Housing
While Namibia is a very safe country, there is poverty, and crimes of opportunity occur. Foreigners are generally recommended to live in gated communities with security to avoid repeated robberies. Foreigners are also generally expected to hire local help, such as cleaners (non-live-in), to support the local economy in which unemployment is high.
Health
There are a number of persistent health issues affecting the country. Around 13% of the population is estimated to have HIV, and malaria is common. The water is not safe to drink, often transmitting diseases such as 'E. coli'. Public hospitals are not good, so travelers should have health insurance to gain access to private hospitals.
Travelers over the age of 12 are required to provide a chest x-ray showing that they are not afflicted with tuberculosis, which has historically been problematic in Namibia.
Are We Excited About the Namibia Nomad Visa?
Yes! We think that the Namibia visa is a very exciting prospect for anyone keen to spend some time in Africa. The visa is affordable and easy to access with fairly minimal requirements.
Namibia can be a great entry point for Africa thanks to the use of English and Judeo-Christian social rules. It is also less crowded than many other African countries, making for a more leisurely introduction to the continent.
But Namibia also boasts Africa's rich culture and stunning national parks. There is no doubt that after Namibia, you will want to explore some of the other jewels of Africa.
Several other African countries are also offering digital nomad visas, including Cape Verde, Mauritius, and Seychelles. Many others are sure to follow suit shortly.