Ever since Spain announced its intention to introduce a digital nomad visa back in 2021, we have been waiting for the Startup Act, which includes the visa and incentives for entrepreneurs, to come into force. This is now set for the end of January 2023.
The Ley de Startups will see Spain introduce a digital nomad visa comparable to DNVs available in other EU countries including Greece, Italy, Portugal, Croatia, and Albania. While all the details about this visa still aren't clear, it does have one special feature.
The Spanish visa lets freelancers work for Spanish clients if it does not make up more than 20 percent of their declared income.
Below are more specific details about the Spanish digital nomad visas and living in Spain as a digital nomad.
Spanish Digital Nomad Visa
Requirements
The full requirements of the Spanish digital nomad visa have not yet been released, but we have a good idea of the requirements from press releases to date and the form of other digital nomad visas that have emerged within the European Union.
Open to non-EU and EEA citizens, you can apply for the visa if you are a remote worker or self-employed and can complete your business online. However, you must show that you have been in a stable remote job for at least one year to be considered for the visa.
The government has already stated that the minimum income requirement will be twice the local minimum wage, which is €1,050. While in theory, this means that the minimum wage will be €2,100 per month, experienced commentators suggest that it will be closer to €3,000 per month.
The law does allow for a partner or dependent to accompany you to Spain. You will be expected to provide proof of the relationship, and the income requirements may increase for additional people.
Application
Applications are likely to be made through Spanish embassies and consulates in the same manner as other visas. Required paperwork includes:
Passport valid for the duration of your proposed stay
Proof that you are a remote worker or self-employed and have been so for at least 12 months
Proof that you meet the minimum income requirements from sources outside of Spain
Proof of a clean criminal record from the countries you have lived in for the last three years
Health insurance for the duration of your stay in Spain
Proof of accommodation for at least the first part of your stay in Spain
It is unclear what the visa application fee will be, but it is likely to be at least €80, as this is the cost of a tourist visa application. Bear in mind that if you have ever been rejected for a Schengen visa then your application will be rejected automatically, and you will not receive a refund. You can expect it to take between 15 and 45 days for your visa to be processed and delivered.
Foreign National Identity Card
Once you arrive in Spain you must obtain a residence permit and foreign national identity card within 30 days. Apply at the local Foreigner's Office (Oficina de Extranjeros) or Police Station in Spain, for which you should make an online appointment. You will need:
Once you have had your appointment, it can take three months for your card to be issued, and you will be provided with instructions for collecting your card.
Financial Matters
As a resident in Spain, you will also need to obtain an NIE, a Numero de Identidade de Extranjero, which is required for all financial transactions in Spain. You can download the NIE application form here and this should be taken with your passport and visa to the Police Station or Foreigners Office. There is no need to make an appointment and you should receive your number within five working days.
As a foreigner, you will be eligible to pay the reduced non-resident income tax rate of 15% on personal income. Spain also has non-double taxation agreements with countries including the United States, Canada, Australia, New Zealand, and the UK.
Spain for Digital Nomads
Spain is already a popular destination for digital nomads thanks to its beautiful landscapes, Mediterranean weather, laid-back culture, and relatively affordable cost of living. Their internet connections are good and co-working facilities plentiful.
Pros of Spain for Digital Nomads
Affordable Cost of Living
While Western Europe is one of the more expensive corners of the world, Spain is relatively affordable by European standards. Of course, some cities are more expensive than others, but on average you can expect to pay between €600-€1,200 for monthly rent with an additional €120 in bills and €35 for the internet. A good lunch will set you back €12 and dinner for two €50, while you might pay €40 per month for public transport.
The cost of living in Spain is ranked as 123% cheaper than the average for the United States and around 40% less expensive than neighboring France.
Laid Back Culture
Those looking for a better work-life balance will find it in Spain, where everything works at a fairly slow pace. The local culture adapts to need, with afternoon siestas to avoid the Spanish heat, rather than pushing through productivity.
Good food and drink, time with friends and family, and appreciating both nature's beauty and cultural wonders are an important part of Spanish culture.
Excellent Weather
Spain is home to some of the world's most famous beaches and is a favorite spot for summer vacations. But while it does get hot in the summer and cool in the winter, Spain is pretty moderate year-round. You can enjoy the four seasons without ever feeling truly uncomfortable.
Great Travel Base
Your Spanish DNV will give you access to the Schengen area, and Spain is a big European travel hub with affordable flights to most of Europe and North Africa.
Cons of Spain for Digital Nomads
A Different Clock
Many foreigners find it difficult to adjust to the Spanish clock, which does not just include Siestas. Lunch tends to be late at between 2-3pm, and it is not uncommon to eat dinner as late as 9pm. If you are going out in the evening, don't expect to leave the house before 11pm.
While some people enjoy this change, digital nomads can find it hard to adjust their international working hours, but they must as it dictates how things operate. It is hard to get anything done in the afternoons. Most of Spain also tends to shut down in August.
Racism
Historical factors mean that there is a vein of racism, especially against black people, in Spain. While it is something that is changing and improving, it is still something that many travelers noticed. Black travelers are often treated with suspicion, and it is not uncommon for blackface to be worn at some festivals.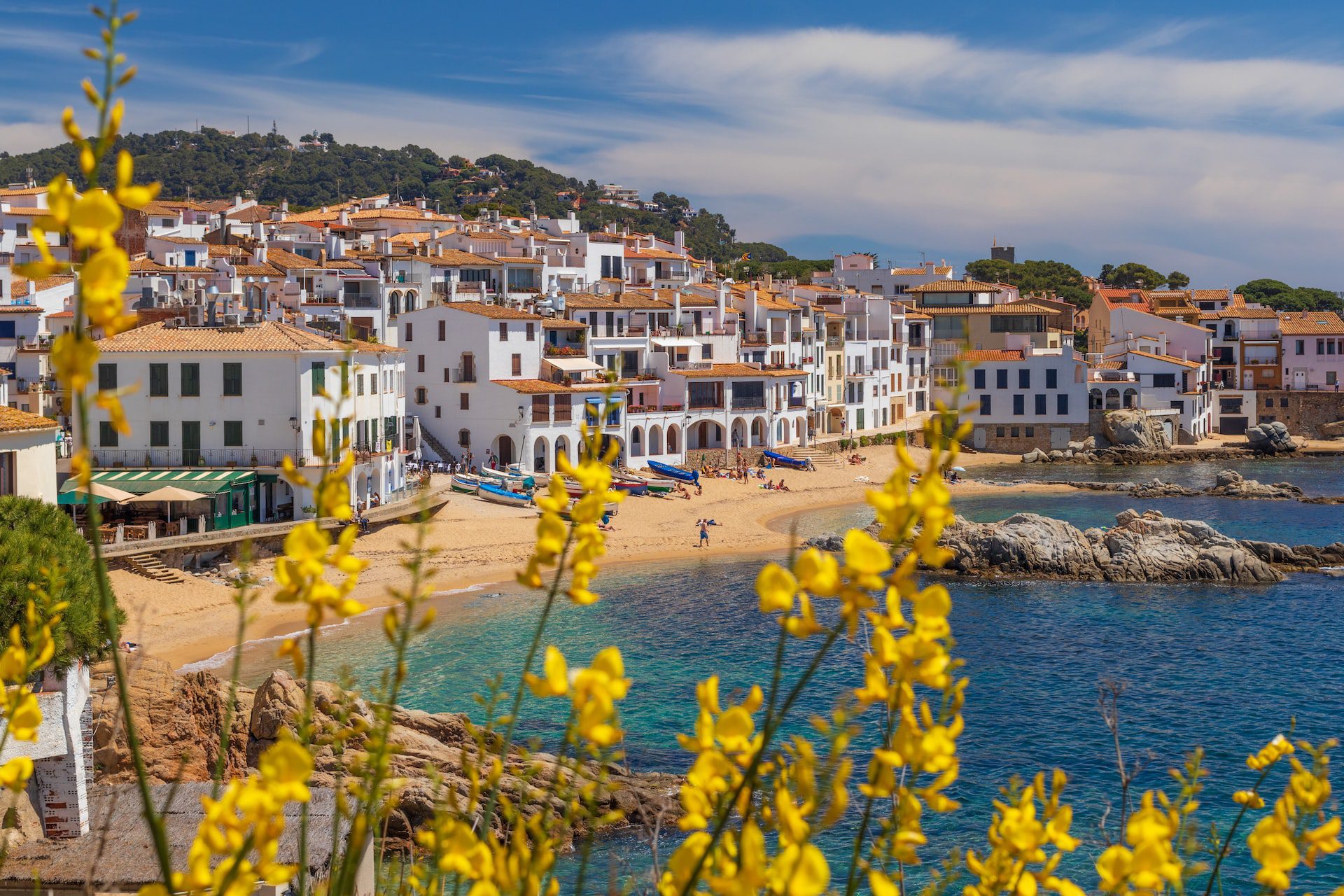 Best Spanish Cities for Digital Nomads
You can read full profiles of several of the best Spanish cities for digital nomads on our blog.
Barcelona is the most visited city in Spain and hugely popular among digital nomads for its beaches, nightlife, and cultural spots. There are plenty of excellent coworking spaces dotted around the city, though finding the motivation to work can be hard since the weather is always excellent.
Madrid, the Spanish capital, is a lively and entertaining city with some of the best food in the country. But while it has all the facilities of the other big European capitals, it still enjoys that more relaxed Spanish way of life.
San Sebastian is located in the Basque country in southern Spain n the Bay of Biscay. It has a reputation for being a bit of a resort and party city, but you can find a more traditional Spanish culture if you look below the surface.
Valencia is an affordable corner of Spain that still enjoys an exciting cultural and nightlife. Valencia also enjoys 300 days of summer every year for those who want to enjoy the good weather outside of tourist season.
Las Palmas de Gran Canaria is the capital of the Canary Islands which mixes great whether and beaches with exciting nightlife and various cultural attractions. It can be expensive because it is so popular with tourists, but if you can set yourself up, there are few nicer places in Spain to work from.
Tarifa is part of Spain but is located on an island just 14 kilometers off the coast of Africa. This beach town is perfect for anyone who wants to enjoy an active outdoor lifestyle and feel like they are really getting away from civilization.
Many small Spanish villages have also joined the Red Nacional de Pueblos Acogedores para el Teletrabajo to welcome remote workers. There are currently more than 30 villages with fewer than 5,000 residents opening their doors to offer an authentic Spanish experience.
The Verdict
Spain has long been an excellent destination for digital nomads, and the new Spanish DNV will open that up further and see more facilities for digital nomads and entrepreneurs spring up around the country.
Spain acts as a great base for Europe and northern Africa and is one of the more affordable destinations in Western Europe. The pace of life is inviting, the food and wine excellent, and the possibilities for entrepreneurs growing.