Portugal is one of the most favorite European destinations for digital nomads. Located on the west coast of the Iberian Peninsula, it is a country of rich culture, excellent cuisine and enchanting cities!
If you are a fan of a good climate, pleasant temperatures and the sea, and you like to eat well, Portugal is a great choice.
Medieval castles, ancient rocky villages, nature parks and beautiful sunsets are just some of the attractions of Portugal. From delicious cuisine to picturesque cities and places where the old intertwines with the modern, all this awaits you in this unique European country.
Digital Nomad Visa in Portugal
Portugal offers a digital nomad visa, which was introduced in 2022. This visa is split into two parts: a residency visa for up to 1 year and a residency visa for up to 5 years. Applicants need to have a monthly income that's at least 4 times the Portuguese minimum wage which, as of 2023, is around €3040 per month. After five years of living in Portugal, it's possible to apply for permanent residency and Portuguese citizenship. 
As well as the digital nomad visa, Portugal offers several other visas which may appeal to digital nomads, entrepreneurs, and investors. One example is the D7 which, prior to the introduction of the digital nomad visa, was the main visa option for digital nomads that wanted to move to Portugal. This visa is typically aimed at those with a passive income, such as income from a rental property, dividends, or a pension. The monthly income that's required is less concrete, but it should be at least as much as the Portuguese minimum wage, which as of 2023 is €760 per month. 
Another option is the D2, which is aimed at those that want to start a business in Portugal. There's also the golden visa, which is targeted at those that want to invest in Portugal, such as by buying a residential property, investing in commercial property such as a hotel renovation program, or simply by transferring funds to a Portuguese bank account. As investment options start at €280,000, this final visa is out of the hands of all but the most successful digital nomads. 
Make sure you check out insurance providers who understand the lifestyle and needs of digital nomads, like SafetyWing. They have a dedicated nomad insurance package that covers all your needs and is easy to get, even if you already started your trip.
European nomads don't need a visa to visit Portugal although they should consider the tax implications if staying for longer than 6 months. Visitors from outside the E.U. can stay 90 days without a visa.
How to set your budget?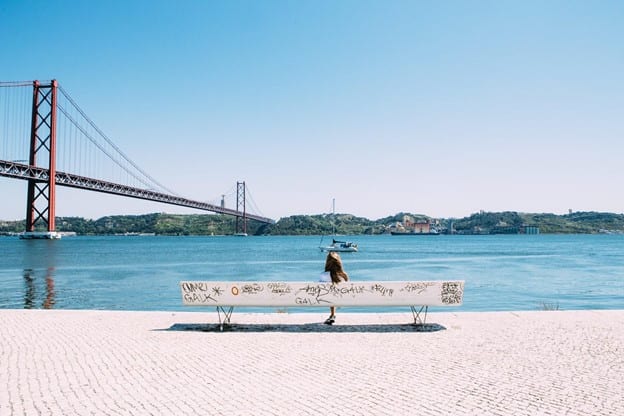 In recent years, the cost of living in Portugal has greatly increased. These costs depend on your location and lifestyle. Compared to other European cities, the cost of living in most Portuguese cities can be described as average. Life is relatively cheaper in rural areas.
The average monthly cost of food expenses for two adults is about $200 – 300, and that is without buying expensive food and expensive alcoholic beverages. A meal in the mid-range restaurant for 2 people is around $30.
Airbnb's apartment in Lisbon for a month will cost you about $1,200. A hotel room is about $2,000 a month.
An overnight stay in a shared hostel costs an average of $600 per month. Even if you find a private rental for a month or more, you will still pay more than $900 for a one-bedroom apartment in the city center. If you're opting for a suburb, it will be about $600.
A monthly pass for transport in Lisbon is more than $42 and one ticket price is around $2.
The capital Lisbon has great WiFi coverage and lots of friendly cafes and coworking spaces, with monthly passes costing about $120. Lisbon also has good hospitals and medical clinics. E.U. members can get free health care with a European Health Insurance Card, but visitors from other parts of the world will have to pay around $100 or more for public medical care.
Why should you choose Portugal as your next destination?

Climate
Two climates alternate in Portugal: the oceanic along the Atlantic coast, which is characterized by fresh summers and mild winters, and the Mediterranean in the south with hot summers and humid winters. During summer, the average daily temperatures are slightly higher than 27°C, while the lows are around 17°C. On hot days, thermometers can show well above 30°C, and in such conditions, a light breeze that often occurs certainly helps.
Gastronomy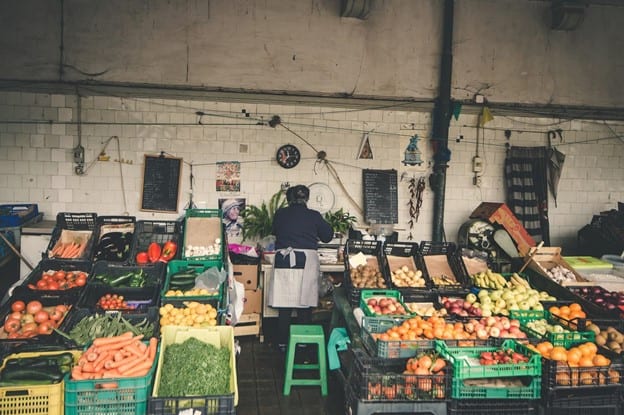 Portugal offers delicious Mediterranean cuisine at relatively low prices. If you are from Asia or Eastern Europe, you might find it more expensive.
The Portuguese love and know how to use various spices common in India. These give two dishes with the same ingredients a completely different taste. Portugal borrowed its love of bread and olives from Mediterranean cuisine. Given the country's geographical location – on the Atlantic coast – fish and seafood dishes predominate on the Portuguese menu.
An interesting fact is that Portugal is the first country in the world in terms of consumption of fish and seafood. It is believed that any Portuguese can easily prepare 365 cod dishes – according to the number of days in the year!
Safety
Portugal is a fairly safe country. Lisbon is one of the safest capitals in all of Europe. There can be a petty street crime, so it's wise to watch out while walking alone at night. Violent crime is said to be very rare.
Natural attractions
Portugal's favorite tourist destination is also the westernmost point of the Old Continent. It is Cabo da Roca, which stretches along the Atlantic Ocean, or as the monument at the place says: "where the land ends and the sea begins". The best view of the surroundings is from the lighthouse of the same name, which rises above the Atlantic.
The Algarve, located in the south of Portugal, stands out with its spectacular beaches and coves in a privileged natural setting. Its mile-long coastline hides sandy beaches and turquoise waters, among the steep cliffs that make them among the most beautiful in Europe.
Madeira, located west of the Moroccan coast in the middle of the Atlantic Ocean, is an island with unique vegetation and landscapes. It has a pleasant climate that allows you to enjoy its beaches and coves all year round. Extremely mountainous due to its volcanic origin, with some of the highest cliffs in Europe and laurel forests, Madeira is an island with a huge number of landscapes that will delight all travelers. Another feature of the island are its amazing hiking trails, in which the old irrigation canals will lead you so as not to get lost.
Lisbon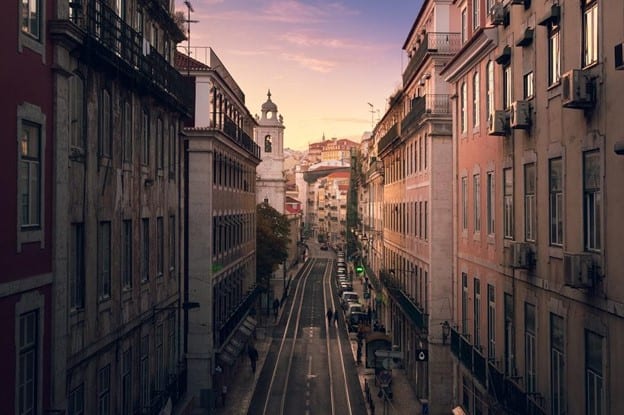 Lisbon, the city of Fado, the seven hills and delicious Bélem cakes, is one of the most popular cities for digital nomads. First of all, this is a city of exceptional cultural heritage that unites modernism and progressive development. If you choose Lisbon as your destination, you can enjoy the rich history, nightlife and ideal climate.
Our recommendation is the Alfama district, full of old and ruined houses, narrow streets, balconies with hanging clothes and neighborhood shops and crafts. Once lost in Alfama, you can enjoy amazing views of Lisbon from spectacular lookouts scattered around the city. You can get on the old tram, approach the district of Bélem, listen to Fado in the neighboring tavern or have a drink at Barrio Alto or Chiado, among others in Lisbon.