Ever dreamed of living and working on an island without worrying about your visa and legitimacy of staying on the country's territory? Well… here is some good news!
An increasing number of countries (as varied as Barbados and Georgia) have already opened their doors for remote workers from all over the world to reside and do their online business on their territories. The governments have started to realize the value of having foreign entrepreneurs come to their countries and live for extended period of time spending money in their economies. The remote workers benefit greatly from the incentive too as they get a chance to stay in the country longer than they would normally do with the tourist visa.
So why not settle down on an island? We've come up with a top 4 Caribbean islands that offer digital nomads great opportunities for their long-term and comfortable stay!
Antigua and Barbuda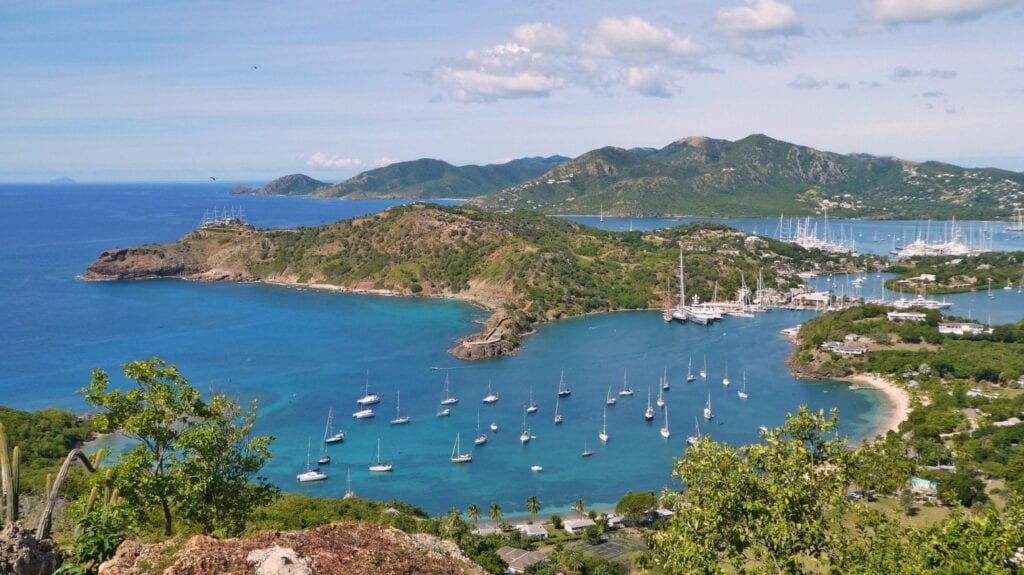 So, just imagine enjoying breathtaking ocean views from the beach chair and working on your business from your laptop at the same time…An island country lying between the Caribbean Sea and the Atlantic Ocean can offer you just that!
Antigua and Barbuda has been the latest to implement a program called "Nomad Digital Residence" (NDR). It is intended to attract entrepreneurs whose work can be done remotely and who seek to do so from a Caribbean island with all of the amenities needed for a working traveler.
The NDR visas permit the successful applicants to live in Antigua and Barbuda for up to 24 months and to leave the country and return again during that period. Also, you shouldn't worry about your taxes as there is no income tax payable in Antigua as long as you don't derive any income from any entity in Antigua and Barbuda.
How else can you benefit from living on this island?
The country is entirely English-speaking, which is a great advantage as you don't have to worry about the language barrier or learning another exotic language for your 2-year stay abroad. Other advantages include friendly locals, large and diverse expat community, safety of the island and 365 picture-perfect beaches!
Who is eligible?
First of all, you have to be completely self-sufficient while you're in the country to be able to apply for the visa. To prove that you must provide the declaration stating that your expected income for each year in the country will be at least 50 000 USD and you are able to support yourself and any dependents during your residence in Antigua and Barbuda. Other documents to be submitted include evidence of your employment (or self-employment), police clearance, medical insurance certificate and other standard documents. The application fee is non-refundable and be ready to pay from 1500 USD to 3000 USD depending on whether you are going to stay in Antigua alone or with your family.
Barbados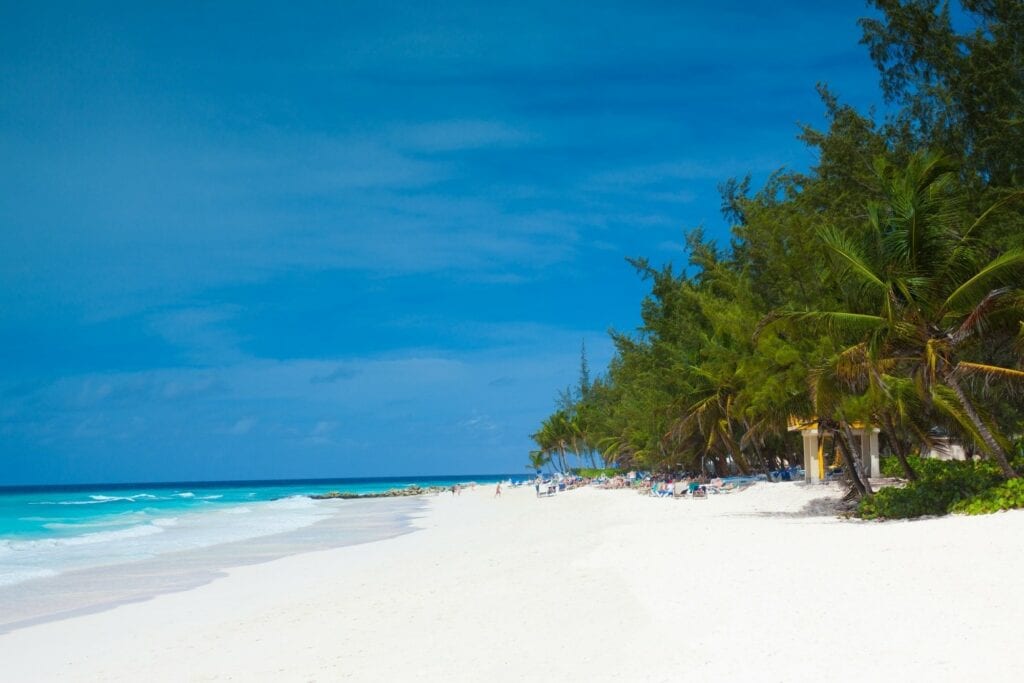 Another beloved tourist and recently also digital nomad destination is Barbados.
The island was the first in the Caribbean to open its doors to digital nomads. The government launched the program called 12 Month Barbados Welcome Stamp in July 2020 and the decision turned out to be a great success! Since its launch the program has attracted more than 2000 applicants from Europe and North America and has brought around 4 million to the budget of Barbados, which is a lot more profitable for the country than the income coming from the tourists who usually spend a week or two on the island.
How can you benefit from living on this island?
The 12 Month Barbados Welcome Stamp allows digital professionals from throughout the world to live on the island for 1 year. The successful applicants can enjoy the fastest internet in the Caribbean and what's even cooler – some of the beaches have Wi-Fi too! So set up your hammock, grab your laptop and hold your Zoom meeting from there!
Other (obvious) advantages of moving to the island are sunny climate, tropical landscape, vicinity to a beautiful beach no matter where you chose to stay and a chill lifestyle of the island combined with lively parties.
Who is eligible?
Similarly to Antigua and Barbuda's digital nomad visa program, Barbados also asks you to guarantee you will make a minimum of 50,000.00 USD over the next year and/or you will have the means to support yourself (and your family) during your stay on the island.
The visa fee is 2,000.00 USD for the individual application and 3,000.00 USD for families.
When entering Barbados with the Welcome Stamp Visa it is also mandatory to prove you have health insurance for the year. And since the Coronavirus is still here, be ready to undergo COVID-19 testing on arrival as well as 2-day quarantine. You can get a travel and medical insurance plan from SafetyWing, who offer plans catered to digital nomads and their new policies cover COVID-19.
Bermuda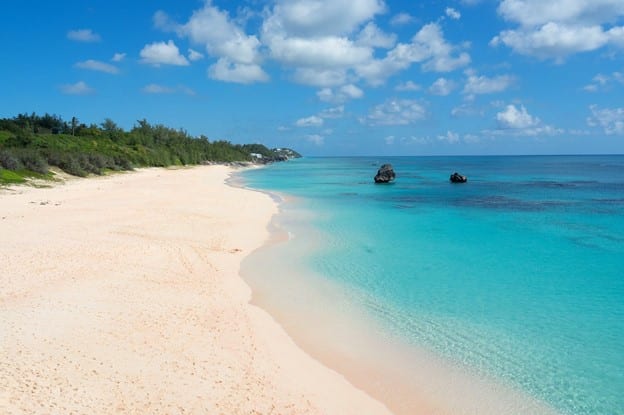 Bermuda was a second Caribbean destination to offer a residency program for digital nomads. The Work from Bermuda Certificate was launched on August 1st, giving flexible workers and travelers a year-long opportunity to enjoy the taste of island lifestyle and Caribbean culture.
The decision to open the boarders came to the Bermuda government as a result of the Coronavirus pandemic. Since the start of the pandemic the number of remote workers has greatly increased while the number of tourists has gone down.
How else can you benefit from living on this island?
Apart from the Residential Certificate for a year-long stay, Bermuda has also extended its tourist visa to 180 days for those remote workers not ready to commit to such a long stay. And of course just like other island nations Bermuda has all the island vibes you're looking for: endless sun, ocean and beaches in paradise.
Who is eligible?
If the visa program offered by Barbados is too expensive to you, you should definitely consider coming to Bermuda, where the visa application fee is significantly cheaper and will cost you only 263 USD.
The visa requirements are relatively relaxed and the application process will take only 30 minutes of your time. Here is what you need to apply for the program:
Be over the age of 18
Not convicted of a crime or civil proceedings;
Possess valid health insurance;
Demonstrate employment with a legitimate firm or your own company registered and operating overseas, which does not operate in Bermuda;
The minimum yearly income is not stated, but it should be sufficient for you to stay in Bermuda, without the need to engage in local employment.
You can also bring your dependents in Bermuda. However, keep in mind that you will need to apply separately and submit all your applications on the same day.
Cayman Islands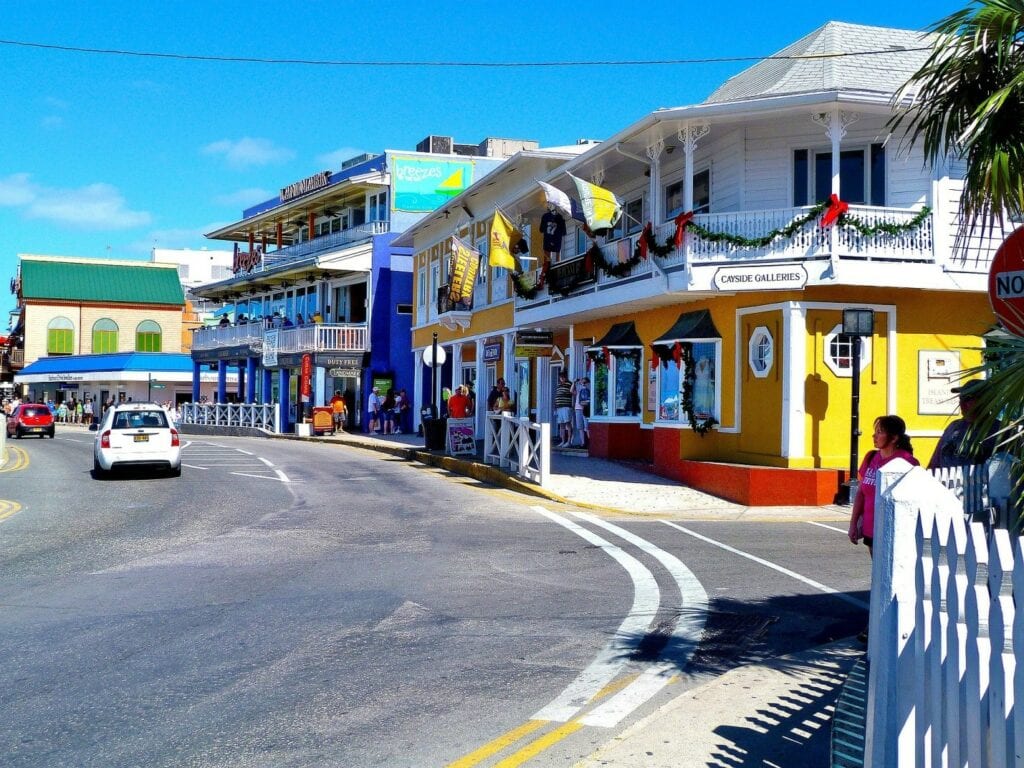 The last (but not least) sunny Caribbean location from our list is the Cayman Islands, which in 2020, following the working from anywhere trend just like other island nations introduced their Global Citizen Concierge program.
The program grants digital nomads the pass to remote work from the Cayman Islands for up to 24 months.
Who is eligible?
Objectively speaking, due to their entry and income requirements Caymans look less attractive for digital nomads compared to other islands.
To apply for the residence remote workers need to pay a non-refundable application fee of 1,469 USD as well as provide:
a notarized bank reference,
proof of current health insurance coverage
proof of a clean criminal record,
Apart from that all travelers have to undergo COVID-19 testing upon arrival and remain in isolation for a minimum of 14 days.
Cayman's income requirement is currently the highest in the world: applicants must provide a proof that they're employed outside of the Cayman Islands and that their yearly income is at least 100,000 USD. Couples must earn a combined minimum of 150, 0000 USD and families with children must make at least 180,000 USD a year.
Which island would you live and work from? Let us know in the comments below!