Uzbekistan is Central Asia's biggest draw with the most impressive stopper and the Silk Road history. Its beautiful land is a mix of sandy desert, steep dunes, and river valleys.
The country is home to over 31 million people, with the majority of the population being Uzbek, Russians, Kazakhs, Tajiks, Karakalpak, Tatars, and much more. Most people live in rural communities, and agriculture plays a significant role in its economy.
The tourism sector is expanding through many tourist attractions. You will enjoy exploring the ruins of the old Islamic Observatory, visiting the massive fortress of Ark of Bukhara, discovering the 15th-century mausoleum Gur-e-Amir and shopping at the bustling Chorsu Bazaar.
Uzbekistan is a friendly country with unique hospitality that serves as an essential element of daily life. But is the country worth it for you to reside in? Let's find out!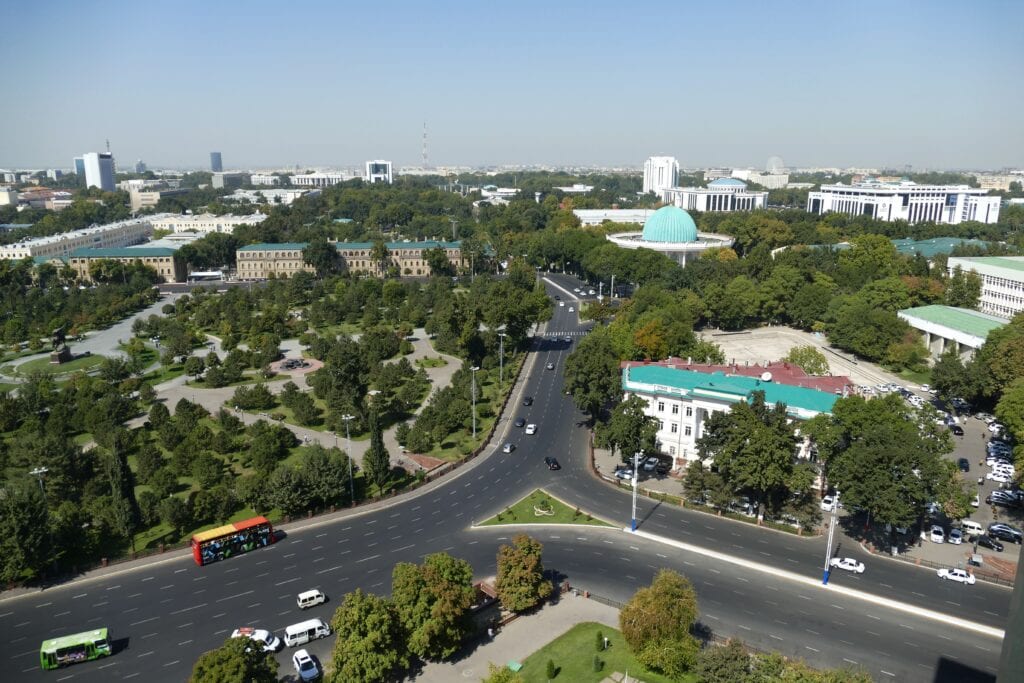 What budget to live in Uzbekistan? 
The total cost per month is around $ 599 or less. The accommodation rental in most of the city, such as Tashkent, will cost you around $ 329 for a decent one-bedroom apartment in the center area, which you can expect to pay about $ 41 a month for the utilities.
The Uzbek Cuisine is mainly rice, noodles, vegetables, and mutton. Meat lovers will be pleased with the large portion of the national dish, Plov, that comes with rice, mutton, onions, carrots, and raisins. Don't forget to savor the sweet flavor of Uzbek melon during the summertime. If you can't live without coffee, you need to accept the pricey lifestyle here, as a cup of cappuccino could cost you around $ 3.
Traveling underground through dark tunnels in Tashkent would be fun when all metro stations are artistic elements with a touch of Uzbekistan's history. The ticket price is also super cheap, with the three lines covering the main part of the city. But no matter how fascinating and amazing they are, you are not allowed to take photos and videos.
It isn't easy to find a taxi in Tashkent as most of them are black taxis, which require you to confirm the price before starting your journey. Now, the Yandex Go application will make your life here easier, and you can pay either in local currency or USD.
The railway connects the main cities together, from Tashkent to Bukhara, Samarkand, Andijan, Urgench, and Termez. International services are also available, so feel free to explore more. Those who prefer to travel by air could enjoy convenient domestic services from two airports, Tashkent and Samarkand.
The mobile internet is cheap in Uzbekistan, and with $ 10 you could get a sim card, call service, and internet for a month. There are three main internet providers here, Mobiuz, Beeline and Ucell. The international sim card also works with roaming options in the country.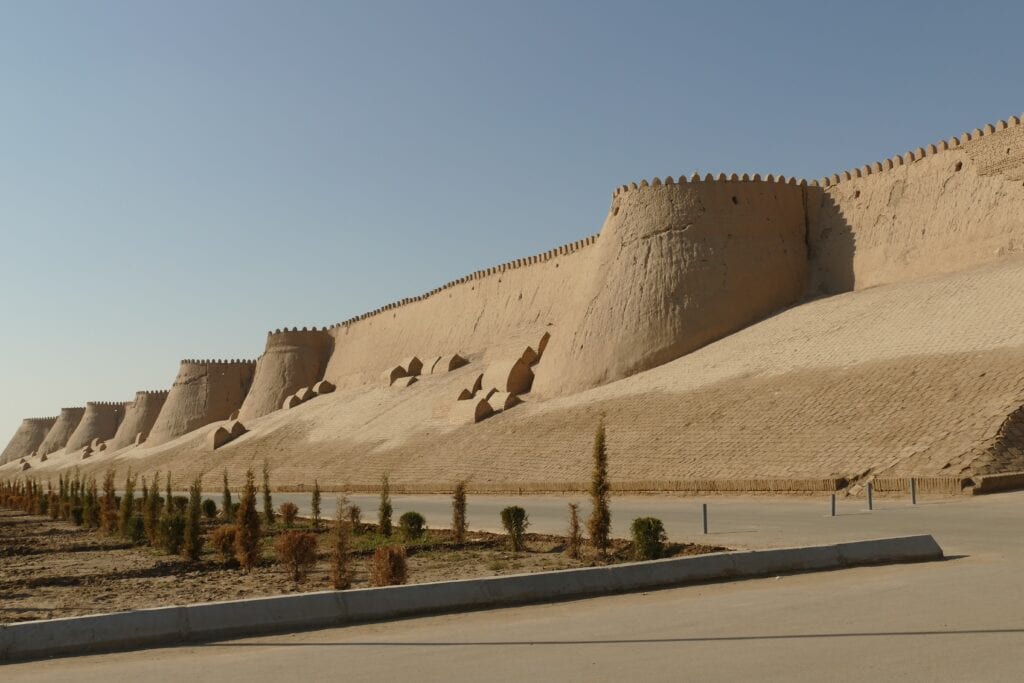 Pros of Being a Digital Nomad in Uzbekistan
Easy to Get Around
Uzbekistan has improved the train network and the stations, allowing visitors to visit all major cities effortlessly. The tickets can be purchased online via the Uzbek railway website that has English options for foreigners.
A Safe Country
Uzbekistan is a peaceful country. Even the US Department of State mentioned that it is one of the safest countries in the world. However, the border areas might not be safe, so you should avoid these areas. But after all, Uzbekistan is still considered an extremely safe country for visitors.
Friendly Uzbeks
The people here are friendly or maybe too friendly. Although very few of them can communicate in English, they are ready to help you. Uzbeks are very hospitable and love welcoming foreigners with their charming culture and tradition. They would even love to have a small talk with you, so get ready for that.
Amazing Local Foods
The foods here are inexpensive and over 90% of them are being produced in Uzbekistan. All of dishes relates to their culture and they are also Halal friendly. Every Uzbek meal starts with sweets and fruits followed by vegetables and salad. Soup and the main dishes will be served last. Make sure you taste the famous Ploy, Manti, Shurpa, Lagman, and Shashlik.
Travel Back in Time
Those history geeks will love getting lost in the street of Bukhara, one of Uzbekistan's oldest and most charming cities, or admiring the mind-blowing architecture in Samarkand. Its history of the Silk Road will bring you back as far as 138 BC because this land used to welcome traders, missionaries, and conquerors who traveled between Asia and  Europe for over centuries.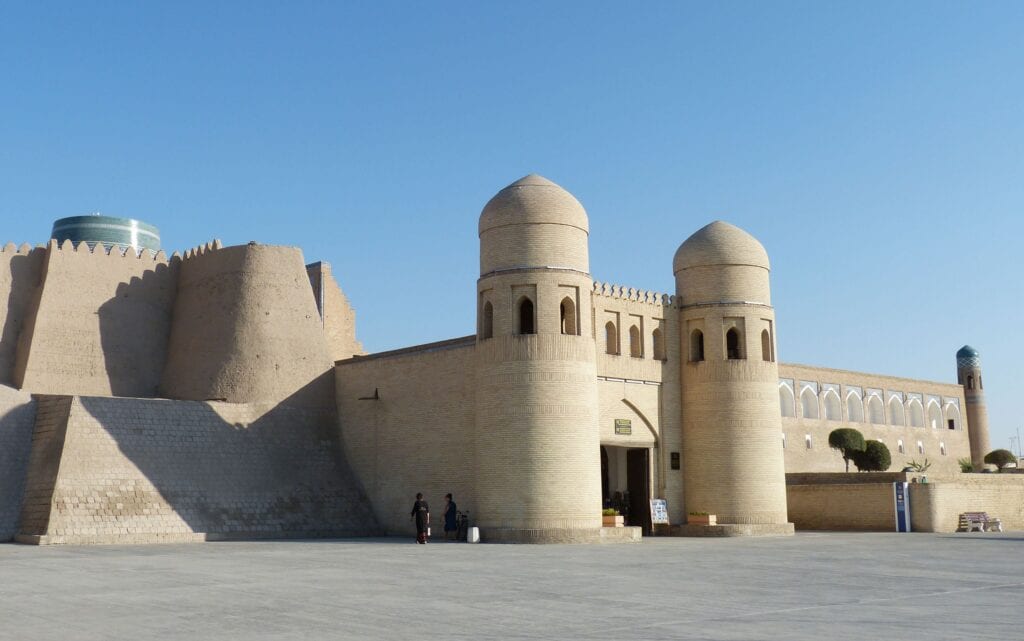 Cons of Being a Digital Nomad in Uzbekistan
Internet Speed
The internet speed is still an issue here as it is a bit slow, particularly when you use the mobile service. You can simply chat with your family and send email to your clients. But if you have to upload or download anything, it is better to switch to the wifi mode for faster speed.
English won't help you
Uzbekistan is a country of several languages but sadly that English is omitted. Of course, the official one is Uzbek, and unsurprisingly many people can speak Russian as well. So you should learn a few words in Uzbek and try to memorize some Cyrillic alphabet as it could help you read the signs.
LGBTQ Unfriendly
Please keep in mind that Homosexuality is illegal under the law of Uzbekistan. This is a taboo among Uzbek locals, so those LGBTQ friends will have to be careful showing public displays of affection as there are no anti-discrimination laws to protect LGBTQ from this. It is recommended to be careful of this risk at your best to avoid any trouble or difficulty that could affect your safety.
Taxi drivers are tough
Trying to negotiate the price with the driver could be intense. That is why you should have an idea of how much you need to pay for this particular route and try to bargain the offer. They will also keep following you, especially once you walk out of the train station. Some even try to block you from your path, so you have to physically and mentally prepare for this kind of irritation.
ATM is out of cash 
You might have to be lucky enough to get money out of the ATM here. Because ATMs could be empty and run out of cash. Beyond that, some only accept a Visa card, while some just accept a Master card, so trying to find the ATMs accepting both cards is difficult and could be challenging. We suggest that you download the app named Maps.me to locate the ATMs, and when you find it, you will have to withdraw the maximum amount to avoid any difficulty.
Uzbekistan is a cash nation, and the only thing that could be paid for by card is an online train ticket. Even though some high-end hotels and restaurants accept cards, it is easier when you have cash in hand.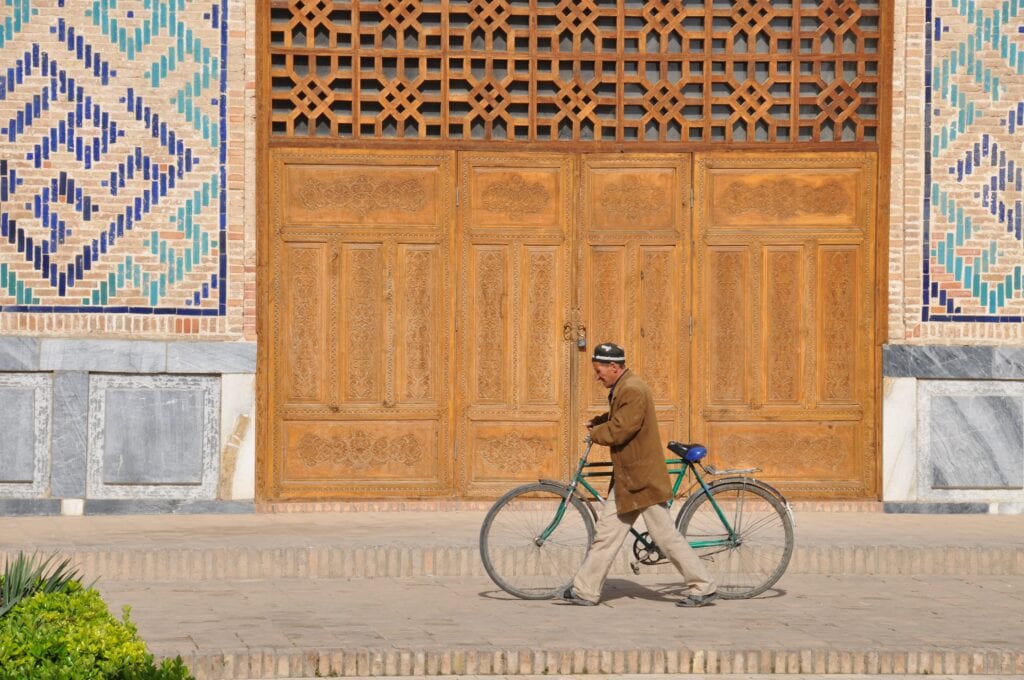 Things to Note
Visa Requirements
The citizens from Azerbaijan, Armenia, Belarus, Ukraine, Russia, Georgia, Moldova, and Kazakhstan can visit Uzbekistan without a visa for over 90 days, and the citizens of Kyrgyzstan can visit for 60 days.
Citizens from the EU, Australia, New Zealand, Canada, UAE, Israel, and more can travel to Uzbekistan are not required to obtain a visa to enter Uzbekistan for 30 days. Those from the USA, China, and India will be given an electronic entry visa for 30 days. Other countries will need to apply for a visa at the Uzbek Embassy to travel to Uzbekistan.
It is advisable to have travel and medical insurance in order to be prepared for any situation that may arise. SafetyWing has packages for digital nomads that are hassle-free and can include family members.
Money
The currency in this country is the SOM or S/UZS, which is sometimes spelled as s'om or soum. There are banknotes of 100, 200, 500, 1000, 5000,10,000 and 50,000 in circulation and all the banknotes differ in color. You might feel rich here with the highest Uzbek note of 50,000S worth around $ 6. Recently, tourists or visitors have to pay accommodation in Uzbek SOM, which means you probably have to travel with large amounts of money.
US dollars are the easiest option to change into SOM and please make sure that there are no marks on the notes. Euros are also accepted but it is not easy as US dollars.
Digital nomads could get US dollars cash advance on a Visa or MasterCard for a 3% commission, however, it could take time to track down. You can exchange money from many places, such as official exchange booths at airports, hotels, national banks of Uzbekistan and private banks. ATMs in Uzbekistan dispense the local currency and some also offer US dollars.
How to Find Accommodation
There are plenty of choices, from a budget traveler to a high-end lifestyle. Hotels are everywhere, and apartment rentals are now legal. If you would like to go for the local option, look at Airbnb and Booking.com, the two main service providers in Uzbekistan. A hostel is also a great alternative if you are a solo nomad.
Co-Working Spaces
There are some co-working spaces in the major cities of Uzbekistan: Tashkent, Bukhara, and Samarkand. Digital nomads who plan to settle in Uzbekistan for a while will love the convenient and functional co-working spaces this country has to offer.
Instant Offices is the website to find your favorite space for creating productive work.
Bunyodkor Avenue
Bunyodkor Avenue is located next to the Chilanzar metro station. There are tons of supermarkets, restaurants, and cafes surrounding the area. The Gafur Gulyam Recreation Park is just across the road. This place offers serviced offices, private offices, co-working spaces that are great for entrepreneurs, freelancers, and new start-ups. Its great facilities include the utility costs and 24-hour security service. This center also provides a relaxing atmosphere where you could learn, grow and develop your skills and business together.
Mustaqillik Avenue
Mustaqillik Avenue is just beside Amir Temur Square, with a 6-minute walk from the nearest underground metro station. Many restaurants, cafes, and supermarkets are also easy to reach. This place promotes a truly professional environment where nomads could grow and develop the business under a tidy and well-organized space with great facilities to produce the best work. Enjoy 24-hour access, which allows you to work with flexibility as well as high security from the electronic access cards.
Temur Malik Street
Temur Malik Street can be found outside of Tashkent city center in the industrial business center complex "Technoplaza" with only 19 minutes drive from the city center. There are grocery stores for you to grab some snacks and bars nearby where you can hang out with your new friends after work. Enjoy a variety of spaces that include private office space, hot design, and a conference hall with the perfect environment to grow the business.
Tarakkiyot
Tarakkiyot is situated close to the city center, next to the Kechkuruk River. There are many local stores and restaurants nearby, including Chaykahna Ark, where you could enjoy your lunch or set a meeting with your clients. Tarakkiyot offers spaces with motivating vibes that allow everyone to share the passion and knowledge. Don't forget to grab complimentary drinks and snacks and relax at its lounge area.
Other cities, such as Bukhara and Samarkand, also offer fabulous cafes, restaurants, and nice co-working spaces where digital nomads will enjoy a peaceful atmosphere with great foods and drinks. Did you know that there are restaurant caravans in Bukhara? The large complex one provides an open yard, spacious two halls, plenty of rooms, and karaoke-room for you to utilize.
In Samarkand, there is an IT Park branch with 118 square meters for digital nomads to enjoy. This place offers functional co-working spaces with office space for locals and start-up folks as well as classroom, robotics, e-sports rooms, meeting rooms, conference rooms , interview area and a cafe for nomads to relax.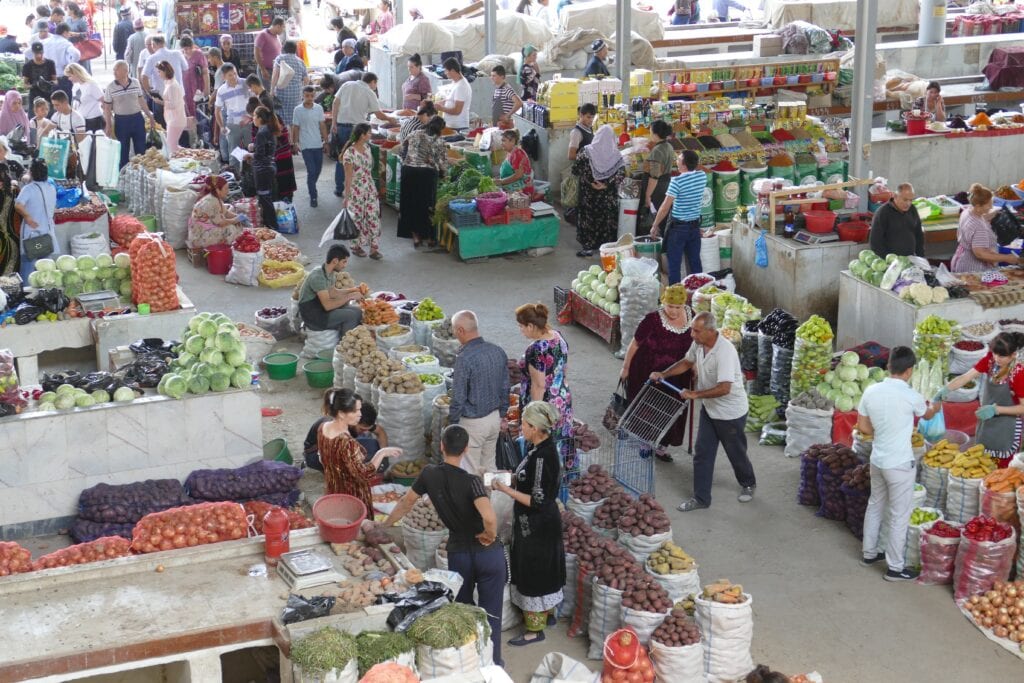 Conclusion
Uzbekistan is such an extremely friendly country with nice people who will greet you with the most beautiful smile that could warm your heart. Live and work in the country with its long history and rich culture as well as tradition. The affordable expenses will definitely be one reason to attract nomads to reside and work here. Who knows, living in this remarkable gem of Central Asia could become one of your unforgettable experiences of a lifetime.