A giant for technology, delicious foods, unique culture, breathtaking nature, and long history, Tokyo is one of world travelers' top destinations. The city is now a hustling and bustling metropolis of over 38 million people, making you feel smaller among the big billboards and neon-lit buildings.
Tokyo has been attracting tons of tourists and business enthusiasts, as well as impressing numerous people with its outstanding facilities throughout many years. But the cost of living here comes with a slightly higher price tag.
This capital city also offers many wonderful sites to visit. You can travel in and out of the country conveniently and comfortably with all sorts of great transportations from this busy hub of Japan.
This article will give you an insight into why Tokyo is a nice place to locate yourself as a Digital Nomad.
How much does it cost to live in Tokyo?
Accommodation Expenses
Tokyo is definitely one of the most expensive cities to reside. The smaller space you get, the lower rate you pay. With a wide range of accommodation types, you can choose base on your preference from both Japanese and Western styles.
You could even find some interesting forms of accommodation such as capsule hotels and temple lodgings. The prices range from less than $ 20 per person in a dormitory to over $ 485 a night in a high-end hotel or Ryokan, where you will experience the authentic traditional Japanese lifestyle.
Hostels is clearly a place where you will save some money, as it will cost around $ 15 – 40 per night. Alternatively, capsule hotels might sound awesome, but it mostly targets male customers who need nothing but a bed to sleep. This place offers a small capsule to sleep, including a TV, a shared bathroom, and coin lockers for $ 29 – 40.
Considering settling here for an extended period, apartments is undoubtedly a nice option to go for. Many places are targeting housing foreigners for as short as one month. The cost of the rental is around $ 390 per month. Airbnb also offers excellent prices from plenty of accommodation with a variety of locations, sizes, types, and facilities, which you can choose from.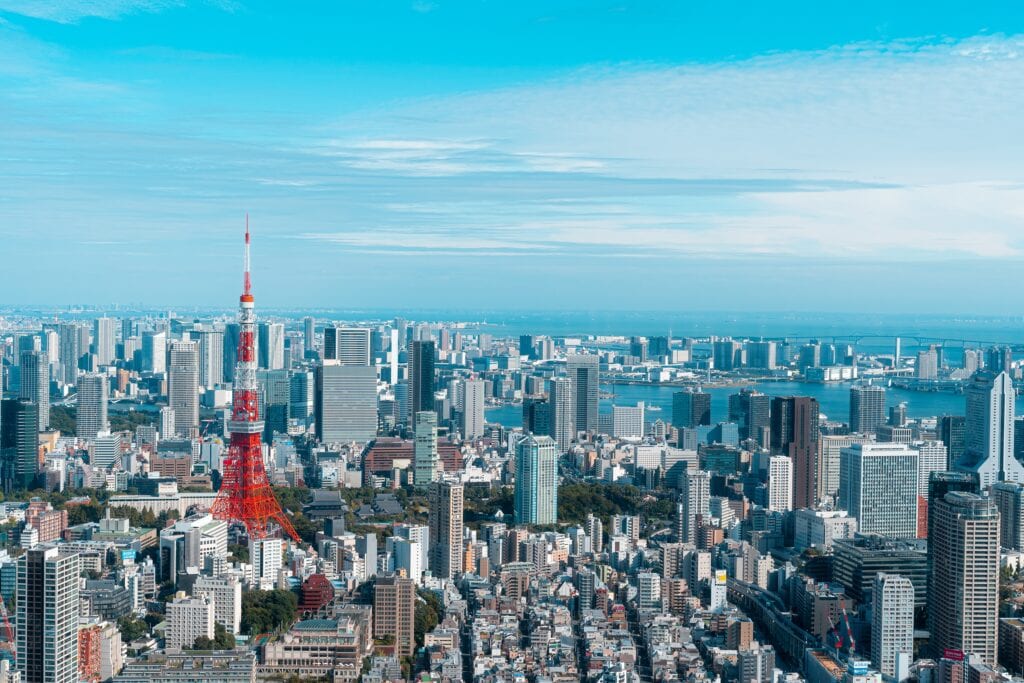 Food and Grocery Expenses
Living in this vibrant city is pricey, so knowing how to manage your expenses is helpful. Local grocery stores could become your new best friend, especially with lots of discounted foods before the closing time.
There are also plenty of restaurants to enjoy your meal with the prices between$ 5 – 10 for some tasty ramen or curry rice. Hamburger and pasta are served in many inexpensive restaurants inside train stations and in business districts.
The average restaurant costs around $ 10 – 30 and many places give special lunch promotions as well as lunch boxes or bento set for $ 10 or less. Tea and coffee are around $ 3 from both artisanal and cafe chains, however the price is getting higher at a boutique cafe.
Drink Expenses
Nightlife in Tokyo is fantastic, with nice bars and restaurants for you to hang out. A night out here is pretty expensive compared to most Asian countries, but if you are from western cities like London or New York, the charge is actually not bad at all.
Instead of paying $ 6 for a beer or $ 8 for mixed drinks at clubs, you could save some on that by purchasing your favorite ones from convenience stores.
Transportation Expenses
The Japanese transport network is punctual and reliable. Still, somehow it could make you confused about which platforms you should go to. So it is recommended to download either "Japan Transit App" or "Tokyo Rail Map+ Lite" to make your journey easy.
The single ticket fare is starting from $ 1.7, depending on the distance. But a train commuter pass for unlimited travel will let you save even more when traveling between your place and your favorite spot.
Buses are available at affordable prices with access to many sites around Tokyo and convenient connecting with other cities. If you have an IC card, the fare is slightly discounted for the users.
Cycling is another recommended choice for those digital nomads who prefer to have more cash in hand. It is a very cost-effective way to wander around the city and safe to do. Most railway stations and shopping malls provide parking spaces for between $ 1 and $ 2 per day.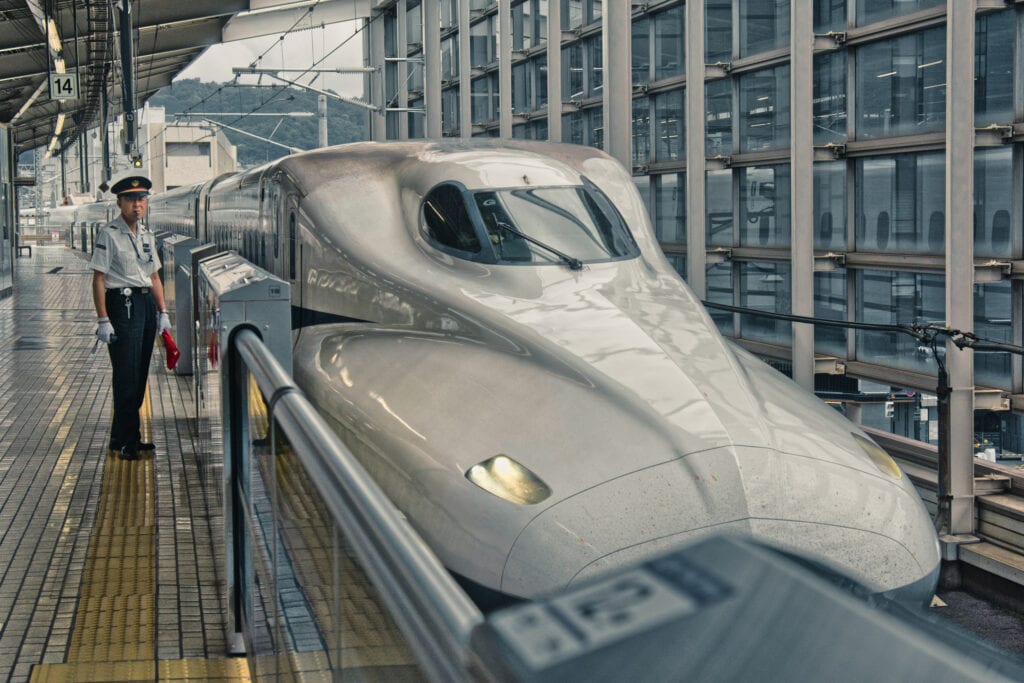 Pros of Being a Digital Nomad in Tokyo
Quietness
You would not think that you could live peacefully without being disturbed by noises and crowds in Tokyo. Unexpectedly, it is a surprise! Outside of busy districts like Shibuya or Harajuku, you would get so much peace from wherever you are, or anywhere you go.
Cleanliness
What's noteworthy about Japan is that the country is so clean. Wherever your feet guide you, you will impress with how clean and well-organized the cities are, even in Tokyo. Many said they never saw cockroaches or rats on the street. That is because keeping the environment clean here starts from the basic, which is sorting all trash from non-combustible and plastic materials to canned goods and household goods. If you are willing to move here, it is your responsibility too.
From this basic, it leads to something bigger. Houses and all the buildings, including public areas, are clean and well-maintained as well. You would be so comfortable to utilize toilets in Tokyo as it is clean. Even some people said that they could sleep there.
Food
Who doesn't love sushi and ramen. Tokyo is food heaven, offering a variety of excellent flavors for you to try. Those who love traditional Japanese cuisine will enjoy them to the fullest with freshly prepared sashimi and extremely hot shabu shabu. The delicious tastes do not only just keep secretly in the restaurants, but they also broaden to grocery stores with almost similar quality at a lower price.
Vegan Digital Nomads would be so happy here as you will get vegetarian and vegan foods at many places.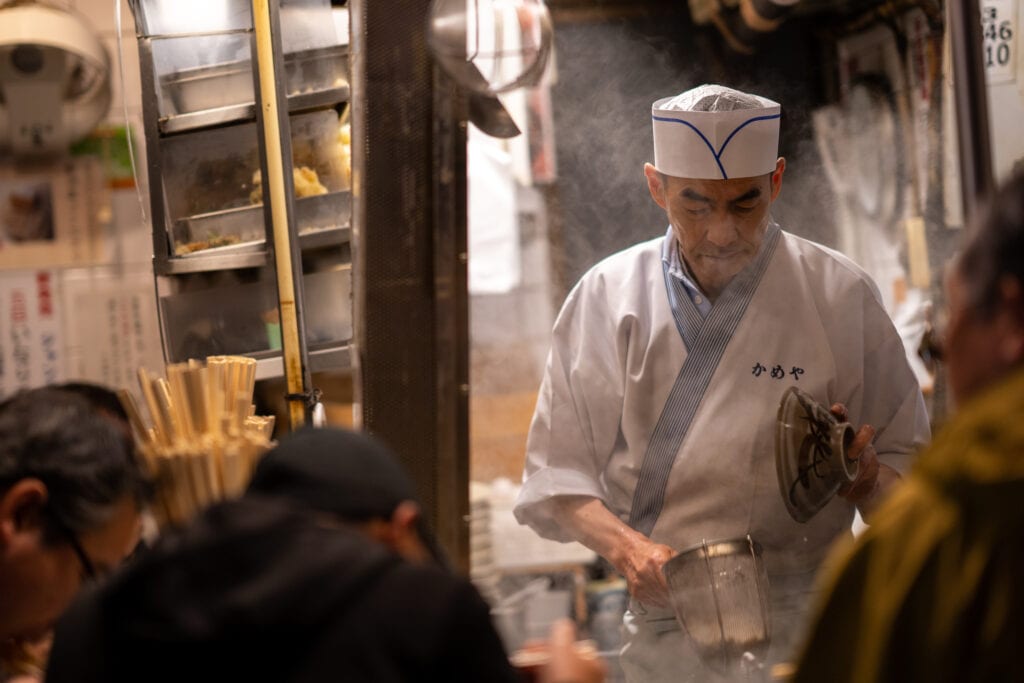 Public Transport
Japan is one of the top countries in the world with the most reliable transportation system. Tokyo's transportation is considered to be clean and extremely convenient to use. Forget about buying or renting a car as you can basically go anywhere by train with great connections and plenty of promos.
Season changes
Experience all four seasons in Tokyo through the beauty of nature. Each season allows you to discover something new. Whether sitting under sakura trees in spring, enjoy summer festivals and firework, waiting for leaves changing colors in fall, or skiing at a nearby snowy landscape, Tokyo has you covered.
Cons of Being a Digital Nomad in Tokyo
Communication
The language barrier is the problem you will face in any part of Japan. You probably need to learn essential words or basic conversation to conveniently live without obstacles. On the other hand, you can download a google translator or other apps to help you out. Despite the popularity of teaching English in Japan, most Japanese still barely speak English, they are kind and helpful. As long as you approach them with good manner, they will be willing to give you a hand.
Expensive Rent
When it comes to renting, The name of Tokyo appears on the world's expensive list. For such a small space, you would spend more than you expect. Deposit money is also required, which is included fire insurance, agent commission, guarantee fee, and key money. So you have to be well-prepared for where you would be staying as it has to be something you need to pay early in advance.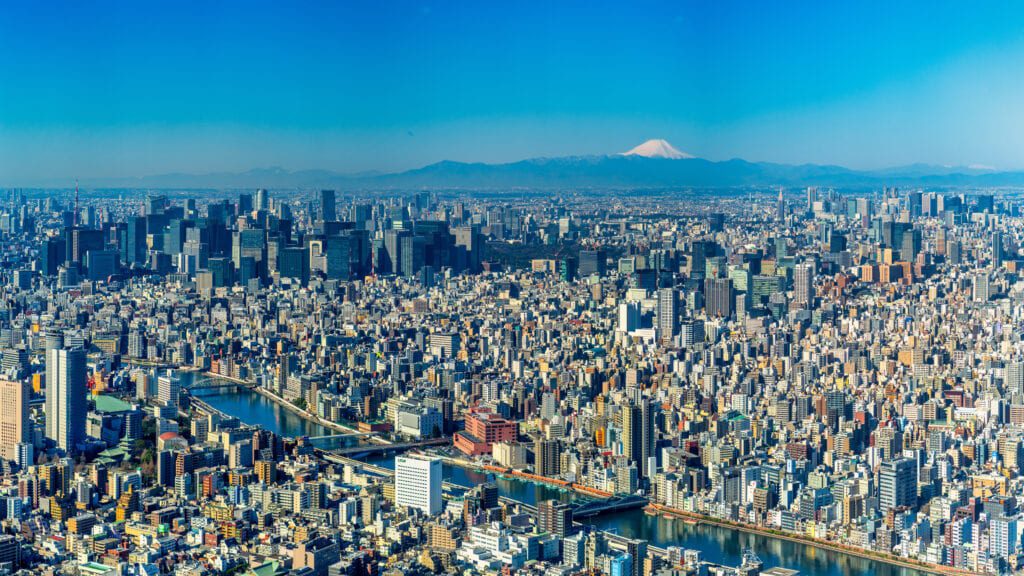 Crowded with Small Spaces
It is packed in Tokyo, mainly in business areas and famous tourist attractions, resulting from the number of people occupying this metropolitan city. Sometimes it would not be easy to move without touching someone in train stations, restaurants, or even stores.
Things to Note
Visa requirements
Being a digital nomad in Japan offers you an effortless way to live and appreciate the pleasant moments. There are a lot of digital nomads who live there on a tourist visa as Japan offers agreements with many countries allowing the citizens to stay in the country on a tourist visa for up to 3 months, which you can do a visa run every three months or from relevant authority office.
Please note that it is important for you to go through all specifics regarding the visa to avoid any troubles you might encounter.
Also, make sure you have travel and medical insurance to be on the safe side. Check out SafetyWing, they offer both travel and medical insurance specifically for digital nomads.
Taxes
According to Japan's constitution, all Japanese citizens must pay taxes that include foreigners living in their country. There are many kinds of taxes that digital nomads should know, such as income tax, inheritance tax, corporation tax, and business tax.
How to Find Accommodation
Here are the top rental sites in Japan for shared houses and private apartments, which are foreigner-friendly choices.
Best-estate.jp is exclusively for foreign residents. It offers support in over seven languages with free consultations, viewings, and the contract procedures can be done online as well as a possibility of rental from aboard.
Oyo Life allows a short term rental, which deposit and key money are not required. You could even sign your contract online from wherever you are.
Oak House provides support for shared houses and apartments with English languages available.
Social Apartment comes with trendy designs and multiple socializing spaces, including high privacy.
Suumo (Japanese) has plenty of properties with up to date information that you could search for specific demands.
MUJI×UR (Japanese) offers renovated accommodations with great design and no requirement for a security deposit and key money.

Co-working Spaces
Lots of co-working spaces in Tokyo are ready for digital nomads to utilize the most of it and create productive works under excellent facilities in a comfortable atmosphere.
Blink Community
Located just right next to Roppongi Hills, it attracts many foreigners. With its five floors of workspaces and many English speakers, including multiple language workshops, are there to benefit you. This place is suitable for early-stage startups and technical entrepreneurs.
Ninetytwo13 Tokyo Chapter
Close to Roppongi, this place is set in an old industrial building with granite floors and exposed brickwork. Here, you will be offered serviced apartments as well as gyms along with co-working space to come up with creative talents.
The Hive Jinnan
Tucked in the neighborhood of Shibuya, this co-working space offers membership with good benefits. Its three-storey structure makes you comfortable to breathe and relax while working on your project. This includes the convenience of accessing a bar and cafe.
Wework
The price is higher than other places, but of course, it comes with first-class amenities to make a perfect collaborative space for you throughout several locations across Tokyo. The members will get 24/7 onsite support with private offices and a stunning common area, including enjoying craft beer and nice coffee.
Hapon
With a combination of Japanese style, you will feel calm in this quiet space. Hapon provides special night only memberships with 24/7 access. For non-members or visitors, you can purchase a traveler ticket for a day pass.
Ryozan Park
This space is child-friendly, where you can spend time with your kids in the morning before work and enjoy its chic space for a meeting. Here is clearly the best place for parents. Moreover, It also offers plenty of themed spots for you to enjoy working even more.
Yahoo Lodge
Situated on the 18th floor of the Internet Mega's headquarter, this colorful space is free of charge to visit, so make it a top location for digital nomads. Not only plenty of areas you can choose, but you are also welcomed to bring your own food and drinks.
Basis Point
The price is affordable, starting fee of $ 2 for every half an hour. This includes hopping for branches in Ginza, Jimbocho, and Gotanda. For those who are looking for a flexible daily membership, Basis Point is surely the one with a laptop for rent.
Fabbit
This traditional office setting has provided great flexibility for digital nomads who prefer to work in different locations across Japan. Here, you will enjoy a private room and a virtual office.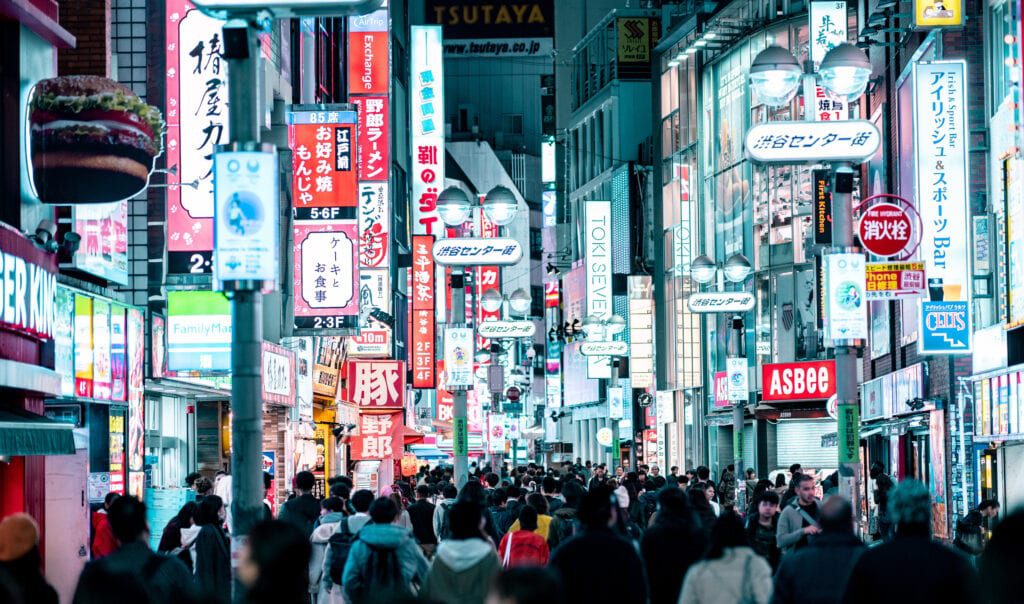 Conclusion
Living in this quiet and clean city is a brilliant idea for digital nomads who prefer peaceful spaces to work and active socializing to connect with new people. With its convenient transportation system that can easily hop you anywhere, you desire. Not to mention all the incredible foods and good drinks you will enjoy every day. You will fall in love again and again with breathtaking sites along with the beautiful culture.
Make your way to Japan and grow your productivity just like the ways Tokyo glows at night!