Kathmandu has a rich history dated back over two thousand years. With a number of Hindu temples, Buddhist stupas, and ancient monuments, the city has become a huge open-air museum of medieval arts and architecture.
This enchanting capital city of Nepal and its neighboring cities of Patan and Bhaktapur are filled with UNESCO world heritage sites for visitors to explore. Walking around the old quarter and enjoy the lively local market or hiking through lush green hills with a stunning backdrop of Himalayan peaks behind, Nepal has you covered.
Kathmandu is considered a starting point for anyone who would like to chase the famous Mount Everest along with countless remarkable high mountains as well as glaciers and verdant valleys.
This city of gods and goddesses will surely be another option for those who seek a unique place to reside with a very affordable cost of living and exciting outdoor activities. If you are still unsure about moving here, let's continue reading and find out what more is waiting for you in Kathmandu.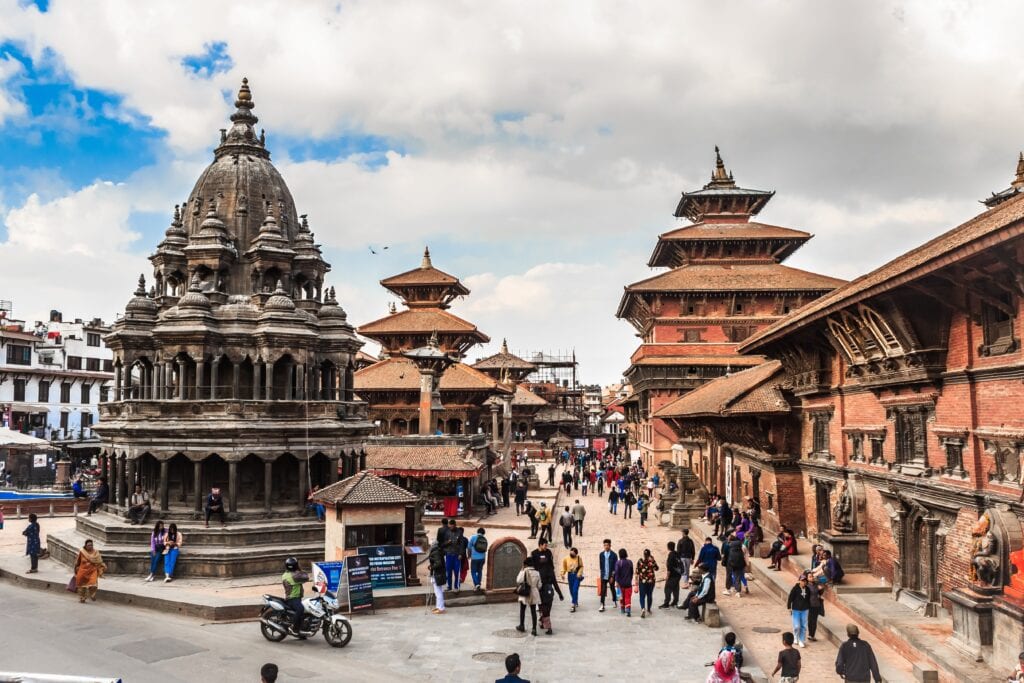 How much does it cost to live in Kathmandu ? 
The cost of living in Kathmandu is quite reasonable, with around $ 700 per month, and it could even go lower to $ 500 a month. In general, this beautiful city could be expensive for those luxury seekers. But for anyone who has a normal standard of living or a budget-minded person, Kathmandu can offer the cheapest way to enjoy life with great comfort and excitement.
Accommodation Expenses 
The accommodation price could go up during the peak season between March and June as well as September and November. Start your life in Kathmandu by booking a hotel or Airbnb for a week, then try to negotiate the rental fee with the landlord for a long-term stay.
The guesthouse or homestay is also another choice for you, with a minimum of $ 122 a month. The room with nice furniture, wifi, and other facilities could cost around $ 50 – 150 a month. If you are looking for a flat or an entire apartment, you could expect to pay $ 200 – 300 per month.
Food and Beverage Expenses
Eat out at the local restaurants is very affordable too, with less than $ 5 for a pleasant meal, and it could even go lower to $ 1. Don't miss trying the street foods which are available everywhere around the city.
If you have an appetite for international cuisine, you can easily hop to Thamel or Patan for Japanese, Chinese, Vietnamese, Italian, and more. However, the quality and prices vary. Vegan folks will enjoy a wide variety of Nepali food, such as its authentic Momo and the national dish of Nepal called Dal Bhat.
The alcohol prices are relatively high compared with the food. Drinks like beer will cost you around $ 7 – 15 in bars.
The average cost for food and drinks per day is between $ 5 – 20.
Grocery Expenses
It would be great to buy raw materials and cook by yourself. Being a good friend with a grocery store will not only cost you just $ 24 – 35 a month, but it will also let you have more cash in hand. Whether western or local products, you can find all at Bhatbhateni and Big Mart, the large supermarkets in Kathmandu.
Transportation Expenses
Traveling around Kathmandu is possible in many ways. Although taxis are not that expensive, they normally add up overtime rates if your destination is further away from the city center.
Staying in the central area will allow you to roam around effortlessly by bicycle or walk. You could rent a motorbike for $ 5.5 a day, but only if you are well-experienced and ready to get stressed with traffic chaos in Kathmandu. That is why most expats recommend using the combination of taxi, cycling, and walking instead.
When you are in a hurry, you can try using a motorbike service from the popular application, Tootle. The price is somehow in between a taxi and bus fare.
Connectivity
Those digital nomads who prefer to work from home would enjoy a personal board band internet at their apartments. Many providers offer a fast and reliable connection that costs around $ 25 per month with a maximum of 50 Mbps, but the speed actually depends on where you live.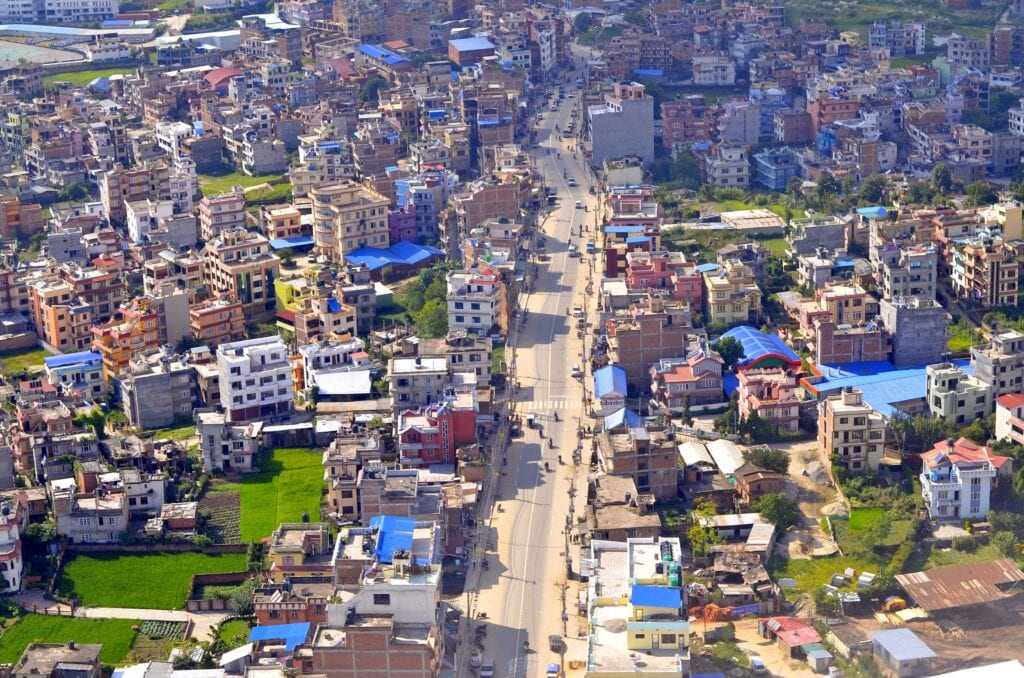 Pros of Being a Digital Nomad in Kathmandu
Safe Country
Did you know that Nepal ranks the 3rd safest country in South Asia? The serious crime is hardly heard here, so solo travelers would feel safe while living in Kathmandu.
To be on the safe side, you need to watch out for the pickpockets and be careful when walking at night. Travel insurance is also something great to obtain.
Friendly and Helpful People
One of the very famous proverbs among Nepalis is "Guests are equal to gods", and the locals take this by heart. Everyone who visits Nepal will be amazed by the warm hospitality from the lovely people here.
Breathtaking Mountains
Believe it or not? Once you land in this marvelous country, you will never be enough with the magnificent views of snow-capped mountains surrounded every single area of Kathmandu. As nobody could refuse the incredible Nepalese Himalayan, which is home to 800 kilometers stretch of the whole Himalayas.
Cost Friendly
Its costs on food and accommodation are very reasonable along with the excellent quality of service. Tons of activities and events offer great prices like no other places. The average expense for two persons traveling in Nepal is approximately $ 332 per week.
Excellent Local Cuisine
Nepal is a food paradise with flavorful dishes from spicy recipes to plenty of sweets and savory snacks. We recommend you to try Dal Bhat Takari, a lentil soup that comes with steamed rice and veggie curry. Momo, Showmen, Samosa, Pani Puri, Sel Roti, Aloo Tama, Juju Dhau, and yummy Newar dishes will also never disappoint you.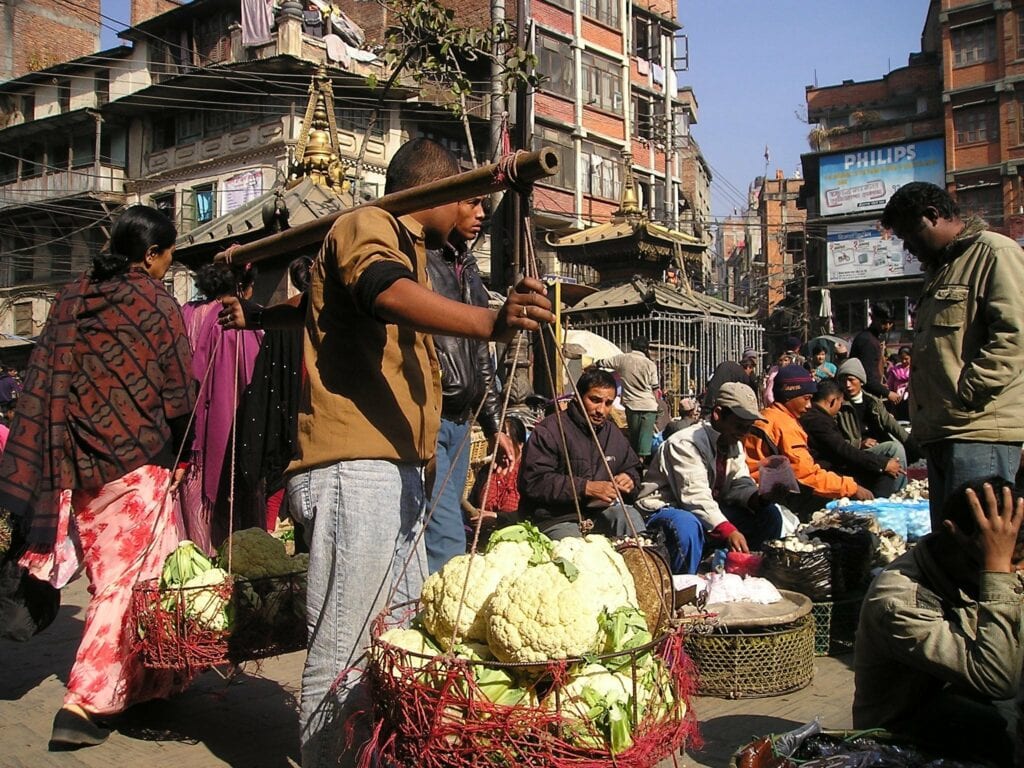 Cons of Being a Digital Nomad in Kathmandu
Political Instability
Nepal has been facing pain through its political instability for many years. There are riots and strikes, which have been quite troublesome in its tourism sector and have created negative publicity of the country. These days the country is still peaceful without extreme violence, but no one could predict when the walkouts or political rally could occur.
Challenging Roads
The suburban and rural areas of Nepal are difficult to access even though Nepal boasts highways stretching to many areas of the country. Sometimes you might need to give up with its dangerous roads and continue walking to your destination instead. Not to mention that many places still could not be reached by car.
All these issues happen due to the lack of proper maintenance, leading to landslides and flood problems. Currently, Nepal is undergoing and improving the road facilities in several areas to make it reachable and convenient for everyone.
Pollution
Kathmandu valley is a migration hub with people from all over the country, resulting in the lack of infrastructure and facilities to meet the needs of the population. For better living, the development processes are taking place to upgrade the facilities. These cause the severe pollution problem that has had a massive impact on Nepalis.
The unmanaged dumping sites are regularly seen as well as horrible traffic with noise pollution. Due to lots of factories, construction sites, and old transport, the air quality in Kathmandu valley is also awful. You probably need an air filtering mask to put on when traveling around town.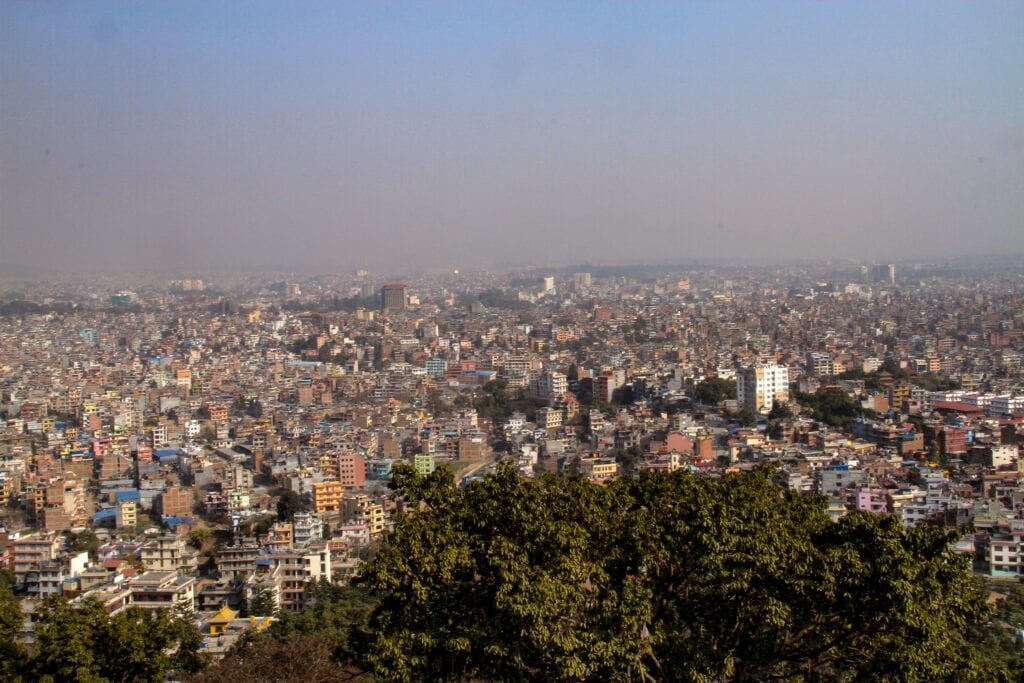 Things to Note
Visa Requirements
The tourist visa is the only entry visa to Nepal. If you travel to Nepal for other purposes, you still require to obtain this visa and will change the category later once you are in Nepal.
Digital nomad could get a visa on arrival at the Tribhuvan International Airport, Kathmandu, and at the border entry points.
Or, if you have obtained the visa from the Nepalese Diplomatic Missions, you must have to enter within six months from the issued date, and your total stay will be counted starting from the day you enter the country.
In order to avoid any problems, make sure you have travel and health insurance. You can get a package for digital nomads easily from providers like SafetyWing.
How to Find Accommodation
Many places are advertised themselves on Facebook pages, such as Kathmandu Expats. The local website, Hamrobazar.com, is another option where digital nomads could look for accommodations and get in contact with various brokers.
Keep in mind that you will always have to bargain on the apartment rental to get reasonable prices and not be taken advantage of by the landlord for their benefits.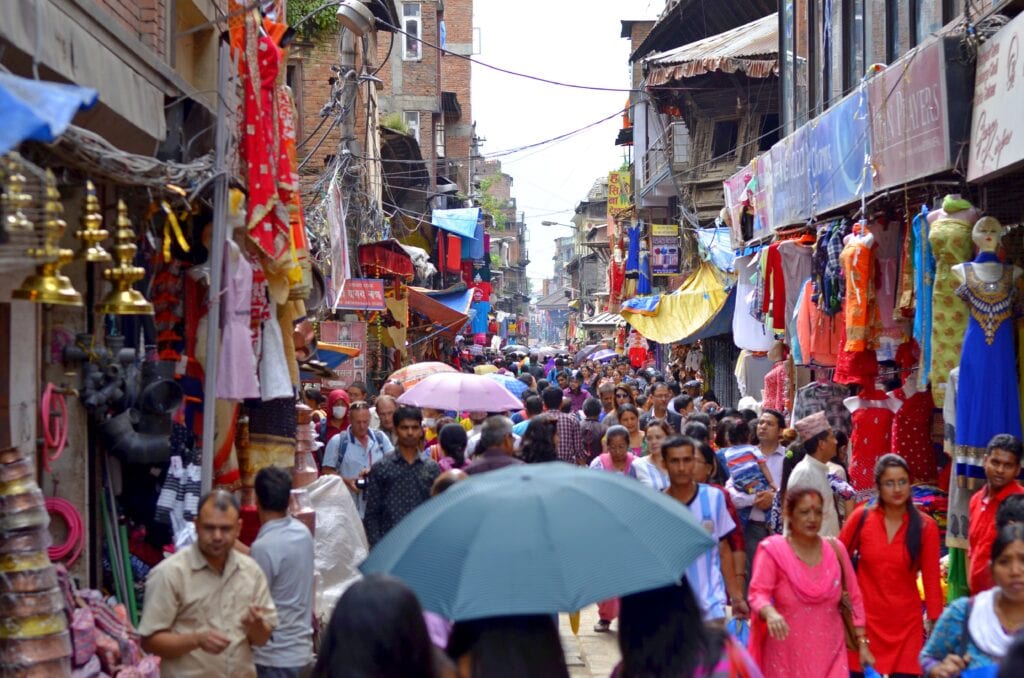 Co-Working Spaces
There are many co-working spaces and cafes in Kathmandu Valley that can cater to different types of digital nomads. Some places are bright and clean with many desks and high ceilings, while other sites are quite laid-back and come with a garden and spaces to hangout. The prices start from $ 2.5 a day to $ 36.5 a month.
These are the popular options where nomads could utilize them to create the best works during the stay in Kathmandu.
Bikalpa Art Center
Bikalpa Art Center is an art and community place with a lovely garden and restaurant. A monthly art market, amazing music from many bands, and wonderful movies will keep you entertained here.
Café Soma
Café Soma is a community where people can enjoy eating, drinking, while working at coffee bars or restaurants, so this site is pretty much suitable for those who love to chill out and have a chit-chat while working on the project.
The Hub
The Hub is a new place that combines a cafe with one of the country's best tour companies. Social tours provide amazing tours around Nepal, including moms workshops, mountain bike events, and a visit to the Rice Planting Festival. This place offers endless space to work and relax throughout the day.
Top of The World Cafe
Top of The World Cafe is a cozy space with an air-conditioning system in summer and heaters to warm your body during winter. This place offers electric sockets, a great internet connection, and yummy cakes with fabulous drinks, perfect for digital nomads who like a comfortable atmosphere.
Karma Coffee
Karma Coffee is a coffee shop that will lift your spirits with a hot cup of coffee and a tranquil ambiance. Whether enjoying your space or sharing a table with others, you will love spending your productive time here.
Kairos Cafe
Kairos Cafe is a friendly cafe, where it is also a social enterprise working to prevent exploitation. It is one of the few places nearby where you could get non-sugary and caffeinated drinks while utilizing the space to work. The accommodation is also available in the Five14 b&b above for those who need the place to stay.
WorkAround
WorkAround is a well-facilitated space with a spacious room and modern area for you to work. It is where a lot of start-up Nepali gather to create magnificent works, including to pursue their dream and future.

Conclusion
Kathmandu is a splendid city with many excitements to inspire you every day. It is filled with people from totally different cultures, but all live together in harmony. The living cost here is also way cheaper than in many popular countries. From scenic landscapes to medieval structures, Kathmandu will slow your steps down and let you appreciate every moment of your stay. Get ready to enjoy the exciting nomad life in Kathmandu!