Mexico City attracts thousands of digital nomads yearly. Why? Because it offers a relatively low cost of living, it is easy to obtain a visa, and it's close to many beautiful places.
Mexico City remains one of the world's biggest cities; it has a metro population of a staggering 21 million people.
The city is on top of the ruins of an ancient Aztec city called Tenochtitlan, and it has a long history spanning back to 1325 when the Mexica people founded it.
Mexico City remains world-renowned for the famous cuisine, including tacos, burritos, tortillas, and nachos. Furthermore, the city offers excellent Mayan temples, colonial architecture, rich cultural heritage, and great shopping.
This article will give you an insight into why Mexico City is such a phenomenal digital nomad hotspot.
The cost of living in Mexico City
Mexico City is surprisingly affordable in many ways. It is cheaper than Asian cities like Bangkok, with lower consumer prices, lower rent prices, and lower grocery prices. You can find more affordable spots in the country, with places like Tulum offering reasonable budget prices.
It is possible to live off 1200 USD per month in Mexico City. The only thing that's more expensive than many other rival nomad cities are the restaurant prices, which are double that of Southeast Asia,
The Mexican economy has stagnated recently and got worse during the 2020 pandemic. That has significantly weakened the currency dropping from 1USD = 25 Pesos in March 2020 to 1USD = 20 Pesos today.
Let's look at some of the most significant expenses you will incur.
Accommodation Expenses
Accommodation in Mexico City is surprisingly affordable. You can find good hotels for just 29 USD per night, in good areas too. And you'll find decent air BnBs for around 32 USD per night. That's much more affordable than a western country and on par with much of Asia.
If you're a digital nomad, you'll maybe decide to live inside a hotel because it gives you freedom, and you don't have to worry about any contracts. You'll pay around 650 USD per month for a decent hotel room, and that's a decent one.
Air BnBs are more expensive per month, generally averaging around 800 USD to rent an apartment per month. Alternatively, you can rent an apartment for just 400 USD per month, an excellent option for a digital nomad. Your apartment will be in the center of the city and could have a swimming pool and sauna included in the complex.
Food expenses
Food is relatively affordable in Grocery stores. You shouldn't spend more than 150 dollars per month on groceries, and these prices are as reasonable, if not cheaper, than in Asia.
One of the digital nomad favorites is street food, which is delicious and very cheap. You can find street food for 2 USD per meal. Popular street food includes Burritos, which you can get from 1-2 USD.
Western food is readily available. You can get a big mac meal for just 4 USD, considerably less than the west. However, dining at one of the top restaurants can be expensive. But you can get meals at cheap restaurants for around 6 USD, which is reasonable.
Drink expenses
Mexico is notorious for the amazing party scene. And it has the drink prices to match, and you shouldn't pay more than 2.50 USD for an imported beer.
But if you want to drink local beer – which is excellent – you shouldn't pay more than 2 USD. The local beers in Mexico City are Escollo, Crisanta, and Principia. They're all adored by the locals and the best option if you want a cheap drink.
Transportation
Transportation is very affordable; you can get a monthly public transport pass for just 15 USD, giving you access to the entire city. And taxis are generally inexpensive, 1km is around 6 Pesos (0.25 USD), and you'll often pay a 0.75 USD start fee.
Mexico City does have an underground metro, which is very cheap. Most digital nomads will opt to use uber taxis because they're faster, easier, scam-free, and affordable.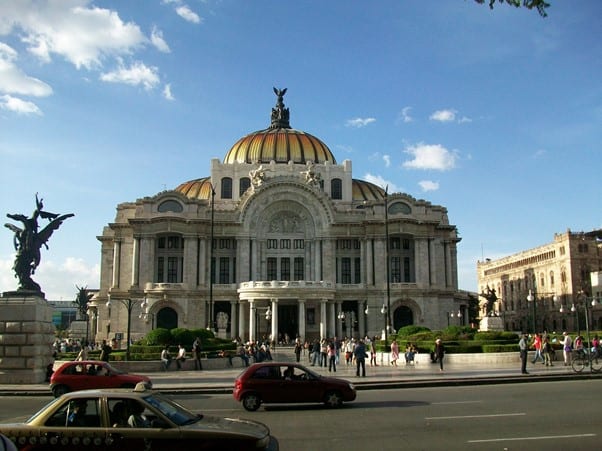 Benefits of being a digital nomad in Mexico City
Western Amenities
Mexico City has a superb balance of being a developing city, but with all the amenities and convenience of a western city. People often refer to the city as the tropical New York City, with all the energy, vibe, and buzz of New York, but considerably cheaper.
The city has fantastic music, arts, and fashion scenes. Furthermore, it is a hub of international cuisine, with numerous cuisines on offer from within the city. There is also an array of superb modern architecture and skyscrapers.
Food
Mexican cuisine is famous globally, and it remains one of the world's most delicious cuisines, with numerous incredible meals. Eating the cuisine inside Mexico is off the charts. It is far better than any Mexican food you'll ever see in the west.
And it is highly affordable. If you eat street food from the markets, you shouldn't spend more than a few dollars per meal. Did you know that Mexican food started with the Mayan Indians 2000 years ago?
Some of the most famous street food meals include churros, tamales, chalupas, and tacos. If you enjoy savory food, you'll love pico de gallo, enchiladas, carnitas, or guacamole. And then you have the popular holiday foods, including tamales, yellow squash, and Calaveras de Azúcar.
Excellent location
It is challenging to find a better location than Mexico city. You're located in Central America's heart, only a four-hour flight to NYC and a four-hour flight to LA.
And you're next to the Caribbean, and you will be connected to most Caribbean islands, including Cuba, Barbados, Trinidad and Tobago, and Jamaica. So if you want to head to the beach, you're only an affordable flight away.
Furthermore, you are close to all of the epic Central American hotspots, and South American countries are between 2-6 hours away. It is a prime location for many reasons.
History
You will never run out of great history to see in Mexico City. There are Mayan ruins throughout the country and very close to Mexico City. Popular attractions in Mexico City include Zocalo, Museo del Templo Mayor, and Basilica Santa Maria de Guadalupe.
As a digital nomad, you'll want to have exciting places on your doorstep, and Mexico City offers that in abundance.
A great spot to learn Spanish
Spanish is one of the world's most spoken and useful languages. And you can find so many great Spanish schools in Mexico City – at an affordable price too. You can join many of the excellent Spanish schools.
Otherwise, you can hire private Spanish teachers who will meet you in the location of your choice. The locals are incredibly open and chatty, so that you could practice your Spanish with them daily. Ideally, you'll want to learn Spanish if you're a digital nomad in Mexico City.
Downsides of being a digital nomad in Mexico City
Air pollution
It is not uncommon for developing countries' capital cities to have pollution issues. But Mexico city does have it rather alarmingly. Somedays, the air in Mexico city is very unhealthy and some of the worst in the world. It is a byproduct of having a city of 21 million people and the vast amount of cars to match.
However, the country is striving to improve this. Locals have implemented green walls, meaning that there might be driving bans at times depending on where you live. For example, you cannot drive on certain days of the week.
Heavy traffic
If there's one thing that everyone leaves Mexico City saying, it is that the city has extreme traffic. And its noisy traffic, you'll hear horns all-night-long, and the sounds of firecrackers go off all night.
If you're traveling to Mexico City, you might love that raw buzz that you get from the sensory overload. But when you're a digital nomad, you're more likely to want some peace from time to time. Unfortunately, you're unlikely to get this in Mexico City.
Crime
Crime isn't something that escapes people's minds when they think of Mexico City. But in fairness, it is prevalent in some areas. There are some areas where the locals will advise any "gringo" or tourists to go.
However, the vast majority of crime in Mexico City is in states like Sinaloa, Tamaulipas, Colima, and Guerrero. In these states, the cartels are prevalent, and although they're unlikely to care or bother any digital nomads, you should be aware.
Other things to consider
Visas
One of the most significant benefits of living in Mexico City is the relaxed visa policy. It makes it very easy for digital nomads to come and stay in the country. Most digital nomads will enter the county on a tourist visa, just a stamp on many Western passports' entry.
However, Mexico offers a fantastic temporary resident visa that allows you to stay in the country for one year, and after that, you can renew it for three years longer. You'll need a monthly income of over 1,620 USD over the last year. Or, if you have 27,000 USD in savings, you'll be allowed to apply for a Mexico Temporary Resident Visa. Because of the Temporary Resident Visa, many digital nomads are highly attracted to Mexico City.
Having a health insurance is highly recommended. It is very easy to get your health insurance coverage on the go, from providers who cater to digital nomads like SafetyWing. Check out their travel and medical packages for digital nomads.
Best places to visit
Mexico City is home to some fantastic places that you can enjoy as a digital nomad; let's talk about some.
Zócalo
Locals often refer to Zócalo as the country's beating heart; the first constitution was arranged in 1813 and is one of the world's largest squares. Furthermore, it includes three of Mexico City's best tourist attractions: National Palace, Metropolitan Cathedral, and Templo Mayor.
The Palace of Fine Arts
Mexico City is home to a bustling artistic scene, and one of the best places to visit is the Palace of Fine Arts. The Palace is an opera house and concert hall and hosts various productions. Visitors love the murals throughout the building, including David Alfaro, Jose Clemente, and Diego Rivera.
The National Museum of Anthropology
Mexico City is home to one of the most critical anthropology museums on the planet. You'll find an incredible selection of archeological finds, such as Indian art treasures and Mexican archeological findings. It is an excellent spot if you love history.
Coworking Spaces
Mexico has a growing digital nomad scene with more people deciding to retire to the country. In response, there has been an enormous growth in coworking spaces. These are some of the best coworking spots in the city and what makes them so good.
Impact Hub is a common coworking space globally and has become the leading brand in the coworking space industry. Therefore, it has a fantastic array of facilities and attracts many digital nomads. Here are some of the best bits.
Cheap monthly membership at around 120-150 USD
Free coffee to all guests
An amazing community
Private meeting rooms
Communal relaxing room
The Pool is a highly-regarded coworking space, and it has over three locations within Mexico City. But all three offer excellent amenities, and the three areas are Pool San Angel, Pool Polanco, Pool Toledo. Here are some of the best benefits.
Private office rooms
A vast community from worldwide
Superfast wifi
Coffee and food inhouse
A relaxation room
Publico is an excellent option for those looking for a coworking space with numerous locations. Furthermore, if you get a Publico membership, you'll get access to all of their working spaces around the world. Here are the best bits
An in-house restaurant
Blackout curtains
Private meeting rooms
Free coffee
Loads of community events and meetings
Homework offers digital nomads an excellent central location, where you can quickly get to all the best parts of the city. The view from the top of the coworking space is perfect, and they offer superb facilities, including
Free coffee
Cheap monthly membership at around 100 USD
On-site snacks and food
Private rooms
Excellent contemporary design
As the growth in the digital nomad community explodes worldwide, nomads will continue to flock to great cities like Mexico City. It has all the buzz and vibrancy of an affordable developing city, yet it offers western convenience with high-speed internet, great shopping, and fantastic food.
More and more digital nomads will call Mexico City their home as time goes on. It remains one of the world's best cities for remote workers.