Bedouins were the original nomads, they moved since the beginning of time from one place to another following their agriculture or pasture or even trade. Not bound by place, roaming around, mainly in the desert, these original nomads built some small villages, one of them is the fishing village of Dahab in Egypt.
Dahab, continued to be a village for nomads, but now for digital nomads.
Where is Dahab?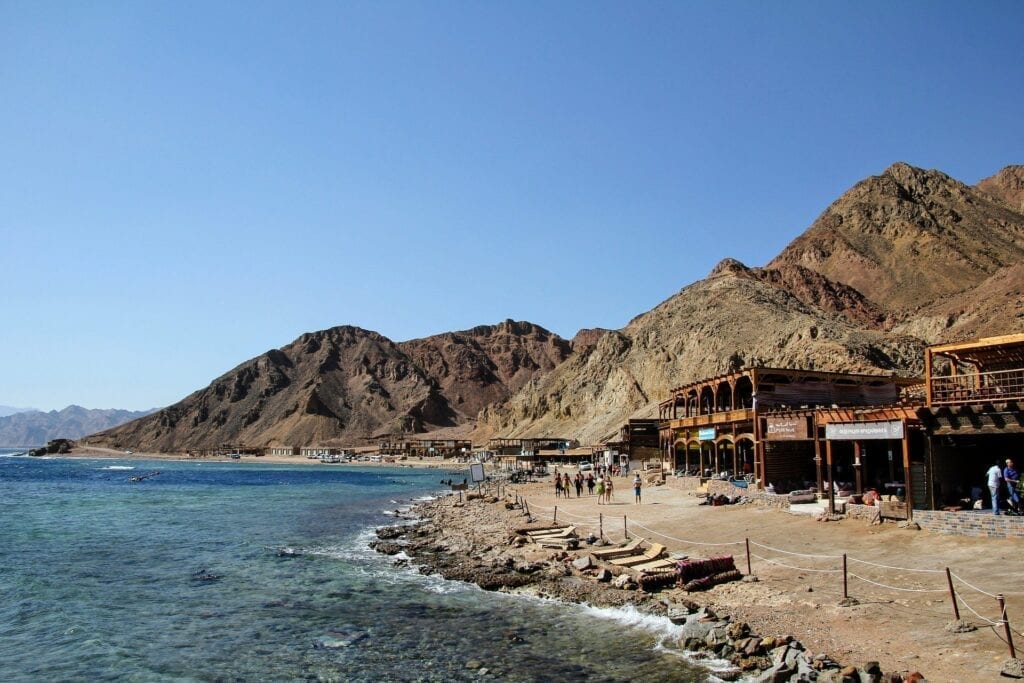 Dahab means gold in Arabic; some say it was named after its golden sands while others say it is the sunsets that brought the name. Either way, Dahab is a piece of golden paradise in the Egyptian desert.
You may wonder how to get to Dahab. The fishing village is located in the Sinai Peninsula, approximately 80 km northeast of Sharm El-Sheikh. You can take a bus from Sharm El-Sheikh to Dahab (the journey takes around 1 hour).
Dahab is famous for its very unique diving spots with colorful coral reefs, kitesurfing centers and laidback, simple, kind of hippie lifestyle. It has about 15,000 inhabitants, that amounts to a street in Cairo (Cairo has 20,000,000 inhabitants!!).
Even though Dahab is frequented by tourists, especially divers, it's never too crowded. It is divided into 3 main cities, Masbat, the center of the Bedouins and locals of Dahab with a few hotels and hostels, Mashraba, the main destination for tourists and foreigners with all the big hotels and facilities and Medina in the southwest which the main destination for water sports enthusiasts.
Why Dahab?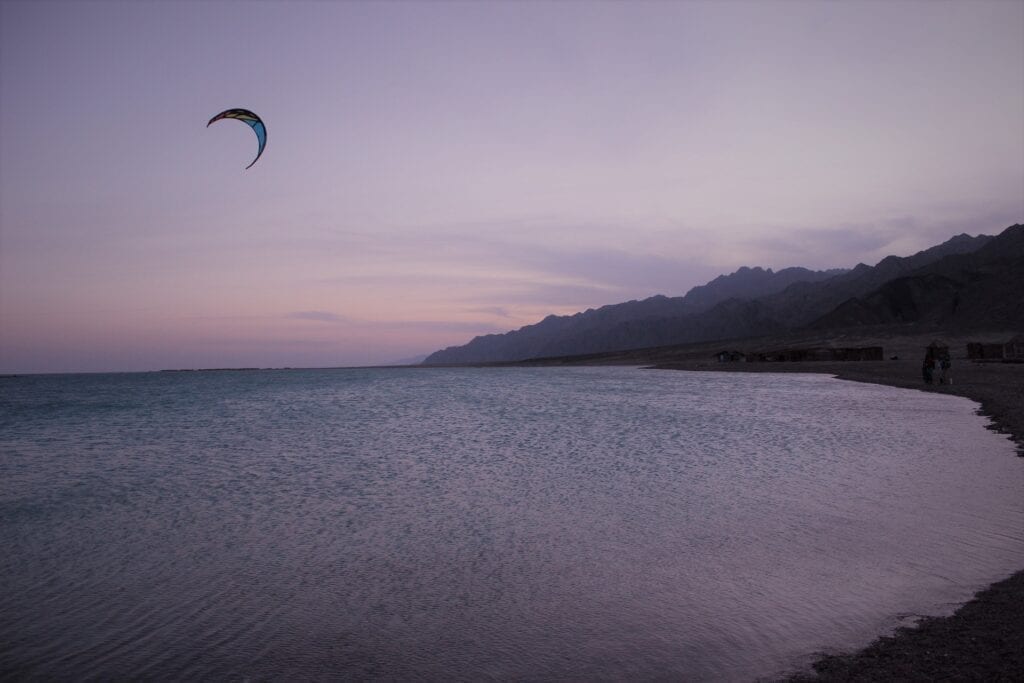 Dahab is an up-and-coming destination for digital nomads; simply because everything about it is breathtaking. Things in Dahab are simple, laidback, down to earth… there is a million ways to describe it but none can convey the real feeling.
You can definitely feel more productive and inspired when surrounded by such beauty. Here are some factors that make Dahab a digital nomad paradise.
Its central location
Dahab, and Egypt as a whole, is about a 4-hour flight from the northern most city in Europe. The more south you are, the shorter the flight. Cairo airport, and other smaller airports in the country offer daily flights covering almost every destination in the world which makes it a good and easy place to stop on your nomad journey.
It's cheap
Egypt in general is a very cheap destination with low living costs and Dahab is no exception. If you do a good research, you can get by spending a maximum of $400 per month including rent, facilities and leisure. SIM cards and internet packages are one of the cheapest in the world.
The visa is easy
Almost all nationalities are given a 30-day visa on arrival at the airport, no procedures or paperwork are needed beforehand. You can easily extend this visa to 3 months.
Make sure you have travel and medical insurance in case of any unforeseen situation. There are providers that cater specifically to digital nomads all over the world like SafetyWing.
It's ALWAYS sunny
Dahab has an average annual temperature of 24 degrees Celsius (around 75 degrees Fahrenheit). It has a desert climate, so there is hardly any rain during the year. Even in winter, you will be able to enjoy the warm sun and sea!
Breathtaking landscape
You are surrounded by the mountains and the sea wherever you look. The desert landscape makes the view of the sky and stars very unique! You will see more stars than ever.
The range of activities
When you are off that laptop, you will never be bored in Dahab, that's for sure. With the range of activities it offers, you are certain to find an activity you like. Here are some examples:
Diving: Dahab is the cheapest spot for diving across the Red sea and dare we say the most beautiful! There are many diving schools where you can learn how to explore the sea and its natural treasures in Dahab. You can go snorkeling, scuba diving or even Freediving, the latter is Dahab's specialty as it's home to the Blue Hole which is 110m deep, protected from currents and considered one of the best diving spots in the world.
Kitesurfing: Dahab has the best conditions for that, especially in the lagoons, in the southwest. There are also instructors to help you get started.
Camping: Bedouins are your best guides in the desert. They offer group trips where you can camp in the desert, away from the noise. You can enjoy the starry sky (maybe even see the galaxy) away from light pollution and enjoy Bedouin hospitality with BBQ dinner at night. In the morning, you can explore the desert in a safari jeep ride or on a camel.
Climbing and hiking: You can practice rock climbing in the mountains or hike up all the way to Saint Catharine monastery.
Cycling: Apart from the readily available to ride camels and horses, you can also practice cycling or experience the adrenaline rush of mountain biking in Dahab.
The community
Digital nomads ranked this one the highest on their list in Dahab. Anywhere you go, you will feel welcome and at home. Egyptians and especially Sinai locals are famous for their hospitality and being easy going. Don't be surprised if they treat you like they have known you forever. The digital nomad community in Dahab is also very much alive, you are certain to meet like-minded nomads in coworking spaces, bars or Cafes where they work.
As everyone describes it, in Dahab you will feel you belong and that can make it hard to leave.
Possible obstacles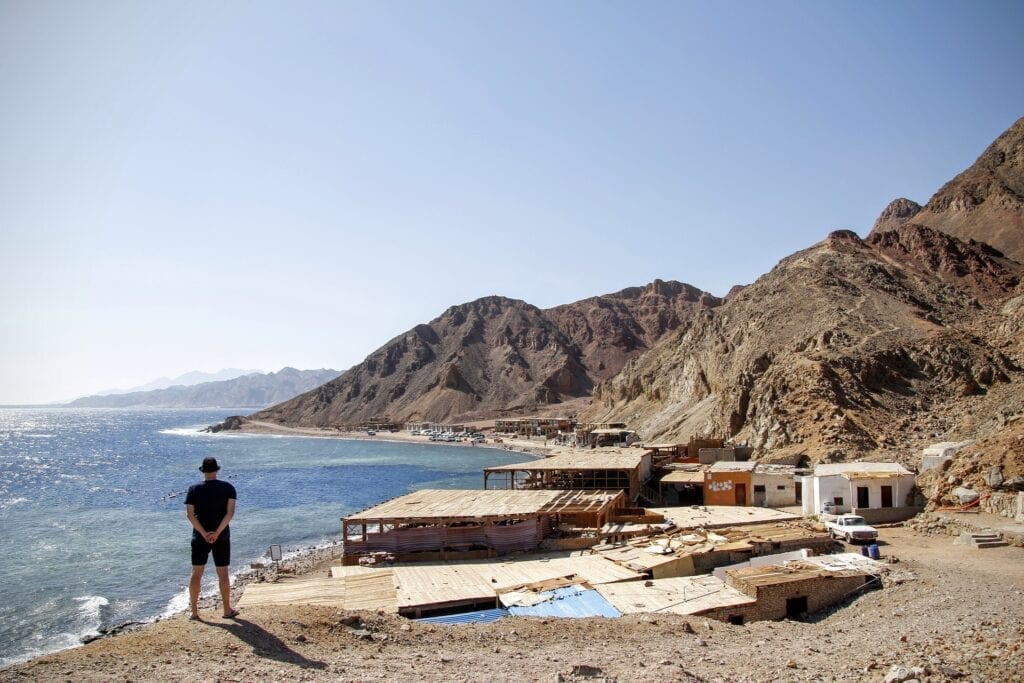 Aside from the amazing nature, diverse community and laidback environment, there are some things you need to take into consideration before going to Dahab.
Free Wifi
A limited commodity and usually when available it is very slow; this is the biggest obstacle that can face you there as a nomad. However, as mentioned before, SIM cards and data packages are very affordable, so working with a hotspot is always a good backup plan.
The reserved culture
Even though in Dahab people are much more openminded than say in Cairo, you need to be respectful of the culture and traditions of the locals. Flirting with local women can get you into trouble, the culture sadly is also not very gay-friendly so you may need to be careful in public places. Legally, an unmarried couple are not allowed to stay in the same room if one or both of them are Arab. If none of you is Arab it's ok, if one of you is Arab or Muslim, it's better to rent an apartment than stay in a hotel.
It can be distracting
The warm weather, the view of the sea and the mountains and the range of activities can mean no work will get done. So be careful and plan your time well to balance the work and fun.
Nomad tips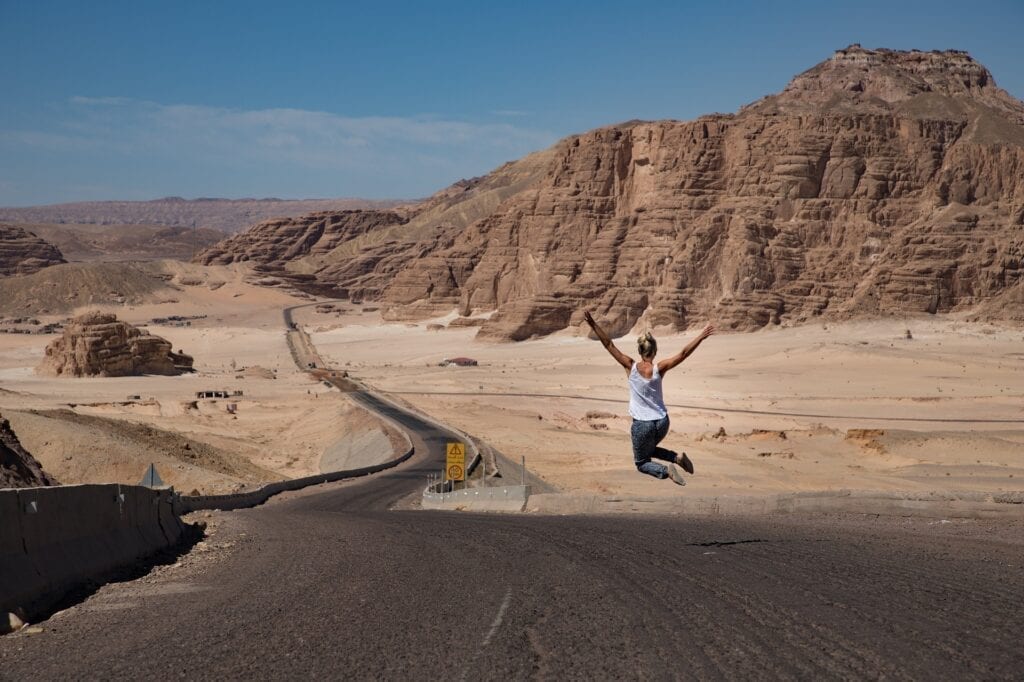 How do I get to Dahab?
The best way is through Sharm El-Sheikh airport then taking a $1 bus to Dahab. You can also land at Cairo airport and take a 10-hour bus. In both cases, you can replace the bus with a taxi, however it can cost up to $200 even for the short distance from Sharm El-Sheikh to Dahab.
You can buy the visa at the airport for about $25. Beware that if you land in Sharm El-Sheikh airport a possible option is a 15-day visa for Sinai area only. If you want, you can ask to purchase the one for all of Egypt that costs $25.
Where can I stay?
El Salam hotel has a partnership with a coworking space that offers a complete package (accommodation and use of coworking space). Dahab real estate and Buddha house offer affordable apartments for rent. The price range is around $300 a month.
Don't be afraid to ask in a luxury hotel for their pricing. Tourism is still recovering in Egypt and prices are really low. A room in a 4-star hotel with a pool and all the facilities can cost as low as $20 a night.
What about Coworking spaces?
CorworkInn is a coworking space that aims to bring digital nomads in Dahab together. They organize movie nights, parties and Arabic lessons for free, however, you pay for using the place to work.
Mojo co-work café is famous for its good WIFI. You don't have to pay to use the space, however you are expected to order a drink or food.
Checkout the cocohub website for digital nomads in Dahab and join groups like "Dahab remote workers" and "Dahab Digital Nomads" on Facebook to ask all the questions you need about Dahab and find friends there.
Would you consider Dahab for your next adventure?