One of the first things that we do as digital nomads after moving to a new location is choosing where we work. Do we clean up the working desk at home, find a cosy café or buy a monthly pass to the nearest co-working space. Cafes are often noisy and have slow Wifi and the home office might not be the best option for everyone. While co-working spaces offer a comfortable and silent atmosphere, strong Wifi and other necessary amenities. That's why more and more digital nomads look for the best co-working spaces in their new cities and neighbourhoods.
Located at the junction of Europe and Asia, Georgia's capital Tbilisi has become a raising digital nomad destination. With a flexible visa policy, low cost of living and rich culture, Tbilisi already attracted a lot of digital nomads and remote workers from around the world.
While Tbilisi is a safe and low cost destination, it is still essential to have your travel and medical insurance coverage when you arrive there, or even after arrival. SafetyWing's nomad insurance, for example, allows you to start your coverage even after starting your journey.
Here are some of the best co-working spaces you can find in Tbilisi.
Terminal
Terminal is the largest co-working space in the region and has six branches around the city. Intending to host the most innovative projects, it opens doors to professionals and companies with different backgrounds. Terminal's multifunctional space offers a comfortable and well-designed environment that includes 24/7 access, dedicated desks, flex desks, private offices, conference and meeting rooms, as well as lounge and relax zones and café-bar areas.
Some of the remote workers say that Terminal has the fastest Internet they could find in Tbilisi. Others appreciate the space for friendly staff, cosy atmosphere and accessible locations. Terminal has two spaces in Vake, two on Agmashenebeli Avenue and one in Saburtalo. If you decide to live in the city centre, it's likely there is a Terminal co-working space near your house. And if you live in the suburbs, all of the locations are easily accessible by public transport.
As for the prices, the monthly membership starts at about 139 USD. If you do not want to use the space for a month, but plan to work there from time to time, expect to pay over 10 USD for access to high-speed Wifi and a flexible desk. Terminal also offers meeting and conference rooms starting at 12 USD per hour, as well as a private office area for about 400 USD a month.
Being the largest co-working space in the country means that Terminal hosts a huge community of ex-pats, digital nomads, remote workers and local entrepreneurs. They use the space not only for creating innovative projects but for meeting new people as well. The company also organizes many community events to encourage networking among like-minded people and give a start to new business ideas.
Though most of the guests love Terminal, some say it can be a bit noisy, especially during those busy hours.
TBC Concept
Right amid the Covid-19 pandemic, TBC bank opened the first flagship Space in Georgia in their head office on Marjanishvili street. The British design agency Sheridan&Co worked with TBC to turn a traditional bank interior into a four-story community hub where visitors would not only use the banking services but work, network and socialize.
By combining professionalism with culture TBC Concept created a space where anyone can find what they are looking for. Whether you are a digital nomad looking for a couple of hours of work in a day, or if you want to have an office for your small company, or just host a meeting, you are likely to find a space within the area.
There is also a library where members can read books, access podcasts and video classes or attend literature events such as book launches, readings, etc. So as a digital nomad working in the space, you can spend your lunch breaks reading a novel, or attending a gallery showing for a local artist or chatting with a friend in a café – all in the same building.
Those who own a TBC Concept package can have four free visits to the space, two for co-working and two hours in the meeting room. They can also get a 20% cashback when paying with the concept card that costs over 49 USD a year.
TBC Concept offers different day and monthly passes, but prices are higher compared to some other co-working spaces in Tbilisi. Expect to pay over 14 USD in a day for using a desk and 13 USD in an hour for the meeting room. As for the monthly packages, for 213 USD a month you can visit the space 26 times, have a fixed desk and use the meeting room 6 times for two hours.
Collective
Another co-working space run by a major bank in Georgia is Collective with a professional atmosphere and lower prices. It is a co-working space created by an M2 development company that runs under the Bank of Georgia. Located in the Saburtalo district the space is easily accessible by public transport. It offers meeting rooms, personal lockers, parking space, and a fully equipped kitchen, along with free tea & coffee.
The space offers different types of membership packages and prices are on the lower end, compared to other similar companies. For as little as 6 USD you can use the workplace for a day and have not only a fixed desk, but access to the meeting room, scanner and printer and personal locker. Expect to pay about 46 USD for the two-week pass and 82 USD for a month. It also offers various discounts and cashback options for monthly users.
As for the environment, digital nomads and remote workers can enjoy a work-focused atmosphere mixed with comfortable furniture and high-quality facilities. Guest have given good reviews to Collective, but some of them advised not to visit the space during peak hours as it might get jammed.
Impact Hub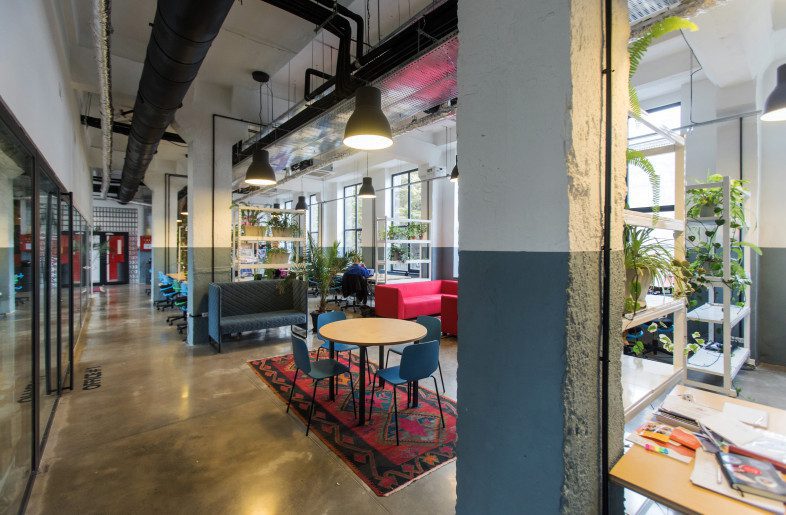 Impact Hub Tbilisi is a part of a global network that operates on 5 continents and has 86 locations. The hub is located in Fabrika – a former Soviet sewing factory that was turned into a community centre with hotels, bars, cafes, studios and galleries. It offers 24/7 access, high-speed Wifi meeting rooms, office spaces for rent, private lockers, a kitchen area and other amenities. As its guests describe, Impact Hub Tbilisi has a comfortable and casual atmosphere with friendly staff ready to help the guests.
The hub offers several flexible membership packages, so everyone would find what's best for them. If you buy the "Hub week" for 46 USD per month, you can access the workplace for one week every month, but it does not include using the meeting room or having a fixed desk. If you decide to go with "Hub fixed", expect to pay over 170 USD per month and have access to all the amenities, including the fixed working space.
Impact Hub is among the best co-working spaces in Tbilisi where you can meet local entrepreneurs, freelancers and fellow digital nomads. According to its founders, the hub not only offers the space for working but also strives to create a community of like-minded people. To reach the goal, it hosts various training, conferences, festivals and other types of events where networking could turn into future collaborations.
Working in Impact Hub means you have numerous opportunities for socialization because of where it's located. You can have lunch with fellow digital nomads at one of the cafes in the courtyard or spend the evening in a bar with locals. And during Christmas or other national festivities, Fabrika usually hosts flea markets where you can get meet local small business owners.
As a drawback, some guests say the furniture is not comfortable enough for those long working hours and others think the district itself does not have good infrastructure.
Vake Cowork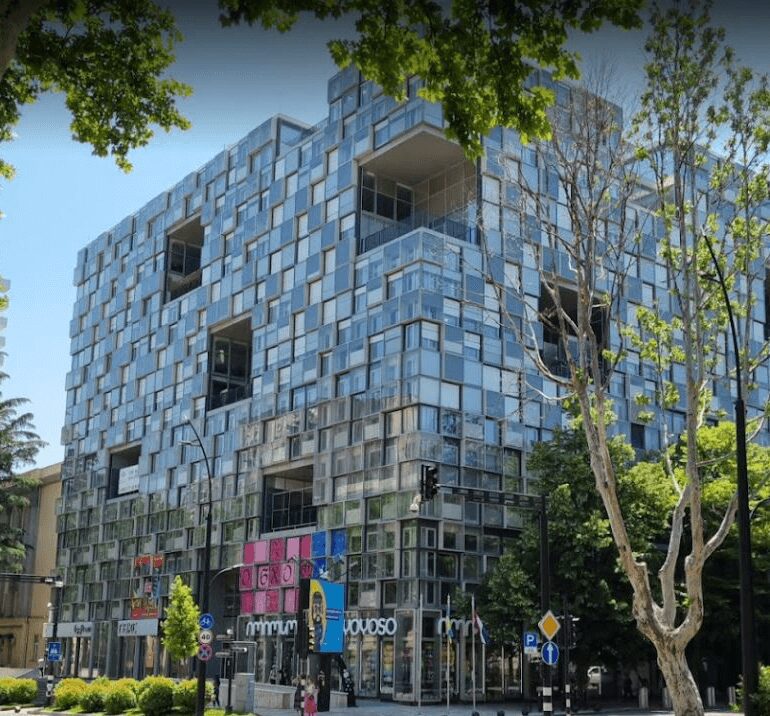 Vake Cowork is a modern co-working space in the heart of Tbilisi's financial district. It's 5 minutes away from parks, is easily accessible by public transportation and has a parking space.
The space has 30 desks in an open space, 5 private offices for 4-20 people, and 2 meeting rooms for 2-8 people. The prices range from 600 GEL/mo for a desk in the open space to 950 GEL/mo for a desk in a private office. The packages are per month or longer, there are no hourly or daily packages.
Vake Cowork offers its members access to mailbox, locker, printer, scanner and coffee. The reception desk and the open working space are open Monday to Friday from 10 am to 7 pm. If you book a private office, you will have an electronic key that allows you to enter any day at any time.
The space is surrounded by traditional eateries like Mziuri café and Yakudza bar as well as international restaurant chains like KFC and Mcdonald's.
Vake Cowork has high-speed WiFi and cable internet for you to be able to do your work fast and easy. Regarding office design, you can either choose a fully furnished office or create your own design and asking for it to be implemented. They stand out with their views of the city and their location in the financial district.
D Block
Housed in Stamba, a coworking space, D Block offers diverse passes for flexible workspace access and dedicated areas like Boxes for teams, meeting rooms, screening rooms, and more. 
Located in one of the most vibrant parts of Tbilisi, 14 Merab Kostava St., D Block's doors are open for everyone looking for a comfortable and well-designed space for working. The members of D Block often say the workspace and its innovative infrastructure enhance mental capabilities and productivity; noise-cancelling features don't leave room for outside distractions. Their ergonomic furniture, like comfortable desks, ensures comfort, while curated lighting gives a sense of privacy and control. 
You can get a desk for one day at the shared workspace for 40 GEL/per day. If you plan to become a regular there, D Block offers any available spot in the shared working space anytime you arrive at the place for 500 GEL/month. Now, if you prefer working at night or during weekends, book a seat on workdays from 19:00-09:00 and on weekdays for 24 hours. This after-hours plan will cost you 270 GEL/per month. Small and middle-sized teams can book private offices for a custom monthly price. On top of everything, D Block is known for its frequent discounts, so keep an eye on their social media channels!
D Block Workspace can be utilised in several ways, ranging from official meetings and conferences to solo work. Multifunctional meeting spaces ensure that core processes such as digital conferences, content development, and even interviewing go smoothly and without complications. D Block's designated meeting rooms are ideal for creative industry professionals. The room has soundproofing and privacy features, comfortable seats and audio-video appliances. D Block stands out from other coworking spaces with its dedicated room for recording podcasts coming soon. 
D Block aims to create a community of creatives, startups, investors, culture professionals, and knowledge makers.
Regus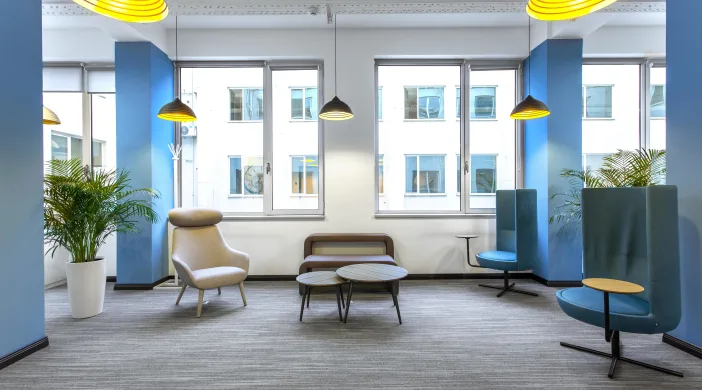 Another international company with co-working spaces in Tbilisi is Regus. It has two offices: one in the old town and another in the Saburtalo district. Both are very easily accessible on foot or by public transport. But keep in mind that membership prices are different for each branch.
Expect to pay about 160 USD per month for working at the Saburtalo location and about 216 USD if you choose to be settled in the old town. The price for the meeting room is the same at both locations and it will cost you about 12 USD per hour. These prices include using a dedicated desk. Alternatively, you can opt for hot-desking which gives you the freedom to work in a different spot each day and only pay for the time and space that you use. But keep in mind that Regus has a limited number of workplaces, so it might be a good idea to buy a membership.
Regus is not focused just on co-working, it also offers fully-equipped office spaces for companies, with modern furniture and high-speed Wifi.
Ano
If you are looking for a different experience, rather than working in a standard co-working space, Ano might be a good option. It is a Japanese-owned coworking space located near Akaki Tsereteli Avenue (a 3-minute walk from the metro) that offers a cosy, ambient, environment. The company says it offers digital nomads a work-focused atmosphere where they can thrive and achieve their goals.
The place is automated, which means that there is no staff or reception. You pay through the website and self-check-in 24 hours a day. For 10 USD a day you get access to Wifi (about 30-40 Mbps), desk and kitchen area. Monthly memberships cost over 94 USD. All of these packages include free tea and coffee. And if you keep an eye on their Facebook page you won't miss sales of up to 90%.
Apart from co-working the space also has Ano Bar which hosts wine events every Friday from 6 pm to 10 pm. For 10 USD you get an "all you can drink" offer.
Conclusion
As the demand from remote workers and digital nomads grows, co-working spaces in Tbilisi become more and more popular. Each of them offers a unique atmosphere, accessible location and necessary amenities. Mixed with this city's culture and lifestyle, the co-working spaces contribute to creating communities of like-minded people. No matter what you are looking for in terms of the working atmosphere, you will be able to find it within Tbilisi.
If you are an outgoing digital nomad who not only wants to work in a fully-equipped space, but also plans to socialize and get engaged in the community, then Impact Hub and Terminal are your best options. But if you are looking for a more quiet, cosy and relaxing place, then opt for Ano. For a more work-focused environment check out Collective and Vake Cowork. If you work together with other people then Regus might be the best alternative as it also manages office spaces. And finally, if you are looking for a multi-functional space where you could not only work productively but attend various events and meet a lot of people, then TBC Concept is for you.