It isn't the newest idea but since it's so beneficial, its popularity rises day by day.
Coworking spaces have it all figured out for you:
From the unlimited amount of coffee at hand to the closeness of other professionals working nearby that give off the vibe of motivation – coworking spaces are what digital nomads crave.
We've browsed the most inspiring benefits of coworking spaces to see if it's worth the chase to find one for you.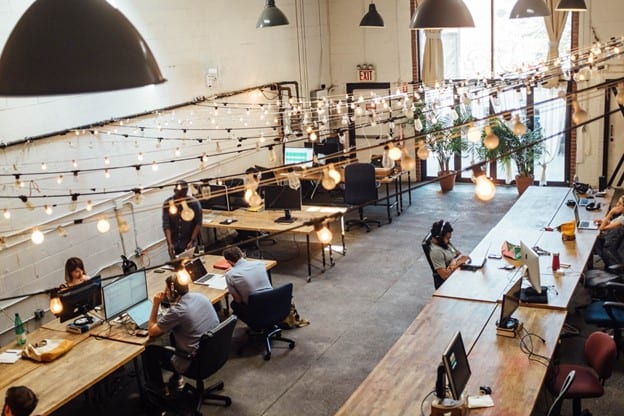 1. You avoid temptations that otherwise could affect your productivity
Working from home is a great option in theory (plus, it comes with all the comfort you can imagine). Yet, it often ends up being the worst solution when it comes to productivity.
Why does it seem at first to be the most convenient situation?
your office couldn't be closer,
you save time on commuting,
you eat at home – save money,
you are totally independent,
you can work in your underwear, etc.
Yet, the truth is:
Staying at home alone isn't the best friend of productivity.
There are distractions that you won't have to face in coworking spaces. Think dirty dishes, rubbish waiting in the corridor, or unfinished laundry.
This alone gives going out of the house a huge advantage over organizing your home office from the scratch.
Coworking space is dedicated only to work-related matters, and it makes it so much more proficient – concerning productivity, focus, work-life balance, and so on.
2. You get extra motivation
Coworking spaces are not just rooms with a bunch of random people.
They are designed to serve creatives, freelancers, digital nomads.
And these are the kind of people that need particular environments to feel free and structured at once (hard but doable).
Spaces that are well-tailored to their specific needs.
The idea behind these spaces is clear.
They focus on:
increasing productivity
driving to improve and grow
inspiring
boosting motivation
adding some fun to it
Inspiring people around you bring this energy in.
Dare to chit-chat from time to time. Who knows if it ends up in new collaborations, ideas, or important suggestions for improvement.
The right work environment will give your motivation a boost. The energy of productivity in a room full of driven people will make it hard not to get influenced.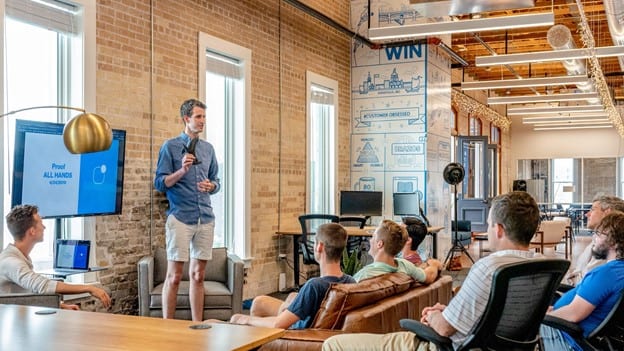 3. You combine work and well-being
It's simple:
Even the best, focused, and hard-working digital nomad needs some fun from time to time.
Spending time in coworking spaces gives off a vibe of amusement itself.
It's not a waste of time, just the opposite!
Human beings tend to be more productive when charged with a good amount of serotonin.
Well-designed coworking spaces may have:
joyful colors,
dogs or cats on board,
a garden,
a fancy bar,
or all at once;
They can even be equipped with a pleasuring relaxation area meant to recharge your spirit (or even offer yoga-classes between one assignment and another!).
Besides necessary amenities to keep you going, some coworking spaces will put a lot of care into helping you to clear your mind.
You may be wondering:
Why is a coworking space supposed to care about my well-being instead of just letting me focus on the work to be done?
The modern lifestyle is all about feeling good. No wonder it applies to work as well.
Your satisfaction will definitely reflect on good results at work.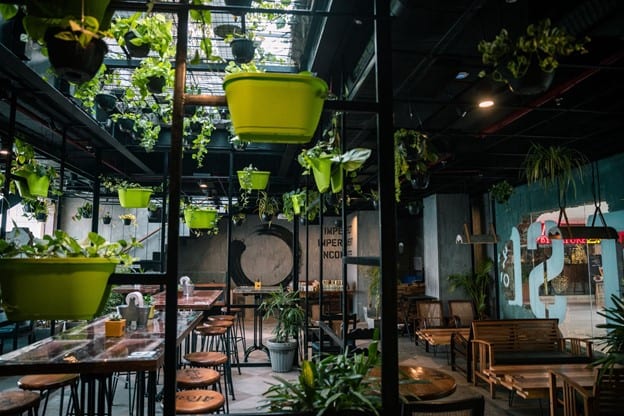 4. You are flexible and cost-efficient
When we get the flexibility we need, at the same time feeling the stability of the work environment, nothing can stop us from growing.
There are many coworking spaces' solutions.
– spontaneous drop-in spaces for freelancers
– fixed, dedicated desks for established teams
Digital nomads love flexibility. It's what made many of us start working this way.
Flexible agreements are far from traditional rents that used to cause various issues to a lot of us.
No pressure, no overpaying, no rigidity of long-term leases and financial commitments.
With 24-hour access to the coworking space, you decide when to work. You're not dependent on any strict rules usually set by the space owners when it comes to working hours.
Think about the cost-efficiency of such solutions.
Renting an office is expensive and extra costs are sometimes hard to foresee.
Coworking spaces usually offer built-in amenities:
front-desk and cleaning staff,
printing services,
internet connectivity,
kitchen and bathroom amenities,
conference rooms,
office utensils,
coffee,
or even snacks;
Think how much money you can save in the long run.
Choose which features you need, to run your business smoothly, and pick the right coworking space for you.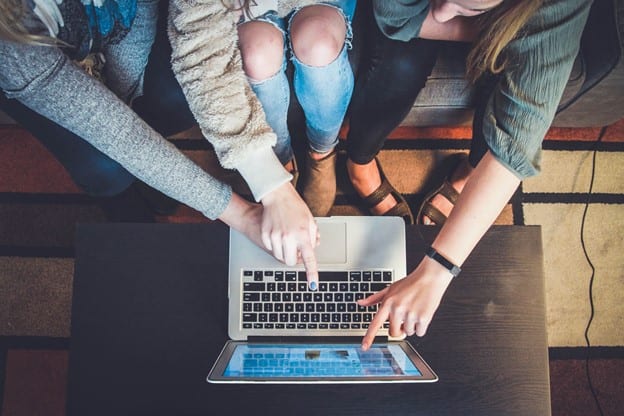 5. You're part of the community
Many of us love meeting interesting people.
Why should we be deprived of it as digital nomads?
Coworking spaces give you unheard opportunities to collaborate and connect with like-minded people.
Let's not forget 'colearning' – crucial for the development of both individuals and businesses.
Networking is key when it comes to growing your business.
Coworking spaces give you a chance of getting into these situations with little to no effort.
No one knows where a casual conversation is heading towards.
By being part of a community at the chosen coworking space, you'll likely connect with fellow nomads on good terms. It not only translates into practical profits but also provides the feeling of belonging.
That stands for working on your own project without feeling lonely. Who knows your sore places better than other digital nomads?
You can't have your cake and eat it? – think it over.
Working in proximity to others allows and enhances:
surprising collaborations to occur,
getting inspired,
encouraging conversations to take place (maybe you need that to take the next big step?)
finding new employers, employees,
having fun together;
Many coworking spaces organize events to encourage members to get to know each other.
The closeness of fellow freelancers and entrepreneurs leads to sharing experiences.
This is a knowledge that otherwise wouldn't be easy to find.
One community-related perk of coworking space is that it reduces loneliness. Another, that it lets you meet like-minded people.