Visa Requirements
Entry into Nicaragua has several requirements before obtaining your entry stamp.  It is mandatory to present an approved negative PCR covid test within 72 hours of arrival into the country. To make the process easy as you will have to present this negative test several times, have a printed copy available to show officials. Nicaragua does not require travel insurance to grant one entry, however, at the discretion of the officials you may be subject to a health screening.
However, it is advisable for your own peace of mind to have travel and medical insurance, just to be on the safe side. There are providers who specifically cover digital nomads, like SafetyWing. Their nomad insurance is easy to get, automatically renews and covers all your needs as a nomad.
An up-to-date passport is necessary and generally, tourists are granted a 90-day visa for their stay in Nicaragua but this is not a guarantee as immigration officials do have the authority to determine the amount of time permitted.  Therefore, if choosing to stay in Nicaragua and working remotely for longer than the 90 days or time granted you will have to leave the country and re-enter in order to renew your visa.  The neighboring country of Costa Rica is often an easy and common way to complete your visa run and can make for a beautiful vacation or a few days away.
As with most other countries, it is necessary to show proof of onward travel that you will not overstay your time permitted in the country with either a bus ticket or an outgoing flight from Nicaragua. An official may also ask you to present evidence that you have sufficient funds to sustain your time in the country indicating you are not intending to work illegally during your stay.
Cost of Living
Granada is a beautiful town of vibrant colored homes and colonial-style architecture and only an hour's drive from the capital city of Managua.  It offers lively nightlife of music, restaurants, and bars along its central road as it caters to many travelers with plenty of outdoor seating to feel the gentle evening breeze.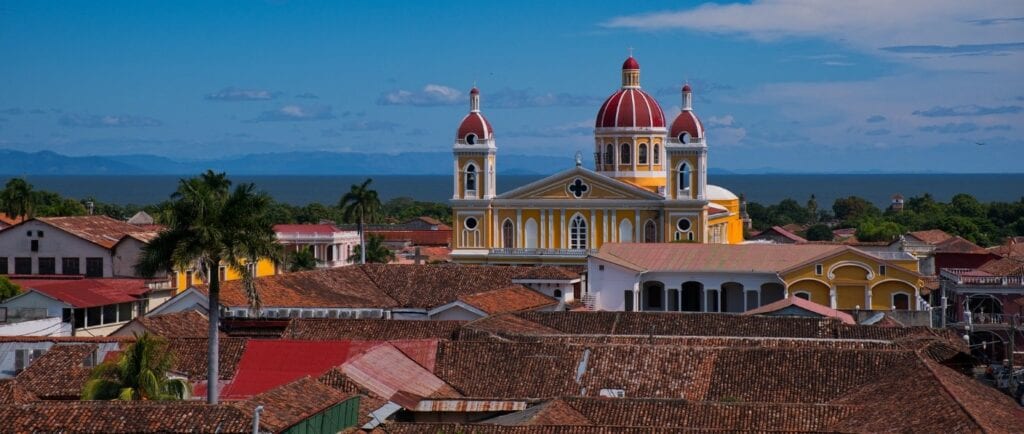 There is great energy here as the twinkle lights shine on the patios and the music echoes throughout the street where beers are only $1.00.  You can easily spend your afternoon working in one of the many cafes with eclectic artwork and beautiful gardens.
The town is on the edge of a lake and offers hostels, Airbnb's, and apartments starting at $300 – $400 USD. Nicaragua is not an expensive country to live in compared to some of its neighboring countries, you can live comfortably here for under $1000 a month. Around countless corners are fresh fruit or vegetable stands, offering cheap and affordable produce for as little as $10.00 a week. Typically, anything that you are buying from the supermarket and stores that is imported is going to be more expensive.  Eating from local restaurants when going out is always more affordable and can be the most satisfying with the rich flavors of rice, beans, small salad, and a portion of meat for only $3.00 – $6.00.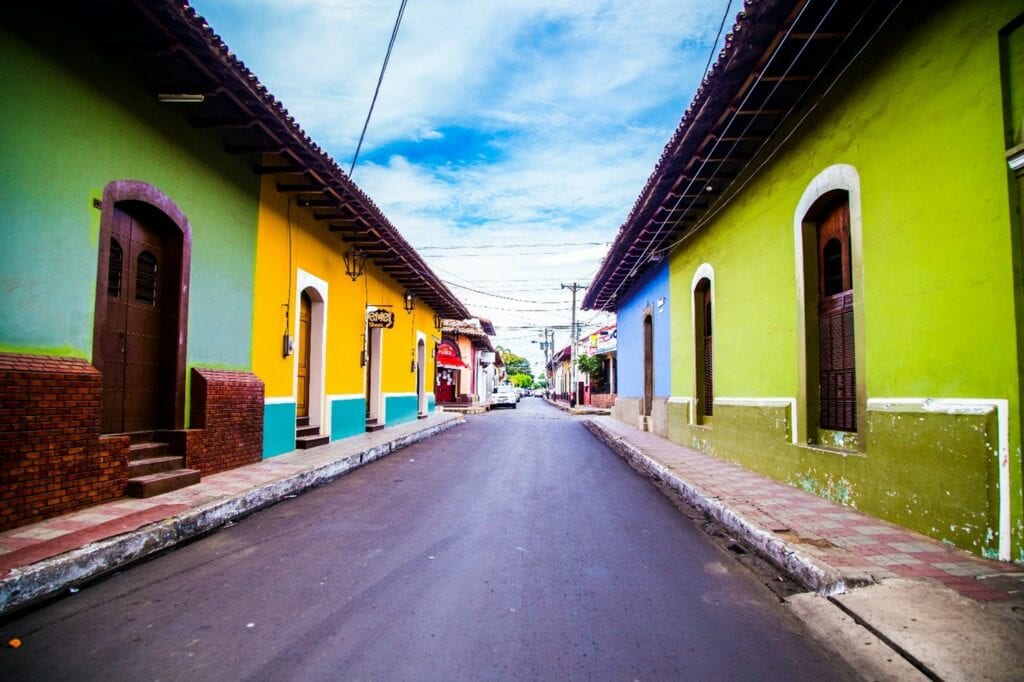 San Juan del Sur is another popular town for digital nomads with its great surf and chill beach vibes. It is a small fishing town of only a few blocks between the Pacific Ocean and Lake Nicaragua but is bursting with life and things to do. Restaurants line the shore with stunning sunsets and views of the water as the town is surrounded by jungle-lined hills. There is always something to do whether it is yoga, dance and art classes, surf lessons, and listening to lively evening music echoing in the streets.
If you are wanting a private place, you can find a furnished apartment for around $400 to $600 a month based on availability and tourism season. However, if you are wanting to connect with others and live more in a group setting there are safe hostels and lodging with private rooms. Selina Maderas and Casa Oro Eco Hostel are around $600 a month with the beach nearby.  There are plenty of budget hostels in San Juan del Sur that have continental breakfasts and free Wi-Fi saving you money as opposed to living on your own which are also close to Maderas Beach.
The town is relaxed with travelers, tourists, and remote workers providing the amenities for a relaxed digital nomad life. You will never have to sit in traffic or a long commute when working in San Juan del Sur.  Meditate on the sandy shore as the sun rises before work, take your break on the beach patios, or simply just enjoy the tropical weather on your lunch break.
Coworking
If you are living on the southwest coast of Nicaragua in the beachside town of San Juan del Sur they offer two different coworking spaces.  Just twenty minutes out of the center of the small city is Selina Maderas, Selina is well known for providing great coworking spaces. If in search of high-speed internet, digital nomads know Selina can accommodate this advertising that they have the highest bandwidth and speed in the area, as well as comfortable workstations.  Selina Madera coworking has daily, weekly, and monthly plan options.
They also have a location in the picturesque town of Granada with strong internet, tea and coffee, printer and scanners, and all the great perks that Selina has to offer. The atmosphere in Selina is always a friendly one, where you can meet other remote workers and travelers especially if just arriving in the country and looking to make connections.
Outsite also has a location in San Juan del Sur that has views of the Pacific Ocean and promotes reliable Wi-Fi. When designing their coworking spaces they strived for an inspiring and relaxing location for remote workers to feel comfortable and productive. Outsite can connect you with community managers helping to guide you with local resources and recommendations for the area, having a safe and reliable go-to person to guide you along the way.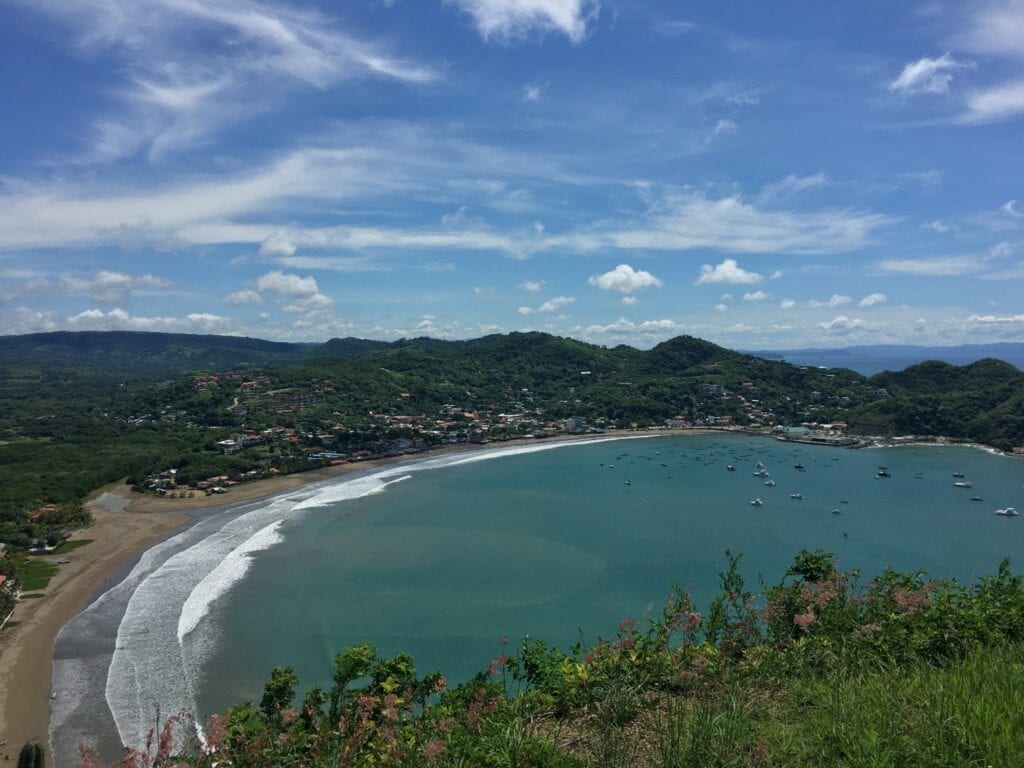 A few things to remember
Weather
Nicaragua is warm all year round with its beautiful tropical climate, however, summer is very warm with the hottest months being March until May peaking in April. May to November provides relief as winter slowly starts and the rainy season begins.  Although it is the rainy season, it does not rain every day.  Typically, there is a progression through the months starting with an afternoon shower to heavier rains as the season continues.  There is a positive to the rainy season, attracting fewer tourists and can make finding accommodations easier and for better prices.
Safety
High tourist areas such as Granada and San Juan del Sur always come with an increase in petty theft crimes of pickpocketing or theft of items on the beach.  As with any place you visit, always be aware and use common sense not to leave items easily accessible for theft. Crime is prevalent in the capital city of Managua with most incidents at bus stops and stations and within the markets where opportunity is more readily available.
Exploring
Be sure to take time to explore the beautiful and picturesque country of Nicaragua on days off. The sandy beaches and surf are not the only great things to do but the volcanoes are remarkable. Masaya Volcano National Park hosts an active volcano only 20 minutes from Managua the capital city, when visiting you can have the amazing opportunity to look deep inside the crater to see the power it holds within. One of the great things about visiting this volcano is that you can drive right up to the site of the crater if you are not wanting a day out of hiking.  It is extremely easy to get to and accessible for such a truly breathtaking view and experience.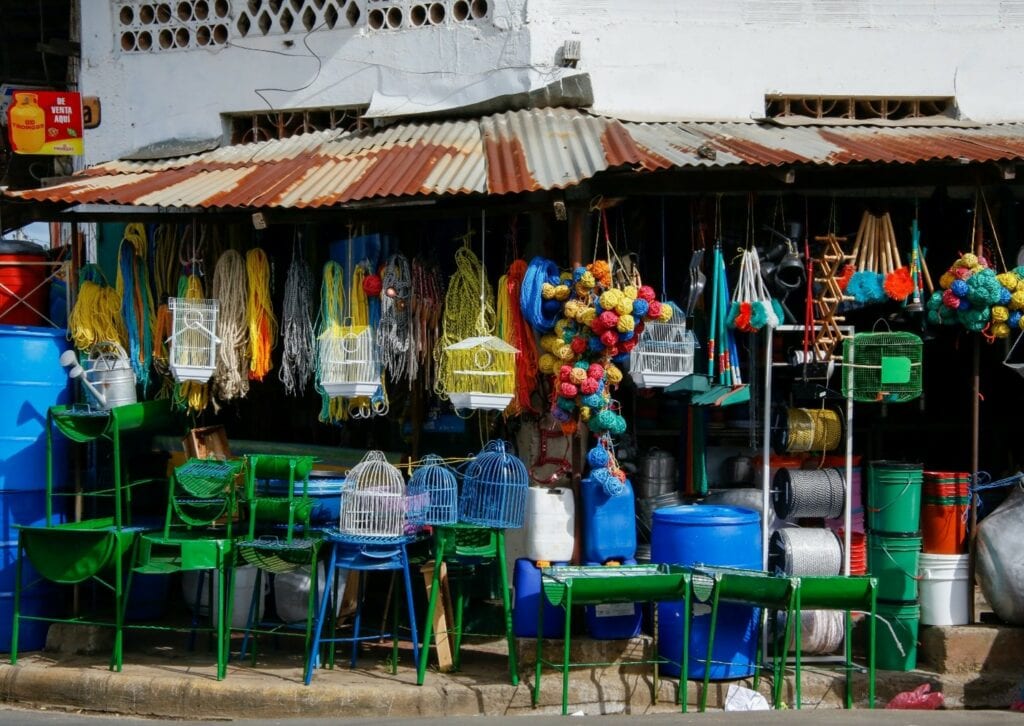 Spend the day exploring the markets in Managua, they are colorful and bursting with everything you could imagine from shoes, souvenirs, clothing, and delicious aromas of street food.  Make your way to the seawall especially at sunset for breathtaking views across the water and endless choices of great foods.
Granada is a historic town of colors and amazing sights that you can easily explore the cobblestone streets on foot, it is Nicaragua's oldest town. The architecture is captivating and you do not need to be knowledgeable in this field to truly appreciate it and to be taken away by its beauty.
See the town from above in Iglesia La Merced where you can take a small climb to the top and look out from the bell tower.  It is a true wonder at any time of day, but at sunset is when you can see the magic of the colors as they shine above the historic church steeples, volcano, and mountains.  Explore the Isletas de Granada by boat seeing some of the 365 little islands where many people have made their homes. It is very affordable to rent the boat with a guide whether you want to go with a group or privately. The boat trip takes you right up to some of the islands where you can get off to explore or even have a meal or a drink right at the water's edge.