A hammock, the sounds of the ocean, monkeys swinging from the trees, these are a few things your office might have as a digital nomad in Costa Rica.  The country attracts countless people to work in this environment as it offers so many benefits.  Your break could be sitting in the clouds in a mountain town or eating your lunch on the beach watching the surfers wait for the next big wave. Costa Rica offers a healthy work-life balance with its biodiversity, eco-tourism, beautiful weather and various microclimates.  Before heading to your tropical dream office there are a few things you must consider first.
VISA Requirements
As a digital nomad in Costa Rica, you can expect to do a trip to the border every 3 months to renew your tourist visa. When you enter the country the immigration officer can grant you up to 90 days in the country.  However, the officer does have the right to issue you less, it is up to their discretion at the time. You must possess a valid passport and they may ask you for proof of funds to indicate that you can provide for yourself while in the country. Costa Rica currently has several requirements for all tourists entering the country.  You must have proof of onward travel, whether it be a future plane or bus ticket leaving the country before your 3-month expiry date.  You must complete the online Health Pass within 48 hours of entering Costa Rica and proof of insurance corresponding to the number of days you will be in the country. According to the website visitcostarica.com, the insurance policy can be from any international insurance company that meets specific requirements and must state the policy covers Covid-19.
SafetyWing, a travel and medical insurance provider for digital nomads and remote workers, has a specific package for nomads that includes covid-19 coverage.
The most common border runs for your visa renewal are Nicaragua and Panama with buses going directly from the capital city of San Jose.  If you are looking for a quicker route many shuttle companies provide service for border runs transporting you there and back directly in one day taking away the long slow bus route.
There are two international airports in Costa Rica one just outside the capital city of San Jose, Juan Santamaria International Airport, located in the middle of the country and is also known as the San Jose International Airport.  Liberia International Airport or the Daniel Oduber International Airport serves the other end of the country in the Guanacaste Province.
Costa Rica is recognizing the increase in digital nomads residing in the country and has identified the importance of their presence within the economy.  Legislators are working towards a new type of residency which would allow for a one-year temporary status.  There would be guidelines with expectations of a certain monthly income from outside of the country as well as required insurance, however, it brings hope to those renewing their visas every 3 months.
Cost of Living
The price of living is always dependent on your standard of living; however, Costa Rica is one of the most expensive countries in Central America.  There are many expatriate communities in the country with amenities that you would find back at home.  Jaco is one of these communities attracting many to this seaside town because of that and does offer reasonable prices on rent.  You can easily find a home in a gated community starting at $600 a month USD plus utilities. These often come with access to a pool and 24-hour security.
Santa Teresa has become an increasingly popular digital nomad town with its chill beach and surf vibes, however, rent prices are recently reflecting this starting at $1000 for a rental.  It is important to research before arriving to see which town best suits your budget.  The refreshing capital city of San Jose with its mountain views has apartments from $500 to $800.  The city has cooler temperatures in the central valley, exciting nightlife and restaurants. It is located in the middle of the country making it easy to get to anywhere you want as it's the hub for most of the direct bus routes.
Fresh fruit markets line all the roads with every colour of the rainbow and can save you a lot of money when shopping here as opposed to the grocery stores. Typical cuisine of rice, beans, fish and meats are reasonably priced, it is when purchasing foods which you may usually eat at home that can be a bit more such as your favourite non-perishable snacks.  The big expense is hygiene products, shampoo, conditioner and body wash as they are double the prices you would expect to pay.
ICE is the primary utility provider in the country and your bill can be greatly influenced by the use of your air conditioning.  If you enjoy the fresh air and use a fan it can be as low as $100 however, if you prefer the icy freshness of the air conditioner expect to pay upwards of $300 a month. Water bills are significantly lower starting at around $10 and internet and cable are approximately $80 a month.  Many of the restaurants and cafes have free wifi which can make for a relaxing temporary office for the day.
Overall, you can easily live within a budget of $2,000 a month in Costa Rica still allowing yourself money to enjoy fun nights out and sampling their local beers.
Coworking
Costa Rica is a popular destination to work digitally as the country has countless co-working locations to choose from. Selina tops the list as it offers many different locations throughout the country whether you are looking to work on the beachfront in Jaco or the clouds of Monteverde.  Selina boasts a friendly community atmosphere to meet others at the pool or with their continuous list of events.
If working in the urban jungle of San Jose, Impact Hub is a great choice with options to work in the hammock, a quiet space or the traditional meeting room. Gracias has various memberships to suit your work schedule, two different locations within the capital and various styles of workrooms.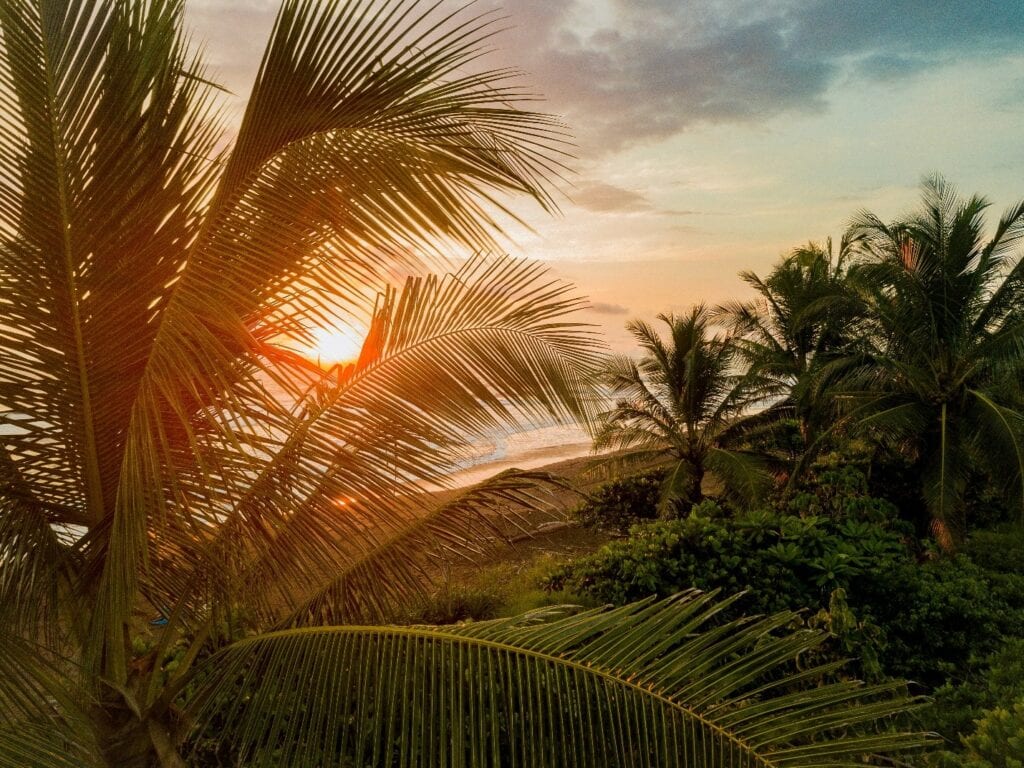 If venturing further out to a more remote beach town Tamarindo Sand and Surf has shared or private offices and Samara has Locoworking where the beach is only a few minutes away from your office.
The country does have widespread high-speed internet but it is important to remember there are often power outages and the further away from the central valley you go the more inconsistent it can be at times.
A few things to remember about Costa Rica
The Seasons
Costa Rica has two seasons, winter or summer which is rainy season or dry season, however, regardless of the season it is generally warm all year round. They both live up to their name with the dry season running from January to April and the rainy season from May to December.  During summer the sun shines for days with temperatures anywhere from 72 to 82 degrees Fahrenheit.  There is no need to check any weather apps because it is reliable and consistent, hot and humid.  If working remotely in a beach town you can always count on a sunny afternoon break or vibrant clear sunset.
During the rainy season, it is a slow progression starting with afternoon or evening showers typically and further into the season it becomes continual days of rain with a peak in October and November. Winter can be a beautiful season as the trees come alive and rivers and waterfalls fill up again, you will hear winter often called the green season because of this.  Tourism slows down a bit which can be pleasant when taking a few days off to explore, prices tend to be lower as well which is a benefit to being in the country year-round. The Nicoya and Osa Peninsula can receive such heavy rainfall in the later winter season months that roads do wash out and experience heavy flooding.
The Bus System
The majority of Costa Rican's use their bus system and there are extensive routes throughout the country with a starting point out of the capital of San Jose.  One must have extreme patience when it comes to this mode of transportation as it can be slow but it does get you from one destination to another.  There is not always a direct route unless it is one of the tourist destinations, however, there is usually some way to get there even if it does take more than a day.
The public bus system is relatively cheap and for longer routes, you can buy your ticket online to reserve your seat.  This is often your best option to ensure you have a seat as routes through popular tourist towns can fill up quickly.
Is Costa Rica Safe?
As with any country, one must always be smart and aware of your surroundings. Small crimes are prevalent in Costa Rica such as pickpocketing, especially in the downtown capital and thefts of your belongings occur every day on the beaches.
Break and entering into vehicles happen a lot in tourist towns where laptops and backpacks are continuously stolen.  If travelling on the bus, don't put your bag overhead or under your seat as thefts are regular. One must use common sense and don't leave items on display.  Many of the homes if not in a gated community have bars on their windows to prevent break and enters.  The theft of travel documents is common so ensure you always have a photocopy including the page with your entry stamp.  When out in the evening it is always advised to not venture out alone especially if thinking about walking the beach at night.
Costa Rica is one of the safest countries in Central America, however, it is easy to forget to have caution when you are surrounded by such beauty of its landscape.
Exploring
Costa Rica is a nature lover paradise with lush tropical forests, hidden waterfalls and endless hiking opportunities.  There are palm tree-lined beaches where you can relax in the sun, learn to surf and end your day with vibrant colourful sunsets such as Jaco. Jaco also offers adrenaline ATV rides into the thick forest taking you to one of the many secret waterfalls in this stunning country.
The most difficult part of your workweek is deciding what you want to do on your off days. Less than an hour and a half away is Manuel Antonio National Park where you can choose between three beaches or hiking deep into their trails.  Monkeys, sloths and coatis are throughout or hire a naturalist guide who can show you what other exotic wildlife lies within.
Monteverde Cloud Forest Reserve allows you to hike through the cloud forest after ziplining above the forest canopy.  There are many different volcanoes to explore such as Volcan Poas where you can stand above and look deep into the turquoise blue crater.  The cloud forest surrounds the volcano and when the volcanic activity is low the trails are open to hike through the mystical forest.
If you are staying or coworking at Selina, they offer many adventures and tours if you aren't sure how you want to spend your days off.
Pura Vida
The moto of Costa Rica, is Pura Vida, the pure life and once you arrive you will feel it. It is something that you simply experience and quickly become a part of once you arrive.  The friendly people, the joy in simple things and the overall essence of no stress and a laidback lifestyle. How can one be stressed when living in a tropical paradise, it is the perfect office?