Split is a city that is living its specific, slow rhythm, which you will quickly get used to. It is located on the coast of the Adriatic sea and surrounded by islands. It's squares, restaurants and cafes are bursting with life and there is a specific saying that sums up this way of life : pomalo. Pomalo literally translates as lightly.
Citizens and visitors of Split are enjoying the promenade, gentle summer breeze, and Mediterranean sun. It is a city that connects people. Centuries of heritage and modernity reflect all the civilizations that have built it through 1700 years of history. Also, Split is a city where urbanity and nature are inseparable.  You have sea on one side, and mountains on the other. People are simple, hospitable and have not lost touch with their roots. In other words, Split is truly authentic.
If you're looking for some pros and cons about choosing Split as your next destination, you've come to the right place!
Pros of living in Split
Sunny Weather
After the rainy season and cold windy days, Split starts to enjoy its sun from the end of March! It is not that the winter in Split is particularly unpleasant, but this is a completely different story. The vibe in the city somehow changes and flourishes – in addition to the fact that every corner of the city looks more beautiful bathed in the sun. It rarely rains during the summer months and the sea temperatures usually range between 22 and 26. The swimming season usually starts at the end of May and lasts up to mid or late October, depending on the year. Split is one of the sunniest Croatian cities.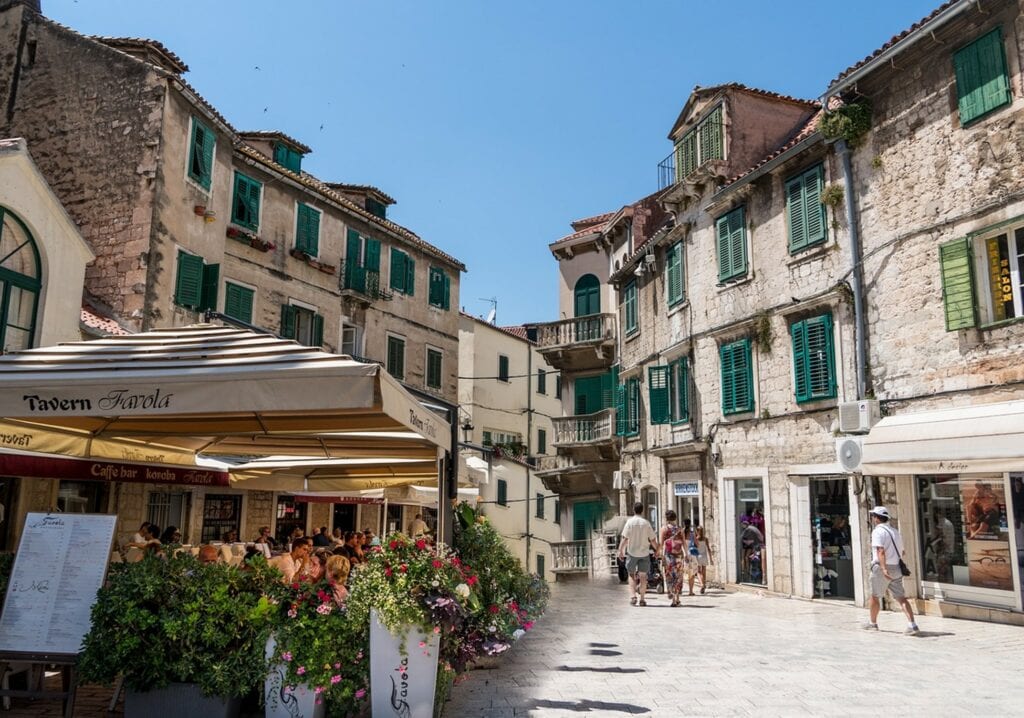 Mediterranean Food
If you're a food lover, you will hardly get a more joyful experience than a walk on Split's Pazar or fish market. Split has its own specialties – wild asparagus, artichokes, beans, and fresh seafood from the locals. If you're not a big fan of cooking yourself, you can enjoy a number of taverns and restaurants with seafood and Dalmatian dishes. Before eating, do not forget the aperitif. And since you are in the heart of Dalmatia, you can order a real Dalmatian herb or grapefruit. Dalmatian prosciutto, salted sardines, oil cheese, roasted or boiled lamb and pasticada with gnocchi are just some of the dishes you must try. Every dish is accompanied with Split's famous red and white wines.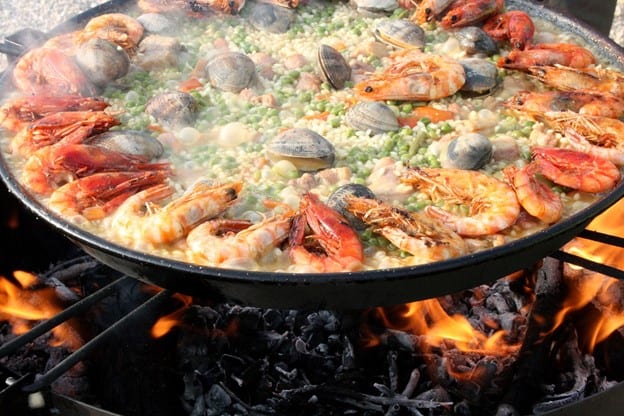 Amazing Nature
If you are a more natural type and looking for a getaway from the city, there are plenty of places where you can enjoy just that. You can experience walking, cycling, and running on the hill Marjan above Split. Or, if you are a more ambitious mountaineer, you can head to the nearby mountains.
And then, somewhere in the first half of May, it's time for Split's favorite activity: swimming!  Split is filled with beaches, the entire water line is suitable for swimming. It has an exceptional variety of beaches, from sandy and pebble to stone oases on Marjan hill. The most famous beach in Split is Bačvice, which was officially opened 101 years ago.
If you know how much Croats enjoy coffee, you will not be surprised that mostly every beach has a cafe or lounge bar. Beaches of Split are not only places to relax, but also for many outdoor activities. Swimming, sailing, wind surfing – these are just some of the activities you can enjoy.
Rich History
For all those eager to get to know the city and its past, architecture and art, the old town is a great start. Best of all, at least for most visitors, is Diocletian's Palace. Emperor Diocletian, considered the founder of Split, began building a lavish palace on a peninsula. Diocletian's Palace and the entire historical core of Split have been on the UNESCO World Heritage List since 1979. In this structure, all historical layers from ancient Rome, through the Middle Ages to the present day, are visible and still alive.
You can basically travel through time when walking through the ancient city! The Peristyle, medieval Romanesque churches and Gothic palaces, Renaissance portals of aristocratic houses, Baroque facades, and modern architecture blended into the rich heritage.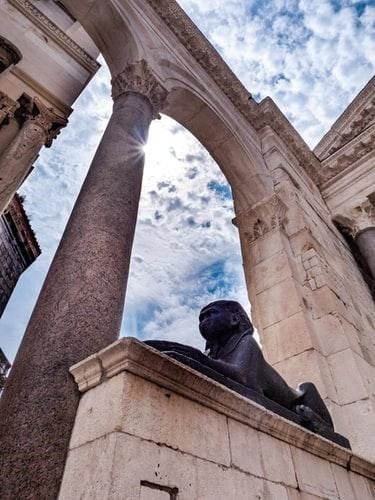 Cons of living in Split
It can get overcrowded during the tourist season
It is one thing to live in Split during the whole year, and completely another to visit it in July and August. At the peak of the tourist season, the city is full of stationed tourists, but also the ones who are on a day trip. Split is quite specific because of its narrowly concentrated tourist attractions so it can often feel overcrowded. Large cruise ships and big groups of tourists which sail to Split to do some one-day sightseeing contribute to this.  It leads to crowds and very often you are left to wait quite long for the entrance in the old town.
So if you're not a fan of crowded places, you can spend these months exploring places around the city. Luckily, the offer is huge – from islands, small towns nearby to National parks in the near distance.
Costs of living
Split can be quite pricey if you're used to eating out and staying in apartments in the city center or nearby. There's a big Airbnb offer but private accommodation is often more expensive than hotels, especially in the tourist season. If you don't want to spend too much, you should avoid eating in the city center and other tourist destinations. Split introduced the first Croatian hotel with an offer fully adapted to the needs of digital nomads. The hotel aims to create stimulating and productive conditions for guests looking for long-term accommodation in Croatia. It has a number of Deluxe rooms with sea view and work desks available as part of its Long-Term Stay Package.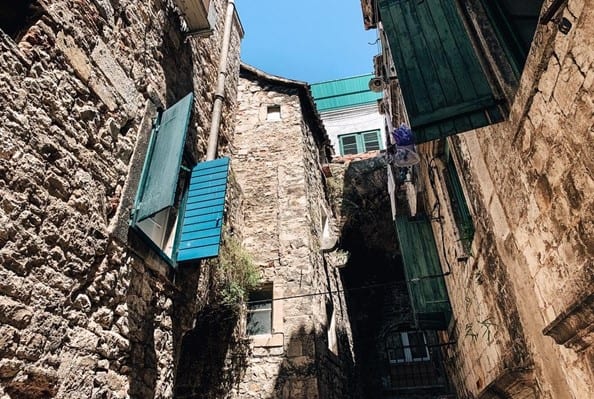 Split is an attractive destination for anyone looking to work remotely from a relaxed, sun-kissed city with beautiful nature.
If you decide to join the locals, the next thing you know you are spending your days drinking coffee in the sun and working from the most amazing locations!