If you're looking for a relaxing and idyllic destination, Croatia is the right choice.  Crystal clear sea, Mediterranean plants and warm sand and pebbles are a combination that creates the perfect natural scenery.
Small and hidden beaches are hiding far from the cities. Some of them have already been discovered and made world-famous by tourists. But thanks to the diverse Croatian coastline, many places are still unknown.
If you're a digital nomad in Croatia during summer, this article will give you an idea on best beach destinations in Croatia!
#1 Sakarun, Dugi Otok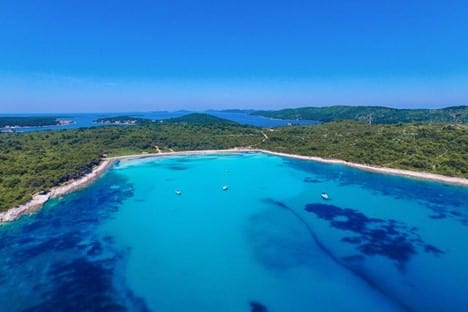 Saharun is the most popular beach on Dugi Otok and probably the most popular on the whole Adriatic coast. When you see a picture of Sakarun, it might feel like you're looking at a photo of the Maldives or Mauritius. White sand and turquoise, crystal sea!
Fans of sandy beaches will find their Adriatic oasis in Sakarun. The combination of sea and white sand stretches for as much as 800 meters, with 350 meters of shallow to medium-deep water that even the youngest swimmers can enjoy. Sakarun has been filling the columns of Croatian and foreign media for years with its beauty. If you are already tempted to go, bear in mind that you need to prepare for a full beach during summer. Excursion boats, locals, tourists from the island – everyone enjoys Sakarun. If you have extra time, make sure to spend it in Zadar. While visiting the city, even Alfred Hitchcock once said that the sunset in Zadar is the most beautiful in the world.
How to get to Sakarun?
Take a bus to Zadar, and from there you can take a ferry line Zadar – Brbinj.
#2 Solaris, Sibenik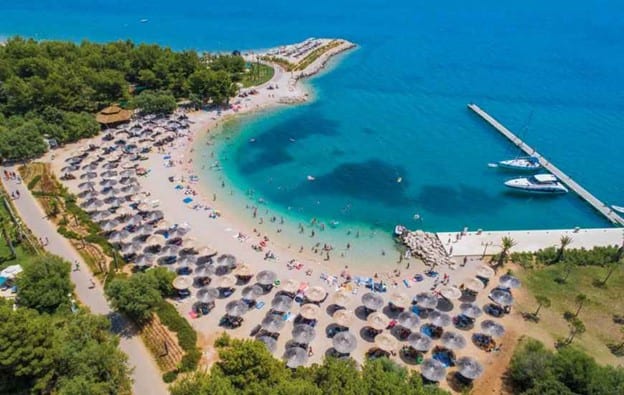 If you're looking for a real family beach, Solaris is the right choice. Children can have great fun in various attractions such as slides, swimming pools, playgrounds, mini maps and much more. The white pebble beach has already won several awards including the one for Best Beach in 2013 and Best Beach for a Holiday on the Adriatic. With all that, the food you can try here is a real paradise. This is quite a touristy place. If you don't mind crowds and enjoy excellent service and stable Wi-Fi – you will enjoy Solaris.
How to get to the beach?
You can travel by bus. You can reach Šibenik from many cities in the region – such as Zagreb, Split, Rijeka, Dubrovnik, Sarajevo, etc.
# 3 Zlatni rat, Brac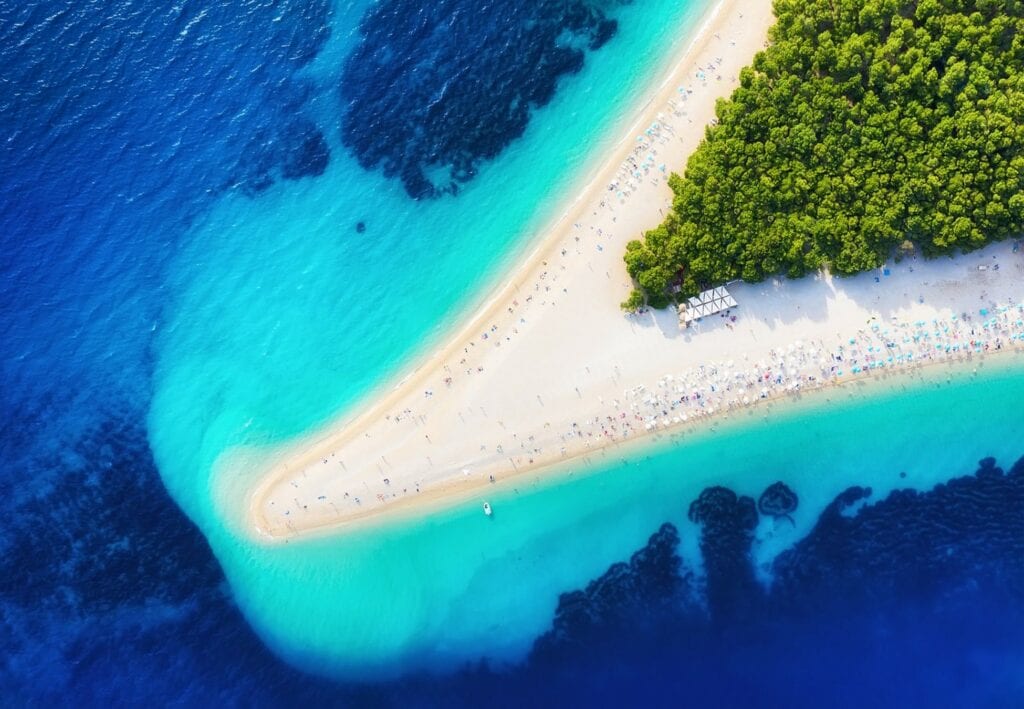 Zlatni rat is placed on the island of Brac, more precisely in Bol. Just 15 minutes walk from the center of Bol, you will find this beautiful beach that changes its shape depending on the wind and waves. The beach is covered with natural white pebbles and offers many attractions to its visitors; from bars and restaurants to professional masseurs and jet skis.
How to get to Zlatni Rat?
You can take a ferry from Split to Brač (Bol). From there you can walk or take a small tourist bus that takes you directly to the beach and departs from the port.
#4 Istruga, Brna

One in a series of pearls on the island of Korcula is the Istruga beach. It's 600 meters long and is located near the town of Smokvica and the tourist village of Brno. In the bay you will find a small restaurant and a sports and recreation center surrounded by Mediterranean vegetation. And that's basically all there is. Certainly the best part of the bay is the 6 meters thick 'peloids', dark sea mud with high therapeutic effects. If you're looking for a quiet place to relax and avoid crowds, you should consider Istruga.
How to get to Istruga?
You can travel by ferry from Split or Dubrovnik to Korcula. From there you can go by local bus to Smokvica (around 4 kilometres), and then take a short drive to Brno.
#5 Banja, Dubrovnik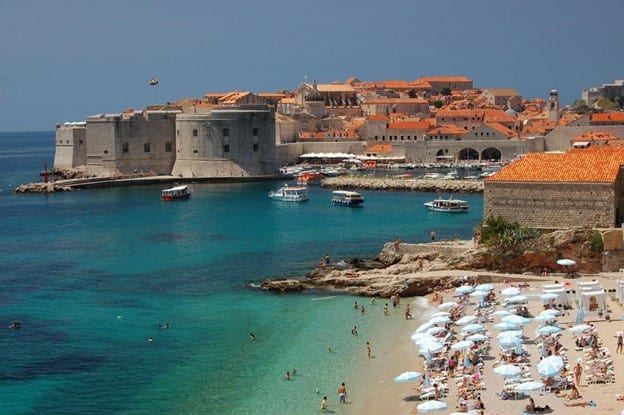 One of the most famous beaches in southern Dalmatia is located in old Dubrovnik, near the city center. To get to the beach you have to climb a lot of stairs! The beach has a magnificent view of the walls of Dubrovnik and the island of Lokrum. There is also a restaurant where you can try the best recipes and hide from the sun. On the beach you can enjoy various activities such as jet skis, paragliding, water tubes, and in the evening you can experience the nightlife. Since Dubrovnik is a popular spot for digital nomads, this is a beach you shouldn't miss.
How to get to Banja?
The beach is located in the center of Dubrovnik, so you can only walk to it from the bus station. Dubrovnik can be reached from many European cities such as Zagreb, Belgrade, Podgorica, Sarajevo or Split.
#6 Kornati
Kornati is a name for hundreds of islands whose unrealistically beautiful landscapes invite you to explore. It's filled with coves where you can find sandy or pebble beaches. The perfect choice for divers, boaters, but also all those who are looking for a place to enjoy solitude after a busy everyday life in the city. The beaches in the bays of many Kornati islands are a place where lunar landscapes turn into crystal clear sea.
How to get to Kornati?
You can reach Kornati only by boat, which usually departs from Murter. The easiest way to get to Murter is by bus, as it is connected to other cities in Croatia. Some of the direct lines you will find to Murter are from Zagreb and Biograd na Moru.
#7 Beaches towards Luna, island of Pag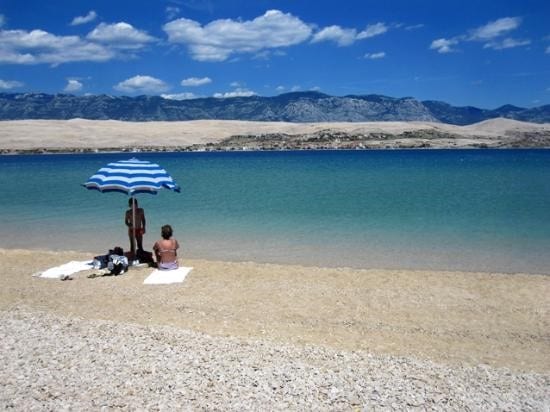 Pag can truly boast of beautiful and often completely unreal beaches. People associate Pag with bare stones and a moon looking surface. On the way to the Luna village from the mainland, you can find small and hidden beaches in which, believe it or not, there is even shade. So if you want to spend your time in a quiet and unreal place, Lun is the place to discover.
How to get to Luna beaches?
You can reach Luna by car. You cross a bridge, which connects the island of Pag with the mainland in its southern part, or by ferry line Prizna – Žigljen.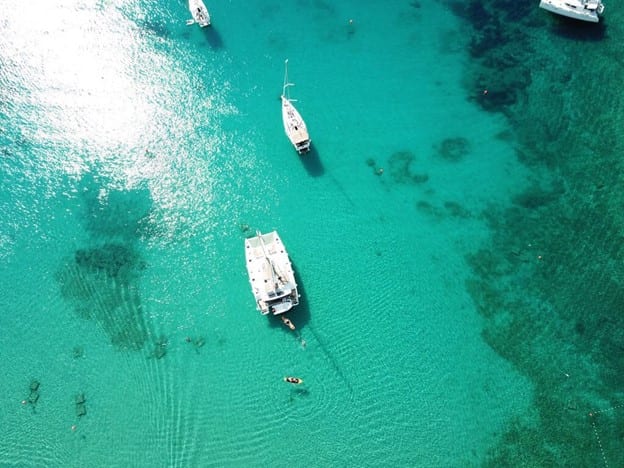 You can visit some of the beaches to be completely alone, and there are no cafes nearby. Others are still somewhat equipped with facilities, but difficult to access and you won't find any crowds. If you wish, this will allow you to work in peace from one of the most beautiful and calming beaches on the Adriatic coast.
You can make the best of the Croatian digital nomad visa by visiting these amazing places. While travelling, be sure you are covered with travel and health insurance to be able to make the best of every trip with a clear mind. SafetyWing has a nomad insurance package that you can get anytime and renew automatically.