One of the perks to being a digital nomad is that you can work from almost anywhere in the world – as long as you have reliable Wi-Fi and a few other essentials.
And while most people dream of working from idyllic beach destinations, or travelling the world, digital nomads can make that their reality.
Some like to follow an endless summer of slowmading (slowly travelling the globe as digital nomads), while others look for short-term remote working opportunities while travelling.
Anyone can do this, as long as you have a job online or can get one, you can be a digital nomad now and today.
It is recommended you have an emergency fund for anything that may come up, as well as travel and medical insurance as you will be travelling from one destination to another. There are some providers, like SafetyWing who have nomad insurance packages that are easy to get at any point in your trip, anywhere in the world and it renews automatically.
Whatever your reason for being a digital nomad, you've probably considered spending time in some of the most beautiful, interesting and exciting countries on the Earth. If beautiful beaches are part of your bucket list, then the following 9 beach destinations for digital nomads should have you feeling pretty inspired.
Living on the coast, you have access to water sports like diving and surfing, you get to experience an outdoor beach-culture and lifestyle, and you get to balance your work life with opportunities to relax and explore natural surroundings.
We've assessed each destination in terms of several factors that rank as quite important to anyone travelling, but particularly to digital nomads – including the cost of living (budget), Wi-Fi speed, the best time of year to visit – and we've highlighted some of the best beaches in each of the cities.
Canggu, Bali, Indonesia
Canggu is a medium-sized coastal village in Bali (just north of Kuta) which has an expansive 10km stretch of beach and a very relaxed atmosphere. Once a quiet and hidden secret, this little village is fast becoming a popular hotspot of development and tourism – as well as being home to quite a few expats.
It has an eclectic mix of surfers, entrepreneurs, locals and some tourists, but is much more relaxed than some of the islands' popular tourist and party towns.
It's also a well respected surf spot, particularly for longboarders, and offers a range of fun beach activities like horse riding and yoga.
Offering a wide variety of amazing coworking spaces (with packages that range from around $55 – 200 a month) that also have coliving options – it's really no wonder that this has become a booming digital nomad destination.
There are a good selection of shops, cafes, restaurants, spas, yoga studios, bars and incredible villas to keep you entertained. Most cafes and restaurants give free Wi-Fi with meals, which is great for digital nomads that enjoy working in social environments.
Monthly budget: $1347 / month
Best time of year: May – September (although all year is good)
Internet: Fast (23 Mbps)
Maximum stay without a visa: 60 days
Best Beaches: Pantai Batu Mejan Beach (Echo Beach), Batu Bolong Beach, Nelayan Beach, Berawa Beach
Zadar, Croatia

Lying along the Dalmatian coast, Zadar is a small city in Croatia, with lots of cultural heritage (after all, it's about 3000 years old), that offers many enticing benefits for digital nomads. It has high-speed internet, the living costs are quite affordable when compared with other European cities like London, the weather is quite temperate, and it's a lot quieter than some of the nearby towns that get inundated with summer tourists.
Surrounded by majestic mountains, it is within close proximity to nature parks and reserves (including Paklenica, Plitvice Lakes and Krka), islands, forests and a host of scenic beaches.
It has some eccentric landmarks like the Monument to the Sun and the Sea Organ, various music festivals, and an array of great seafood restaurants, bars and clubs – so you definitely won't get bored or feel lonely living in this vibrant city.
Monthly budget: $1890 / month
Best time of year: April – October
Internet: Fast (20 Mbps)
Maximum stay without a visa: 90 days (they also have a 12-month digital nomad visa)
Best Beaches: Saharun Beach, Ninska laguna , Zaton Beach, Zrće Beach, Kolovare Beach
Puerto Viejo, Costa Rica
Puerto Viejo is a small coastal town in Costa Rica, situated along the Caribbean coast and surrounded by wild jungle forests. It's a popular surfing spot, thanks to its famous Salsa Brava waves. It's also the heart of Afro-Caribbean culture in the country.
Puerto Viejo is the perfect place if you're looking for a laid-back, peaceful living environment, surrounded by natural beauty and devoid of big tourist resorts and apartment blocks. Plus it has plenty of gorgeous beaches.
Coworking spaces and coliving options are somewhat limited, and there's not a huge cafe-working culture there – but they do make some of the finest coffee in the world.
A drawback is that it's a little more expensive to live in compared with other places in Central and South America, and the Internet speed is not that great – but it makes up for that in terms of its uncrowded beaches, friendly atmosphere and relaxed, rural vibe.
Monthly budget: $2592 / month
Best time of year: January – May (hurricane seasons is from June to November)
Internet Good (8 Mbps)
Maximum stay without a visa: 90 days
Best Beaches: Punta Uva, Playa Grande, Playa Cocles
Taghazout, Morocco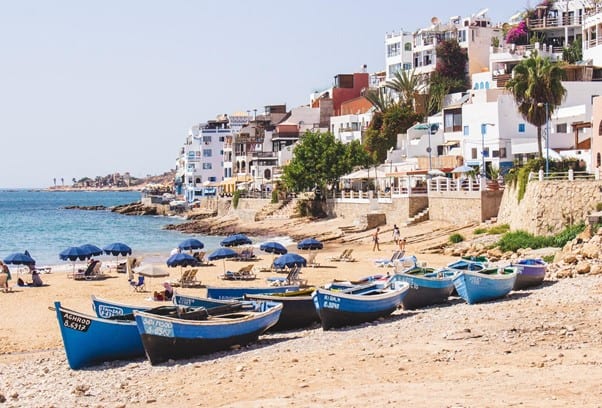 This small fishing village boasts a renowned surf scene and several surf camps, together with some gorgeous, golden-sand beaches.
The village has a chilled atmosphere, it's very affordable to live in, and it has some great accommodation and dining options. It's also away from the hustle and bustle of busier cities nearby and is a good option for those seeking solace and a genuine small-town lifestyle.
Being a small village, there aren't many coworking or coliving options, but if you are happy being quite independent then most accommodation options will offer reasonable Wi-Fi speeds to keep you connected.
Monthly budget: $1160 / month
Best time of year: All year round (although July and August can get quite hot)
Internet: Good (7 Mbps)
Maximum stay without a visa: 90 days
Best Beaches: Taghazout Beach
Valparaíso, Chile
Valparaíso is a bustling big port city on Chile's South Pacific coast that has a bohemian charm and is steeped in culture and natural beauty. Looking at its colourful architecture, it's no wonder it was designated a UNESCO World Heritage site.
Anyone who loves the outdoors, an exciting nightlife, and a very sociable, urban environment will enjoy this city. It's full of trendy cafes and street art – and has quite a few coworking spaces to choose from.
While there are a myriad of beautiful seascapes to choose from, the water isn't that warm – so you might like to soak up the sun and take part in water sports like windsurfing and kiteboarding instead of swimming.
Monthly budget: $1950 / month
Best time of year: September – May
Internet: Fast (13 Mbps)
Maximum stay without a visa: 90 days
Best Beaches: Playa Torpederas, Playa San Mateo, Playa Canelo, Docas Beach
Goa, India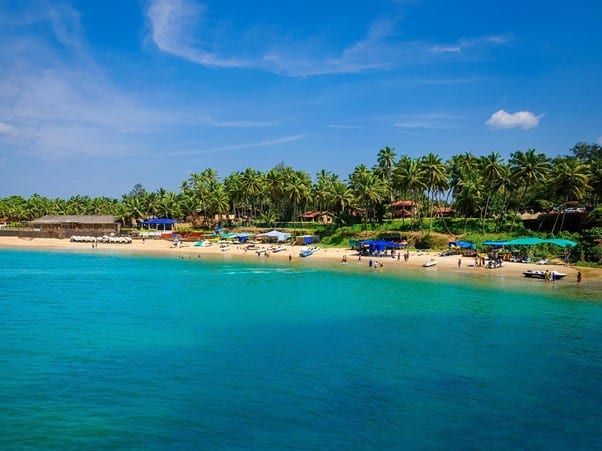 Goa is India's smallest state with and is one of the least populated places in the country. It is famous for its long coastline along the Arabian Sea and its Portuguese colonial heritage.
Goa is often called "The Land of Beaches" and is home to some of the most gorgeous beaches on the planet. In many respects it's an idyllic paradise, with much to offer in the way of cultural experiences, outdoor activities, surfing, yoga, retreats, and spiritual awakening.
It has a growing coworking culture and is beginning to attract more and more digital nomads. There are also a couple of great work-friendly cafes that offer free WiFi.
Unfortunately the Internet in Goa is slow and intermittent and there are also ad hoc power cuts, so if you need to be online and connected 24/7 then Goa may not be the right destination for you. But if you can handle connecting now and then, and don't have to do too many live Zoom sessions, then you could probably figure out a solution using a mobile hotspot or through some of the accommodation options that include better WiFi speeds.
Monthly budget: $1590 / month
Best time of year: November – May
Internet: Fast (18Mbps) in places, but it can be hard to find a reliable connection
Maximum stay without a visa: 60 days (e-Tourist visa for 90 days)
Best Beaches: Querim Beach, Arambol Beach, Morjim Beach, Anjuna Beach,
Sinquerim Beach, Dona Paula Beach, Vagator Beach, Agonda Beach, Butterfly Beach
Cairns, Australia
Cairns is a small city in northern Queensland, Australia, that is best known for its proximity to the Great Barrier Reef and tropical rainforests – and for being one of the 7 natural wonders of the world. It has a relaxed and friendly vibe, where everyone seems to know everyone.
While it does cost more to live here than many other cities on this list, it comes with the benefits of first world services like great medical care and a low crime rate. It's tropical climate won't suit everyone, so be sure to consider this before booking your flight.
If you love wildlife and adventure, enjoy snorkelling and scuba diving, and are keen to do some exploring around the city, then Cairns has a lot to offer.
There's a lot of support for startup enterprises here, with many coworking spaces and startup hubs in Cairns, as well as good WiFi in cafes and restaurants.
Monthly budget: $2900 / month
Best time of year: April – October
Internet: Fast (18 Mbps)
Maximum stay without a visa: 90 days
Best Beaches Nearby: Trinity Beach, Palm Cove, Ellis Beach, Clifton Beach, Nudey Beach (Fitzroy Island), Four Mile Beach (Port Douglas), Green Island
Florianópolis, Brazil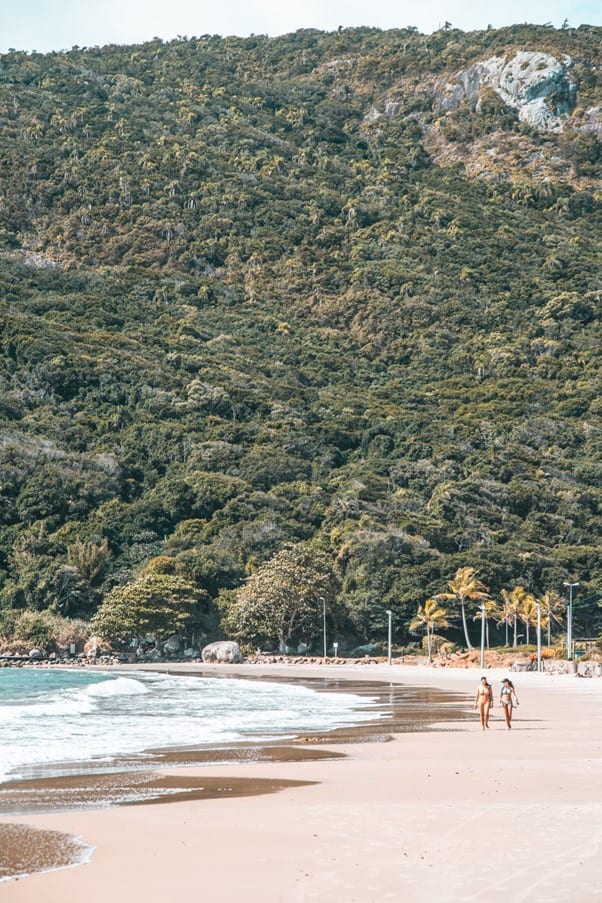 Florianópolis is a truly dynamic city in Brazil, comprising mainland and islands, littered with over 60 white, sandy beaches and surrounded by lush rainforests. The city has something for everyone – from being a party destination, to being a surfing and nature-lovers hotspot. This friendly, lively city has so much charm and is well set-up for remote workers and digital nomads with loads of cosy coffee shops and coworking offices.
That's probably why it's managed to attract many freelancers, entrepreneurs, and business startups and is fast becoming one of the top digital nomad destinations.
It's also really affordable to live in Florianópolis and the Internet speed is fast and reliable (although you will need to do your research about where to find this, as it can be a bit hit and miss).
Monthly budget: $1070 / month
Best time of year:  March – November
Internet: Good (9Mbps)
Maximum stay without a visa: 90 days
Best Beaches: Barra da Lagoa, Jurerê, Praia Moçambique, Galheta, Praia do Santinho, Campeche Island, Prainha da Barra, Gravata
Cape Town, South Africa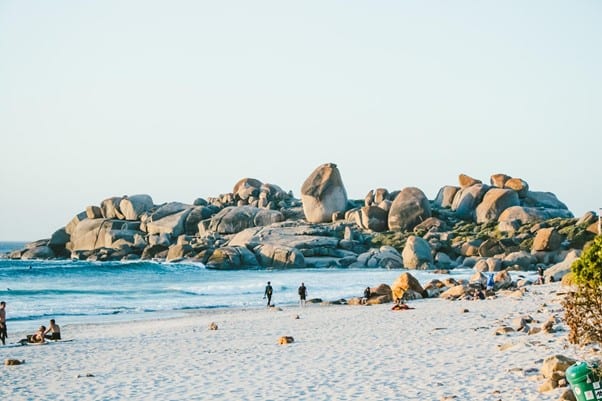 Cape Town is a sprawling, vivacious city in South Africa on the tip of the African continent. Surrounded by the Indian and Atlantic oceans, the "mother city" as it's called by locals, oozes with diversity – from cultures, religions, and landscapes, to being a LGBTQ world hotspot.
It also has an eclectic mix of nightlife spots, bars, cafes and some of the most picturesque, sandy-white beaches you'll ever see. It's a popular tourist destination, and has all the amenities you'd expect from a first world country, although the high crime rate is a drawback.
While most cafes, coworking venues, and guest houses have fast internet speeds, the country experiences regular power cuts (which the locals call loadshedding) that can be quite disruptive especially if you need to be connected throughout the day.
Cape Town has a well-established co-working culture with many coworking, coliving and digital-nomad-friendly cafes to work from, where you'll get to meet other travellers, locals and entrepreneurs.
Monthly budget: $1780
Best time of year: November – March
Internet: Good (9 Mbps) (although you'll have to watch out for random blackouts which the locals call 'loadshedding')
Maximum stay without a visa: 90 days
Best Beaches: Llandudno, Clifton Beach (1st, 2nd, 3rd and 4th beach), Scarborough Beach, Noordhoek Beach, Muizenberg Beach, Sunset Beach, Bakoven Beach, Boulders Beach
Sources:
For the estimate monthly budget and the Internet speed: https://nomadlist.com