If you are a digital nomad keen to spend some time in the mountainous alps, then Lenk, also known as Lenk im Simmental, may be the perfect Swiss Alps village to call home for a few months.
A small town, Lenk offers both excellent winter skiing and hiking and outdoor activities in the warmer months. It is also a relatively affordable corner of Switzerland for those who want to make their digital nomad dollar go further. Recent investment also means that facilities are emerging for remote workers who want to be productive in the Alps.
Read on for our complete guide to Lenk for digital nomads, including our best advice for where to stay and where to work while based in Lenk.
About Lenk
The beauty of the landscape around Lenk needs to be seen to be believed. It is surrounded almost exclusively by untouched mountains and eco-friendly farmland, with the small village for around 2,500 permanent residents picturesquely sitting in the middle. The surrounding mountains are visible everywhere in the village, pushing up into the blue skyline.
The local population has about 15% resident foreign nationals and can welcome about 5,000 tourists at a time. Just one and a half hours from Bern by train, this small town is tourist-friendly, with lots of services for those looking to visit and enjoy the region. Lenk continues to feel like a typical Alpine village, even at the height of the tourist season.
Recent investment by Ferienlenk has made the town even more friendly for tourists and digital nomads by upgrading the infrastructure to provide more affordable services. Digital nomads arriving in Lenk will find affordable long-term accommodation with excellent views, high-speed internet, plenty of pleasant spaces for remote working, and a thriving community of digital nomads for inspiration and collaboration.
The whole area is ideal for hiking, horseback riding, and other outdoor activities in the warmer months. Located at the foot of the Wildstrubel massif, it is close to the Simme River and both the Simme and Iffigfall waterfalls. You can hire e-bikes and family bikes to explore the village with ease.
In the winter, you will find 200 kilometers of ski slopes, 60% of which are technically maintained and guaranteed for safety. Snowboarders will want to check out Gran Masta Park on the Hahnenmoos on the easter side of Lenk, though just how good this park is may make it difficult to focus on those work deadlines!
Lenk is well connected by rail with scenic routes around the region. It only takes one and a half hours to get from Bern to Lenk via train, and this journey will take you through the unforgettable Swiss countryside and help you to understand the region that you plan to call home for a while.

Visas for Staying in Lenk
Unfortunately for non-EU and EEA citizens, Switzerland does not offer a visa for digital nomads or remote workers, and there is no word of the government considering such a move.
Part of the Schengen area, the best option for digital nomads is to get a Type C Schengen Visa that will allow them to stay for up to 90 days in a period of 180 days. The visa is relatively easy to obtain if you can show that you have health insurance for the duration of your intended stay and have sufficient funds to support yourself, as demonstrated through bank statements and pay slips.
If you obtain this type of visa and work remotely, you will need to be resident elsewhere for tax purposes.
The Type D Visa is also sometimes discussed as an option for digital nomads wishing to stay in Switzerland. But it is designed for students, family reunions, or those who have already retained work in the region.
Despite this, there is a vibrant digital nomad community in Switzerland, and you can get in touch with them via the Swiss Digital Nomads' Association. This is a great place to discuss visa options, plus find coworking spaces, inspiring conferences, and make connections.
Cost of Living
Switzerland is a notoriously expensive country to live in. It is currently rated as one of the most expensive countries in the world with a cost of living index of 123.35. Compare that to 100 for New York City, 98.5 for San Francisco, and 78.75 for Los Angeles.
The cost of living is high, but so are local salaries. Teachers can expect to earn more than CHF7,000 per month, lawyers more than CHF9,000 per month, and the average minimum salary is around CHF5,000 per month. The standard of living in Switzerland is often ranked among the best in the world. But Lenk is surprisingly affordable if you want to spend time in this beautiful country.

The currency in Switzerland is the Swiss Franc (CHF) which is currently worth around CHF1 = USD1.08. The cost of living in Switzerland is judged to be about 40% more than in the United States on average.
To give you an indication, you can expect to pay between CHF1,600-CHF3,000 for standard accommodation per month in most Swiss cities, with another CHF200 on top of that for bills and CHF60 for a decent internet connection. If you go out for lunch, expect to pay CHF25 per head and CHF100 for a nice dinner for two. Each beer might set you back around CHF6.
But investment in Lenk to support the tourist industry has helped keep costs in this village down. The plethora of beds available means that accommodation is particularly affordable. This can go a long way to making your stay in Switzerland more affordable.
Pros of Living in Lenk
There are many very good reasons to consider Switzerland in general, and Lenk more specifically, as a digital nomad destination.
High Quality of Living
Switzerland is known for its excellent quality of life and is often ranked high on the happiness index. This is down to the good work-life balance supported by the culture and local focus on spending time active in the great outdoors.
This feeds into an eco-friendly lifestyle which results in clean air, fresh local produce, and an all-around well-being focused approach to living.
Lenk is an example of this Swiss lifestyle. It is a small village with excellent facilities for locals and visitors and is surrounded by untouched mountains and environmentally conscious farmland.
Outdoor Activities
Of course, the Swiss Alps region is known for its excellent hiking and amazing ski slopes, second to none in the world. While Lenk is located just an hour and a half from Bern by car, it is also right in the middle of the picturesque alps and offers easy and affordable access to the slopes.
Among the best hikes are the direct Simmenfalle trail, which is about a one-hour hike from the Siebenbrunnen Restaurant to the stunning waterfall. You can spend a day doing the eight-hour round-trip hike around the Bernese Oberland, which starts at Lenk and follows the Simme river. If you are looking for a multi-day hike, try the Simmenfalle round-trip hike that takes in Flueseehut and Wildstrubelhut and delivers spectacular views for more than 30 kilometers. To get the best views of Lenk itself, we recommend going to Bühlberg. From there, you can hike to the nearby peak of Regenboldshorn, where you'll have an amazing view on the local mountains. Find more Lenk trails here.
While the Simmenfalle is the highlight of the area, there are several stunning lakes nearby, including the Lauenensee, a high-altitude lake covering almost nine hectares, the Iffigsee, a clear blue water lagoon, and the Linkerseeli, which is in the town of Lenk itself.
Close to Everything
Switzerland is well located for jetting around western Europe and seeing the important cities and sights. Zurich, Geneva, and Bern airports are all well-connected with flights to most major European centers.
Lenk is also well located for exploring the region of the Swiss alps and the rest of the country. The scenic train routes across the countryside are worth the train fare. You can start by checking out some nearby villages that represent classic Swedish life, such as Adelboden (40 minutes by car or a four-hour hike) and Saanen, Zweisimmen, and Gstaad, also near Bern. Grindelwald and Interlaken, between the Thunersee and Brienzersee lakes, are also "must visit".
Of course, the major cities of Bern, Zurich, Geneva, Lausanne, and Lucerne. Here you can sample Swiss chocolate, indulge in Swiss cheese, and browse Swizz timepieces and army knives.
Facilities for Digital Nomads
Recent investment in Lenk means that it now has better facilities than ever for digital nomads. While its coworking spaces are small, they offer great internet and a good place to focus while "getting away from it all" in the alps. While German is the primary language spoken in Lenk, English is also widely spoken.
Cons of Living in Lenk
Of course, there are some downsides to staying in Lenk, which should be considered before your pack your bags and book your tickets.
Expensive
While Lenk is a relatively affordable option within Switzerland, the country is still ranked among the most expensive in the world, and day-to-day activities can drain your budget.
Limited Visa Options
There are limited visa options for digital nomads wanting to stay in Switzerland. It is challenging to get a visa for more than 180 days, and you will need to carefully consider the tax implications with your employer as you will need to claim tax residency elsewhere.
Everything Closed on Sundays
In Lenk, and across Switzerland, almost everything closes down on Sundays. This can be quite a shock for those accustomed to a 24-hour lifestyle. But if you prepare yourself, you might enjoy these quiet days.
Where to Stay in Lenk
Thanks to investment by Ferienlenk starting in 2009, there is plenty of affordable accommodation for digital nomads in Lenk. They have 17 locations within their resort area, with different cost options from deluxe four-star suites to budget singles.
Their principal accommodation sites are Hotel Kröne, Hotel Zum Gade, and Hotel Sternen, all of which are perfectly located and offer excellent facilities.
We recommend Hotel Sternen for digital nomads because it offers some excellent deals and facilities. You can get a two-bedroom apartment with kitchen, bathroom, and living space, plus high-speed internet. This offer is currently only available in Spring and Autumn, but it is worth keeping an eye on their site for new package deals.
With this package, you also get access to the hotel's coworking spaces, and the reception is available to support your office in the Alps. At Hotel Sternen, you will also find a daily buffet breakfast, ski room, indoor swimming pool, and bike workshop to support your leisure activities. It is located right at the center of Lenk and was originally constructed in 1880. But today the apartments are modern and comfortable thanks to a 2019 renovation.
Nearby Hotel Krone is also a great choice with its own library, outdoor fire pit, ski room, indoor swimming pool, and large restaurant. Larger suites have spaces for entertaining that can accommodate gatherings of up to 60 people. You can expect your room to have a balcony with a view, satellite TV, and fast Wi-Fi connection.
Wherever you stay in Lenk, you can self-cater, or most of the restaurants in the area also offer takeaway and delivery. We recommend Antica Posta for pizza and gelato, and Restaurant Krone for classic Swiss meals.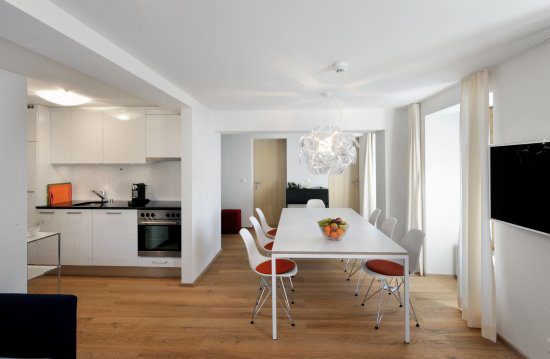 Where to Work from in Lenk
Ferienlenk has ensured that most of the shared spaces in its resort are properly equipped for coworking, with high-speed internet, a good number of desks and power sockets, and standard office equipment available on request. The best facilities are in the Sternen Hotel, but there are good options in all the Ferienlenk locations.
You will find private desks for focused work and larger desks for tables for more social working. The staff members are happy to help with printing, sending and receiving post, and acting as a local concierge service.
This is just one of the many reasons that a growing number of digital nomads are taking advantage of Lenk to spend some time in the Swiss Alps.
The Verdict
Switzerland is not necessarily a country that we associate with digital nomads because it is known for its high cost of living, but that is changing, and better options are emerging for digital nomads.
Lenk is a prime example of this, with medium to long-term affordable accommodation available in this picturesque Swiss Alps village and improving facilities for remote workers appearing in the area.
It has never been more affordable to spend three months in the Swiss Alps, splitting your time between deadlines and taking on the daring slopes and breathtaking mountain trails.
Check out some of our other top winter destinations for digital nomads.