Whether you're a digital nomad, an occasional traveller or you're keen to have an immersive experience coworking and meeting new people – there are many reasons to try coliving. If you're looking for one of the best places in the world to experience this, then you may want to consider coliving in Switzerland – and more specifically, coliving in the Swiss Alps in the village of Lenk. 
Below are 11 of the top reasons to try coliving in the country known for clocks, chocolate, cheese and picturesque natural beauty: Switzerland. And if you're looking for a coliving experience (and somewhere for coworking Switzerland), we've also added a bit of info about our new workation in Lenk, in the heart of the Swiss Alps. 
What is coliving (and how is it different from coworking)?
Coliving is a type of community living experience, popular among travellers, digital nomads and people interested in immersive travel. 
Cooperative living, or co-living, involves living somewhere that has a shared living space with people who have similar community values and enjoy collaboration, networking, and often entrepreneurship and sustainable living. 
Unlike co-housing, residents typically have their own private rooms, but share communal areas like kitchens and living rooms. Coliving in Switzerland differs from coworking in that not all coworking Switzerland spaces have their own accommodation facilities. 
Coliving is similar to coworking because many coliving spaces include a shared work space where people can co-work and share resources while networking and meeting new people. 
Some coliving spaces also offer workations, which is a new and popular travel trend where travellers work and travel for longer periods to explore the place where they're staying for longer than a typical holiday by working remotely. 
Our Lenk workation in the Swiss Alps is an example of this, offering private, fully-equipped apartments with coworking areas and high-speed internet, while being located in stunning natural surroundings. This makes it a perfect location for solo travellers, couples, and families – as well as corporate retreats in the Alps. 
Top 11 reasons to try coliving in Switzerland
There are many reasons to visit Switzerland, and many reasons to try coliving. So combining these two (ie coliving in Switzerland) allows you to enjoy travelling to some of the top places to visit in Switzerland for digital nomads, while coworking and living with other people who are on a similar journey as you. 
Below are 11 reasons to try coliving in Switzerland. Let us know which reason most appeals to you!
1. Coliving is more fun (and less lonely) than solo travelling
Many solo travellers, remote workers and digital nomads will tell you that one of the hardest things to deal with is a sense of loneliness of not having someone else to share experiences with. 
Instead of trying to find someone to travel with you, you can book into a coliving space and meet new people while you're staying there. It's often more fun to travel this way, as you're likely to make new friends from all over the world, learn about new cultures, and have people to explore the country with. 
In other words, coliving can be much more fun than solo travelling or staying on your own in a new village or city. 
2. There's so much to do in Switzerland
Switzerland is well known around the world for its scenic landscapes in the heart of the Alps, high standard of living, hundreds of lakes, chocolates, cheeses, European cultural traditions, and other unique foods. 
As a unique holiday destination, Switzerland offers so much for travellers to do and see. Whether you want to take part in winter sports like skiing in the Alps, snowboarding, snowshoeing, or you're interested in mountain climbing, hiking, there are activities for all age groups. 
There are also many famous landmarks to visit such as Lake Geneva, Grindelwald, Lauterbrunnen, the Matterhorn, Lake Lucerne, the Eiger, Chateau de Chillon and the Rhine Falls. With so much on offer to do and see, it's not surprising that Switzerland is also a top destination for digital nomads.
3. Coliving in the Swiss Alps enables travel within Europe
Living somewhere like Lenk in the Swiss Alps is the perfect place to be based if you want to explore other cities and countries in Europe. 
Switzerland is bordered by France, Germany, Italy, Liechtenstein, and Austria and is a central location from which to explore and travel to many other European towns, cities, and countries. 
You can travel by plane, train, or car and some distances are short enough for you to day trips to other neighbouring countries. If you choose to stay in a Swiss village like Lenk, you can travel to Bern in an hour, and to Geneva or Zurich in two hours. 
4. Coliving in the Swiss Alps is safe
Switzerland consistently ranks as one of the best places in the world to live, being among the top 20 safest countries in the world, and the happiest. 
It also has one of the best healthcare systems in the world, a high standard of living, and is considered one of the most coveted destinations. 
Safety is often an important factor in people's choice of travel destination. And particularly so, for solo travellers. 
5. Coliving is a more affordable way to live (and travel)
Living in Switzerland is expensive. Whether you're renting an apartment or house, or you're staying in holiday accommodation, the cost of living in Switzerland can be one of the highest in the world. 
Affordability is just one of many reasons why many digital nomads choose coliving in the Swiss Alps as an alternative to other types of accommodation. 
When you're staying in a coliving space, your accommodation costs are generally much less because you're sharing some communal areas like kitchens, and lounges. This can make coliving in Switzerland far more affordable compared with short or long-term rentals, or airbnbs or hotels. 
And when you factor in the costs of renting an unfurnished space, like having to buy a bed, couch, and home decor – you can save even more by living in a fully-furnished co-living apartment. And don't forget about the free wifi, and housekeeping services. 
For anyone wanting to live and travel in Switzerland for an extended period of time, having a base that's affordable can help enhance your overall travel experience.
The range of coliving options available in Lenk that are offered by Ferienlenk provide digital nomads with premium coliving accommodation and facilities, while being surrounded by breathtaking scenery and exposure to village life in Switzerland.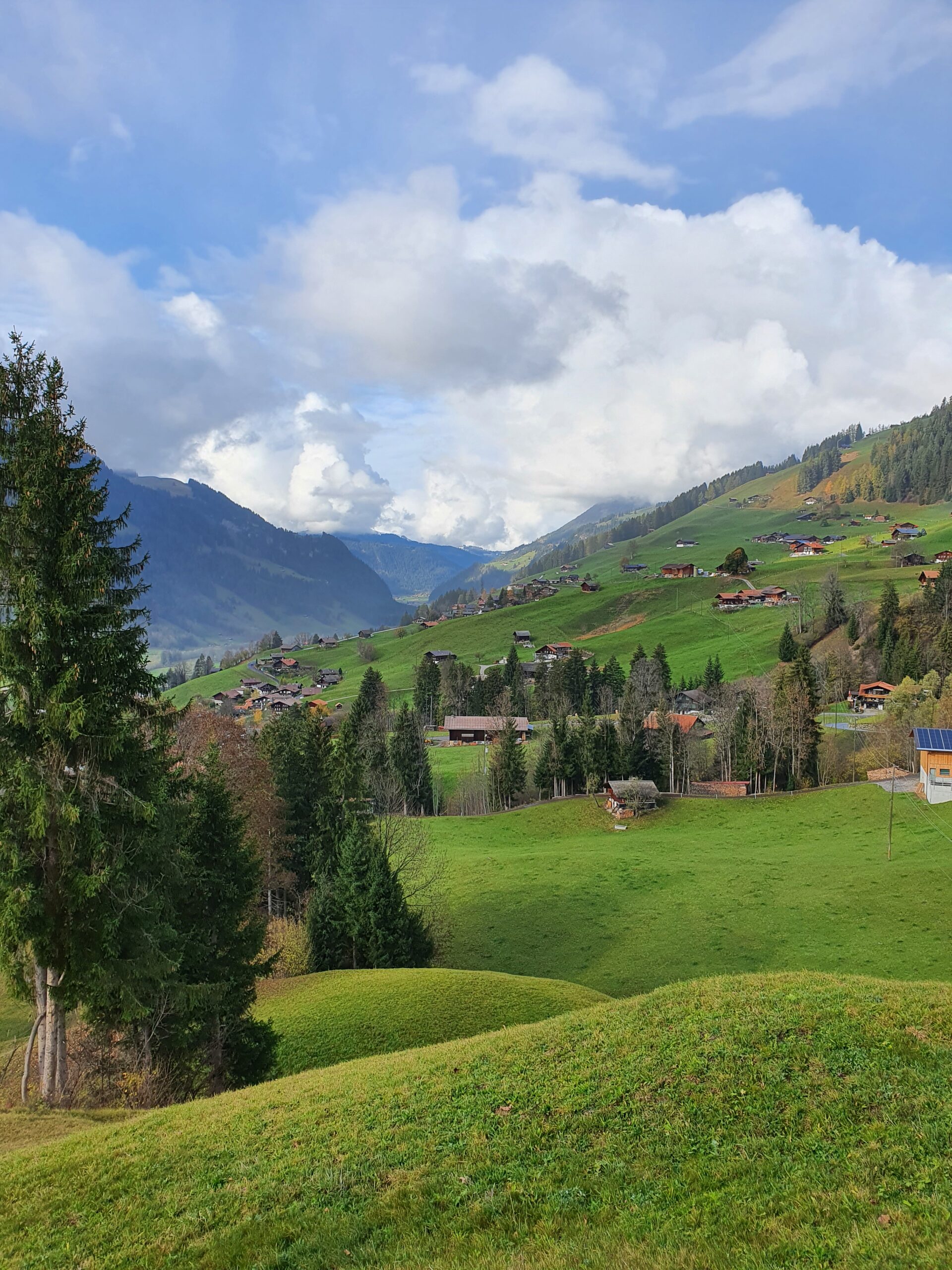 6. Coliving is an opportunity to make new friends and meet people
When you live with people, and share communal areas, you have an opportunity to get to know your fellow housemates in a more immersive way. This can spark new friendships, and provides a unique opportunity to meet some interesting people from around the world who may have similar values and interests as you.
Travelling and living as a digital nomad in a foreign country can be lonely, and it can take a while to get to know people. So staying in a coliving environment is an opportunity to overcome loneliness and to get to meet and get to know fellow travellers, remote workers and digital nomads. 
7. Coliving provides opportunities to network and spark collaboration
People who choose coliving and coworking often tend to be entrepreneurs, remote workers and people working for startups. When you're living in the same space as other entrepreneurs, discussing their businesses and future plans, this provides an opportunity to network.
Oftentimes networking with fellow entrepreneurs can spark ideas for collaboration and partnerships, which is another benefit of living in a communal accommodation environment in Switzerland. 
And many entrepreneurs enjoy the coworking environment as it can help foster creativity, innovation and the development of new business models and ideas.
8. Convenience of having amenities included (plus communal cooking and activities)
For many travellers who are looking for short-term rentals or short stays, or even longer-term stays, it can be quite a hassle to organise signing a lease and then setting up your utility contracts. 
Switching utilities over into your name, for things like your internet and electricity, and the arranging for a cleaner all takes time and can be complicated. 
That's just one reason why travellers often prefer the convenience of coliving. Amenities are typically included, and you get to do some communal cooking and other activities. And oftentimes housekeeping is included. 
That means there's less admin involved in where you stay, so you get more time to focus on travelling, exploring your new surroundings and meeting new people. 
Plus, an added bonus is that there's often opportunities for communal cooking and to take part in activities that are specially organised for your coliving community. 
For digital nomads choosing to stay in the quaint Swiss village of Lenk, you get access to various premium coliving accommodation options, with a range of facilities from swimming pools and kids clubs, to breakfast buffets and family-friendly units. 
9. Flexibility
Choosing a coliving environment gives you the option of deciding how long you want to stay somewhere, much like a hotel or guest apartment. This flexibility means you can stay somewhere long-term or for several months at least, without having to sign a long-term lease or be responsible for paying for utility bills. 
Plus you get a furnished, private room with access to all the facilities you need for cooking and working. And oftentimes, coliving spaces have other cool perks like swimming pools, fitness centres and coworking stations. 
One popular Swiss location for digital nomads is the village of Lenk, in the heart of the Swiss Alps. Situated in the Simmental valley, Lenk is surrounded by scenic mountains and stunning views and is the perfect place for outdoor enthusiasts wanting to do skiing, snowboarding and other winter sports. 
The village of Lenk is also easily accessible by train and bus, and is not far from Bern, Zurich and Geneva. You'll also find a range of cafes, restaurants and shops in Lenk. 
Ferienlenk offers various coliving accommodation options for digital nomads in Lenk. Spread across 17 different locations, you can choose from deluxe four-star suites, to single, budget private rooms. 
Staying at places like Hotel Sternen, you'll get a 1-bedroom apartment with your own kitchen, bathroom and living space as well as access to high-speed internet. For guests staying here, you can also access the hotel's coworking space, and you'll have access to the ski room, indoor swimming pool, bike workshop and daily buffet breakfast. 
10. Promotes sustainable living
Coliving and coworking are premised on sharing resources. This promotes resource efficiency and sustainable consumption, which are pillars of the sharing economy and sustainable living.
Many travellers are interested in more conscious living, and reducing carbon footprints, and therefore intentionally choose coliving and coworking. And by working from where you stay, you can help reduce emissions linked to commuting, further reducing your environmental impacts. 
11. Learn a new language
If you want to learn a new language, there are many online language-learning tools and apps you can use. 
But, one of the most effective ways to learn is to immerse yourself in a place where that language is spoken and surround yourself with people speaking that language. 
Living in the Swiss Alps is a great place to learn either Swiss German or French, the two most widely spoken languages in Switzerland.