Nomad Cruise, the floating digital nomad conference founded by Johannes Voelkner, has just announced its 12th edition.
This time, between 2-11 December 2023, a cruise ship packed with digital nomads will sail between Tenerife in Spain and Salvador in Brazil. The nine days at sea will be accompanied by keynote speeches, workshops, unconference events, and more, all dedicated to the digital nomad lifestyle.
But is Nomad Cruise really worth it? And what should you expect from nine days sailing across the Atlantic on this cruise ship? Read on as we share everything we know about the upcoming experience.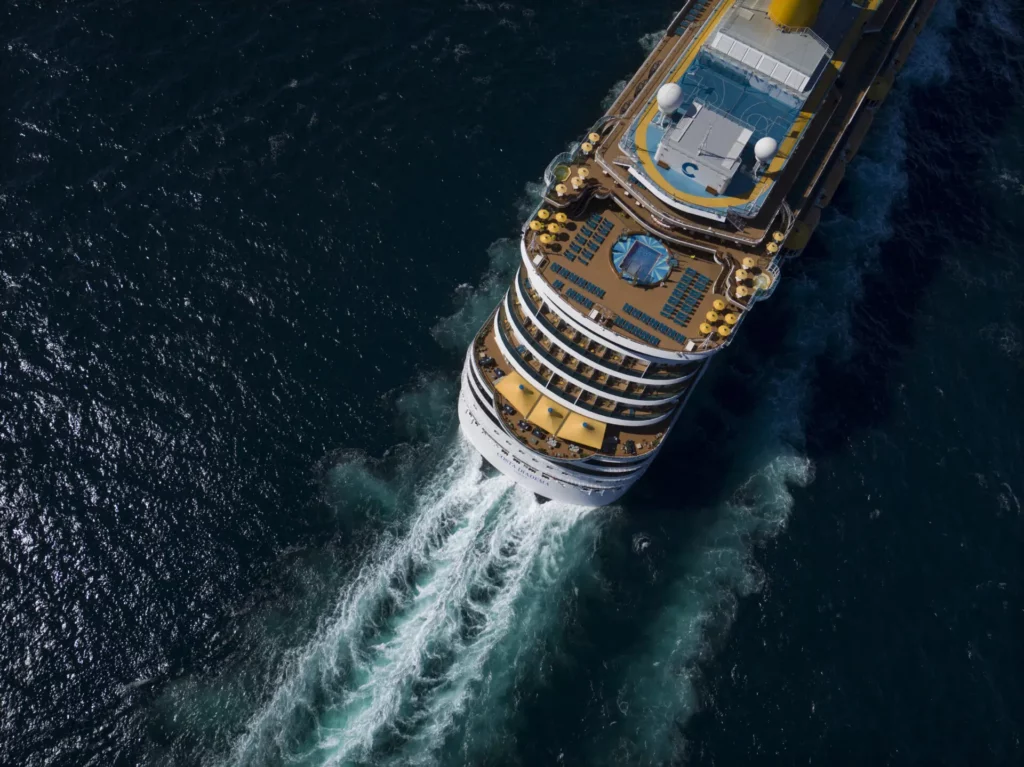 Travel details
While the team has been teasing Nomad Cruise 12 for a while, tickets for the event officially went on sale on July 28th, 2023. There are 500 spots available for participants, and as of early August, 200 places have already been booked.
The cruise leaves from Tenerife in Spain on 2nd December and will arrive in Salvador, Brazil on the 11th of December. There will be a few stops along the way once you get to the South American side of the ocean, at the Brazilian coastal cities of Fortaleza and Maceio.
Once the cruise is over, participants are encouraged to explore Brazil for a few weeks. There will be reunion meetups for attendees in Iguazu Falls, a secret undisclosed beach location, and in Rio de Janeiro for New Year's Eve.
Conference details
The nine days spent at sea aim to be a highly productive experience for digital nomads, remote workers, and entrepreneurs who will be exchanging knowledge and experience through keynote speeches, workshops, and unconference meetups.
For many nomads, the cruise is less about attending the talks and more about networking with other nomads. Many people have made friends for life, or at least people to chat with while traveling in South America. You can read Nate Hake's review of his experience and the people he met on the 2019 Nomad Cruise here.
The speakers for the formal conference have not yet been announced, but you can get a feel for what to expect from previous speakers. When Nomad Cruise hosted a trip between Italy and Greece in May 2023, Sergio Sala talked about how he built success on YouTube, Lovelda Vincenzi talked about how she turned public speaking into a career, and Santiago Sosa spoke on using AI to build a business from scratch. At the same event, Chris Reynolds shared what he learned from interviewing founders of billion-dollar companies for his podcast, and Sylvia Weinheimer gave a keynote on creating vision.
Nomad Cruise is still looking for speakers for cruise number 12, but keep in mind that speakers aren't paid. While Nomad Cruise is happy to receive proposals on any topics, they suggest topics related to the digital nomad lifestyle, personal development, remote work advice, and business case studies.
Of course, a cruise can't be all work and no play! Every night there are dinners, shows, and activities such as talent competitions and dragon's den-style pitch sessions. During the day, you can chill by the pool or join yoga and other fitness activities.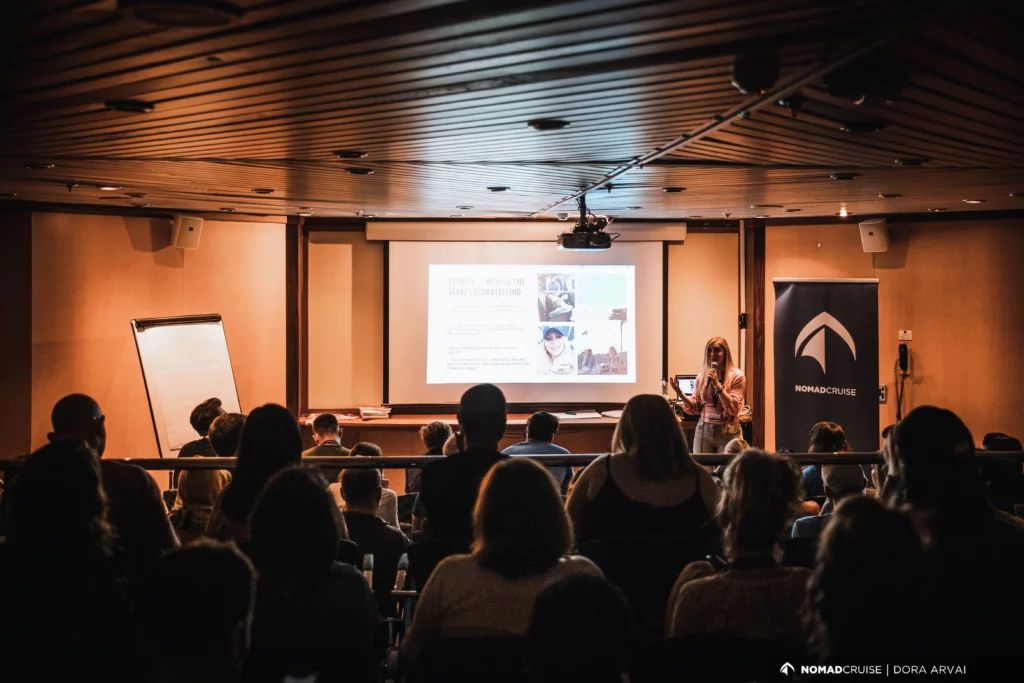 Cost details
Tickets for Nomad Cruise 12 are officially on sale, and the price depends on your cabin options. You can get a bed in a shared cabin for the full nine days starting from €900. The most expensive solo cabin with a balcony is €2,300 for the duration of the trip.
This ticket price is all-inclusive and includes the cabin, three meals a day and snacks in between, and participation in all conference sessions and activities. The only thing you may need to reach into your pocket for while on the ship, aside from a cruise souvenir, is drinks. Drink packages are available to purchase separately from the cruise ship.
It is worth pointing out that the more affordable packages look pretty good when compared with the currently high airfares. Plus, for many digital nomads, the cruise cost can be tax deductible.
What to expect from the cruise
Based on previous Nomad Cruise conferences, what are some of the things that you can expect from the experience?
The Wi-Fi may not be great
The conference organizers suggest that you treat the journey as a digital detox because the Wi-Fi is bad. While you can purchase premium Wi-Fi packages, for the majority of the trip you will be in the middle of the Atlantic Ocean where there is no connectivity. If you join the cruise, you will need to book some time offline from other commitments.
The cruise ship is not just for digital nomads
On previous cruises, Nomad Cruise has not booked out the entire cruise ship. The same is probably true since they are only selling 500 spaces for the 12th edition. Most cruise ships can hold around 3,000 people. This means that you should be prepared to share the cruise ship with other travelers. Since it is going to Brazil, expect older Brazilian couples and families.
Digital nomads stick together
Despite the plethora of other travelers, digital nomads tend to stick together and participate in the same activities. Conference participants are given nametags to wear. While they aren't obligatory, they help you spot other conference participants when you are partaking in the general entertainment that the cruise has to offer.
Many cruise participants said that they met up with people they met on the cruise in South America in the months that followed.
The schedule is packed
There are very few free days booked into the conference schedule, so if you are super keen and decide to go to everything, don't expect to get much relaxation time on the boat. Of course, it is up to you which conference talks and events you attend.
Don't forget to book time in Bahia
While the cruise already recommends that you book some time in Brazil at the end of your trip, don't head straight to Rio de Janeiro, take some time in Bahia.
Salvador is the original capital city of Brazil and is where most of the Africans transported to Brazil arrived. Today, it is the largest African city outside of Africa and has a vibrant culture of music, Samba, Capoeira, and culinary delights.
Not far from Salvador, you can drive or get the bus inland to Chapada Diamantina, which is about eight hours from Salvador. This is a national park full of hiking trails, swimmable lakes and waterfalls, and rustic hippie communities. Book accommodation in Lencois or Capao, the two biggest towns in the region.
Those looking for beaches can head north from Salvador along the Linha Verde, to places like Imbassai and Praia do Forte. One of the closest beach villages in the north is Arembepe, home to the famous Aldeia Hippie of Janis Joplin. You can also head south to encounter gorgeous beaches and islands such as Morro de Sao Paulo, Itacare, and Ilheus.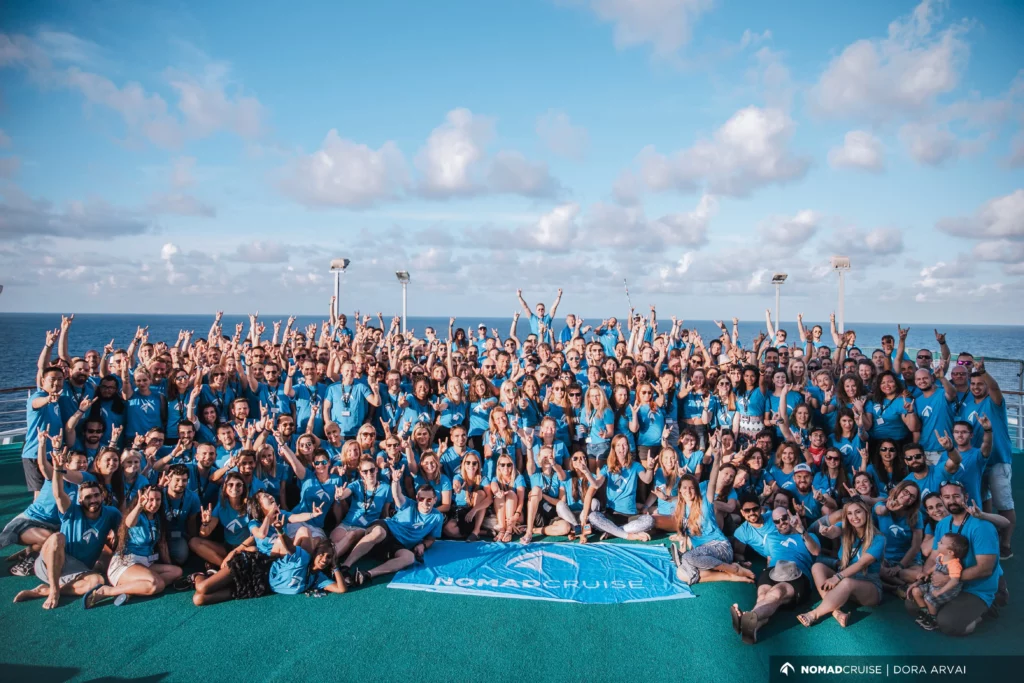 Will You Be Joining the Nomad Cruise?
So, will you be joining this year's Nomad Cruise? If you are thinking about it, book sooner rather than later for discounts and to ensure your place.
If you plan to stay in Brazil for a while, you can apply for a Brazilian digital nomad visa as long as you have an income of $1,500 per month. Argentina also has a digital nomad visa for six months that can be renewed.