In recent weeks, I've seen a number of articles suggesting that Albania will be the next digital nomad hotspot. Having spent several months in Albania as a digital nomad in 2021, I had to weigh in on the prediction.
Albania, sometimes called the Caribbean of Europe and with a long coastline on the Adriatic Sea, is likely to attract digital nomads over the coming months thanks to the launch of a new digital nomad visa, that allows remote workers to live in Albania for a year without paying taxes on their international income. The visa is also renewable.
This makes Albania, which is not a member of the EU, a great base for exploring surrounding EU countries on a Schengen Tourist Visa. Meanwhile, you can enjoy the affordable cost of living in Albania and the country's own beautiful beaches and mountains.
However, some digital nomads may struggle to adjust to some of the challenges of life in Albania. The biggest issues are that the food is not of high quality, despite its Mediterranean location, a big problem with waste and pollution, and the lack of a digital nomad community and infrastructure.
But let's take a closer look at what to expect from Albania as a digital nomad. It is among my top 10 unconventional destinations for digital nomads.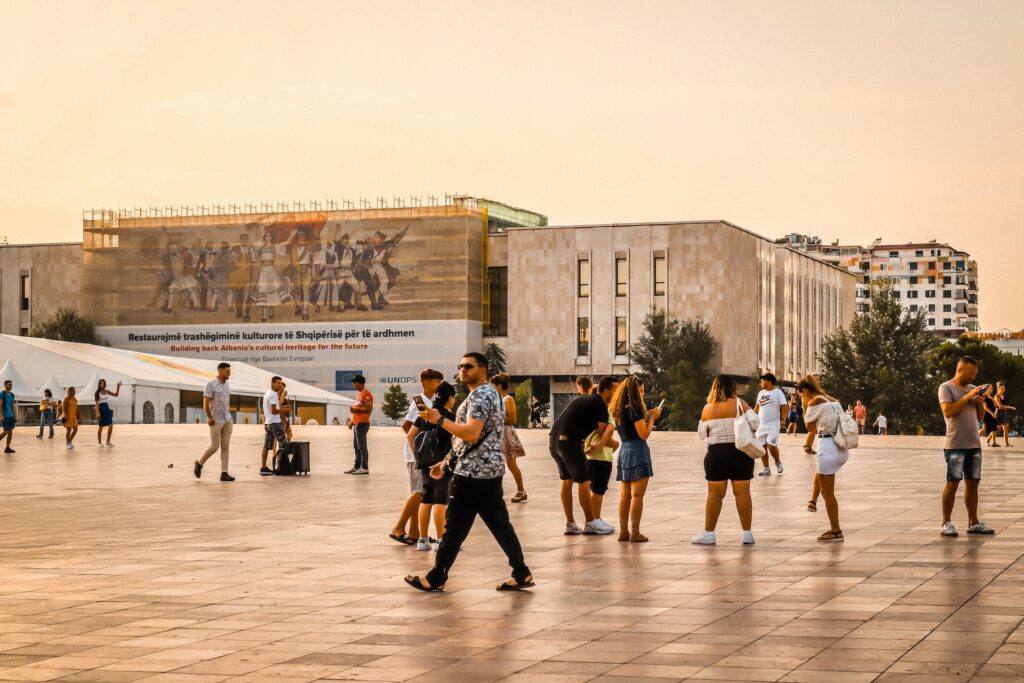 Albania's digital nomad visa
At the start of 2022, the Albanian government announced that it would release a visa for digital nomads, and applications are now open via the Republic of Albania's E-Visa Application System. You need to create an account online and fill out the online application to apply, but there is no fee.
Included under the Type D Long Stay Visas, the visa is for remote workers and freelancers whose income comes from working for clients or companies outside of Albania. The visa is granted for one year in the first instance, but then is renewable for another year, and may be renewable for up to five years after that. For at least the first year, you will not need to pay Albanian taxes on your international income.
To apply, you should have a valid passport and evidence that you have the right to live wherever you are making the application. You will then also need to provide:
Proof of employment with a company outside of Albania or proof of clients for whom you work as a freelancer outside of Albania.
Copies of bank statements for the last 12 months showing income and expenditure moving in and out of your accounts.
Proof of accommodation in Albania for when you arrive.
Although it is not specifically stated on the website, it is expected that there is a minimum annual income requirement of US$9,800, as this would match the minimum income for the Albanian retirement visa. You will probably also have to show that you have health insurance valid for Albania and a clean criminal record for the countries you have been resident in for the last two to five years.
In most cases, it is estimated that it takes the Albanian government 12 weeks to process visa applications via their online portal.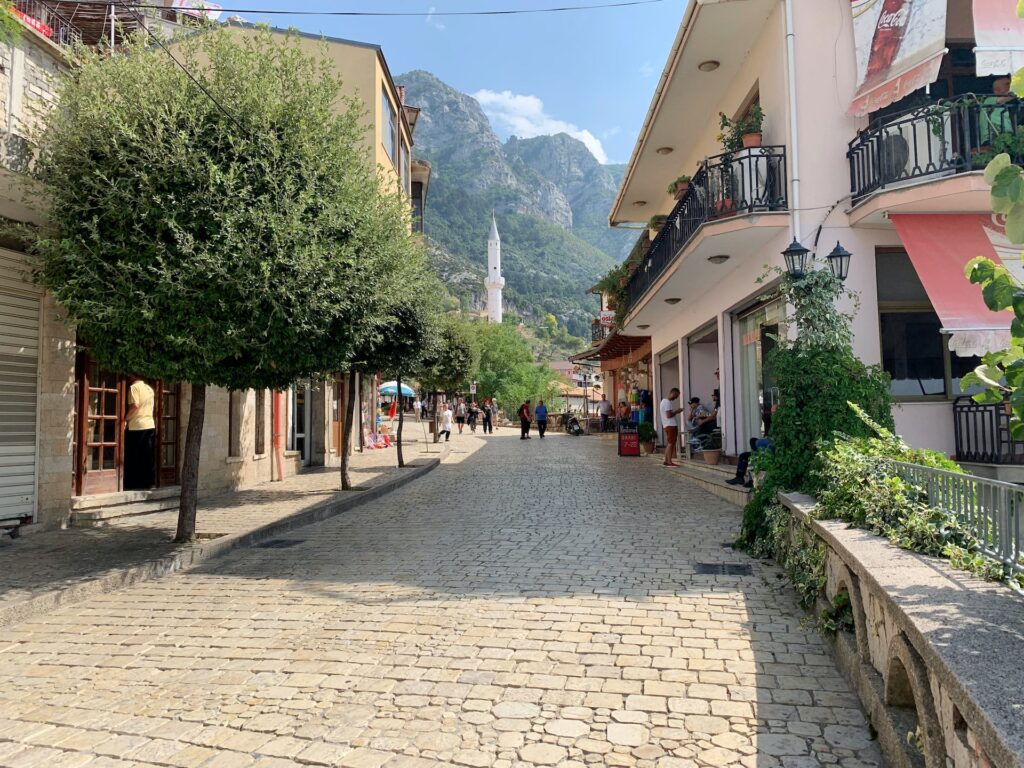 Cost of living in Tirana, Albania
Most digital nomads who spend any amount of time in Albania will set themselves up in Tirana, the capital, as their base. It has the best infrastructure in the country, and its central location means that it is close to everything.
The cost of living in Tirana is affordable for a European country. It is estimated that a single person needs about US$793 per month for expenses, plus an additional US$300-$600 for accommodation depending on where you choose to live and whether you rent locally or go for an Airbnb.
But one thing to bear in mind is that food is not as cheap as you might predict. This includes both eating out and groceries. When eating out expect to spend at least US$8 on lunch and US$20 on dinner, plus US$3.50 for a beer. While this is cheap by international standards, it is not particularly cheap when compared to neighboring countries such as Croatia and Greece.
The currency in Albania is the Lek (ALL) and 1ALL=USD0.01. The Lek is actually holding pretty strong against the dollar and the euro. Be aware that credit cards are not widely accepted in Albania and that you will need cash in local currency for many daily purchases.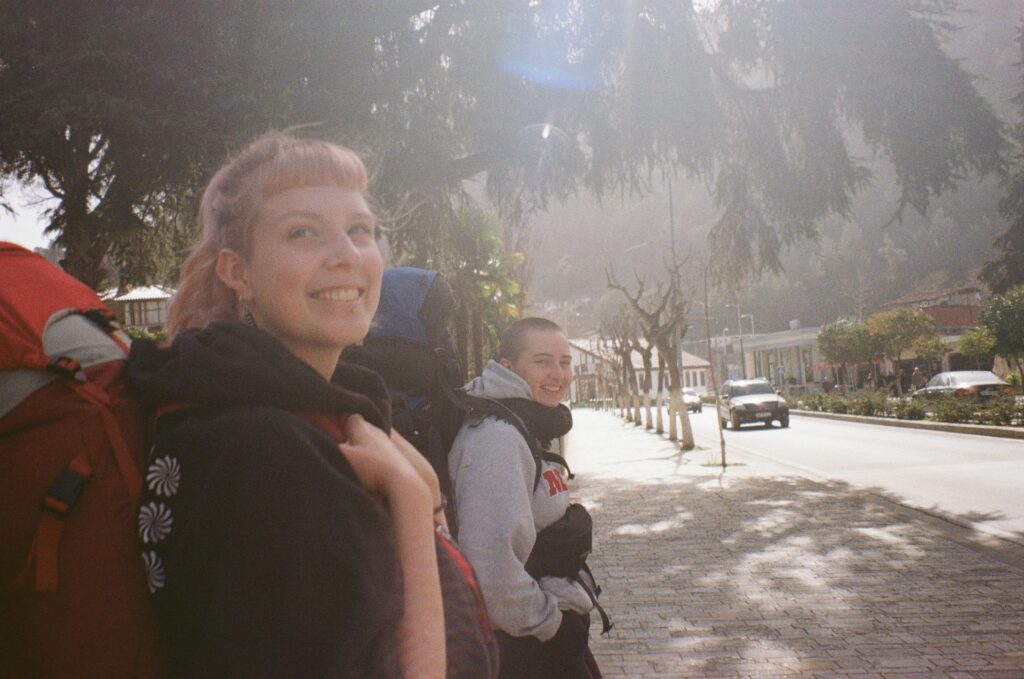 Pros of living in Albania
If you are thinking of heading to Albania for a year as a digital nomad, there are plenty of things to attract you, mostly just how beautiful the country is.
Coasts and beaches
The Albanian coastline is called the Albanian Riviera, and it has an ideal location along the Adriatic Sea for beaches in incredible colors and clear waters.
Sarande is probably the most popular seaside town and has many hotels and bars. But because it is so built up, it isn't as charming as many of the other smaller towns along the coast. Durres and Vklore are still big, but very nice.
If you can, head to the Ksamil Islands, about 15 km south of Sarande for Caribbean-like beaches, though it can get crowded.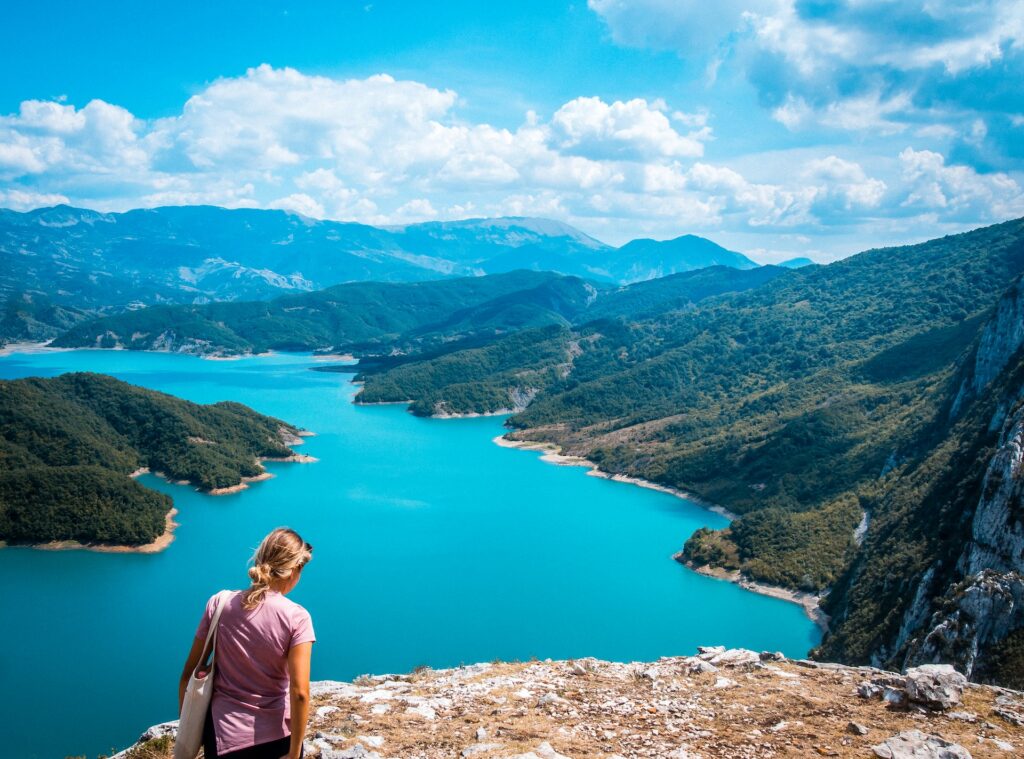 Mountains and forests
When you turn inland, there is still more natural beauty to discover. About 20 km inland from Sarande is Syri Kalter, which is also called the "Blue Eye". It is an underwater natural spring more than 50 meters deep and surrounded by lush green forest.
The Osumi Canyons are sometimes called the Grand Canyon of Albania, and while smaller, they have the same grand feel. It is a great area for hiking, swimming in waterfalls, and just getting back to nature.
Lake Bovilla is a bright turquoise-blue lake set among the peaks not far from Tirana. It is an ideal spot for hiking, climbing, and mountaineering. You can cool off at midday with a swim in the perfect waters.
The town of Korce is a beautiful Ottoman relic with quaint cafes and amazing restaurants, and it is also the home of Albanian beer brewing. In the winter, it turns into a fairly impressive skiing resort.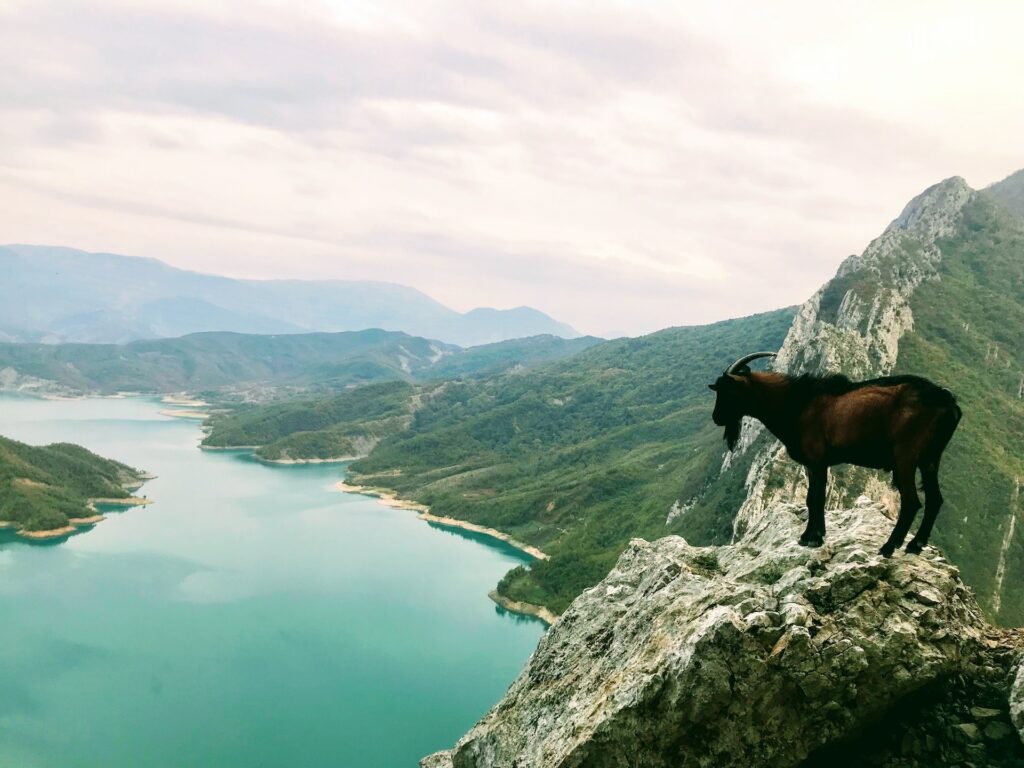 UNESCO World Heritage Sites
Albania sits between Italy and Greece, so it is rich in fascinating and changing Mediterranean history. There are many beautiful and interesting UNESCO World Heritage Sites to discover.
The best of the best is probably Berat, which is a river town that stone houses that appear to be stacked on top of one another and they have thousands of symmetrical windows opening out over the sea. The city also has an ancient castle and is overlooked by Tomorr Mountain.
Gjirokaster is an old Ottoman town and fortress that looks out over the Gjere mountains and the Drino River. There are ancient artifacts and history to discover, a US Air Force Jet that crashed during WWII, and Cold War tunnels and bunkers.
Butrint National Park has been occupied since prehistoric times and is a unique mix of natural wonder and historic marvel. The Butrint landscape is stunning open plains, but you can also climb a Venetian tower and visit the Roman amphitheater, temple, and forum.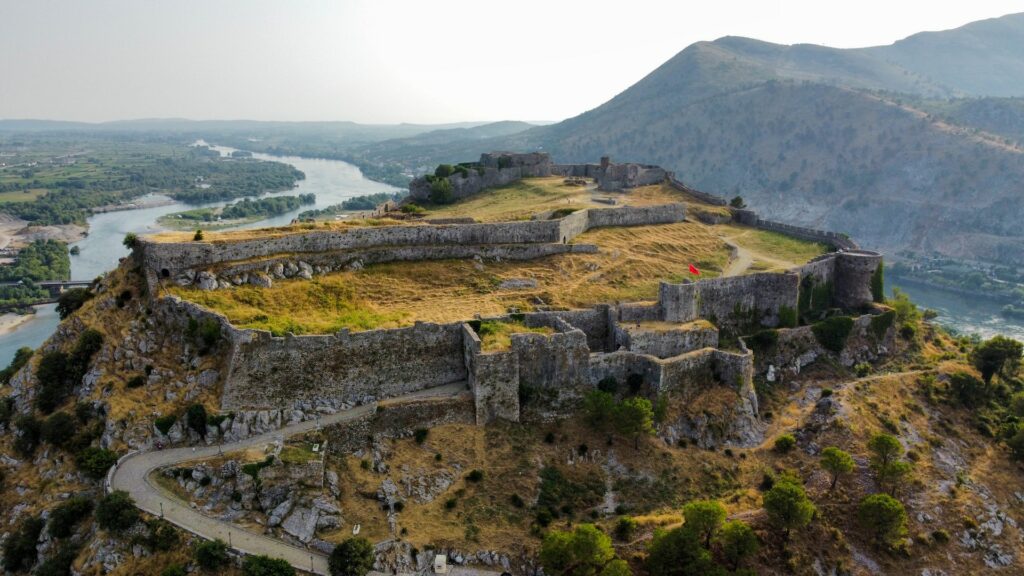 Cons of Living in Albania
While I personally think that the pros outweigh the cons when it comes to spending time in Albania, there are issues to be aware of before you pack your bags and make your online visa application.
Food in Albania
I've mentioned the food in Albania a few times, and in theory, it is another delicious Mediterranean culinary tradition. There are dishes such as Fergese, which is a pastry dish with peppers, tomatoes, and cottage cheese, Tavi Kosi, which is a quiche made with lamb, eggs, and yogurt, and desserts like Baklava.
But when you are actually in Albania, while the food might look pretty good, it doesn't taste quite right. While I had some great meals, there were also things I just had to throw away because it tasted off.
My theory is that a lot of the food that is sold, even in supermarkets, is out of date. The result is that at any time, whatever you are eating just doesn't taste the way it should.
Getting around is difficult
Public transport does exist, but it is hard to figure out with different buses and vans servicing different areas and nothing resembling a timetable existing. Many buses are also furgons, which means that they transport goods as well as people. The best way to figure out how to get around is to ask locals.
You can rent a car, but the roads are not good, and traffic can be pretty horrendous. Incidents of extreme road rage are also not uncommon, since Albanians don't seem to be afraid to get up in your face if they think you have cut them off or otherwise hindered their movement.
You can expect getting anywhere to take longer than you think, and the ride is not always comfortable.
Rubbish is a problem
The infrastructure for managing waste is an issue, so trash can pile up in the street before it is taken away. This affects local attitudes towards rubbish. People are accustomed to seeing rubbish in the street, which is probably why they aren't as concerned about where they throw their own trash. It definitely takes some getting used to.
The other thing to be concerned about is water waste disposal. In some places, sewage is emptied directly into the sea or a river. Locals will be able to tell you where you really should not swim.
Connectivity infrastructure
The connectivity infrastructure in Albania isn't great. While you can expect Wi-Fi to be available in cities like Tirana, Wi-Fi isn't always included when you book a hotel or an Airbnb as you might expect. Power outages are also more common than anticipated. While they only tend to last around ten minutes, it is very disruptive.
Outside Tirana, connectivity is patchier. It is estimated that only about 30% of households have fixed broadband, and that can be as low as 1% in rural areas.
Language barrier
English is not widely spoken in Albania, so you will probably have to learn some Albanian to get along. It is similar to Greek but uses the Roman alphabet, which helps with reading comprehension for English speakers.
Since there is not a big expat or digital nomad community in Albania, you are largely on your own when it comes to figuring things out. But that's all part of the adventure.
Will you be heading to Albania?
So, are you tempted by the new Albania digital nomad visa? Are you prepared to put yourself outside of your comfort zone to discover this beautiful country? It may not be as easy to do things as in other parts of Europe, but learning how to be self-reliant and problem-solve in challenging situations is all part of the digital nomad experience.
Nearby Montenegro, Croatia, and Greece also offer digital nomad visas.