The small country of Montenegro is in the Balkans looking out over the Adriatic Sea between Croatia and Albania. It is one of the youngest countries in the world, established in 2006 when it separated from Serbia following an independence referendum. 
But the region has been known as Montenegro since at least the 15th century and has a rich history including as part of the Venetian Republic and the Ottoman Empire. Today it is known as a small natural haven in the eastern Mediterranean offering both idyllic beaches and untouched mountains and forests to explore.
Location, affordability, and now a new visa that allows remote digital workers to stay in the country for up to four years means that Montenegro is destined to become one of Europe's top digital nomad hotspots.
About the Visa
Montenegro has long had an open approach when it comes to welcoming foreigners, but this has been expanded further this year following an amendment to their Foreigner's act which will allow digital nomads to apply for a residence permit. 
The visa is targeted at foreign workers providing online services to companies outside of Montenegro. Anyone providing the same services for a company within the country is not eligible for this visa. But Montenegro offers other paths to residence for these workers.
The new digital workers' visa is valid for two years in the first instance and can be renewed for a further two years upon request. Once the visa expires, the holder must leave Montenegro for a minimum of six months before returning, at which time they may apply for the same visa.
This four-year cap seems to be to block easy paths to permanent residence, which requires living in the country for five years as a temporary resident.
To apply for the visa, you must first enter the country under a Type D long-term tourist visa, which lets you stay in the country for up to 180 days. While in the country you can then make your application at the Ministry for the Interior.
You should be able to provide proof that you have sufficient funds to support yourself, proof of accommodation, a non-convictions certificate, and a valid passport. You will also need to provide evidence of an employment agreement with a foreign company. Another requirement is proof of health insurance. You can get travel health insurance easily from providers who focus on digital nomads like SafetyWing.
Digital nomads who successfully obtain this visa can also be joined by their families – defined as their spouse and children under 18 – who can apply for a complimentary family unification visa.
As the visa program is still new, we don't have any examples of nomads accessing the visa yet, but it is only a matter of time before digital nomads start to take advantage of this opportunity.
Why Choose Montenegro?
Why could digital nomads want to choose Montenegro as their next base of operations?
Stable and Safe
Montenegro is a highly stable country in Eastern Europe that maintains peaceful relations with its neighbors and is a member of NATO. While not yet a member of the European Union, it is currently in negotiations and already uses the Euro as its currency. While it is not part of the Schengen zone, crossing from the EU into Montenegro is simple.
Small Community with Good Infrastructure
Montenegro is a small nation with a population of only 600,000 people. This appeals to many people looking for a simpler and more tranquil way of life without being cut off from the comforts of the developed world.
Crime is low and the streets feel safe. The cost of living is very affordable by European standards. English is widely spoken, especially in the coastal regions most frequented by tourists. The internet is decent – not lighting fast, but pretty good.
Mix of Natural Wonders
Montenegro has clean Adriatic rock beaches that enjoy a Mediterranean climate similar to Italy and Croatia. It also has an impressive mountainous interior covered in rich forests ideal for hiking. You can discover the Dinaric Alps, which contain 18 glacial lakes and the world's second-largest canyon.
There are many ancient, fortified cities and beautiful coastal towns. While Montenegro is popular in the summer, it is nowhere near as touristy as nearby countries.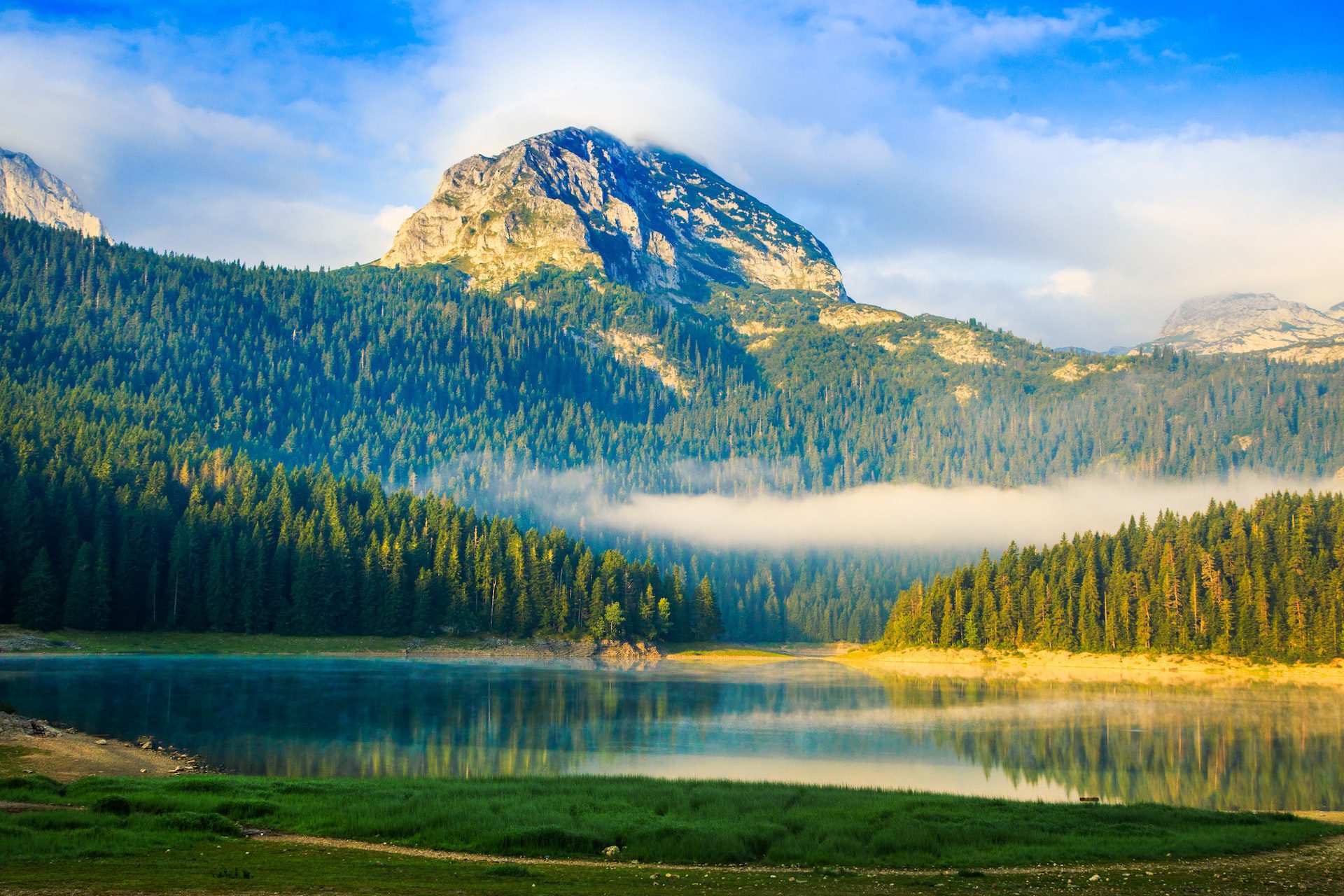 Best Cities for Digital Nomads
If you do decide to head to Montenegro as a digital nomad, where should you be considering basing yourself?
Podgorica
If you want the convenience of good Wi-Fi and things like yoga studios and fully equipped gyms, then the capital city, which is home to about 30% of the population, is your best choice. It is very close to the coast, but not on the coast. Instead, it sits on the beautiful Lake Skadar, which is also a national park.
Podgorica is actually quite a bit cheaper than some of the coastal towns, which had a more touristy feel. You can expect to get your own apartment in the city center for just $300 per month. 
Budva
This town is on the Adriatic coast and is the hub of the country's tourist industry. It is a classic fortified medieval town quite similar to nearby Dubrovnik in Croatia. It also has a great collection of Adriatic beaches serviced by many resorts.
Kotor
Kotor is also a coastal town, and its Old Town has UNESCO heritage status. The town has a lot of luxury hotels, quality restaurants, and pumping nightclubs to serve tourists, but is much quieter in the off-season. It also tends to be a bit cooler in temperature than many of the other beach towns.
The Verdict
Montenegro's new digital workers' visa is an exciting opportunity for digital nomads looking for a sunny, interesting, and affordable place in Europe to call "home". It is a great jumping-off point for exploring the surrounding more expensive countries while financing a better quality of life.
We don't think it will be long before Montenegro becomes one of the world's new digital nomad hotspots.