Founded in 1158 by German traders, Riga sits at the spot where the Daugava River joins the Baltic Sea. The charm of medieval Old Town and beautiful tradition blend perfectly with its vibrant cosmopolitan vibe.
The largest metropolis in the Baltics, Riga is home to a fast-growing and freshly startup community. Business-minded and creative folks are energetic working on online projects while visitors enjoy themselves among a rich art nouveau.
The Gothic spires attract many travelers, mostly from Western and Northern Europe, with plenty of lovely places to hang out. For those who addict to social media, over 1,000 wifi spots here will let your troubles drift away.
A low traffic volume that comes with an inexpensive lifestyle and a pleasant summer will impress any digital nomads who are willing to reside here.
Let's take a dive into details of why digital nomads should keep Riga on your bucket list!

How much does it cost to live in Riga? 
The cost of living in Riga varies depending on each and individual lifestyle. A single person can expect to spend around $ 760 a month, excluding rent, but the cost could go lower if you are ready to be more self-reliant.
Accommodation expenses 
The price range in Riga is quite the same as most Eastern European countries. Whether hostels or hotels, both offer nice places at affordable prices. You could find a lot of best rated hostels in Riga such as Cinnamon Sally Backpackers Hostel. Or you can level up to budget hotels for $ 67 – 85 a night.
Size up to the rental apartment for home comforts with a price tag of between $ 45 and $ 100 per night, and the longer you stay, the lower price you will get. Another rule that applies here is the location, for example, you have to pay around $ 530 for a one-bedroom apartment in the city center, while it actually cost $ 370 per month in other areas.
Booking the accommodation online will not only allow you to compare the prices but also a chance to get an incredible discount, especially during low seasons.
Food Expenses
Pork, potatoes, cabbage, mushrooms, cucumbers, and beets are a common accompaniment to Latvian food. The average cost per day is around $ 24, and of course, this is based on each spending habits.
The sit-down restaurants are usually more expensive than fast-food joints. Plenty of cafes and restaurants offer breakfast pastry for only $ 2-3 with an extra $ 1.5 – 3 for a nice coffee. You can enjoy a pancake brunch for just $ 5.5. Don't forget to check out Riga Central Market, where various food-stuffs, from vegetable and fruit to takeaway meals, are showing off.
A small meat-stuffed dumpling or locals call Pelmeni will cost you around $ 2 – 5. FolkKlub Ala also provides authentic Latvian cuisine at low prices. But if you get an appetite for traditional Latvian dishes at Castle Square, you shall expect to pay between $ 22 and $ 37.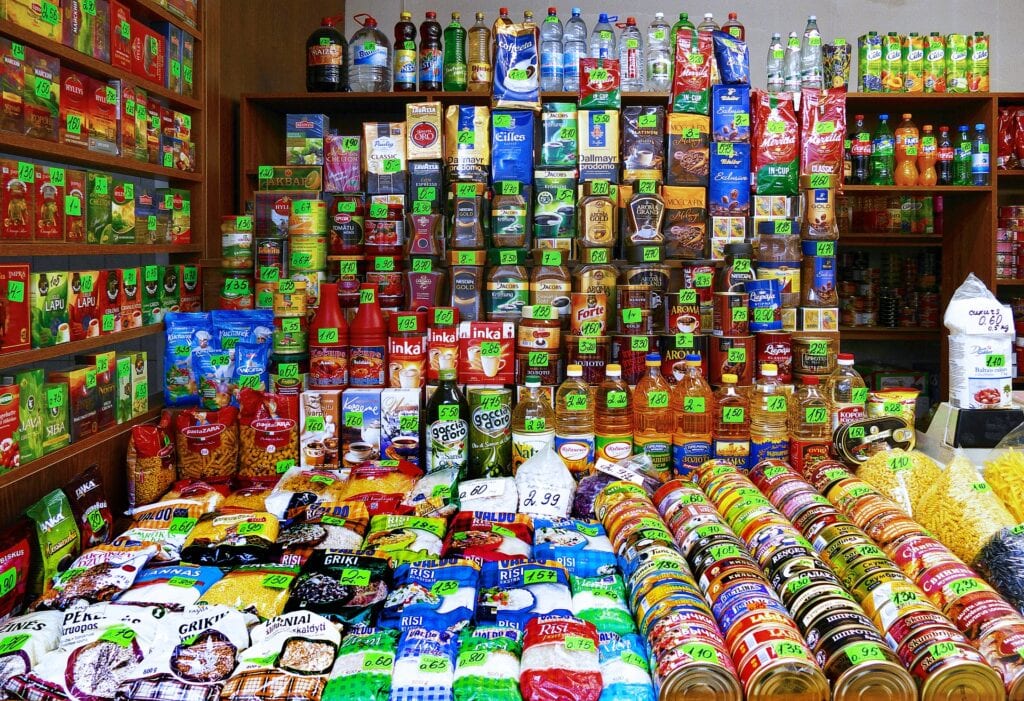 Beverage Expenses
Riga's hip bars normally run until late night hours. Being ripped off at the Old Riga area or hopping to other bars for reasonable prices is your own choice. A cheap beer will cost you $ 2.5 – 4 per pint, which a similar amount applies to a 0.5 liter of imported beer.
A grocery is always a perfect place for you to get inexpensive alcoholic beverages, where you can grab a beer for $ 1.3 or less and a bottle of wine for $ 7.3. If you can't live without coffee, then spend $ 1.2 – 3.15 to fuel your energy.
Transportation Expenses
There is lots of transportation for digital nomads to utilize in Riga. The taxi service can be requested through online apps call Taxify and ClickTaxi, which you will be able to see the rates first as well as the approximate pick-up time and can settle the fare with a credit card.
Trams, buses, minibuses, and trolley buses allow you to use the same E-ticket system named E-talons. A single fare will cover a ride on any of its one direct route when the transfer requires payment of two fares. Once you have entered any of those transport in the same direction within one hour, the ticket will still be valid with no additional charge. Transit access can be purchased by the number of trips or for a set amount of time so that you would expect 24-hour access for all routes at $ 6.10.
Although you could rent a cheap soviet style car, the slow traffic and $ 12.15 parking fee will hesitate you. Bicycle rental is another option you can go for if you are willing to spend $ 3.7 per hour.
Connectivity  
Latvia has consistently been among the world's top 10 countries with high-speed internet. You can simply find cheap and fast internet connections in Riga and other leading cities. 100 MB will eat up your money $ 18.5 a month, and as cheap as $ 37 per month for 400 MB.
The majority of the providers offer several service packages, apart from the internet connection, this also includes a phone line and TV networks.
Pros of Being a Digital Nomad in Riga
Tasty Food
Numerous restaurants are scattered around town, offering diverse cuisines for you to choose from. You can taste home grown and organic dishes at a price point that is much cheaper than some other countries.
Lavian food is rich in veggies and usually paired with pork. It might seem a bit high in fat and butter, however it is full of healthy vegetables such as broccoli, cabbage, and potatoes. Those who like a soup should try beet soup, which is very yummy.
Environmentally Friendly City
Due to it less development and a living green concept, make this charming city so livable. People here are also being encouraged to stick with the idea of zero waste shopping, so make sure you have a shopping bag with you.
Beautiful Attractions 
We can't deny that Riga has so much to offer. Many tourists land in this city in order to admire a rich collection of art nouveau and visit nearby natural treasures.
History geeks will get spoil a lot with its long history and fantastic landmarks, such as the time-honored building, remarkable monuments, fascinating palaces, and more. Walking on the shaded side of the cobblestone streets through historic sites and museums on your off day is something you should not miss.
High Speed Internet
With affordable fees as well as over 1,000 free wifi spots all over Riga, your fingers will never rest from typing on any electronic device. You can enjoy surfing the internet for your pleasure and connect more with your family and friends.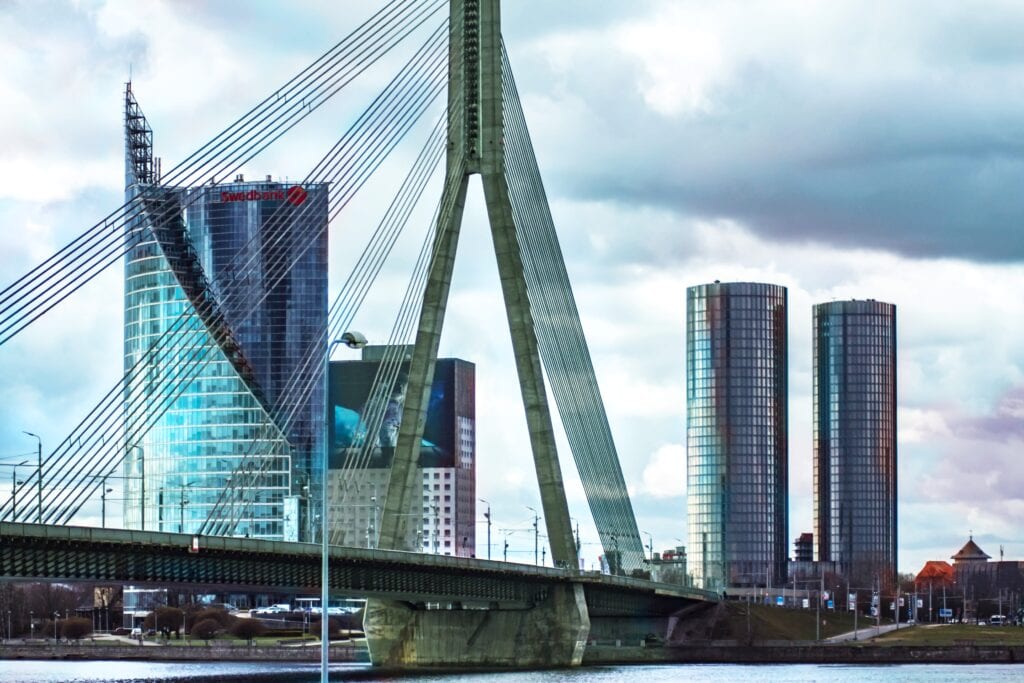 Cons of Being a Digital Nomad in Riga
Bad Weather 
The weather is definitely the worst thing in Riga. A gray cloud layer never gets tired of covering the city. When the winter comes, it usually brings cold, snowy, and windy, with an average low temperature of -8°C in January.
Its summer brings warm weather and tons of summer activities to the city. The average temperature in July is around 22°C, but it could reach as high as 30 °C.
Corruption
Corruption is the main problem that affects many factors, from its weak educational system, poor hospital infrastructure, and bad traffic, to the lack of rail services to Western Europe. Sadly, Riga and its fellow cities should have been more developed than nowadays.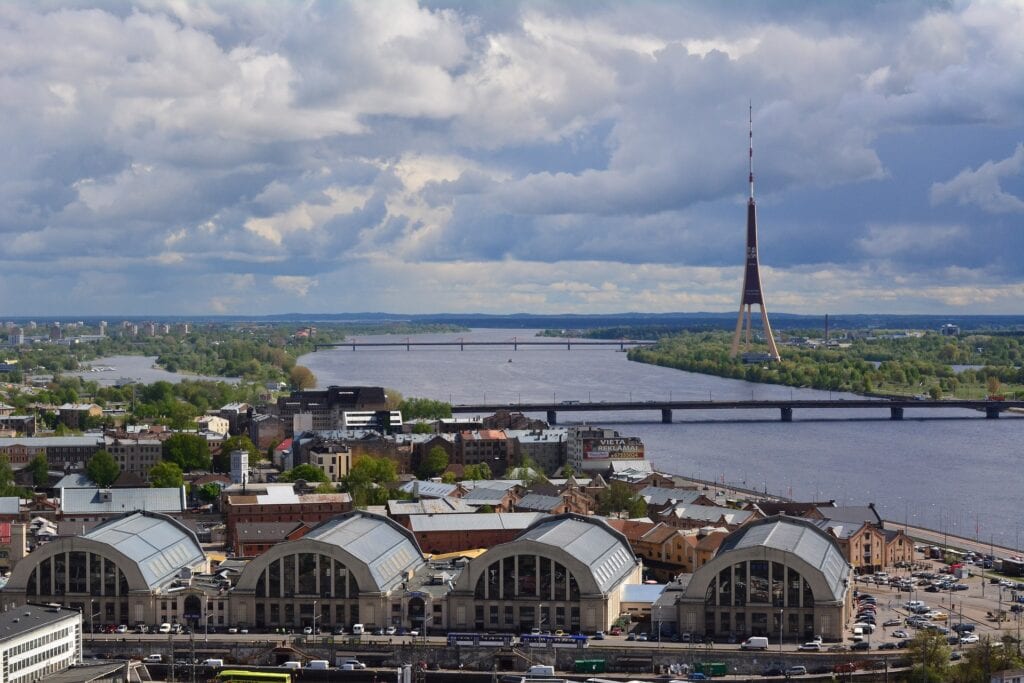 Things to Note
Visa Requirements
Latvia is part of the Schengen zone. If you are holding a Schengen visa, crossing its borders is simple. In contrast, citizens from many countries such as the United States, Canada, Australia, Israel, Korea, Japan, Hong Kong, and more are allowed 90 visa-free days in Latvia.
Citizens of EU member states as well as Norway, Iceland, Liechtenstein and Switzerland do not require a visa to travel to Latvia. The maximum duration of the intended stay is also 90 days within a 180-day period.
If you prefer to stay a little longer, a long-stay visa or a residence permit should be applied.
Make sure you have health insurance coverage for the entire duration of your stay. Companies like SafetyWing cover digital nomads with travel and medical insurance anywhere in the world even on trips back home.
How to Find Accommodation
There is a wide range of short and long-term accommodations, such as rental rooms, studios, and apartments, that could fit your requirement. You can start searching through the websites like www.rentinriga.lv, www.stayinriga.com, and estatelatvia.com.
Some of the well-known websites such as booking.com, Trip Advisor, and Airbnb also offer excellent rates, whether short period or extended stay.
Co-Working Spaces
There are tons of co-working spaces in Riga where you get to build up connections and enjoy super-speed internet.
Teikums
Teikums is a vibrant space located in the New Teika district, suitable for both solo and team workings. This place regularly hosts presentations, informative lectures, great workshops as well as entertaining movie nights. Digital nomads can utilize a shared office space or opt for a private one. Furthermore, there is also a spacious meeting room, including a fully equipped venue, which could host up to 100 guests.
OraculeTang Space
OraculeTang Space offers the best location right next to Riga cathedral. It offers two-floor areas with a fixed desk and a private office, featuring a well-equipped kitchen, high-speed internet, meeting room, phone booth, and personal lockers. A day pass is also available here.
The Mill
The Mill provides the spaces for the best developers, designers, and architects. It is situated at Tallinas street quarter, a perfect community for those in the creative industries.
Coworking Riga
Coworking Riga comes with wooden floors, huge windows, and comfortable sofas in a friendly atmosphere. It is the coziest co-working area in Riga, where you will get almost everything you need, from a roomy meeting room to a fully-equipped kitchen and a photo studio, including scanners and printers. A private garden will allow you to unwind with some fresh air during break time.
People Work
People Work is a great space with outstanding facilities for a remarkable creation. You could take either a seat by the hot communal desk or have your dedicated section. It offers a day pass as well as a nice private office and virtual office, which allows you to use the address remotely to receive correspondence. After work, you can stay fit and firm with its 24/7 gym.
The National Library of Latvia
The National Library of Latvia will immerse you in an environment so tranquil, so idyllic, that it allows you to concentrate your focus on the project. You could hop to the library as a visitor or register as a member, but keep in mind the rules you need to follow. There are designated lockers where you could store your belongings as it is not allowed to bring any bags and outdoor clothes inside. Although you have to keep your volume as low as possible, the spectacular view of the Old Town will amaze you throughout your time here.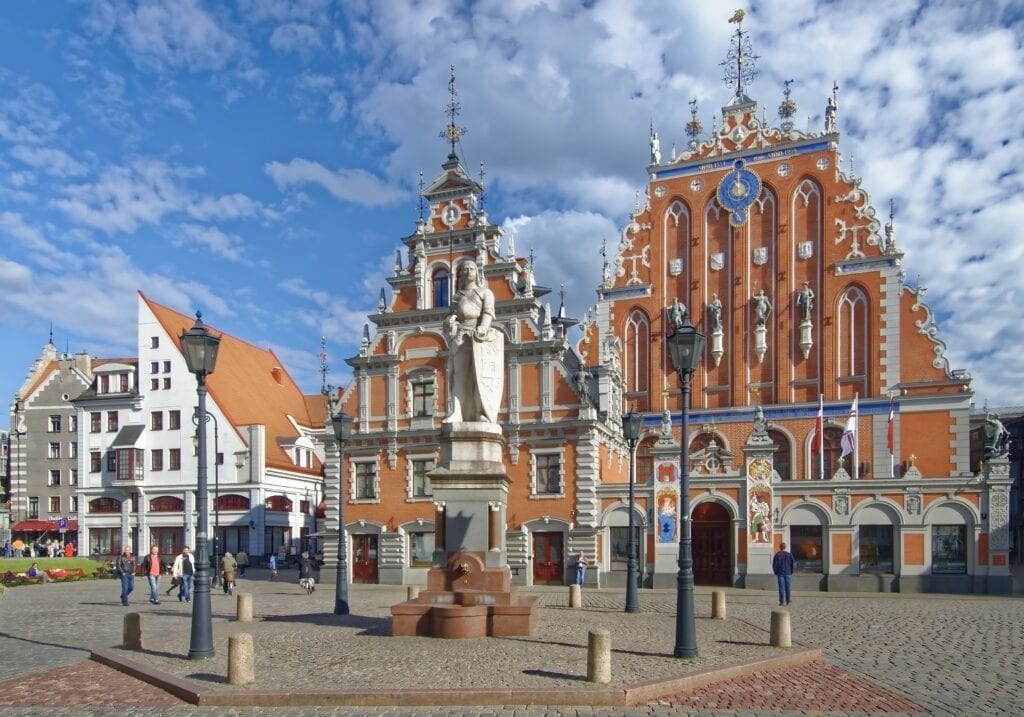 Conclusion
Many digital nomads fall in love with this beautiful capital city of Latvia, where there are tons of places to discover and activities to enjoy. The stunning art nouveau buildings, along with lush green parks and elegant avenues, will keep blowing you away again and again during your stay in Riga.
Even though this city is relatively small, you would be amazed by the beauty of culture and splendid architecture. A combination of peaceful ambiance and tranquil places makes Riga a great place to start up a new digital nomad life. If you would like to give Riga a chance, so pack your bag and fly to Riga, where a cool lifestyle is waiting for you.