Amsterdam is the capital and the most popular city in the Netherlands. We can say that Amsterdam is one of the most controversial cities in Europe, considering the free way in which citizens, but especially tourists, live their lives there.
Famous for its coffee shops, iconic canals, centuries-old townhomes, cobblestone lanes, houseboats, flower-adorned bridges and, of course, the Red Light District, Amsterdam attracts millions of tourists yearly.
The city manages to offer things to do, things to see, but above all, things to admire at every step and it can be a space where you, as a digital nomad, can recharge your batteries and find the determination you need to complete every task you have.
This article will give you an insight into what it is like to live in Amsterdam, the city of freedom. 
The cost of living in Amsterdam
Amsterdam is one of the 10 most expensive places to live in Europe, so you need to be ready to get big money out of your pocket for your stay there. 
From rent to food, Amsterdam can be a challenge for many. However, some options allow you to live for a period of time in this city so well known all over the world, without having to take a bank loan. 
To better understand the costs that Amsterdam has, but also to realise if it is a suitable city for your budget, we have analyzed each aspect separately.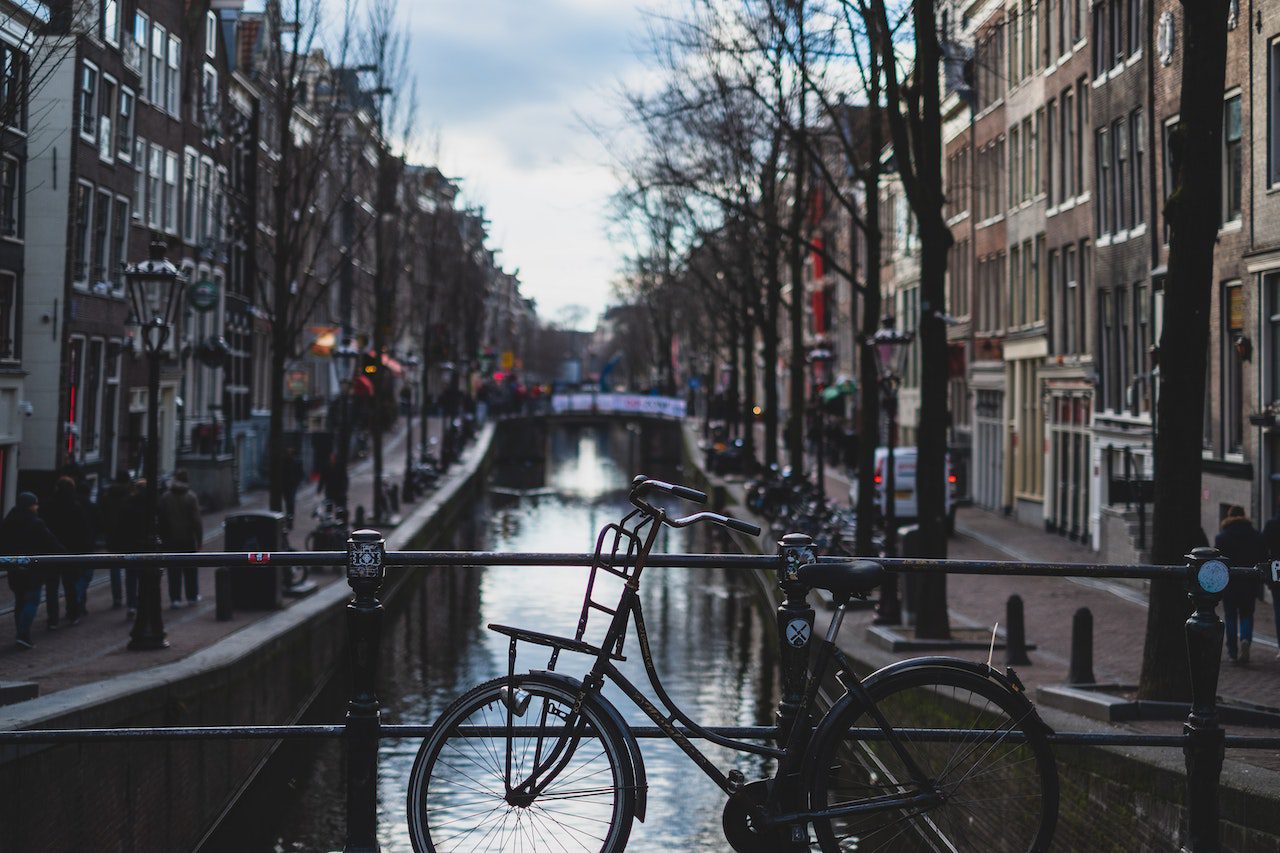 Accommodation Expenses
Probably, the biggest cost you will have to deal with in Amsterdam is the one related to accommodation. The average rent for a studio apartment in Amsterdam is 1,181 euros per month, the third highest in Europe.
If you want to rent an Airbnb, you need to know that you will have to pay about 800 euros for just a week, so it isn't the best deal you can get. 
The cheapest option you have is booking a bed in a hostel. If you want a centrally-located hostel, you will pay for a night between 15 and 30 euros per night for a bed in a dorm with eight or more beds. A dorm with a maximum of six beds will cost you up to 50 euros.
Of course, to enjoy Amsterdam it is not necessary to stay in the city centre. You can reorient yourself to an accommodation that is outside the city and that will cost you less. 
Also, you can rent a room in the cheapest neighbourhoods of Amsterdam, 15 minutes bike ride away from the centre. Amsterdam Zuidoost, Amsterdam Noord, Geuzenveld and De Aker are known for being affordable areas. 
Food Expenses
Amsterdam is not known for its gastronomy. Dutch food is quite simple, but you can find good food, although mostly fast food, at affordable prices. 
If you go to an inexpensive restaurant, you can have a meal for 18 euros, while a domestic beer will cost you around 6 euros. A meal at a mid-range restaurant will cost you up to 40 euros. You can also opt for street food and buy a pizza slice, shawarma, or falafel for 3 to 8 euros. 
Of course, the cheapest option you have is making your food, but if you are renting a bed in a hostel, this is not for you. 

Drink Expenses
Amsterdam is the city of pubs. You can find a coffee shop, a pub or a bar at every corner of the city, so you have a lot of options to choose from. 
Normally, domestic beer will cost you around 6 euros, while for an imported beer you will need to take out of your wallet around 5 euros. For a cocktail, you will pay around 12 euros.
Amsterdam offers you the opportunity to spend an evening in the city, without having to stay in one place. With a variety of bars and pubs, it's like the city is in a continuous party.
Transport Expenses
Amsterdam is all about great public transport and, also, the city has a wonderful bicycle infrastructure that is known all over the world. The best way to see the city is, for sure, by bike, so you can rent one for 10 euros per day.
Amsterdam has over 400 kilometers of bike paths, which means that it allows you to visit the city from one end to the other by bike, without needing another form of transport. 
Moreover, by 2030 Amsterdam aims to give up traditional cars altogether and be a city 100% dedicated to electric transport and, of course, bicycle transport.
If you are not that much into bikes, you can opt for public transport. Amsterdam has an impressive public transport network including metros, buses, trams, ferries, and trains to help you get around the city. A single journey in Amsterdam will cost you around 2.90 euros. 
Benefits of Being a Digital Nomad in Amsterdam
Considering the popularity of the city, Amsterdam offers a variety of cultures gathered in one place through the people who chose to visit it. 
Also, this city is about freedom, so you can be yourself without being judged by those around you. In fact, Amsterdam offers several benefits, and we are ready to present them to you.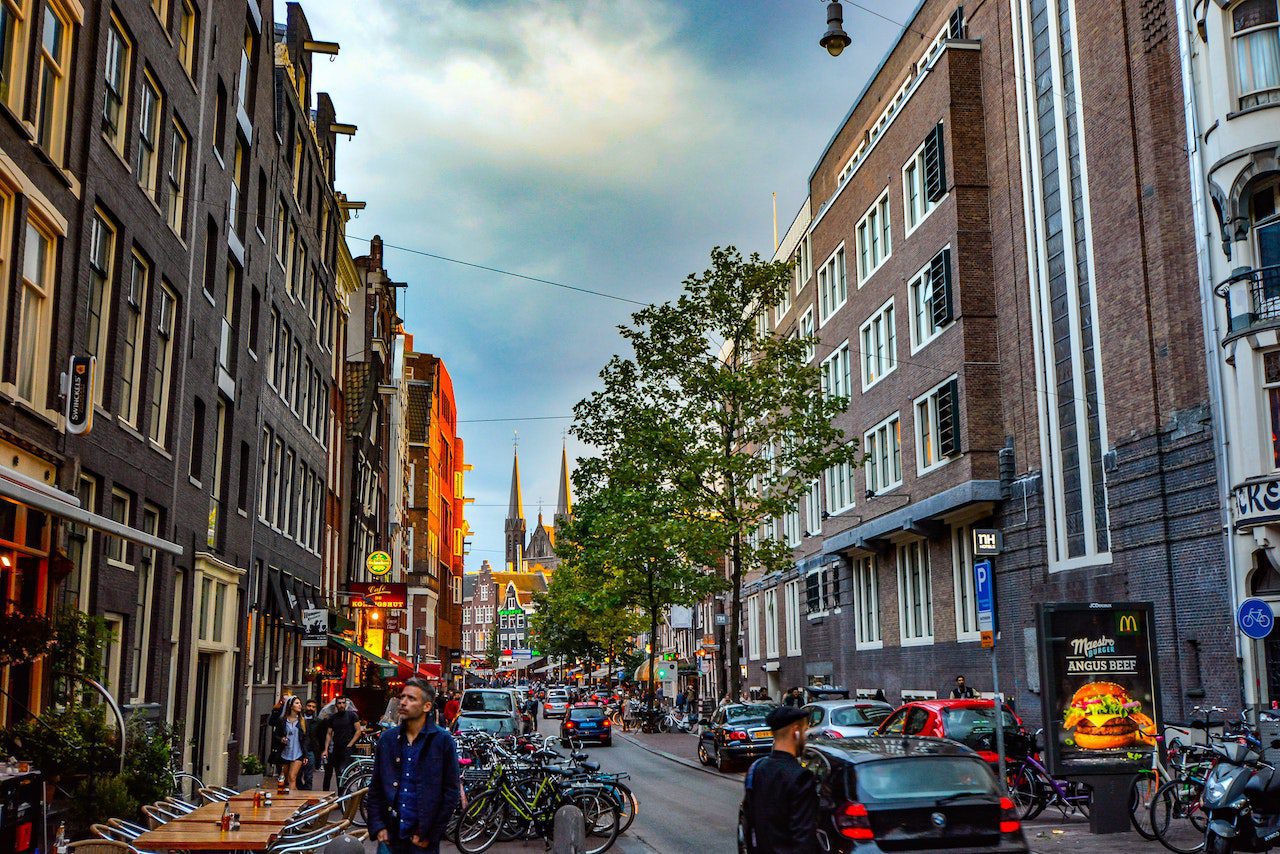 Excellent Location
If you choose to stay in Amsterdam, you are in a place that allows you to travel to many other places in Netherlands or Europe. 
You can travel by car to Belgium, Germany, or even to Denmark, or Amsterdam can be your starting point to other memorable places in the Netherlands, such as Haarlem, Terchelling Island, or Giethoorn.
World-class museums
If you go to Amsterdam, you will have the opportunity to go to some of the best museums in the world. 
From Van Gogh Museum to the Anne Frank House Museum, you have a lot to choose from. Besides the fact that you will have a nice way to spend your free time, you will also develop your general culture in a fun way. 
Who knows, maybe you will even find inspiration for your future projects.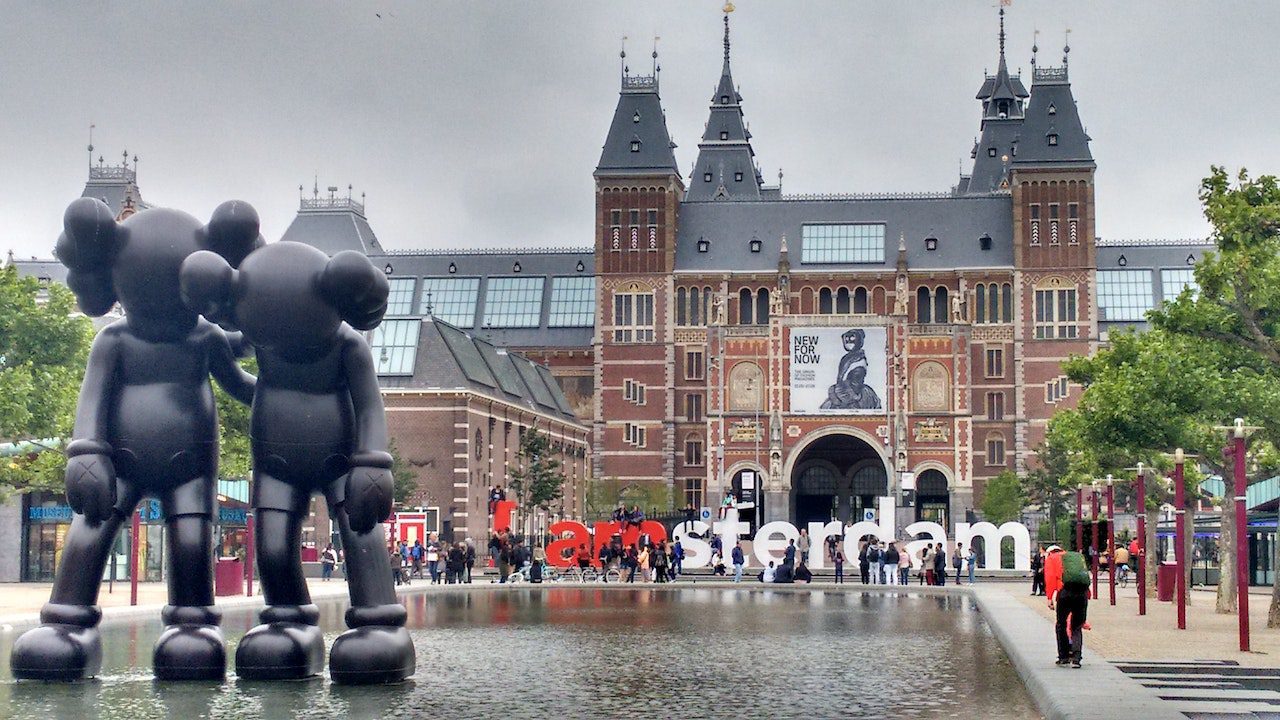 The city atmosphere
A large part of Amsterdam's magic lies in the people who step on its cobblestone lanes every moment. 
When you arrive in Amsterdam you will enjoy the general atmosphere of the city, which is in continuous movement. You won't be bored for a second, and Amsterdam's parks are a well-known meeting place for all the people of the city.
Negatives of Being a Digital Nomad in Amsterdam
Like any popular city, Amsterdam also has some negative aspects that you must take into account before starting your adventure as a digital nomad there.
However, these disadvantages are small compared to the joy you will feel on the historic streets of the city.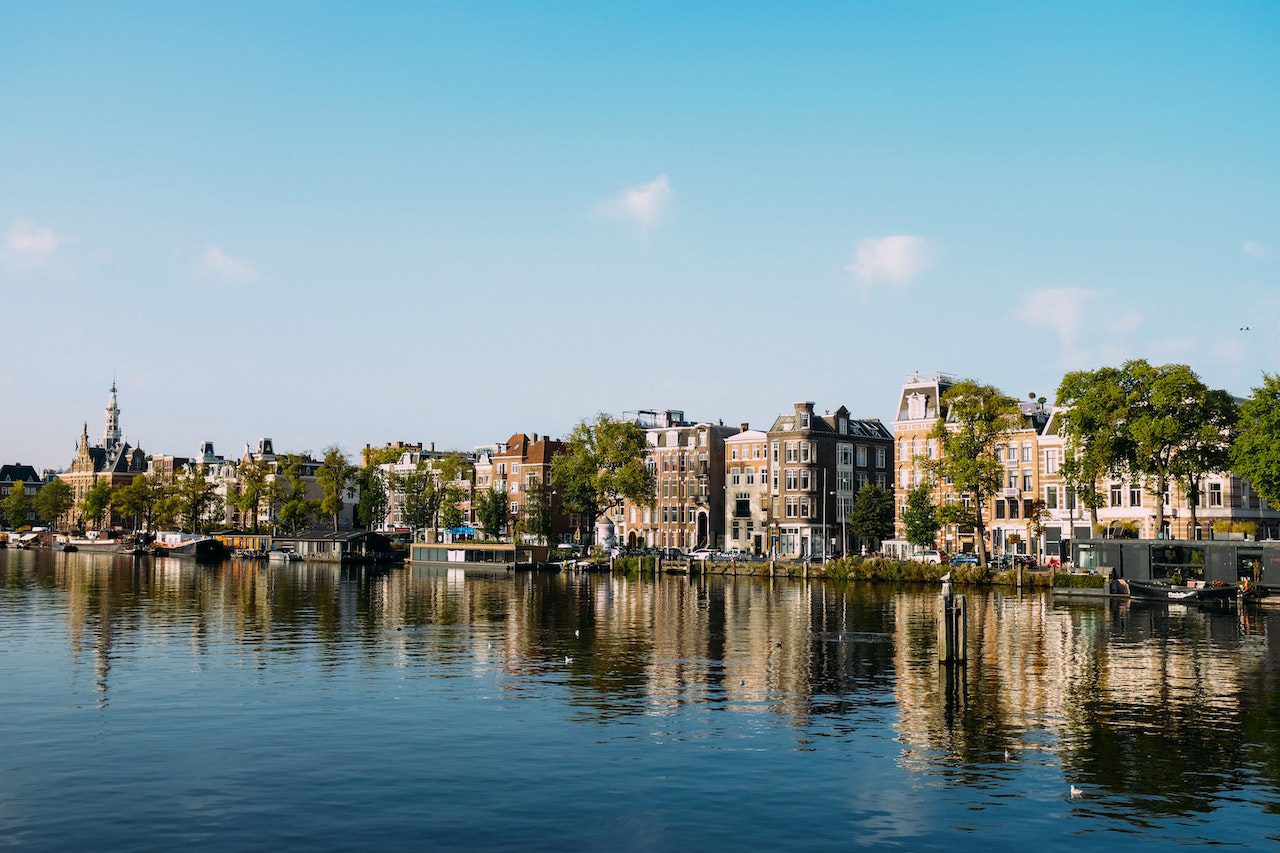 Expensive City
One of the biggest disadvantages when it comes to Amsterdam is related to the high prices that you will encounter everywhere, starting with accommodation.
Amsterdam is not a friendly city for all travel budgets, but if you are determined, you will find some options that will allow you to live in the city for a while, even if not in the centre.
Slow Pace
Getting over the fact that a slower pace means that the city is quite relaxed.
During the week, shops close at 6 pm. 
Also, if you want to shop on Sunday, you will be out of luck, because there's little chance you will find something open. 
Busy City
Even if a large number of people on the streets of Amsterdam give life to the city, it can be annoying to see a bunch of people at every corner.
Also, this large number of tourists will make it difficult for you to find a free table at a restaurant and you will probably have to stand in endless queues to visit each tourist attraction. 
Other things to consider
When you go to a city as crowded and as full of vitality as Amsterdam, there are several aspects that you have to take into account. From the big number of people that you will meet everywhere you go to the weather, everything is important when you plan your trip.
Like in any destination in the world, it is highly recommended to have a valid health insurance. Providers like SafetyWing offer travel and medical insurance to digital nomads. Their 'Nomad Insurance' is covering your stay in The Netherlands (and anywhere else in the world).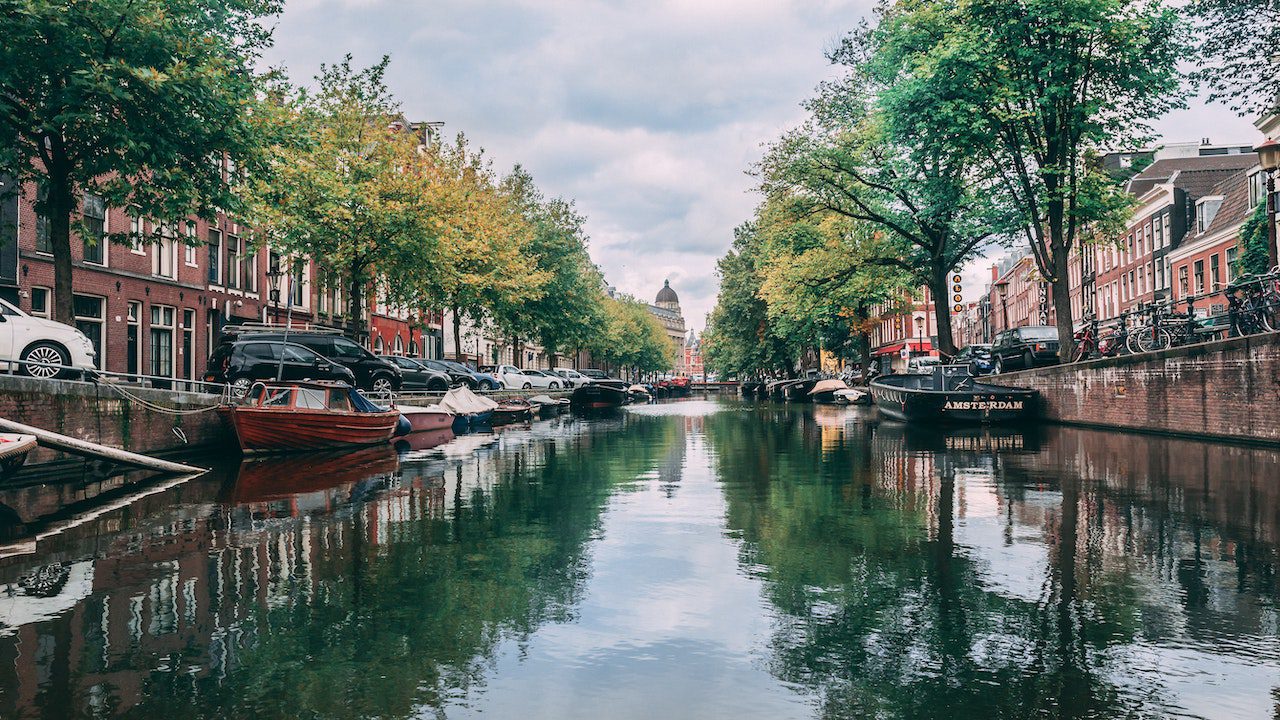 Lock you bike
Because we have mentioned several times the fact that you will meet many people at every corner, we will focus on another disadvantage that these crowds of tourists come with. 
If you have a bike of your own or if you will rent one, you need to make sure that your bike is locked when you are not nearby. If you forget to lock your bike, it will most likely be stolen. 
Cold weather 
The weather is not exactly warm in Amsterdam. Well, this summer there were some record temperatures, like everywhere else, but, normally, throughout the year, the weather is quite cold. 
If you want to live in Amsterdam for a while, it is important to take in your luggage clothes suitable for the cold weather. In September, the maximum temperature is 19  degrees Celsius, while in October, the maximum temperature is 15 degrees Celsius.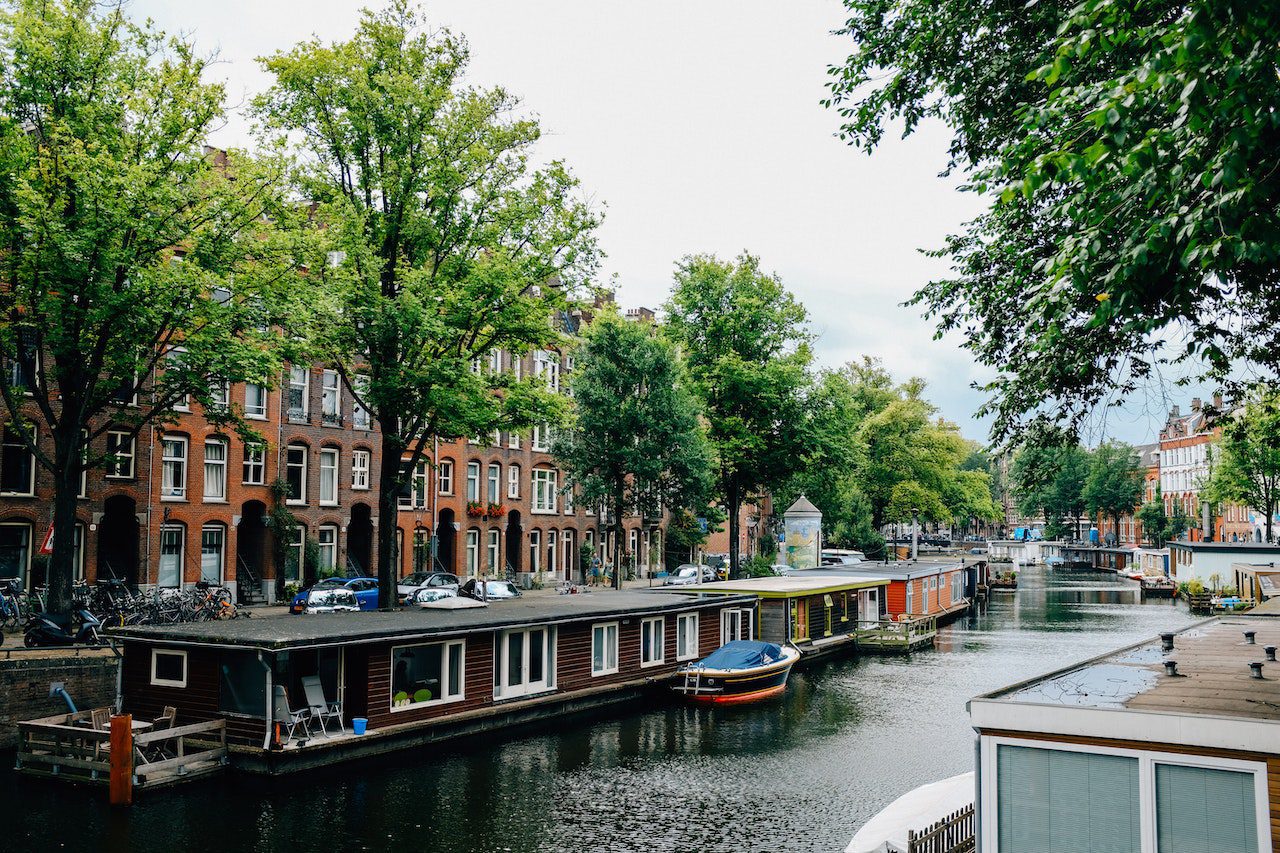 Coworking Spaces
We cannot forget that you are a digital nomad, which means that you need working spaces, especially if you are staying in a hostel. Next, we have prepared a list of the most interesting and welcoming places to work throughout the week.
Spaces Vijzelstraat
Spaces Vijzelstraat is located near public transport and it is a great space to work in. This coworking space offers everything you need, apart from a bicycle parking lot, which is a bit strange, considering that you are in the city of bikes. The Spaces Vijzelstraat coworking space includes:
High-speed wifi

Fully-equipped meeting rooms

Great networking events

Awesome terrace view

Game room
WeWork Weesperstraat
WeWork Weesperstraat has one of the greatest locations, given the fact that it is right beside the canal, with big windows, so you can admire the beauty of Amsterdam while working. The WeWork Weesperstraat coworking space includes:
Nice view

High-speed wifi

Free coffee and beer

Dog-friendly space

High-quality events
B.1
Another coworking space on our list is B.1, which can be the perfect space for you and your laptop, with all you need within reach. The B.1 coworking space includes:
Friendly staff

High-speed wifi

High-quality events

Rooftop restaurant

Gym membership
StartDock Coworking Herengracht
StartDock Coworking Herengracht is the last coworking space on our list. It is right beside the canal and close enough to the Vondelpark. The StartDock Coworking Herengracht coworking space includes:
Friday afternoon drinks

High-speed wifi

Fully-equipped kitchen

Conference rooms

Luggage storage
The Verdict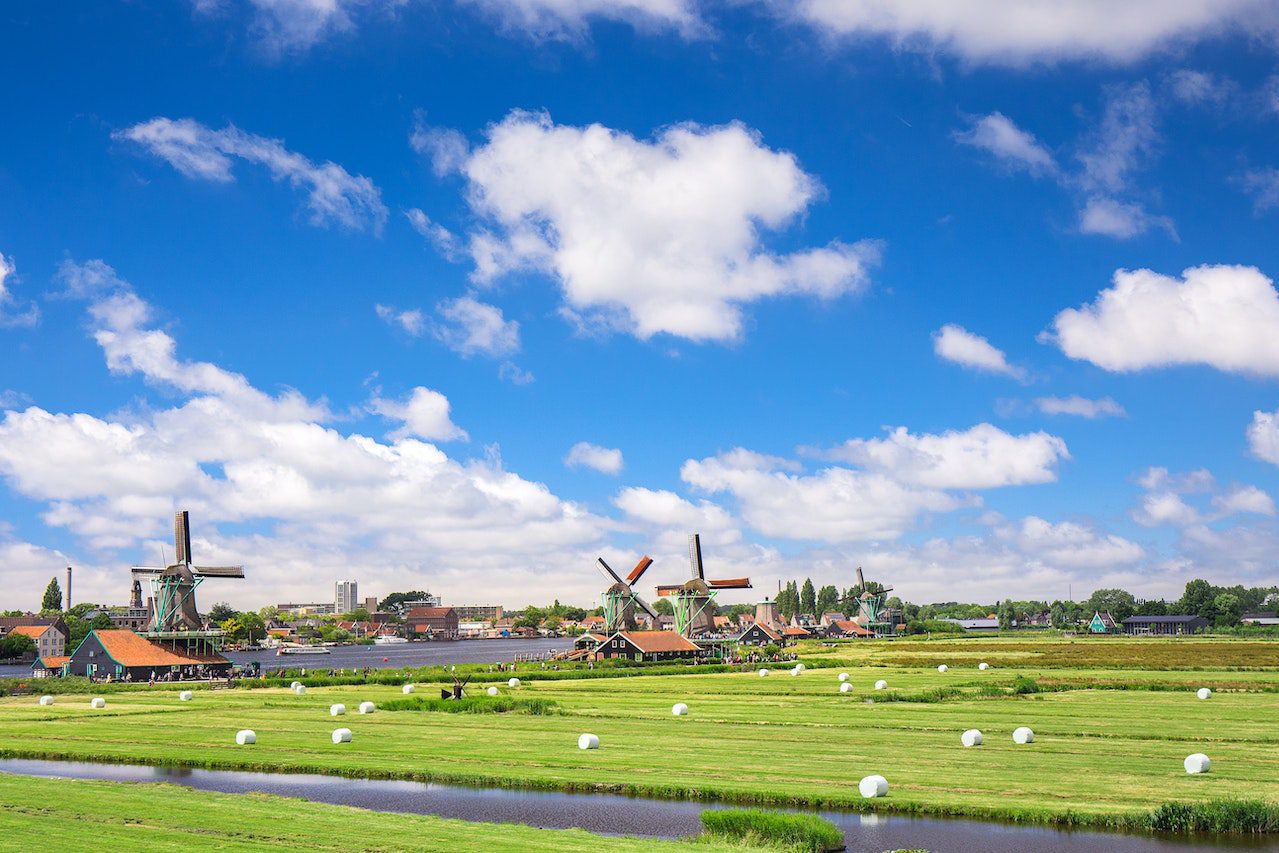 Amsterdam is a complete city, with an impressive culture, with a lot of museums, parks, architecture that takes your breath away, and canals that invite you to admire them. Moreover, the city seems to have been designed for digital nomads, with a lot of coworking spaces. 
However, as we have seen, such a touristic city also comes with some disadvantages, the biggest of which is related to the cost of living. 
You will have to search a lot until you find accommodation at a decent price, but the joy of walking the streets of Amsterdam, as well as visiting other legendary places in the Netherlands, will be worth every penny. 
Amsterdam is a city of contrasts. You will find civilization, but you will also need to be careful not to get your bike stolen. You will find relaxation, but you will meet tourists at every step. You will get by a lot of shops, but all of them will be closed after 6 pm during the week.
Without a doubt, Amsterdam is a really interesting city, which you will fall in love with, no matter what aspect that attracted you to this place for the first time.