Buenos Aires, the capital of Argentina, feels a lot like a thriving European city, but with distinctive Latin flair and a much more affordable cost of living.
Buenos Aires itself is a melting pot of creatives from the region of the world, so there is always something new, exciting, and different to encounter in the city. Located near the centre of the continent, it is also an ideal base for exploring surrounding regions, which have everything from green hikes, surf-friendly beaches, colonial cities, and even glaciers.
More than any other city in South America, Buenos Aires also has a thriving digital nomad and expat community. It is better equipped to meet the needs of international remote workers than many other places. Argentina is even starting to exploit this fact by offering special visas for digital nomads that will allow them to stay for up to 12 months.
Read on for everything you need to know about digital nomad life in Buenos Aires.
Cost of Living in Buenos Aires
It is worth noting that the Argentinian peso is a volatile currency and is steadily dropping in value, almost on a daily basis. For this reason, it is a good idea not to convert too much of your money into the local currency, as it will literally lose value overnight.
The dropping value of the peso was most obvious to me every time I went to use a bank machine to get money out from my international account. Each time the fee for withdrawing funds was just a little more. There are also limits on how much you can withdraw at a time, ostensibly as a security precaution.
Many proprietors will be more than happy to receive US dollars if you have any on you. If you are negotiating for a larger purchase, this can give you a significant edge.
Accommodation Expenses
When you arrive in Buenos Aires, there are plenty of hostels and co-living spaces in popular areas of the city. You can expect to pay around $20 per night. If you are only staying for a short period, you might be very happy here. They also make a great base for meeting people and finding more long-term accommodation as you get to know the various parts of the city.
When you decide to find your own place, expect to pay $300-400 per month for a decent size place within the city. But be aware that if the host knows that you are a foreigner, they might expect you to pay more. If you have local friends, enlist their help to get a place at local rates. You can also look on expat Facebook pages and similar groups for affordable accommodation.
Food & Drink Expenses
Eating out at local Parrillas is attractive and affordable. You can expect to pay less than USD10 for a meal, and less than USD2 for a beer. But while this is affordable, it is not necessarily good for your health. As is true in many parts of the world, if you find a restaurant that features healthy salads and homemade Kombucha, expect it to be more expensive.
Groceries are affordable if you have the facilities to cook for yourself. Milk costs less than US1 per litre, and you can get a dozen eggs for about the same cost. Fresh produce is available and affordable, and Argentina is also a big beef producing nation, so red meat is on the menu.
Of course, Argentina is also a big wine-producing nation, and you can enjoy good quality local wines for around USD3 per bottle. As well as sampling the wine, make sure to try Fernet, which is a liquor that locals drink mixed with Coca-Cola. While it is not to everyone's taste, it is something that you must experience in the city.
The other drink that you will always see in Buenos Aires is Mate, which is a caffeine-rich tea-like drink that is made from soaking dried leaves from a holly species in hot water. You will see people drinking it out of small bowls made from a gourd and sipping it through a metal straw. While Americans drink coffee, this is the fuel that gets most Argentinians through their day.
Transport Expenses
Buenos Aires is a highly navigable city, and it is easy to get around, thanks largely to its subway system, called the Sube. You can get a touch card almost anywhere in the city, they are widely sold. Each ride costs less than USD1. The network runs until about midnight and covers most of the city with its six lines.
There are plenty of buses to get you to your final destination if you don't want to walk from the subway. Dedicated bus lanes mean that they are quite fast.
Uber is active in Buenos Aires, and there is an increasing number of drivers as car owners try to bolster their income in a failing economy. Taxis are also affordable, costing around USD0.20 per kilometre.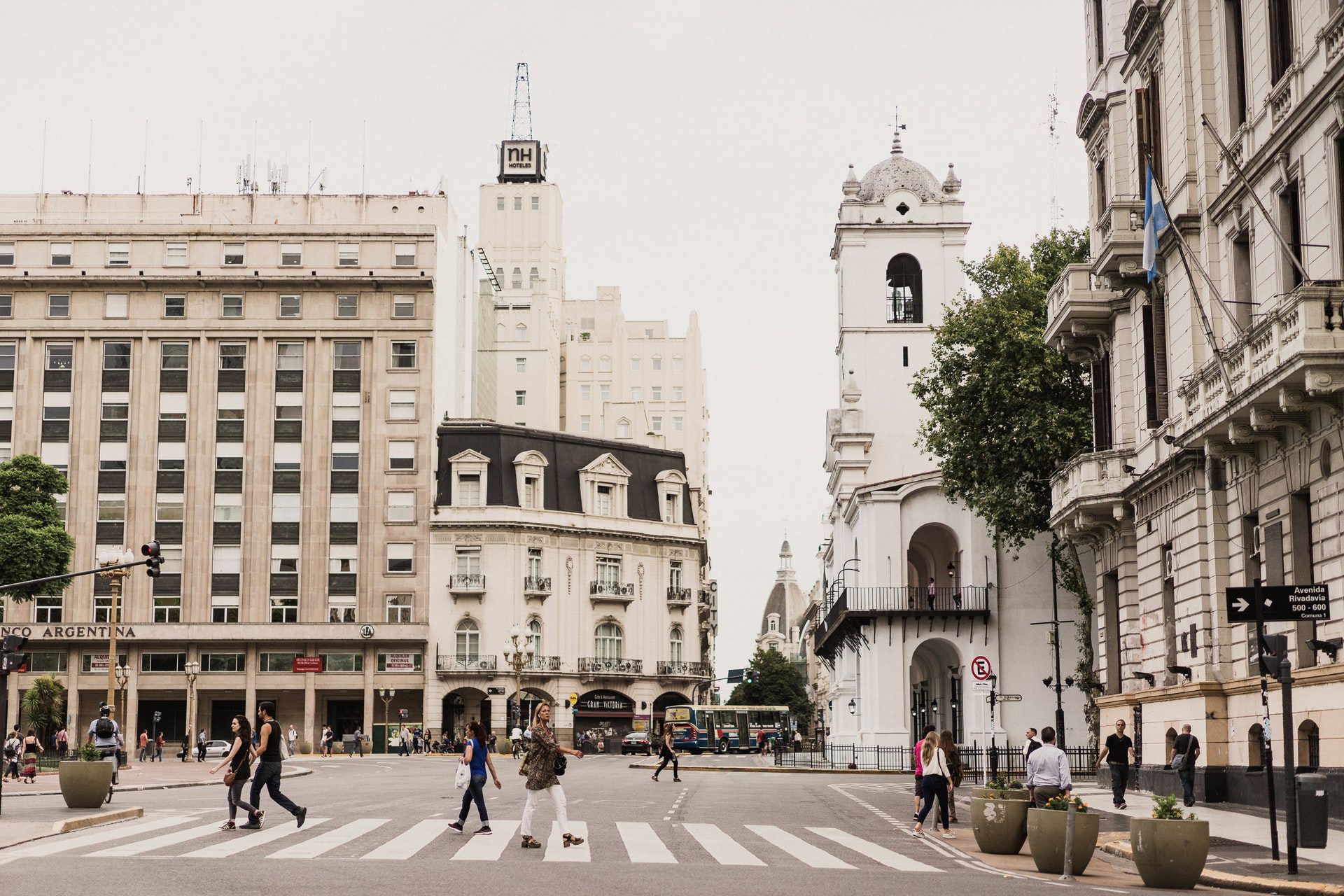 Shopping
In most South American cities, you will find that while you can buy local, if you want anything imported it is almost impossible to find. This is not true in Buenos Aires, where you can find almost anything. But be aware that if you want anything imported, whether it be brand name clothing or electronics, it will be at least as expensive as back home. The weakness of the currency pushes prices up.
What Buenos Aires is good for is second-hand and antique shopping. Argentinians never throw anything out, and anything that a person no longer needs will turn up in the markets of Buenos Aires. Clothes, household items, and even old family photos, you can find anything. Start at the Mercado San Telmo.
Leather goods are also highly affordable in Buenos Aires since it is a big beef breeding country. Argentina is also rich in rhodochrosite, a distinctive rose-coloured gemstone, and you can find affordable jewellery made from the material.
Benefits of Being a Digital Nomad in Buenos Aires
Cultural Hub
Argentina has a vibrant culture, and the capital attracts people from all over the country, and further afield, that have creative ideas. The city is a melting pot, and you will never run out of things to do. It is a great balance of tradition, including Tango schools and second-hand markets, as well as modern art installations and unexpected fusion cuisine pop-ups.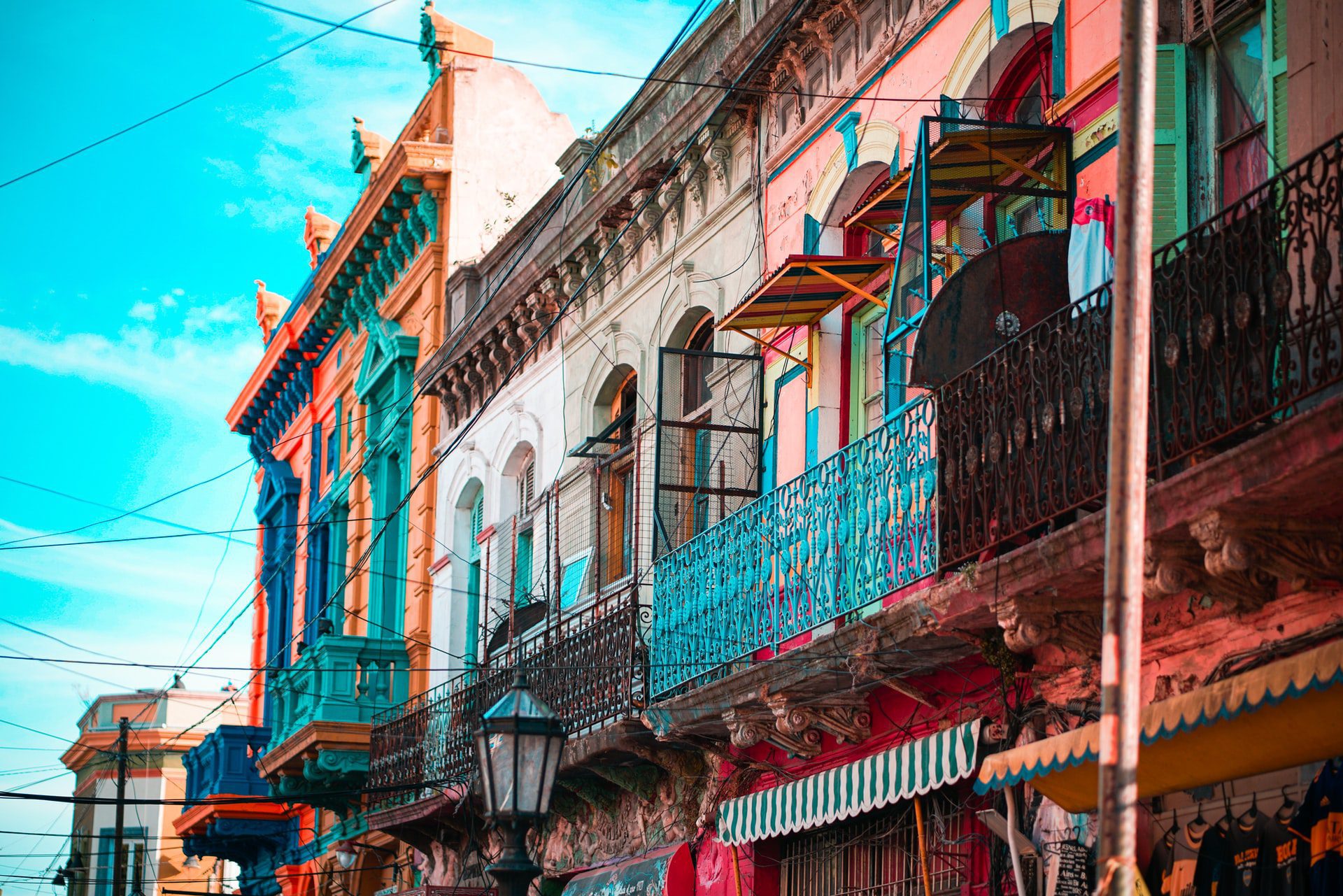 Low Cost of Living
Despite being one of the biggest and most vibrant cities in South America, Buenos Aires is also one of the most affordable cities (especially when compared to places like Rio). Be aware that locals may have a tendency to apply a "tourist tax" when dealing with foreigners. While this may be acceptable in some situations, make sure you are aware of what fair prices are so that you don't get ripped off.
Large Expat Community
Buenos Aires is home to a large expat community, something that some digital nomads consider a positive, and others consider a negative. Of course, when exploring a new country, you want to get to know the locals, but there is no denying that always being "the outsider" can be draining. Being able to connect with other expats that have a similar experience can certainly help lighten the load.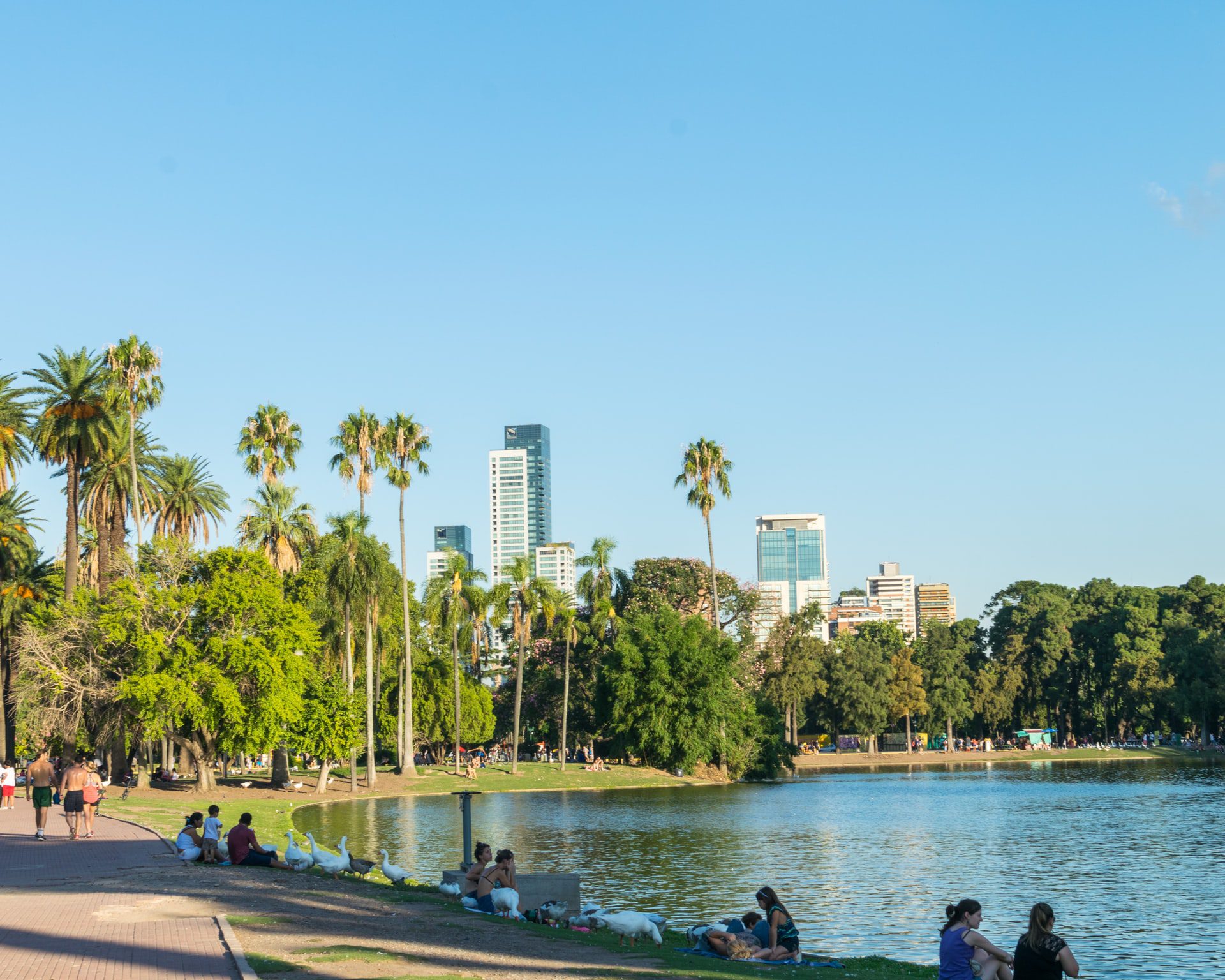 Digital Nomad Facilities
Generally speaking, South America doesn't have the kind of internet and coworking facilities that digital nomads from Europe and North America are looking for. Buenos Aires in an exception. There are scores of coworking spaces, and a decent internet connection at your home won't cost you the earth. Need new parts for your laptop? You will actually be able to find them here, unlike in many other South American countries.
Excellent Travel Base
Buenos Aires is centrally based in South America and is also one of the continents biggest travel hubs, offering connecting flights from abroad to destinations in many of the neighbouring countries. This makes Buenos Aires the ideal place to set yourself up and then spend a weekend in Uruguay, long weekends away hiking in Chile, a week in Patagonia, and two weeks soaking up the sun in Brazil.
Negatives of Being a Digital Nomad in Buenos Aires
Heavy Urbanization
Metropolitan Buenos Aires has a population of around 13 million people, and it is growing quickly. Any city of that size faces the challenges of traffic, pollution, and petty crime. Buenos Aires is no exception. If you are looking to get away from the hustle and bustle of city life back home, Buenos Aires may not feel like a relief.
Currency Fluctuations
The volatile currency in Buenos Aires makes life difficult to predict. You may find your landlord increasing you rent on a monthly basis just to maintain their income. If you are earning in another currency and living in Buenos Aires, this can work in your favour, but if you are earning in the local currency, you are sure to feel the pinch before too long.
Other Things to Consider
Visa
You can enter Argentina on a standard 90-day tourist visa and then just pop over the border into one of the neighbouring countries to get a new entry stamp. But the government has also recently released a special visa for international remote workers. This visa will allow digital nomads to stay for up to 12 months and comes with perks attached such as discounts and benefits at popular co-working spaces.
For the visa, you need to have health insurance coverage for the duration of your stay. You can get both travel and medical insurance specifically for digital nomads from SafetyWing. They cover you all over the world, even on your trips back home.
Language
Argentinians speak Spanish, but with a distinctive accent that almost makes them sound like Italians speaking Spanish. Personally, I loved this and thought that it made the locals easier to understand. But it can be a shock at first. You will probably encounter more people in Buenos Aires who also speak English than you will in other parts of South America.

Where to Stay
Buenos Aires is a big city, so where you choose to live matters. Do you want to be in the thick of coffee houses and night spots, or do you prefer a leafy green neighbourhood where you can get away from it all? The following are the best neighbourhoods to call home in Buenos Aires.
Palermo
Split into Palermo Hollywood and Palermo Soho, these hipster neighbourhoods are popular with expats and young entrepreneurs. Pretty neighbourhoods with old buildings and green plazas, there are also plenty of restaurants, cafes, and nightclubs for entertainment.
San Telmo
Located right in the centre of the city, this is an old bohemian neighbourhood with cool cafes and tattoo parlours housed under the same roof. You can explore a lot of the historic city from here, and markets and other activities are always happening.
Recoleta
This is one of the more affluent neighbourhoods in the city and is great if you like to spend time walking. It is sometimes described as feeling like the streets of Paris. This is also where you will find luxury hotels and old mansions.
Villa Crespo
This is a quieter, more residential corner of the city that feels a bit more like the "real" Buenos Aires. You are close to the bars and restaurants of Palermo, but also local eating spots and shops.
Co-Working Spaces
Buenos Aires has lots of co-working spaces that you can call your professional home. But one of the other things that stands out about the city is its awesome café cultures. The people here love their coffee, and most cafes have strong internet and a welcoming attitude when it comes to workers. If you prefer the vibrant atmosphere of a coffee house, there are plenty to explore.
Here are some of our favourite coworking spaces in Buenos Aires, but is only a sample of the scores that are available, and more are popping up every day.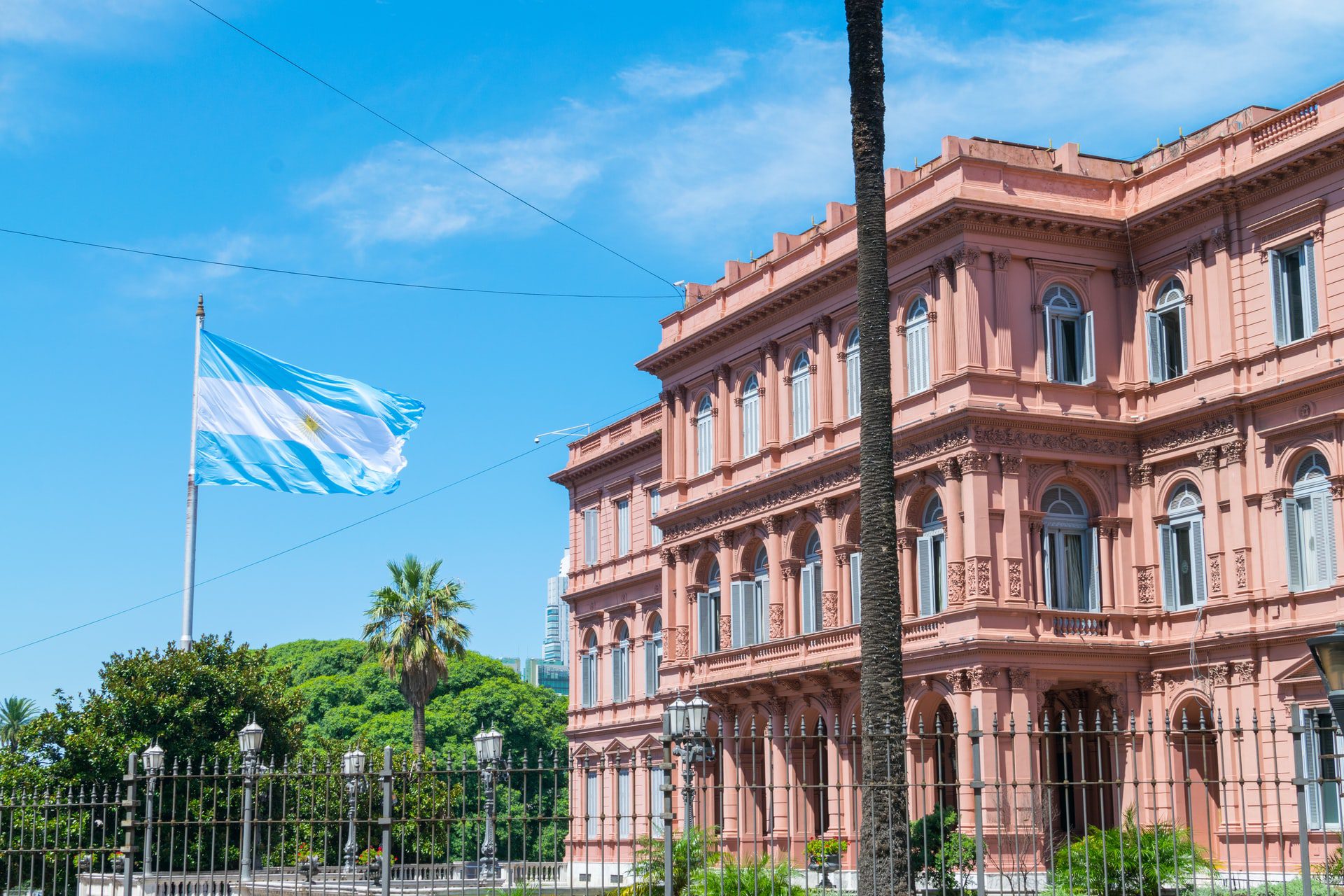 Huerta Coworking
Located in Palermo Hollywood, this space is surrounded by cafes, bars, and restaurants when you want a break. It is fully equipped with everything from printers to conference rooms, and there is a fully equipped kitchen if you don't feel like venturing out. There is even an organic vegetable garden on the roof.
Urban Station
Urban Station has four locations in Buenos Aries. But they aren't replicas, each has a unique vibe. There are different types of working areas depending on whether you need to do deep work, conference calls, meetings, or maker work. As well as fast internet there is printing, coffee, and snacks available. Expect to pay around USD60 per month.
Origen
This coworking space in Palermo Soho is tucked into a restored colonial building, offering a fine working atmosphere. There is even a large patio and covered terrace for working on summer days. The space works hard to build a community and not just offer space, so you may find your next business partner here.
Manawa Coworking
Manawa has two locations, in Palermo Sogo and Palermo Hollywood, that are clean, comfortable and affordable. Both locations offer free coffee, lockers for frequent users, and both indoor and outdoor working spaces for your comfort. Prices start from AR$700 per day (remember that is about USD7).
Doers Coworking
This space is almost an hour out from the city centre located in Ramos Mejia, an old colonial neighbourhood that has become a major commercial centre. This space is great for a work retreat as it has activities such as karaoke, darts, and ping pong tables, along with the essential work necessities.
The Verdict
If you are keen to explore South America as a digital nomad, Buenos Aires may be the perfect base that you are looking for. It combines a high standard of living with highly affordable prices, which is what many digital nomads are looking for.
There are plenty if internet cafes and coworking spaces for when you are on the clock, and a vibrant culture and nightlife for when you are off the clock.
Centrally located in the continent and a major transport hub for South America, from here you can explore the surrounding countryside and the surrounding country with ease. Plus, new visas make visiting Argentina more attractive than ever.