Sydney is one of the world's most naturally beautiful cities. Situated on the east coast of Australia, Sydney is home to over 5 million people.
The city is famous for its incredible Syndey Harbor, one of the most famous places on the planet. Notorious for the New Years' Eve fireworks, it's the most spectacular harbor in the world. Other infamous landmarks include the Sydney Opera House and Bondi Beach.
Although the city isn't the capital, it is the biggest city in Australia. And the only city that's close is Melbourne, which has a similar population.
The city is known for its fabulous weather, world-class beaches, and its strong economy. Sydney also has an array of great suburbs and is one of the world's most multi-cultural cities.
There are many great reasons for choosing Sydney as a digital nomad hotspot.
This article is a guide to living in Sydney, Australia, as a digital nomad.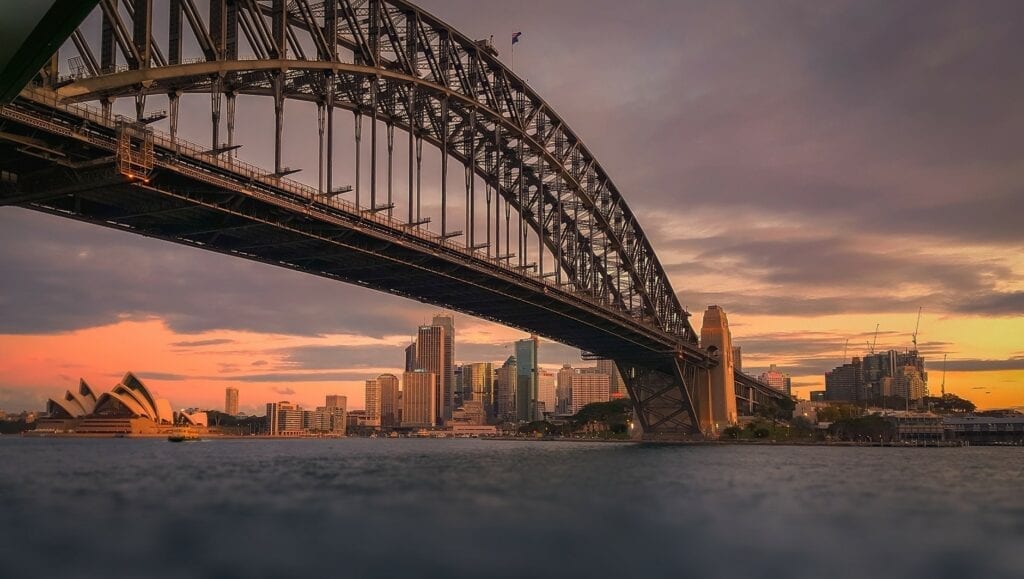 The cost of living in Sydney
Sydney is one of the world's most expensive cities. It's considerably more costly than most other digital nomad hotspots around the globe. And more expensive than most European digital nomad destinations.
The Australian Dollar (AUD) remains a reasonably strong currency in the world. It isn't as strong as the top western currencies GBP, USD, and Euro. But it's stronger than most currencies.
As of December 2020
1 AUD = 0.56 GBP
1 AUD = 0.76 USD
1 AUD = 0.62 Euro
Living costs in Sydney reflect the fact that it's one of the world's wealthiest cities.
It's regularly voted in the top ten most expensive cities in the world.
Accommodation Costs
Sydney is home to a variety of different accommodations. As a digital nomad, you still stay in a wide variety of accommodations. Sydney has many hotels and Airbnb, and you'll never struggle to find accommodation for the short or long term.
Renting in Sydney is relatively easy. Landlords can be quite lenient on proof of earnings and contracts. You can find some excellent deals on cheaper housing in the suburbs near the CBD, such as Glebe or Kings Cross. Some landlords want tenant checks and contracts, and some don't. However, on the whole, renting in Sydney is very expensive. It's the most significant expense of living in Sydney.
Hotels are expensive in the city. You will struggle to find hotel rooms for less than 50 USD per night. And those are budget hotels with poor wifi and low amenities. It's possible to find nice hotels around the city for 80 USD per night if you find the right deal. However, the average price for a hotel room in Sydney is 90 USD per night.
Air BnB's are expensive, with the average price at 100 USD per night. Although you can find some fantastic deals on the city's outer suburbs, air BnB is far more expensive than many other digital nomad hotspots.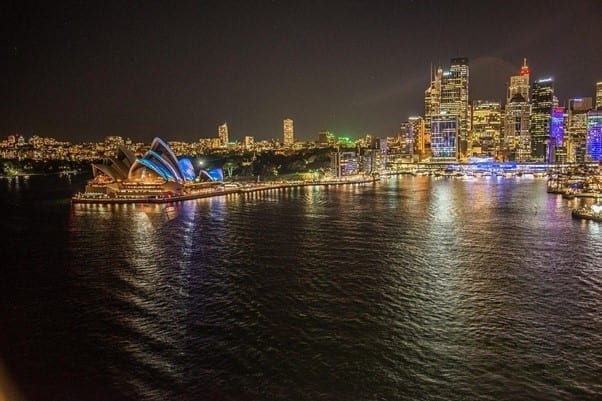 Food Expenses
Eating out in Sydney can be very expensive. But you can find some fantastic cheap eats around the city. And Sydney is an absolute hub of international cuisine, especially Asian food.
Sydney has many supermarkets that offer reasonable prices. And there are three leading supermarkets in the city, and these are Coles, Woolworths, and Aldi.
You can expect to spend up to 100 USD per week on Sydney's food if you purchase from supermarkets. If you're eating out, it will be considerably more than this.
Drink Expenses
Sydney has a vast amount of pubs in the city. And you can expect to pay around 7 USD for a pint of beer. Popular beers include Carlton Draught, Tooheys New, and VB.
The nightlife in Sydney is around the CBD. And decent nightlife in some suburbs outside of the CBD, such as Newtown, Kings Cross, and Bondi.
A night out in Sydney can be expensive, and you can expect to spend up to 100 USD easily in the city. There are student nights in the CBD where prices of drinks drop considerably. That is a great time to have a night out.
Transport Expenses
Sydney transport is probably the cheapest expense out of the main ones. Transportation is less expensive than rival cities in NYC and London. You should purchase an opal card that will cut costs.
One of the best things that Sydney has is cheap Sunday fares. On a day, the NSW government caps fares at 2.60 AUD for an entire day. That means you can get anywhere in the city or the surrounding areas for just 2.60 AUD. On an average day, the same trips would cost 5-6 times more.
Benefits of being a digital nomad in Sydney
Great weather
The weather in Sydney, Australia, is superb. And the city has a typical subtropical climate. Summers are long and hot, with temperatures regularly reaching 30 degrees during the day.
The humidity is very high during the summer. It feels like you're in the middle of Southeast Asia, and humidity regularly exceeds 80%.
But the winters are long, dry, and mild. Temperatures are rarely under 18 degrees during the day, and the days are often very sunny. It's an absolute stark contrast to winters in Europe and the USA.
You can expect to wear shorts and t-shirts from October to March. And the great weather leads to a fantastic outdoor lifestyle that makes Australia famous.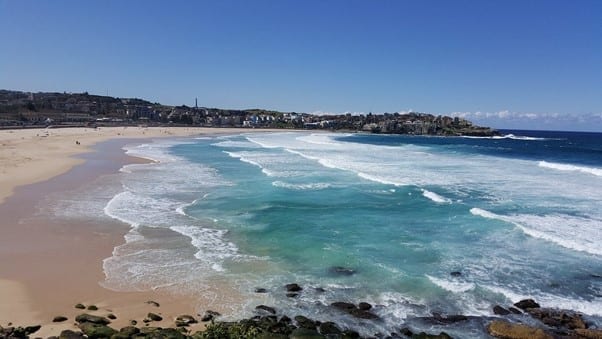 The excellent outdoor lifestyle
Sydney is arguably the most naturally beautiful major city in the world. It has an endless array of outdoor things to do.
Sydney's eastern suburbs are synonymous with excellent world-class beaches. The most famous beach is Bondi Beach. But other beaches such as Bronte Beach, Coogee Beach, and Marooba Beach are just as great.
Some of the most beautiful beaches are in the north of the city. And it's home to Palm Beach, which is famous for being the filming location of Home and Away.
But perhaps the best thing to do in the city is hiking. Beautiful national parks surround the city, such as the Royal National Park and the Blue Mountains. These are stunning national parks with excellent hiking opportunities.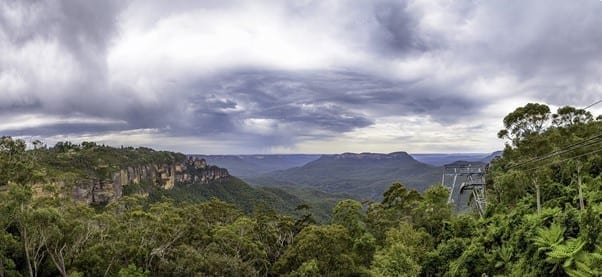 Fantastic weekend getaways
There are some fabulous weekend getaways around the city. Local favorites include Jarvis Bay, Blue Mountains, and Port Macquarie.
Jervis Bay is a three-hour drive south of Sydney. And it's home to the whitest sand in the world; Hyams Beach has sensationally white sand.
It's relatively easy to take a short drive out of the city to many quaint coastal towns perfect for surfing and relaxing.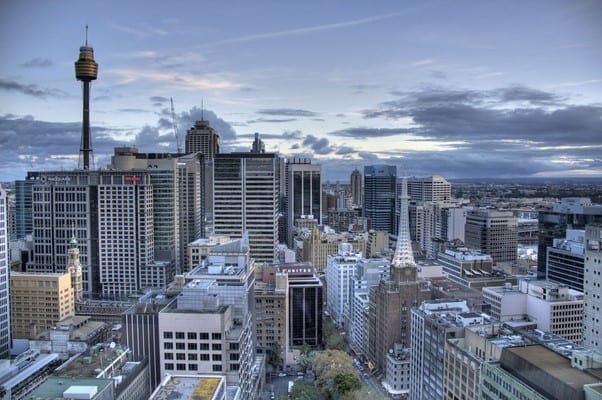 High Standard of Living
Sydney has a very high standard of living. If you have a reasonable budget, you can take advantage of the excellent standard of living.
You will always have excellent access to the world's best healthcare. The city has everything that you would expect from a developed first-world country. It has a robust infrastructure, conveniences, and an efficient way of life.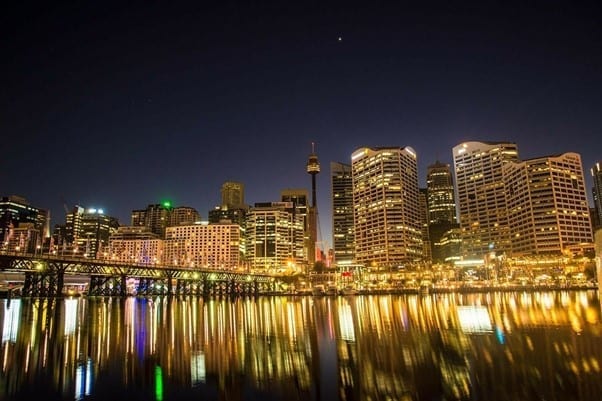 A diverse choice of suburbs
Sydney is a very diverse, cosmopolitan city. Many great suburbs within the city offer different benefits. Whether you're looking for beaches, bars, or an alternative scene. There is somewhere for everyone.
Here are some great suburbs
Bondi
Bondi is the most iconic part of Sydney. Home to Bondi Beach, this wealthy part of Sydney is extremely popular with beach lovers, surfers, and foodies. Digital nomads will enjoy the Bondi to Coogee walk, the most popular hike in the city. You will love the variety of beaches along this hike.
Newtown
Newtown is the alternative scene in Sydney. The suburb is home to many hipster cafes, restaurants, and nightlife. And it's home to the biggest LGBT community in the city. It's a cool spot for a digital nomad with many cafes where you can work.
Kings Cross
Situated a 20-minute walk from Sydney CBD, Kings Cross is a superb option for nightlife. Kings Cross has been a hub of Sydney nightlife for decades, although in recent times it's quieter, it remains a fun place for a digital nomad. It also has a large traveller scene with a significant number of hostels and backpackers.
The CBD
The mecca of the City of Sydney, the CBD is a fantastic spot for just about everything. It's home to many coworking spaces, and the best of Sydney's nightlife, shops, and food. A lot of people opt to live in places that are near the CBD.
Manly
One of the most beautiful and expensive spots in the city, Manly is a great spot for digital nomads. Visitors will love the excellent Manly Beach and the array of fun things to do there. Manly is close to the bush, and there are some great coastal walks. It's home to great restaurants, bars, and food. And it's just a 20-minute scenic ferry ride from the harbour and the CBD.
Negatives
Remote Location
Sydney is isolated from the rest of the world. The nearest country is New Zealand, which is a three hour-flight from Sydney.
However, apart from that, the nearest countries are Indonesia, Singapore, and Malaysia. But these are a 6-hour flight away from Sydney. The city remains remote on a global scale. You will be on a 24-hour flight from the majority of Europe. And an 18-hour flight to the USA.
If you don't mind feeling disconnected from the rest of the world, this won't be an issue. But, if you like to travel a lot, the remoteness of Australia will be an issue.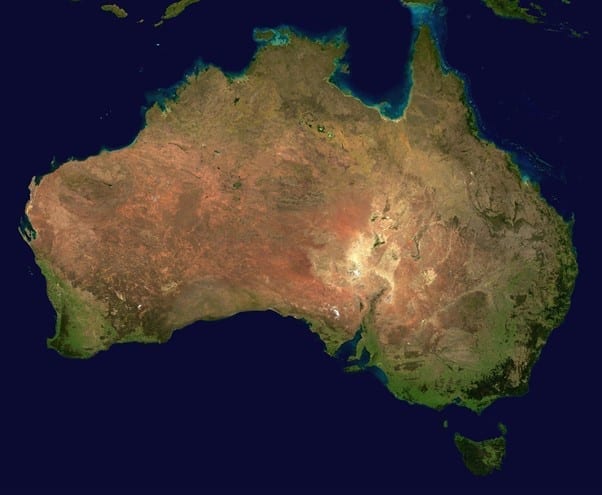 Expensive
If you're looking to live in a cheap destination where you can live like a king on a small budget, Sydney might not be for you.
The city remains very expensive on a global scale. There are various cheaper options worldwide, especially in Asia, which isn't far from Australia.
Living in Sydney is an incredible experience, but it will come at a cost. Everything from food, transport, and housing is costly on a global level.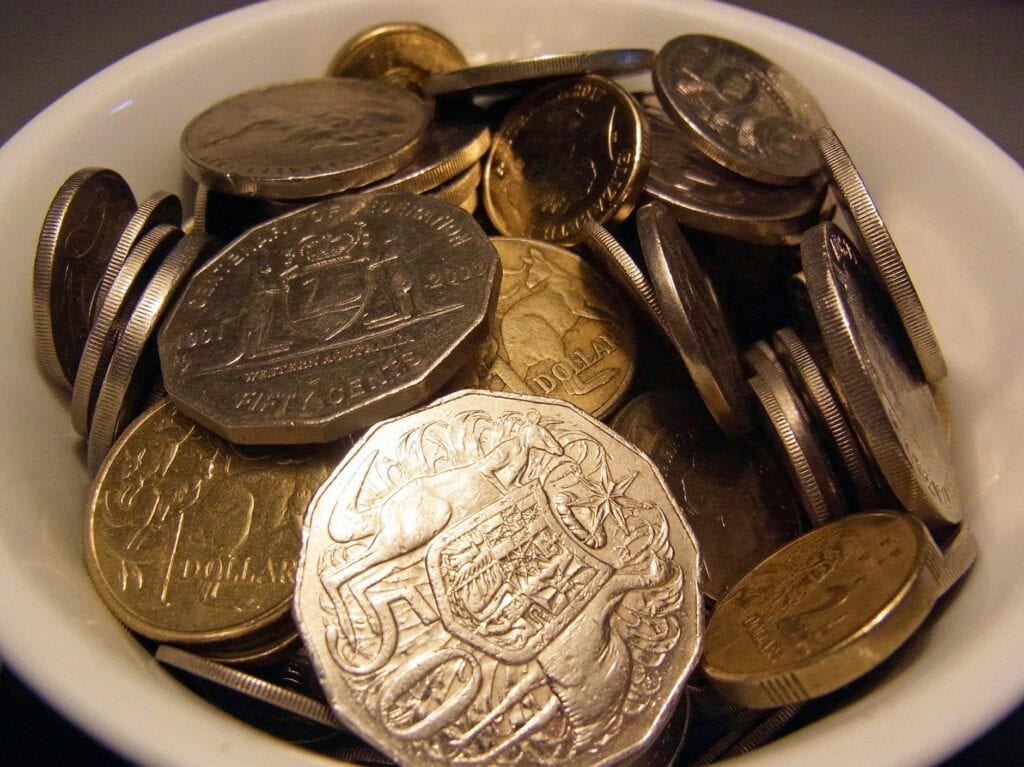 Unreliable Public Transport
Although the public transport system is strong if you're talking on a world level, it remains unreliable for a world-leading city. One of the common complaints from Sydney locals is public transport.
The train system isn't always reliable, and the transport system doesn't extend very well around the city. There are many places on the edges of Sydney where public transport isn't available.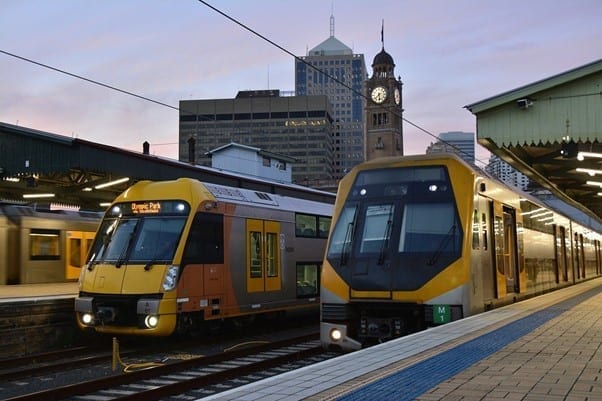 Other things to consider
Visa Requirements and taxes
Australia doesn't have a digital nomad visa as of 2020, and there hasn't been a discussion yet. Sydney generally isn't a popular spot for digital nomads due to location, costs, and visas. So it remains unknown if there is a demand for a digital nomad visa.
The Australian Border Force is rigorous in handing out visas. Many digital nomads in Sydney will operate on a tourist visa, although there are issues. It's possible to set up a business in Australia, but the best option is to hire an immigration lawyer to see if that is a visa option.
Compared to other digital nomad hotspots in Europe and Asia, Australia remains challenging to operate due to strict visa processes and immigration laws.
How to find accommodation
There are various websites in Sydney where you can find rooms. One of the best websites is flatmates.com.au, on here you can find a massive number of rooms in all different suburbs in the city.
And Gumtree.com.au is another excellent option for finding a spare room in a house share. If you're looking for an apartment, a great option is Domain.com.au or realestate.com.au that offers a wide range of apartments.
Coworking Spaces
Gravity coworking is a fantastic option if you're looking for a coworking spot. Situated in the heart of the CBD, this is one of Sydney's most popular coworking spots. It has a wide range of amenities such as
Free internet
Boardrooms
Client meeting rooms
Showers
Lockers
No contracts
If you're looking for a beautiful boutique coworking space in Northern Sydney, Work Inc is a fantastic option. You will be next to the incredible Sydney Harbour Bridge and able to stroll on the harbor whenever you want a break. This coworking space has a range of Amenities that include
Air conditioning
Natural light
Coffee machines
A great community
Private offices
Dedicated meeting spaces
One of the best spots for entrepreneurs in Sydney, Hub Hyde Park coworking is a fantastic spot if you're looking for a spacious coworking space. And it's located a mere 10-minute walk from the CBD and 15 minutes from Sydney Harbor. It has a great range of amenities that include
Dedicated desks
24-hour access
Rooftop cafe
High-speed internet
Meeting rooms
Concierge
Business mailing address
Situated in the heart of the CBD, Your Desk is a fantastic option. Town Hall is an excellent part of the city with many cafes, bars, and only a 15-minute walk to the harbor. This coworking space has a range of amenities, which include
Dedicated desks
Meeting rooms
A range of different types of memberships
Personal offices for small teams
Comfortable surroundings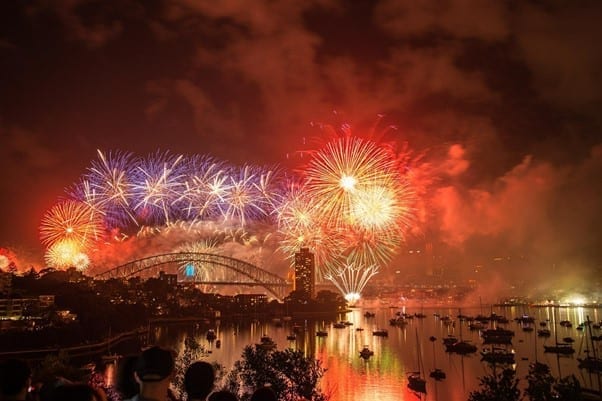 Conclusion
Sydney is a beautiful city, and Australia has an outdoor lifestyle that is hard to match anywhere in the world. But there are many reasons this city isn't a digital nomad hotspot.
Firstly, visas are difficult to obtain, and for many digital nomads, a tourist visa is the best option. If you're under 35 and from certain countries, you could try a working holiday visa.
For the visa and for your safety, make sure you have travel and medical insurance coverage for the whole duration of your trip. Check out SafetyWing, a travel and medical insurance provider specifically for digital nomads and remote workers.
Furthermore, the city is remote from the rest of the world. Australia is a massive flight from anywhere else. It's also very costly, and digital nomad communities often like to live in places with a cheaper cost of living such as Bali or Thailand. And even by western standards, Australia is very expensive.
But if you're willing to forget all of the above, you will enjoy the incredible weather, scenery, and beaches that Sydney offers.
Sydney is a beautiful global leading city with some extremely beneficial perks for a digital nomad, and it is one of the world's greatest cities. If you choose Sydney as your digital nomad home, you will fall in love with the Aussie lifestyle.