Do you enjoy the cool weather? If the answer is yes, then welcome to Copenhagen. This lovely city lies along the eastern coast with a rich history and amazing culture.
Copenhagen has been ranked high among the world's top cities in terms of good quality life. Its forward-thinking city planning allows you to walk or bike anywhere.
With many interesting districts, lush green gardens, and a huge number of landmarks, your life will never be bored here. The winter lover will enjoy ice skating on a frozen river or soaking up the holiday vibe at Christmas Markets. You can experience a winter wonderland in Tivoli Garden or appreciate the summer sun while lying down on beautiful grass next to Rosenborg Castle.
There are also plenty of nice co-working spaces for digital nomads to choose from. Many of them also support a bunch of businesses with a great community and facilities.
Copenhagen has been evaluated as a happy place for digital nomads. If you are still wondering how your life would be, check this information out!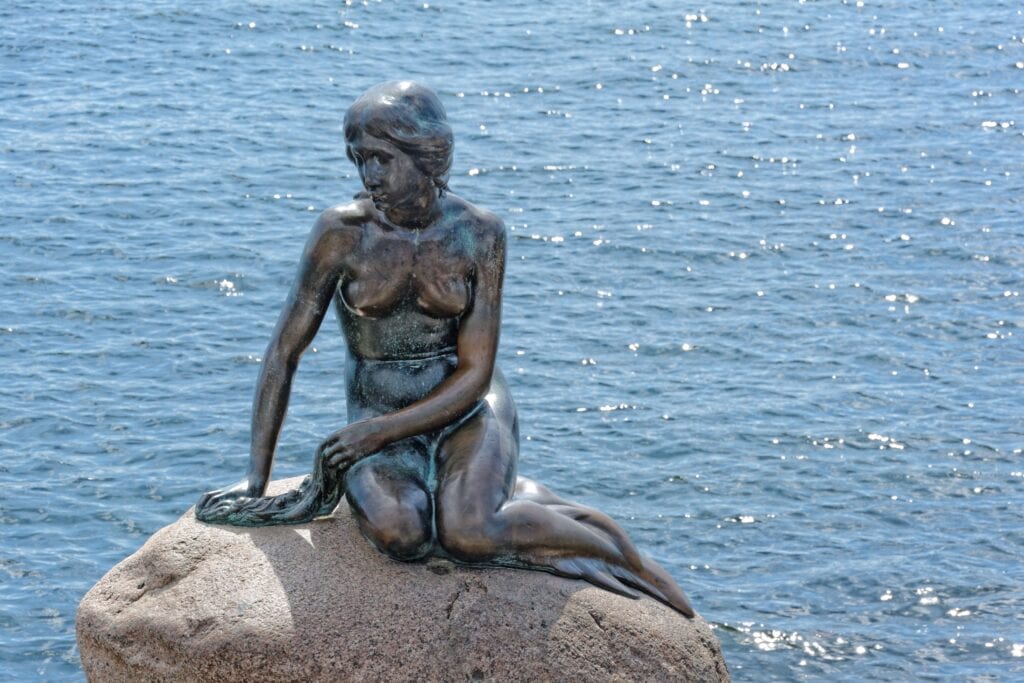 How much does it cost to live in Copenhagen? 
Accommodation expenses 
Although Copenhagen is such a wonderful city to live in, it is not cheap at all. The location is the factor that has the most influence on rental fees. Living in a nice Frederiksberg will cost far more than Nørrebro, which is a student-friendly neighborhood.
Many expats decided to go for shared accommodations allowing them to pay the rent cheaper. You could expect to spend around $ 600 a month for a shared apartment, whereas the entire apartment will cost you $ 1,000 per month. A three-month deposit is also normally needed here and some landlords might also request a three months of prepaid rent, which means you basically have to pay seven months of rent in advance. However, the fee will go lower if you take a short-term contract with a private citizen.
Certain places do not include electricity and internet fee in the bill, so you need an extra $ 35 per month for electricity as well as another $30 for the internet. The most annoying expenses is the TV license. Anyone who has a TV, computer, or anything related to broadcast devices must pay around $ 360 for DR (the national channel) whether you watch it or not.
Food and Beverage Expenses
You might be surprised with the low price of foods when other things in Copenhagen are so expensive. The standard grab-and-go coffee will cost you around $ 4.10, and you would pay $ 5- 8 for a cup of latter. McDonald's will charge you about $ 9 for a combo set, while you would spend around $ 20 for lunch at the cafe.
Going out for dinner at a nice restaurant even costs you more. The meal will cost approximately $ 40 per person, while a high-end meal will be around $ 300 in a fancy restaurant.
You can buy the local beer at $ 5, when craft and specialty beers normally sell at $ 7. The cocktails will start around $ 11 and could be up to $ 18 each. Instead of getting drinks from a bar, you can purchase a 6 pack of beer at the supermarket for only $ 5.
Transportation Expenses
If you enjoy cycling, you will love residing here. But if it is not your cup of tea, its public transportation system is exceptionally efficient and surprisingly affordable for residents.
Most people use the Rejsekort, similar to London's Oyster card, which you could top up and scan every time you get on and off the bus or train. The system here is very tricky, and you will never realize what exactly you are paying with its variety by zone, distance, and time of the day. It is cheaper than single tickets, which cost $ 1.75 – 2.15 per zone rather than $ 3.45. That is pretty much a double price.
Grocery Expenses
The grocery shopping in Copenhagen is incredibly cheap. A litter of milk, a bag of pasta, and a loaf of bread each of them cost only a dollar. The butter is around $ 1.50, and a dozen eggs cost $ 2.85. You can expect some expensive items, such as meat, fish, vegetables, and fruits, that are usually sold by piece and weight.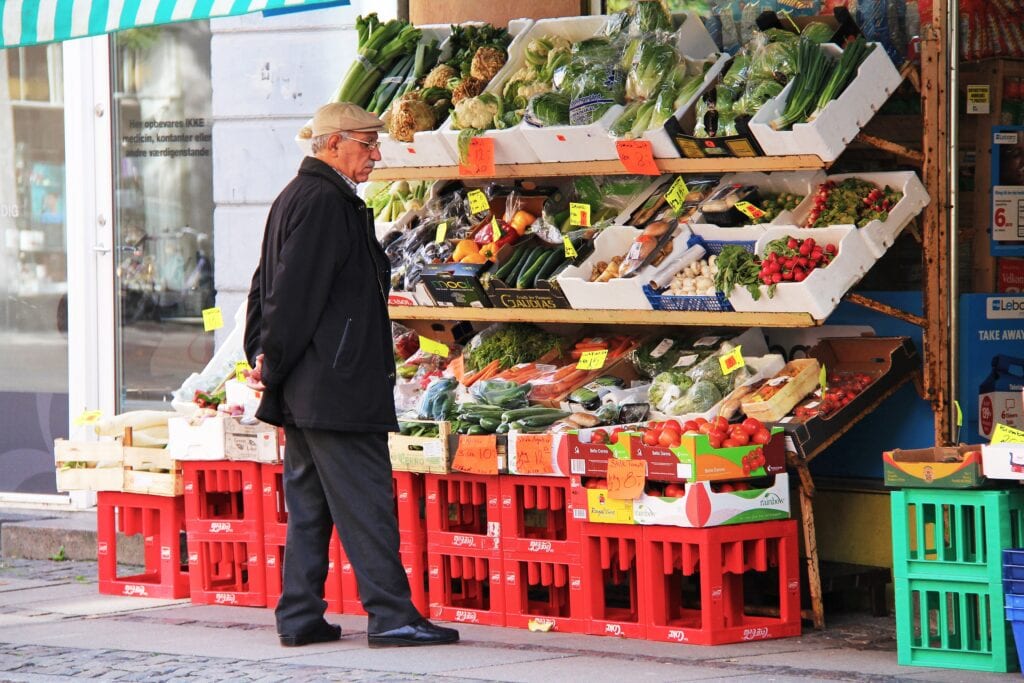 Pros of Being a Digital Nomad in Copenhagen
Equality
Once you step into the land of Denmark,  you will find that most people are respectful, no matter what is your gender identity or how much money you have as well as your educational background and the religion you believe. As long as you are true to who you are and give back to society, everything will be ideal for you here.
Safety
Copenhagen is very safe in every sense of the word. Crime, violence, man-made threats, and natural disaster rates are very low here.
Digital Quality 
Denmark ranks the second-best in the EU in terms of digital quality of life according to the Digital Quality of Life 2019 Index. It is one of the most creative and innovative countries in the continent, with many globally successful companies such as Skype, Unity, JustEat, Zendesk, and much more. Denmark is pushing progressive digitization in the public sector and making the data accessible for companies, making the country a leading hotspot for innovative tech startups and smart city solutions. So everyone can access its higher e-government availability creating better digital lives.
Walkable and Accessible by Bike
Copenhagen was designed to be reachable by bike and walk, so you can easily hop anywhere. Enjoy the cycle lanes all over the city, which is super convenient and safe, and makes Denmark the world's most clean-tech country.
Internet Speed
The country ranks high on the list of fastest internet speeds worldwide. The internet fee come in affordable prices with complimentary WiFi available at most restaurants and cafes, including some shopping malls and public transport hubs all over the country.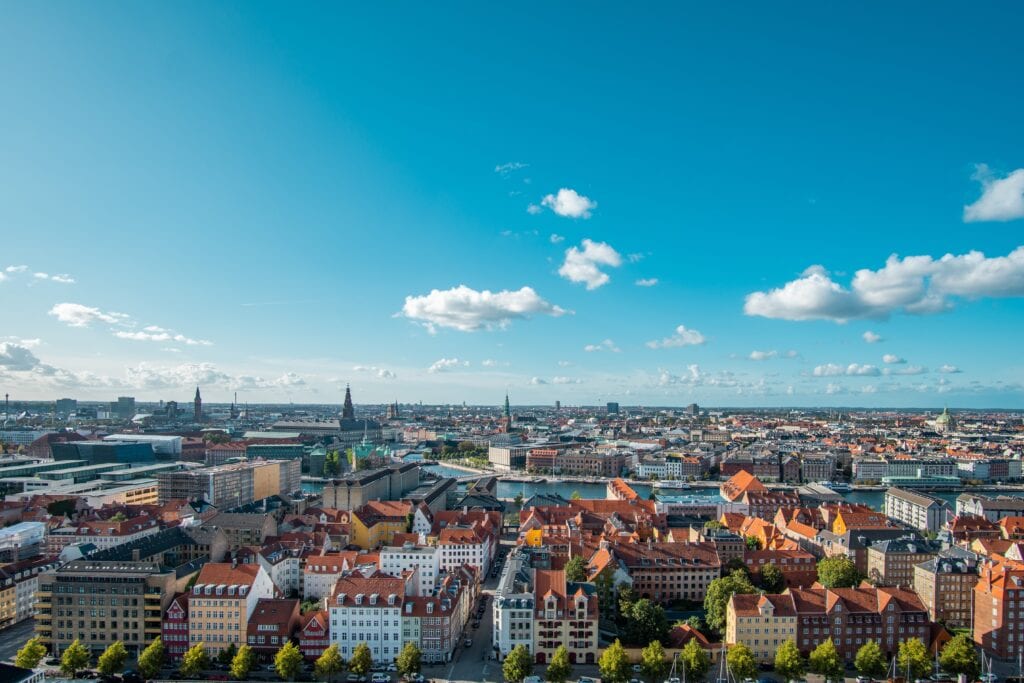 Cons of Being a Digital Nomad in Copenhagen
Weather 
Copenhagen is cool in summer and snowy in winter. Traveling by bike could be difficult. As you can imagine, biking in the snow with – 10 degrees celsius is not fun at all. Because of dark and gloomy weather, a lot of people are suffering from Seasonal Affective Disorder in Denmark.
Expensive Rent
As we mentioned before, the rent is not cheap here. You have to be well-prepared for a deposit and the advanced rental fees. The concept of an unfurnished apartment might make your situation even worse as it will eat up your budget more in order to get a room or apartment furnished.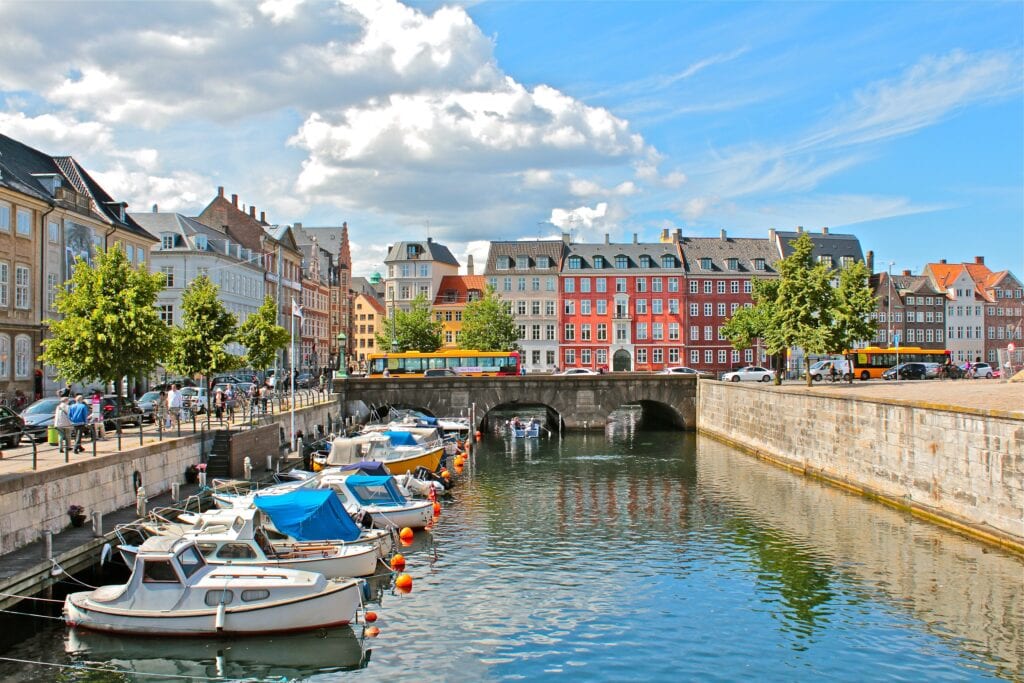 Things to Note
Visa Requirements
You will need a visa to live in Denmark as a digital nomad or not, depending on your nationality and passport. Those EU citizens are free to move between Schengen countries as well as the ability to live and work wherever they wish.
After completing three months in Denmark, you will probably be required to apply for residency, a decently straightforward process. If you are an active job seeker, you can apply for six months after arriving in the country. This makes a living in Copenhagen a lot easier for anyone from European countries.
Those from outside of Europe need to apply for a Schengen visa, which is valid for 90 days in a 180 days period. If you would like to stay longer, you might need to apply for a long-term visa.
Having travel and medical insurance for the duration of your trip will help you have peace of mind during your journey. Some providers like SafetyWing offer packages specifically for digital nomads.
How to Find Accommodation
Affordable housing in Copenhagen is hard to find. Researching in advance is a must. One of the best ways to find an apartment here is through social connections. The rentals are never on the market for long, so you probably have to use any advantage you could possibly find.
Facebook groups are another effective way to jump in or you can try searching from housing websites, such as boligportal.dk , minlejebolig.dk, akutbolig.dk, and housingcompany.dk.
Airbnb is also a great option if you are planning to stay for a few months. As it might be worth paying a bit more to avoid dealing with the rental agreements and  deposits.
Co-working spaces
Copenhagen is a city full of vibrant offices with professional coffee machines, great lunch options, functional spaces, new colloquies as well as weekly lecture programs.
Republikken
Republikken is located in the heart of Copenhagen, offering a super flexible working space that you only pay for the hours you are using. Its relaxed and pleasant office welcomes all digital nomads with complimentary coffee that you can sip all day.
SOHO
SOHO is a popular co-working space with its three different locations. Two of them are in the Meatpacking District and one in central Copenhagen. With various monthly membership plans, you are free to select your own level of flexibility from where and when to spend your productive hour.
Mesh Community
Mesh Community provides spaces for both individuals and teams. Founders House is close to Islands Brugge near the tabour baths, and the Matrikel1 is at Højbro Plads in Central Copenhagen. Both of them offer a great taste of historic city streets and cultural character along with your working routine.
UMA
UMA is just a few minutes walk from Copenhagen Central Station. This place is in an 18th-century building by the town square. Here, you can choose either open-office or dedicated workstations with plenty of membership packages that will suit your preference.
Rreencubator
Rreencubator is a non-profit hub with a sustainable vision and profile in Nørrebro. Its monthly membership with 24/7 access to the workspace allows you to work in any time zone you prefer and become a part of the community where you could collaborate with others at this place.
Nomad
Nomad is situated in the old building, which is the former Nørrebro's courthouse. With its diverse community of Nomad workspace, it is very flexible and suitable for teams and individuals. Take a monthly membership to be a part of this family and obtain access to the cafe, lunch service, and interesting events.
The Rabbit Hole
The Rabbit Hole is an award-winning with a cozy atmosphere in Frederiksberg, the high-end district of Copenhagen. Enjoy a bright and comfortable workspace with both part-time and full-time memberships. Be part of the community by sharing ideas, experience, skills, and even your dreams in this classy space.
Huone
Huone is the global conference center close to Copenhagen Airport and not far from Sweden, perfect for any digital nomads who work across countries. The award-winning space with creative rooms for workshops, meetings, and events could accommodate 6 to 735 people. Although this place is not a truly co-working space, it is useful when you need flexibility and a creative spot to work.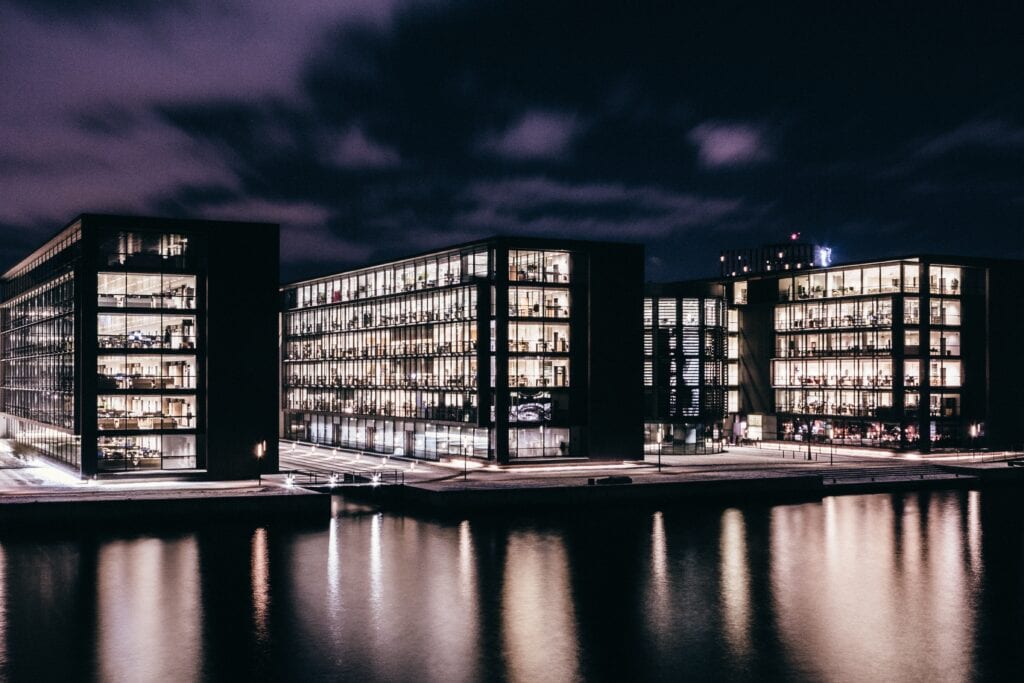 Conclusion
Is it worth living and working in Copenhagen? The answer will surely be Yes! Even though the cost of living could be a bit issue, there is plenty to see, do, eat, enjoy and keep repeating the same, making you hardly forget this beautiful city. If the weather could not attract you to reside here, a high rate of happiness and low crime levels might let you reconsider.
People are also able to communicate very well in English, and the walkability of the city will make your life effortless. Prepare your budget, and do not forget to bring some sweaters or coats to keep you warm on a chilly day. Let's rock Copenhagen and enjoy your digital nomad life in one of the world's happiest cities.