If you would have told one of the 1st digital nomads in the 1980s, that this lifestyle would be adopted by millions of people around the world, do you think they would believe it?
Not only is this lifestyle becoming more popular and accessible every day; but also, with each passing day more companies and startups are embracing it.
The shifting world of work and how it is done is forcing governments around the globe, not only to adapt, but to introduce laws and make improvements to catch up with the new reality.
We went from having to work from an office, to maybe working from home, to remote work. The world has become our new office, and talent and ideas from all over the world, can work for the whole world, from any place in the world. That's the essence of digital nomadism.
Work doesn't have to stop you from living. You can travel, see the world and live adventures; and when you want, you can find a quiet corner or a co-working space wherever you are, open your laptop and start working.
In the last few years, several governments in Europe, South America, The Caribbean and the Middle East among others; caught up on the fact that digital nomadism is here to stay.
Seeing how digital nomads contribute to the economy and the development of local communities, governments understood that this can be a win-win situation. Many countries launched special programs, dedicated visas and tax breaks to attract digital nomads.
This means improving infrastructure to provide the connections and services needed, opening more co-working spaces, investing in hospitality, entertainment and showcasing hidden gems in every corner of the world.
One of the countries is Serbia.
Belgrade gets digital
The Digital Serbia Initiative in cooperation with the United Nations Development Program launched a new website title "BelgradeGets.digital" to get the eyes on Serbia's beautiful capital Belgrade, and what it can offer to digital nomads.
The website has very comprehensive and helpful information for digital nomads about Belgrade, to help give you a better experience in the city.
It cites a brief historical background, the population, information about transportation, accommodation options, landmarks of the city, cuisine, nightlife and info on where you can learn Serbian.
Other sections of the website help you with practical matters, like visas. You can see there a description and all the requirements for different types of visas (transit, short stay, long stay and permanent) so that you can choose the one that fits you.
You may be required to provide proof of medical insurance coverage, you can get a travel and medical package from providers who cater to digital nomads specifically and understand their needs, like SafetyWing.
There is also a section for job listings and work permits in case you want to work or start your company in Belgrade; as well as a dedicated section to co-working places in the city.
An important pain point for digital nomads wherever they go is finding the right telecom company that fits their needs, as well as the right bank if needed; BelgradeGets has this info as well; down to a list of legal assistants and postal services.
One of the highlights of the site, is the service called "Support Vouchers". This service provides you with 1 hour of free consultation with a lawyer and an accountant, to discuss whatever you need regarding living and working in Serbia.
To get a support voucher, all you need to do is a fill a google form with answers to certain questions that help the team prepare to offer you the help you need.
Last but not least, the website has a "Nomad Corner" which has testimonials from nomads already in Belgrade, as well as a list of groups and channels you can join to connect with other digital nomads in Serbia. There is also the option to connect with a digital nomad ambassador for Belgrade out of 4 ambassadors, who offer their contact info to help you.
Destination Belgrade
Belgrade is Serbia's capital, and one of the oldest continuously inhabited cities not only in Europe, but in the world. It has around 1.7 million residents.
Belgrade has great historic importance, as it went through the Roman, Byzantine, Ottoman, Austro-Hungarian and Yugoslavian eras. It has certain advantages that make it special.
It is not in the Schengen zone: If you ever had to apply for a Schengen visa, you would know why this is a good thing. The visa procedure is much easier compared to that of Schengen countries.
The weather: You can experience true summer and true winter in Belgrade, and you can enjoy both. The air in Belgrade is also very clean.
The internet: With an average of 34Mbps, Belgrade's internet is among the best.
The food: The mix of different cultures and the rich history makes the Serbian cuisine special.
The IT/startup scene: Belgrade has a booming IT sector. The gaming industry, and blockchain startups are expanding in the city.
The cost of living: One of the cheapest cities in Europe; with rent ranging around 300 euros and eating out, going for drink would almost never cost you above 15 euros.
The nightlife: Belgrade is famous for being the center of a very unique nightlife scene in Europe, it has its own genre of music (Techno folk) and many truly unique clubs and bars.
The transportation: while Belgrade is a metropolis, it has none of the disadvantages of living in one. The city is small and walkable, besides the very well-connected transportation network.
The history: Museums are a must see in Belgrade. Afterall you will gather a piece from every stage of the world history in this city.
The lifestyle: The Balkan lifestyle is relaxed and laidback. It promotes a healthy work life balance; and the surroundings in Belgrade help. Just imagine sipping coffee in the park of the Kalemegdan Fortress, overseeing the Sava and the Danube rivers. What stress?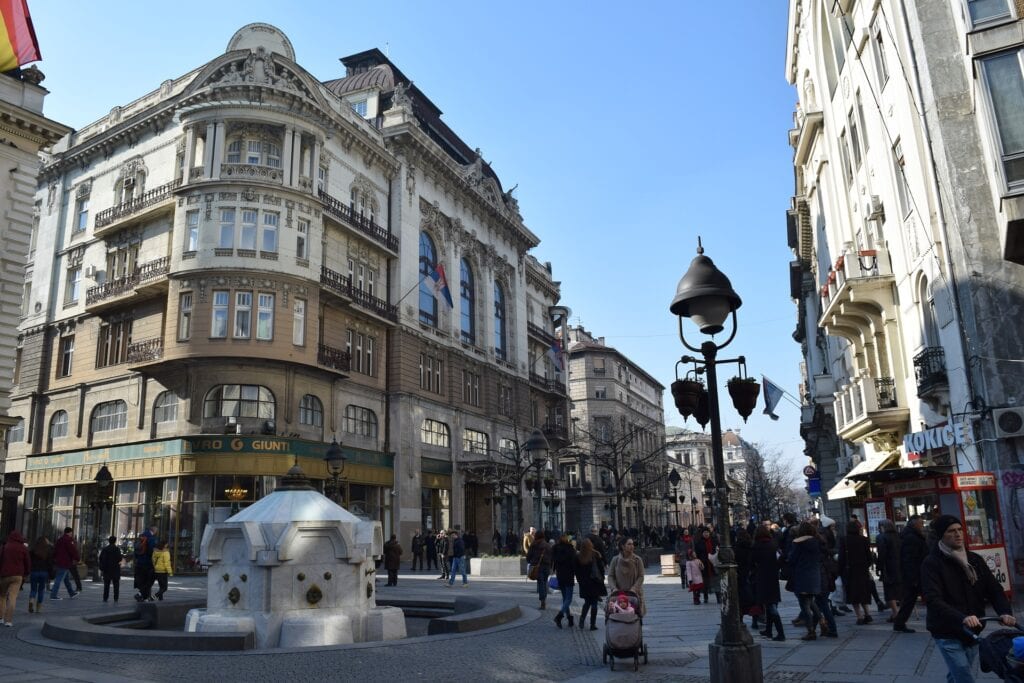 Would you consider Belgrade for your next destination? Why?
Let us know!