Over time, Athens has expanded its options for all digital nomads worldwide.
And it's because of this that you have convenient access to two very distinct, yet highly rich and diverse, worlds because of its strategic placement between the Asian continent and Europe.
In addition to being the capital of Greece and the world's first great center of learning and philosophy, Athens is a city with a diverse population and a strong sense of global citizenship.
Greeks are renowned for their friendliness, joy, and festive attitude, which is evident whether you visit as a tourist or live there temporarily as a digital nomad.
You might find this article interesting if you're interested in relocating to a city with history, culture, easy access to the many beaches and islands that make up the Aegean Sea, good food, and great weather.
We'll provide you with step-by-step instructions on how to survive as a digital nomad in Athens without failing.
The Cost of Living in Athens
A nation's capital is never going to be the most affordable choice. Although the services and quality of life are often better in capital cities, this also means higher costs in exchange for a more comfortable lifestyle.
This also applies to Athens. It should be emphasized, however, that Athens is significantly less expensive than the vast majority of capitals on the old continent when compared to other European capitals.
Athens has a lower cost of living than 86% of the cities in Western Europe. When compared to all cities globally, Athens is less expensive than 64% of all cities, placing 76th out of 88 cities.
One more interesting fun fact: When it comes to the Internet and TVs, Athens is the third-cheapest city in Europe.
Accommodation Expenses
The cost of renting a fully furnished 85 m2 apartment in the city center is around 500 EUR.
For two persons, the cost of essential utilities like power and water per month comes to about 150 EUR, while an 8 Mbps internet package per month will cost you 20 EUR.
In well-equipped hostels, you may also get shared or private rooms to save money. The cost per night ranges from 25 EUR for single rooms and between 10 and 20 EUR for shared rooms.
If you want to extend your stay, you can also find accommodations on websites like Airbnb or negotiate a special rate with the hostel for a stay of a month or longer.
Hostels are a great choice because you won't have to pay for any services, and most have fully functional kitchens where you can prepare your own meals. As a result, the budget is significantly reduced.
You will also have access to the internet, and since other travelers from various locations will surround you, you can use this to gather useful information about potential future travel destinations.
Food and Drink Expenses
We'll list the prices for the staple items in any family basket to give you an idea of how much food costs in Athens.
A kilo of tomatoes is 1.69 EUR, whereas a liter of milk costs about 1.43 EUR, a dozen eggs are about 4 EUR, and so on.
A bottle of fine wine can cost up to 12 EUR, while you can get a half-liter of national beer for 1.31 EUR at the grocery store.
You can spend roughly 10 EUR on a beverage in a pub or club in a high-class neighborhood if you want to go out one night and have fun.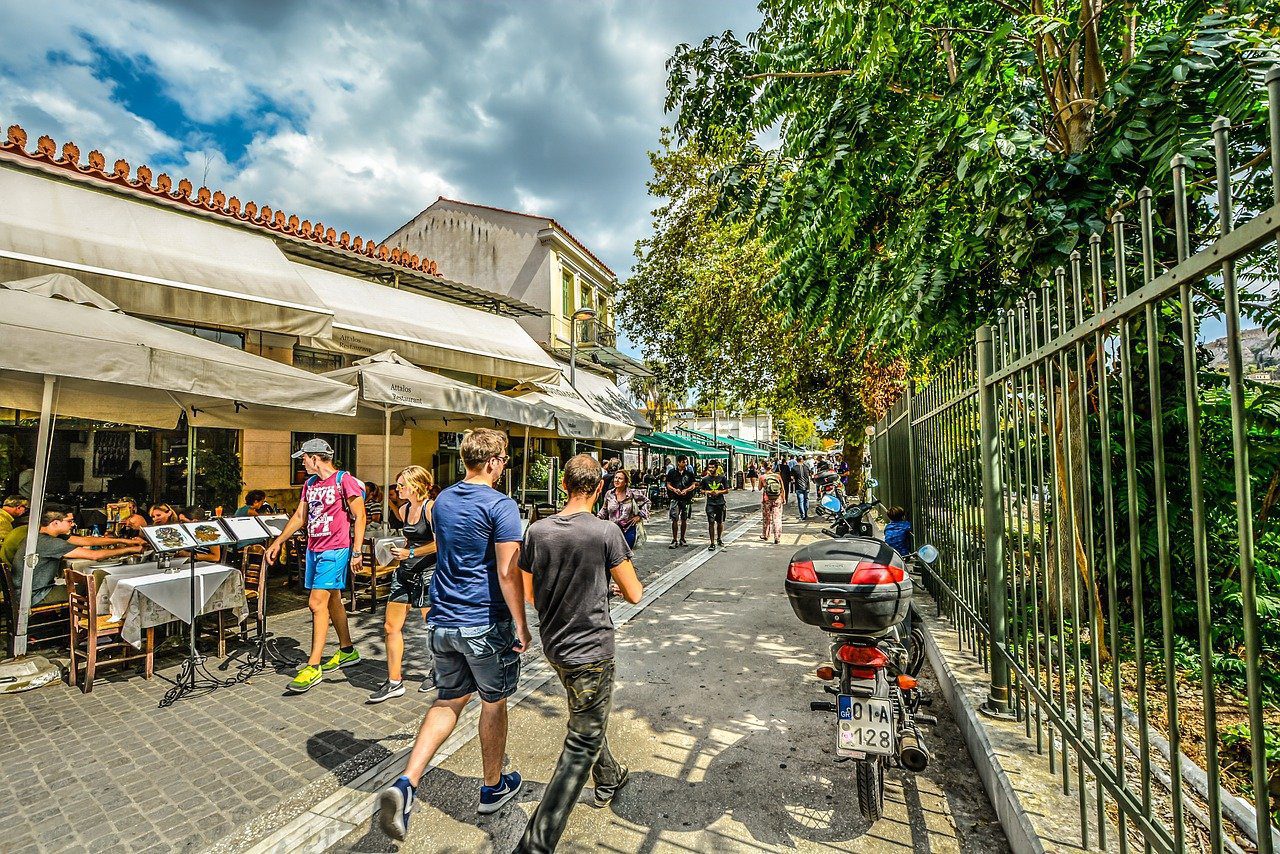 In any area of the city, a traditional Gyro will cost you no more than two or three euros, whereas a full menu in a posh restaurant would set you back 16 EUR.
While a special supper for two at one of the top Italian restaurants in a high-end neighborhood can run you about 50 EUR.
And if your plans are to go to the movies with someone else and have a good time, you can get it for 16 EUR for two tickets.
Transportation Expenses
They have good public transport and the monthly card costs 29 EUR.  A single-use ticket costs 1.40 EUR, however, if you intend to stay for a while or use public transportation frequently, it is best to get the card right away.
A street taxi will cost you about 13 EUR to travel about 8 kilometers. All taxi drivers charge the same flat rate because it is a standard rate.
Benefits of Being a Digital Nomad in Athens
With so many ancient ruins and historical monuments, Athens is like a city of museums. Being the birthplace of philosophy, it is rich in history and has hosted famous individuals of international renown.
Despite the fact that the prime season runs from July to September, travelers visit this location all year round.
This can be one of your preferred locations if what you're searching for is a vibrant city with individuals who are always willing to party and have a few beers with friends.
A city that is highly welcoming to visitors from other countries. If you give Athens a chance, we can tell you that it might win your heart and make you want to stay longer than you had anticipated.
Cultural and Historical Capital
With a glorious history of more than 3,000 years, Athens is considered the birthplace of Western civilization. This transforms it into a city full of museums with historical sites around every corner.
Athens is the perfect destination for you if you enjoy history and locations with a strong cultural presence and a proud heritage that is reflected in its monuments and streets.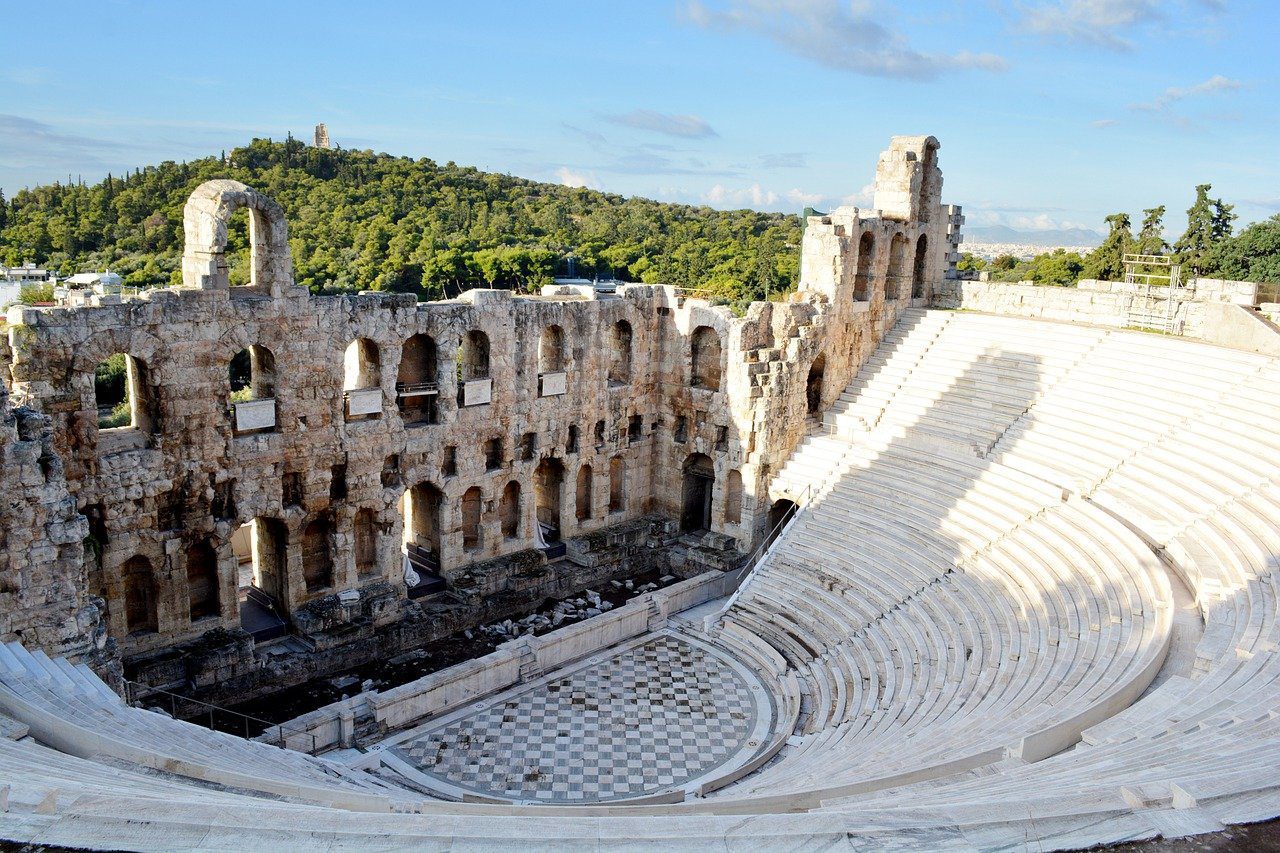 The Acropolis, Athens' most significant archaeological site, is a good place to start. From 8 am to 9 pm, it is open. You can visit the Parthenon, the Herodes Atticus Hodeon, the Dionysus Theater, the Erechtheion Temple, and the Athena Nike Temple on the Acropolis.
To make the most of your visit and to ensure that you do not miss any important historical information, we advise that you hire a guide who speaks the language you are most comfortable with.
You can descend to the Plaka area, one of Athens's oldest and most traditional neighborhoods, after touring the Acropolis.
The neighborhood is wonderfully ornamented with tiny cobblestone lanes and 19th-century facades. If you want to sample authentic Greek cuisine and unwind with a tasty pint of beer or a glass of Greek wine, this is the place to go.
It has recently grown to be highly well-known and touristy, with many gift stores and more extensive international menus. However, if you venture off the main road and investigate the side lanes, you can quickly rediscover the usual atmosphere of a bygone Greek neighborhood.
Night Life
Due to its fantastic cosmopolitanism, Athens is filled with bars and terraces that welcome visitors from all over the world. The Greeks enjoy gathering together for food and drink and extending themselves in lengthy post-meal and interesting chats, so there is always a vibrant environment.
Athens' unique nightlife is characterized by the fact that, in contrast to most European towns, it gets busier during the winter. In the winter, locals frequent discos, while in the summer, they travel to several islands with stunning beaches.
As a result, the winter is when Athens offers the best nightlife scene for visitors.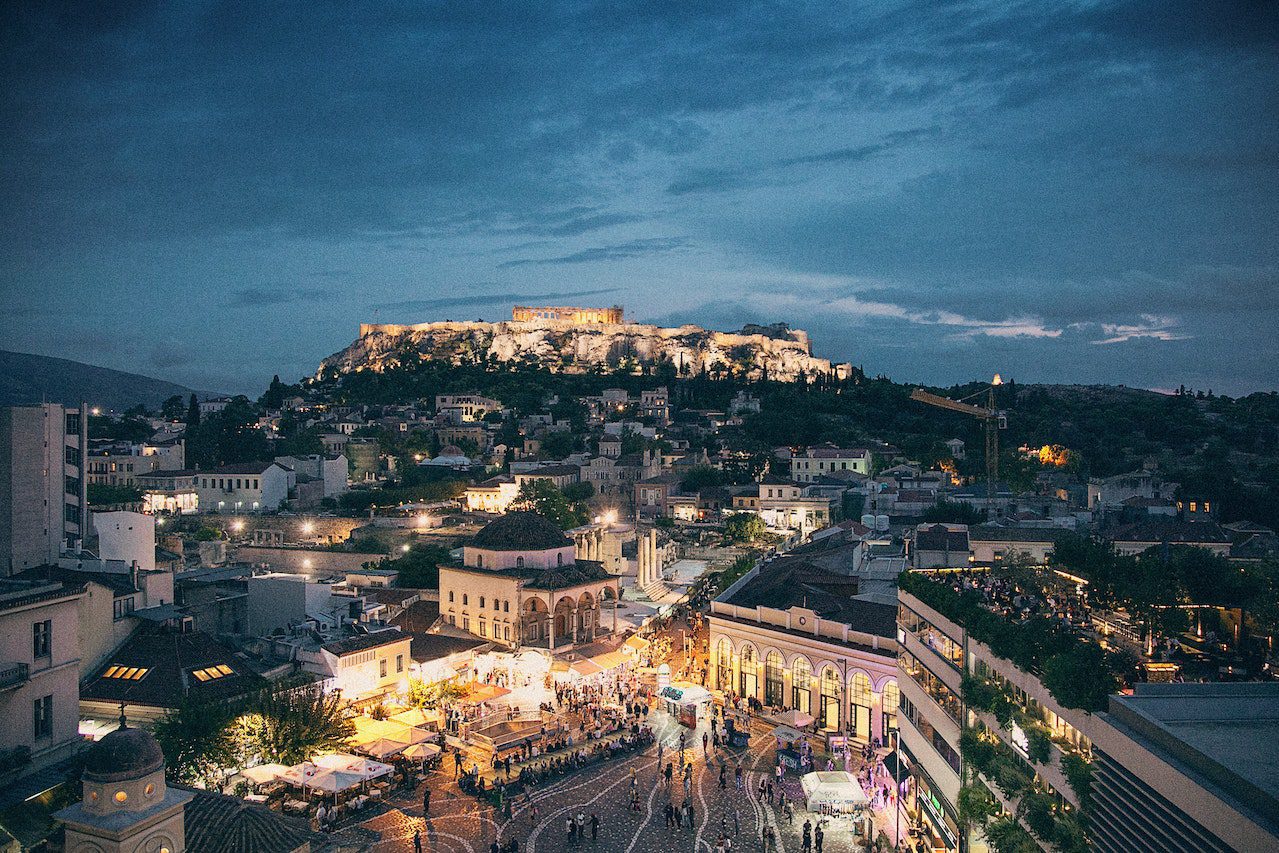 The musical selection is wide-ranging and has a ton of venues where people may dance or just have a drink and catch up with friends.
The clubs stay open until 6 or 7 in the morning, whereas bars typically close at 4 in the morning.
Don't be shocked if you see that they won't let people dressed in shorts or sneakers pass through because there are some establishments that are really elite and maintain a rather stringent dress code. We suggest that you dress nicely, preferably in pants and a classy shirt.
The Exarchia neighborhood, Sintagma Square, and the Plaka and Pisir neighborhoods, as well as those locations, are the most well-known for parties.
Exarchia is a student-heavy area filled with young people and alternative music venues.
While Syntagma Square and its surrounds are home to the majority of the city's pubs and nightclubs. If you want to dance till the very end, this is the place to do it because the celebration goes on until the next morning.
Finally, there are the more historic areas of Plaka and Pisir, where you may find sites like Brettos, the oldest distillery in all of Greece.
Their People
Athens' citizens are what make it the ideal place to live. Greece is known for its warm hospitality. They are quite hospitable to travelers and love to party. Many people in Athens speak English, but the locals cherish your knowledge of a few words in their language and will be grateful if you do.
Lovers of good discussion, music, and somewhat eclectic and artistic preferences. The Athenians will win your heart if you give them a chance, and you won't want to leave the city ever again.
Disadvantages of Being a Digital Nomad in Sofia
It's lovely to live in or visit Athens for a season. The fact is that there aren't many things wrong with the Greek capital, but like any town, it does have some drawbacks that must be considered because no city is flawless.
We aim to provide you with reliable information because we want you to be ready and avoid unpleasant surprises.
Unemployment
One of the highest unemployment rates in all of Europe is found in Greece. Due to the significant debt they have been carrying for many years, the Greeks have had a very tough time growing their economy.
Despite having a healthy economy supported by tourism and the export of certain goods, unemployment remains a major issue nationwide. Because of this, it is extremely possible that working in Greece will be a very difficult challenge if you are a foreigner.
Greek businesses will always prefer to recruit a Greek over a foreigner due to the country's high unemployment rate. Foreigners can only find employment in the tourism industry and in language teaching.
However, if you're a digital nomad, you shouldn't experience any issues in this area. Additionally, having income in dollars or euros will always be highly beneficial in a nation with a weak currency where the majority of people struggle to get by each month until their next salary.
Language Barrier
At first, it can be a little unsettling to navigate the streets of Athens without any language skills. The Greek language has its own alphabet and is not simple to learn.
Therefore, if you navigate the streets without understanding what the signs are saying, try not to become disoriented. For as long as you reside there, you will need to adjust to it.
The good news is that English is a widely spoken language in Athens, especially among young people. But keep in mind, if you can, try to acquire some fundamental Greek terms; the people there will respect your attempt to speak their language.
Health System
We must tell you that Greece does not have the best public health system if you do not have travel insurance and experience a health emergency of any kind.
You'll probably have to wait in line for a while before receiving service. For this reason, we advise you to bring travel insurance that covers any foreign emergencies that may occur. Priority one is your safety. Some insurance providers, like SafetyWing, offer travel and medical insurance for digital nomads all over the world. 
Visa Requirements
You won't need to obtain a visa to enter Greece if you are a citizen of any of the EU member states. You may stay in the nation for a maximum of three months, however, if you are traveling from another nation, you must study the requirements of each nation before entering Greek territory. The majority of nations will require the following information to process a visa to Greece:
A passport that is at least three months old

Evidence of financial stability, such as a credit card, traveler's checks, or cash

A place to stay on your visit to Greece

Evidence supporting the trip's objectives (tourism, studies, work, residence, etc.)
Coworking Spaces
There are several wifi cafes in Athens. Many digital nomads can be seen working in the mornings while sipping coffee or enjoying a snack as the day progresses.
That is not to imply, however, that Athens lacks fantastic co-working places for every price range. We've chosen the top three locations in the city for you to choose from.
Tzaferi 16
One of the nicest places to work is Tzaferi 16. It was once a cosmetics factory that was transformed into a contemporary setting with the opportunity to lease workplaces either temporarily or permanently.
It features a cafe and spacious work areas with all the amenities you need to work without any issues. Another interesting piece of information about this location is that it was named the best co-working space in 2018!
Athens' Impact Hub
Athens' Impact Hub comes in second. It distinguishes out since it is a network of business owners who can support you if you wish to launch a new venture. They have a wide variety of resources at your disposal and experts in several fields who can assist you.
The Cube
The third and last place on this list is The Cube. It is a place made for innovative thinkers who want to come up with fresh company ideas. Office space is spread across 7 stories, and there is also a recording studio and a sizable conference room where seminars and workshops can be organized.
The Verdict
As you might have guessed, Athens is a fantastic location for a temporary stay for a digital nomad.
With its modern metropolis, culture, nightlife, diversity of beaches, and rich culinary culture, this location is becoming more and more popular with digital nomads from around the world.
Try it out and take advantage of everything this multicultural city has to offer.