As the digital nomad lifestyle has continued to grow in popularity, so have the crowds in nomad hotspots such as Bali, Mexico, and beyond. This over-saturation can, unfortunately, lead to increased living costs, a less locally immersive experience, and an overall tainting of the quiet, nomadic lifestyle. Especially with so many people desperately trying to find their next place to live, it can be difficult to find undiscovered gem countries and host cities- but we've got a secret.
Digital nomadism in central Asia might just be the Next. Big. Thing.
And if you get there ahead of the curve, you'll be able to experience it in all its glory. Central Asia includes the countries Kazakhstan, Kyrgyz Republic, Tajikistan, Turkmenistan, and Uzbekistan, China, Mongolia and by some definitions, Russia. While all of these are extraordinary in their own regard- we'd like to put Kyrgyzstan on your digital nomad radar. Though many are unnecessarily fearful of the "stan" countries, based on a reputation of being unsafe for travel, many of these countries are actually very safe, with Kyrgyzstan right at the top of that list! Kyrgyzstan is a bold country full of culture, vibrant flavors, and wild landscapes, with a peaceful, laid-back atmosphere you won't find anywhere else. Many areas throughout the country have a low population, so you won't find yourself fighting the "hustle and bustle" very often.
This article will help to guide you through the best destinations throughout Kyrgyzstan to be a digital nomad, and all the considerations you should take before making the move.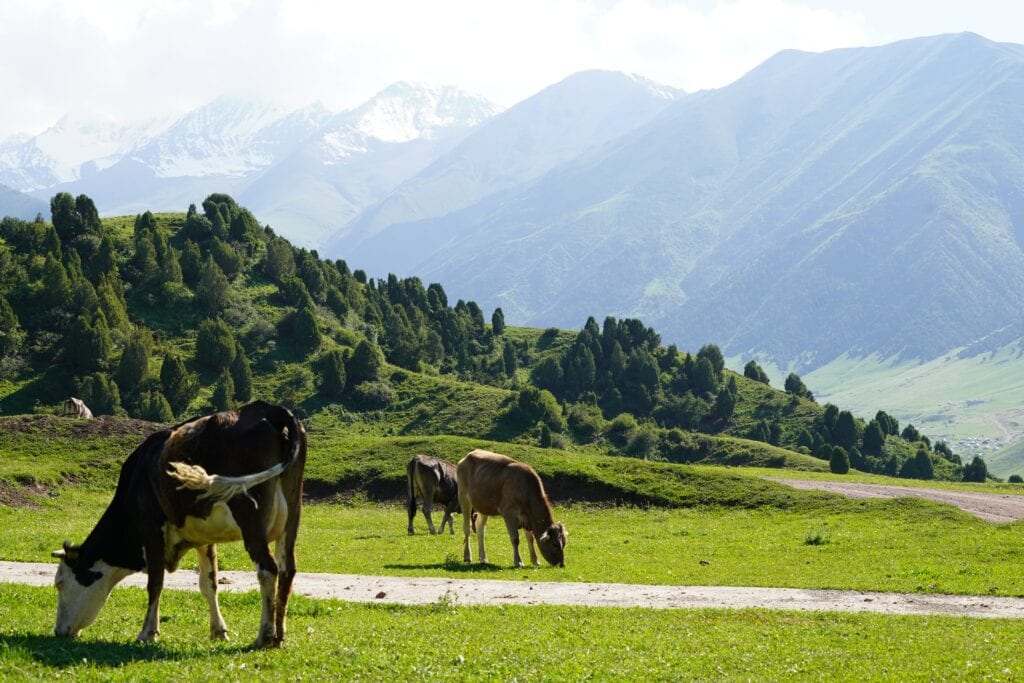 The cost of living in Kyrgyzstan
Your cost of living in Kyrgyzstan will obviously vary greatly based on your chosen host community, particularly between rural and urban destinations, and your lifestyle preferences. That being said here's a rough idea of what you can expect to spend month to month:
In general, a reliable city center can cost you as little as $450USD a month if you are fine with local living accommodations and eats. That being said, most digital nomads enjoy occasionally indulging in the finer things or more comfortable living spaces, bringing their living costs up to around $850 per month.
Accommodation expenses
We know you want your living space to feel like home, which is why it's important to consider whether or not surging for upgraded accommodations is worth the price. Local apartments can start at around $150USD for one-bedroom and increase from there. Some hostels also offer private rooms if you're looking to compromise on the price point of your short-term home base. Airbnb and high-end hotels are also an option, but you should expect this to cost significantly more, ranging from $1000 USD per month to over $3000. It's really up to you how much you want to spend and how many luxuries you want to have access to during your stay.
Food and drink expenses
You can expect to pay far less for groceries in Kyrgyzstan than you would in western countries. Of course, grocery shopping and preparing your own meals (assuming your chosen accommodations have the proper amenities) will be the best way to keep your budget low. That being said, evening treating yourself to restaurant meals and sweets is affordable here, at a low average of $2.70USD per meal.
Transport expenses
While some digital nomads prefer to rent a car so they can explore all of Kyrgyzstan at their leisure, this option is rather costly at around $1500 per month. Assuming you live in a city center, it's also completely avoidable. Using Bishkek as a reference city, you should be able to use a decent public bus system for less than $8USD on a monthly pass. Taxis are also cheap with fares under $1 each.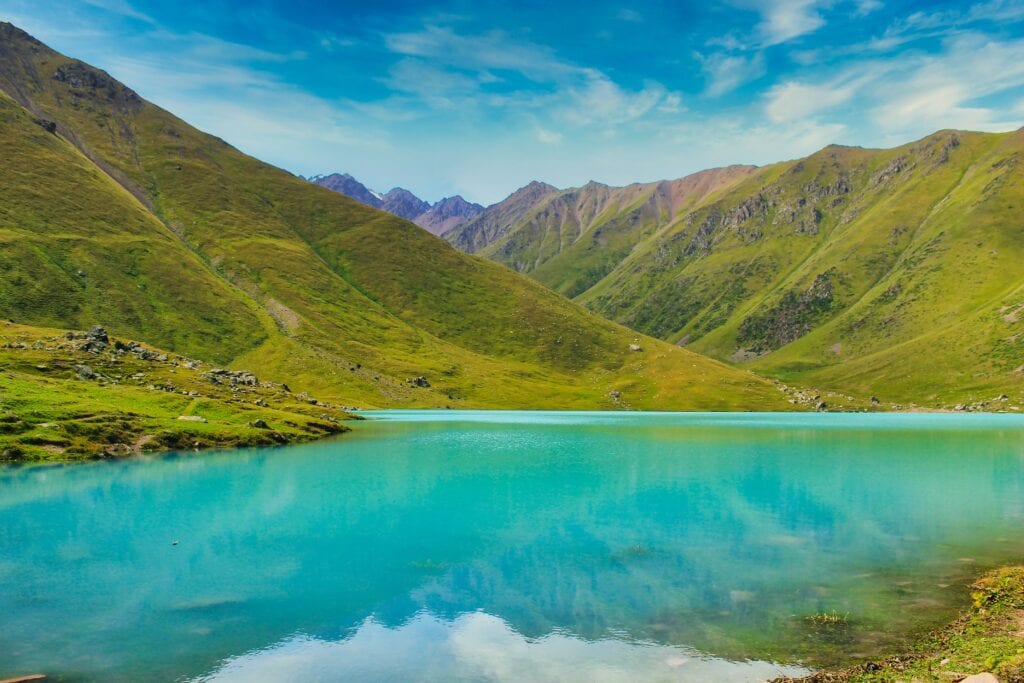 Reasons You'll Love Kyrgyzstan
There's a lot to love about Kyrgyzstan, that's for sure. Travelers rave about their experience here and we know you will too. Here are some of the things we hear from tourists and digital nomads over and over again:
Cultural experiences at every turn
Kyrgyzstan has a rich nomadic culture, so you'll probably find its history super fascinating. You can visit remnants of the silk road, spend a night in a yurt, go eagle hunting, watch local sports like goat polo or attend local horse festivals. We recommend planning your stay during the world nomad games if you can. You'll certainly never be bored in Kyrgyzstan.
Unspoiled nature begging to be explored
Between mountains, lakes, and forests, Kyrgyzstan is the outdoor enthusiast's dream. You can spend adventurous days white water rafting, horseback riding, and skiing, or take a leisurely nature walk on quieter afternoons.
Friendly and Accommodating Locals
Everyone remarks on how cheerful and hospitable Kyrgyzstan's locals are. You'll likely receive plenty of friendly smiles from passers-by and might even find yourself sparking up frequent conversations on the bus. Don't be surprised if you're invited in for tea or a community dinner.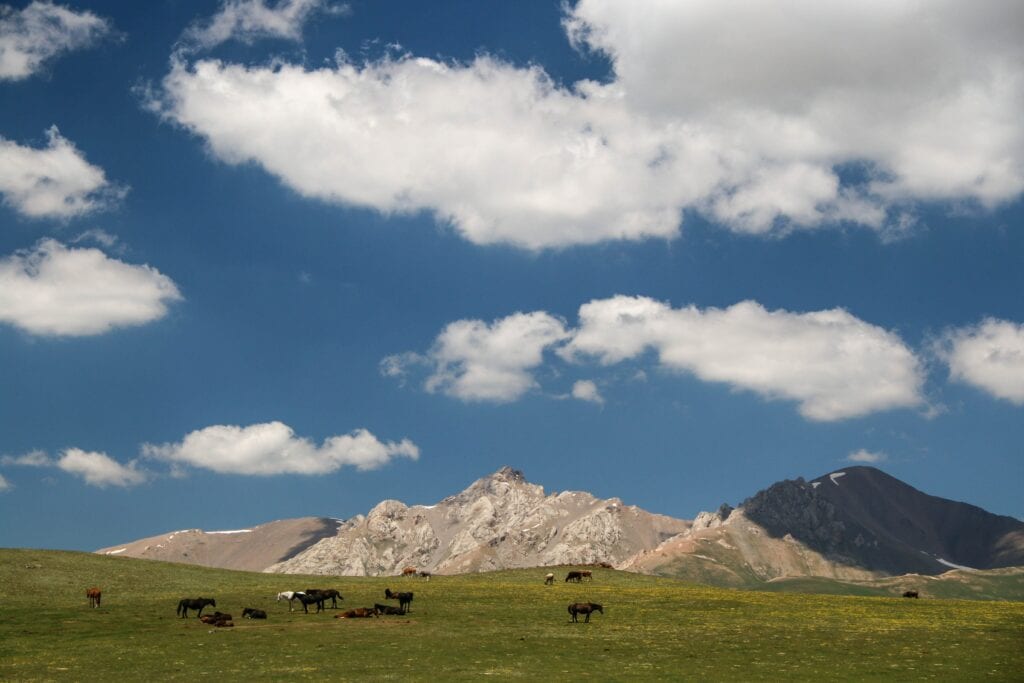 Things to Consider
Visas
Kyrgyzstan is considered one of the easiest countries to travel to in Central Asia, thanks to their fairly lax visa requirements. Citizens of over 69 countries are granted automatically for stays of 60 days or less without a visa. That being said, digital nomads typically exceed this stay since it is more practical and economical to stay put for a few months at a time.
Depending on your country of origin, how you apply for your visa (electronic or physical) will vary, so be sure to check out the requirements that specifically apply to you. This could save you significant time, money, and hassle. As of right now, Kyrgyzstan does not have a special visa designation for digital nomads.
It is important to note that you CANNOT apply for your visa upon arrival, or apply for a visa while you are in the country. If you stay for sixty days and hope to extend, you will need to leave for the duration of time it takes for your visa to be approved.
As with most other visas, you will need proof of health/travel insurance, which you can get easily and hassle-free from providers like SafetyWing. They have a package specifically for digital nomads that includes both travel and medical insurance.
Wi-Fi and Communications
Wi-Fi in Kyrgyzstan is still a little bit behind the rest of the world, though it is possible to get a strong, reliable signal if you know where to look. If you have a job that requires strict, tight deadlines and communications, where you can't afford to spend some time waiting for documents to upload and send, we definitely recommend staying in Bishkek. Most of the Wi-Fi and cell phone service in Kyrgyzstan is built around the infrastructure of Bishkek, so this will be the most reliable source.
Of course, any city is better than rural when it comes to Wi-Fi and telecommunications. If you commit to staying in a nicer hotel in the other "major" cities, you shouldn't have too many problems connecting from home.
Safety Concerns
Safety is mostly a non-concern in Kyrgyzstan. Like any country, it will have areas with a higher crime density, but as a whole, the country's crime rates are low even in city centers. For the most part, crimes are defined as petty crimes such as pickpocketing or small theft. There are very few armed crimes reported. All of this being said, digital nomads are encouraged to take all of the safety precautions they would normally take when abroad such as remaining vigilant after dark and locking up important belongings.
When venturing to rural areas alone, always be mindful of interactions with strangers and avoid giving out too much personal information, such as where you will be staying.
Tolerance/ Inclusivity
Though Kyrgyzstan is known as a friendly and hospitable place, it's worth noting that their laws aren't as inclusive as they should be. Same-sex sexual activity is permitted by law, but marriage is not. For this reason, members of the LGBT community may want to take note of this before planning their travels. You're not likely to be arrested for holding hands in public, but the legality of same-sex marriage is not a great indicator of inclusive behavior. You will need to decide for yourself how comfortable you feel traveling under these circumstances- it remains unclear whether or not harassment is a prominent issue.
Healthcare
If you come from a large, developed country, you will likely find that Kyrgyzstan's healthcare system is not up to par. Though emergency healthcare is available, many non-natives find the system difficult to navigate and a low standard of care- many choose to fly out and transfer care in serious situations.
It's also worth noting that even common and necessary medications such as insulin are in short supply and often "out of stock". If you have medications that you need regularly, we highly recommend bringing a full stock from home since you're not guaranteed to find access here.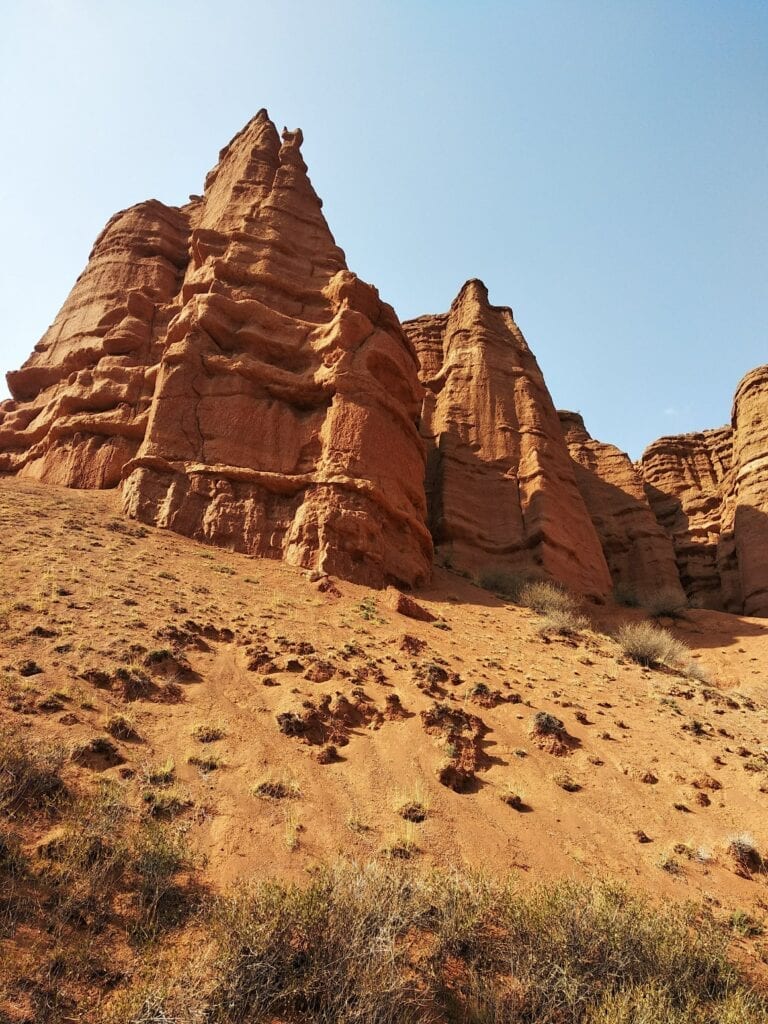 Host Cities/Towns in Kyrgyzstan
Bishkek
Bishkek is the capital city of Kyrgyzstan, and it's also the largest. If you want your stay to be chalked full of amenities, have a truer "city vibe" and have access to designated coworking offices, choose Bishkek. It's a central location, making it a great starting point for weekend trips further afield, and will have the most reliable internet for your job. It's also the better choice for nomads who enjoy a little nightlife and buzzing cafes.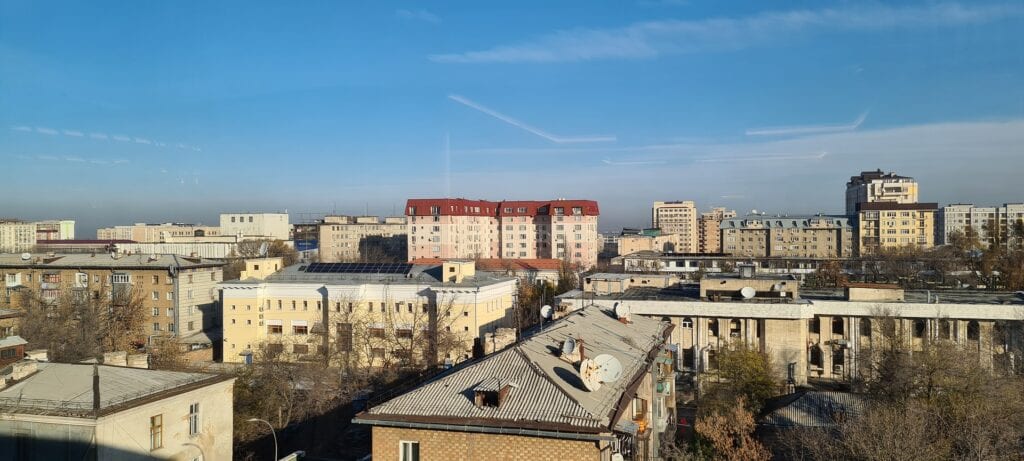 Osh
Another good choice for digital nomads is Osh, which is the second-largest city. It's also been affectionately dubbed "the capital of the south". You'll find a slower pace of living here, as well as a huge selection of historical attractions. You can shop for fruit at weekend markets instead of the grocery store and spend your afternoons lounging around the city's many parks. This city is known for its good food and street art, so if you're looking for a more bohemian feel, choose Osh.
Places to Explore During Your Stay
Issyk-Kul Lake 
Issyk-Kul Lake is the 7th deepest in the world, but it's also so much more than that. Especially along the southern shore, it's a haven for eco-tourists looking for a laid-back adventure. Beyond the pretty blue waters, you'll find the famous Fairy Tale Canyon, traditional eagle hunters, and a series of trails perfect for waterfall-hopping.
Altyn Arashan Hot Springs
These glacial hot springs are the most famous in Kyrgyzstan. In fact, locals and tourists alike come from all over to experience their relaxing and healing properties. If you want a spa-style weekend to rejuvenate, you can book at the local resort- a small collection of cabins and pools that are maintained daily with full-service amenities. For those feeling more adventurous, you can find smaller hot spring pools by the local river and spend the day hiking and splashing around with a buddy or two.
Tash Rabat 
The remains of this cobblestone building are a unique relic from the silk road- a resting place for travelers and merchants and rumored to have been a Buddhist monastery before that. The area is quiet, set against valleys and mountains making it a great place to spend a relaxing weekend. This is a great place to go yurt camping (especially since this is the only real accommodation around), which is a quintessential Kyrgyzstan experience, and herds of horses can often be seen galloping through the camps and valleys. If you want to explore more of the silk road passageway, consider renting a horse from your camp or taking a guided tour.
Coworkings and Cafes 
If you like working in coworking spaces and offices, then Bishkek is a better choice for you. Here you'll find at least five different spaces that host networking events, shared offices, and other services tailored to your needs. However, both Bishkek and Osh have a wide variety of cafes and restaurants that are well suited for working in. You shouldn't have any trouble finding a wifi hotspot with good food, drinks, and a welcoming atmosphere no matter which city you choose.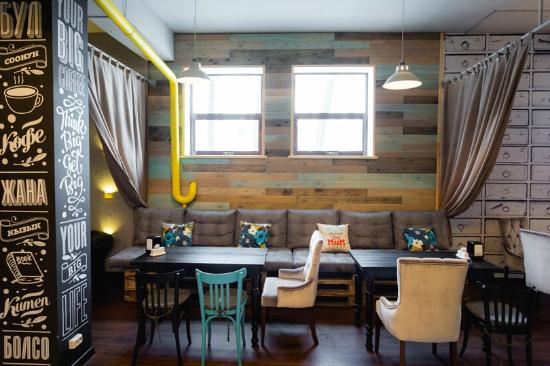 Digital Nomads and the Expat Community 
Generally speaking, there isn't much of a community for digital nomads or ex-pats in Kyrgyzstan. Though this may be a deterrent for some- especially those who enjoy finding common ground with digital nomad buddies- this can also be a refreshing change of pace. If you've grown tired of the oversaturation of nomad communities in your past host countries, Kyrgyzstan is a great place to branch out on your own. You'll find what you need here in terms of amenities and networks to get the job done, without your travels being inherently tied to the digital nomad experience.
You heard it here first! Kyrgyzstan is the next best place to be as a digital nomad. Before hopping on a plane to Thailand or South America, consider choosing Kyrgyzstan ahead of the crowd. It might just surprise you. Its low living costs, friendly culture, and bright culture will fulfill everything on your destination wish list.