At a time when millions of people are turning to remote work and digital nomadism, living in a new city seems more achievable than ever. If you're considering moving to New York as a digital nomad, expat or young professional, there are lots of factors to keep in mind—cost of living, picking a neighborhood you actually want to live in, meeting new people, finding reliable roommates, and more. It can be overwhelming, but concepts like coliving make it much easier to figure out. And if we're talking about coliving in NYC, we need to talk about Cohabs.
What is Cohabs?
Cohabs is a well-established company that offers fully-furnished coliving spaces in communities globally, including several locations in New York.
Located in different neighborhoods throughout Brooklyn and Manhattan, the Cohabs NYC houses are unique from top to bottom. Everything from the furniture to the community in the house is hyper-curated in order to create an authentic New York living experience.
In our interview with Daniel Clark, City Manager at Cohabs, he describes Cohabs as "a living environment where you can come from basically anywhere in the world and plug into an instant community." Moving into a Cohabs house is like taking all the hard stuff out of finding a place to live and focusing on the interesting parts, which ends up relieving relocation-related stress. Cohabs worries about the logistics of getting you moved in so that you can enjoy your time in the city.
People seem to be catching on to the benefits of coliving—Cohabs has been growing at a tremendously fast rate, and they're planning to open houses in places like Boston, Washington DC, and the West Coast within the next two years.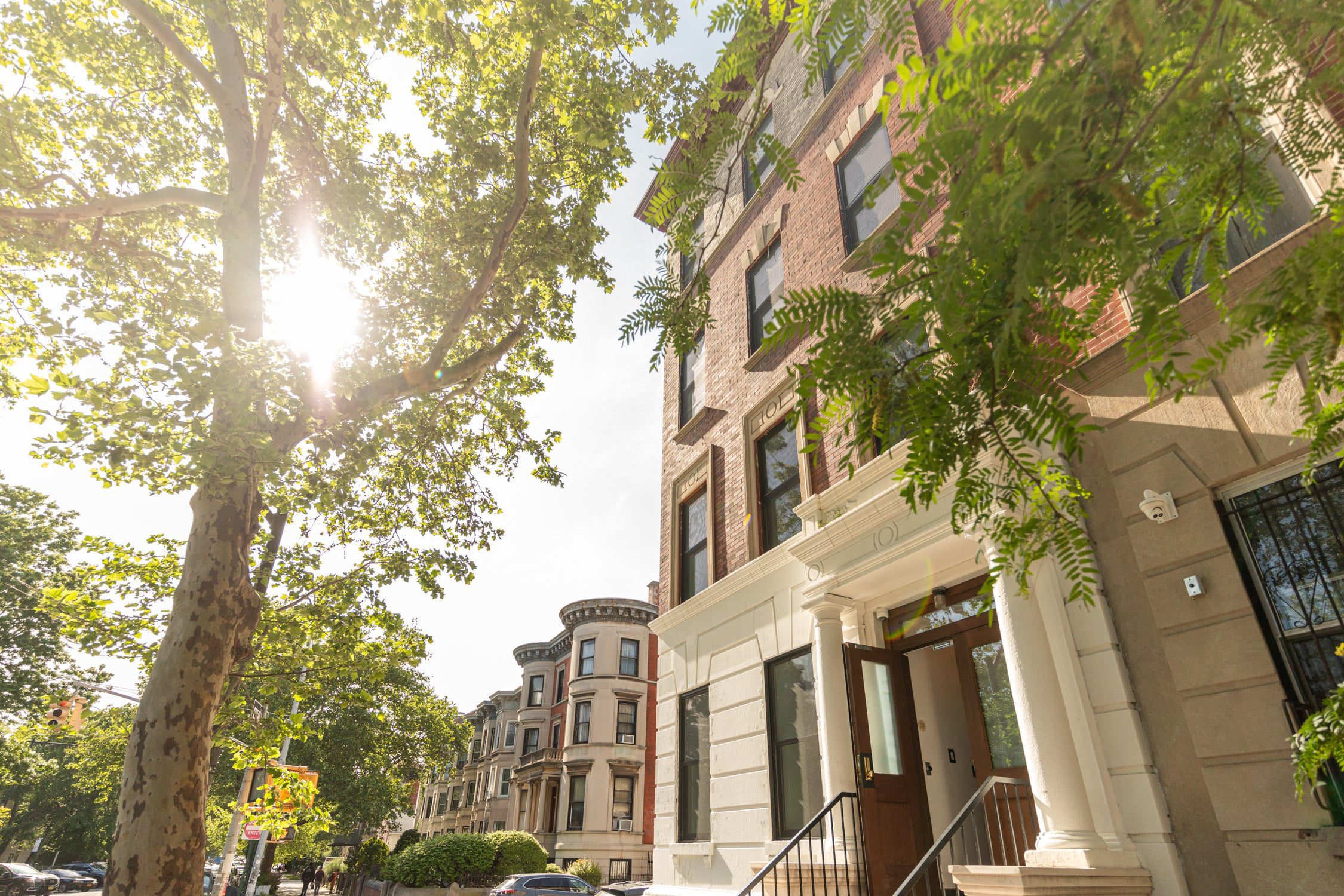 Why Choose Coliving in New York?
Cohabs has houses worldwide, but expanding into the NYC market was impossible to resist. As one of the greatest cities in the world, New York certainly has a reputation to live up to—it's a cultural capital where you couldn't run out of things to do if you tried. There are countless museums to visit, focused on art, history, archaeology, architecture, fashion, even public transit. You can explore institutions like the New York Public Library and Lincoln Center, and if you're looking for entertainment, there are dozens of lavish theaters, live music venues, Broadway shows, and comedy clubs. Some of the best restaurants in the world can be found in NYC, and you can try affordable cuisines from essentially anywhere you want. If you feel like taking a break from city life, you'll find enormous green spaces in every borough—most notably, Manhattan's Central Park and Brooklyn's Prospect Park.
New York City has everything you could ever need, available 24 hours a day. Chinese takeout at 3 a.m.? Just a few clicks away. Did you forget your medicine? You can pick it up anytime at the 24-hour pharmacy. The subway gets you wherever you need to go in the city, and rideshare platforms like Uber and Lyft are widely used. You can even rent Citibikes and traverse NYC's many bike lanes as a convenient way to get around. Whether you're interested in attending an art gallery opening, shopping for vintage clothes, or finding your new favorite dive bar, New York has something you'll love. It's the perfect city for a remote worker, as it sort of bends to your needs.
With so much to do and see, it can often be daunting to navigate New York on your own, especially if you're coming from somewhere far away. Coliving with Cohabs gets you on your feet so you can focus on making the most of your NYC experience. And you'll have plenty of people to do that with—50% of Cohabs members are international, 50% come from other parts of the country, and all of them bring their own individual cultures and personalities to Cohabs houses. It's like having built-in friends…who are also your roommates…and also your coworkers. Coliving introduces you to people you probably wouldn't have met otherwise, all with the same goal as you: to be part of a fun, exciting community that gives you everything you need to live and work in New York.
What Benefits & Amenities Do You Get at Cohabs in NYC?
If you've ever known anyone who's searched for a place to live in New York, you know it can be one of the most stressful experiences of all time. You have to sift through Facebook housing groups, Craigslist ads, roommate apps, and covert whispers of "I know the perfect place for you, but…" before you even get to see an apartment, and once you miraculously get into a viewing, lots of other issues can arise. Sometimes the apartment is way smaller or dirtier or full of mold than it was in the pictures, sometimes there's no stove, and sometimes the room is above a club that doesn't stop bumping loud music until 4 in the morning every weekend.
If you do end up liking a place, being "chosen" by a landlord to live there can sometimes feel like you're participating in a game show. You're up against lots of other candidates, most of whom seem like better options than you, and the process just repeats over and over again until you've seen every apartment in your budget and are contemplating moving off the grid to a farm in Nebraska. Many New York landlords require that your income be 40x the monthly rent, or else you'll have to look for a "guarantor," someone who can co-sign your lease and guarantee that if you can't pay your rent for some reason, they will. Even worse, the guarantor usually has to make 80x your rent and reside in New York State—if you're coming from another country or a different part of the U.S., this can get complicated real fast.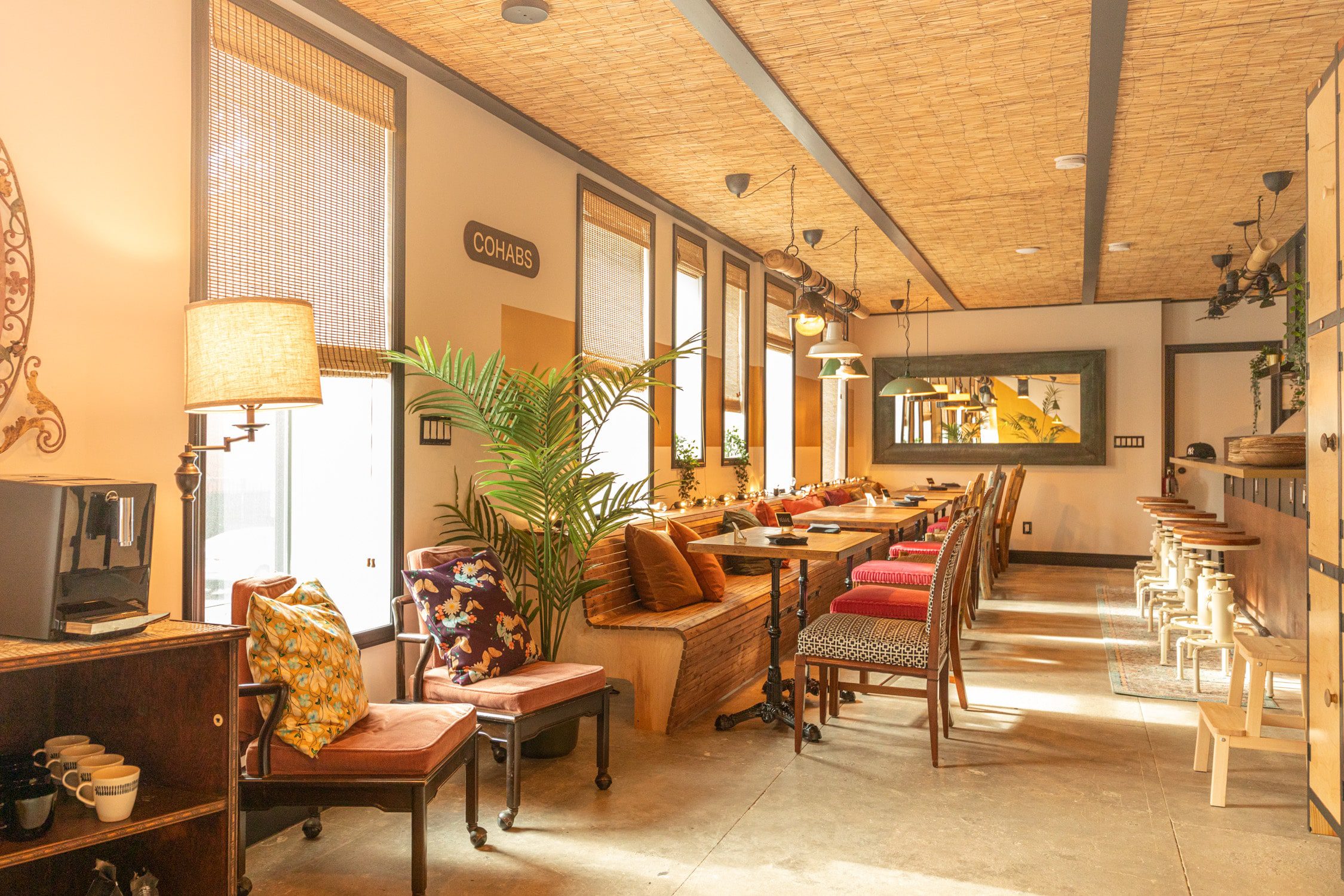 With Cohabs, you don't have to deal with the (possibly terrible) landlords, expensive real estate brokers, guarantors, or the unexpected. Once you apply to live in one of the houses on the Cohabs website, you can schedule a phone call with a Community Manager to make sure you are matched with a house that is the best fit. The application process takes all of 5 minutes, and as soon as all the details are squared away, you can have a room booked within a couple of hours—no bookmarking a thousand listings on StreetEasy required.
Cohabs also gives you the option of a flexible lease, which leases in regular New York apartments typically are not. No matter what your plan for living in NYC is, Cohabs can help you figure out what type of lease works for you—you won't be locked into a strict, year-long contract if you don't want to be, which gives you the freedom to try Cohabs out and see what you think of the shared living experience.
The private rooms at Cohabs New York come equipped with cozy desks and chairs, ideal for individuals who require a home-based work setup. For those who prefer a shared working environment, coworking spaces are available at selected Cohabs locations. For remote workers or interns, it's great to have the option to work in private or with others—you can socialize with your Cohabs community or go to your room and blast white noise, sit in complete silence, or do whatever it is you do while you get your work done. Each room comes with high-speed Wifi and Netflix, so you'll always be plugged in and entertained.
Most importantly, Cohabs provides you with an affordable and stable place to stay in New York City. Money is usually one of the main obstacles to finding a place in New York, with so many overpriced rooms and apartments on the market that landlords know they can fill…which hikes up rent prices for everyone else. These overpriced places can still be small, ugly, and badly located, so you end up paying way out of your budget for a place you don't even really like. Plus, hidden costs are often tacked onto new apartments, only to be discovered when you sign the lease. Cohabs takes care of the issues that come up in their houses, such as plumbing and electricity, so you won't have to worry about dealing with a volatile super who only answers the phone once in a while.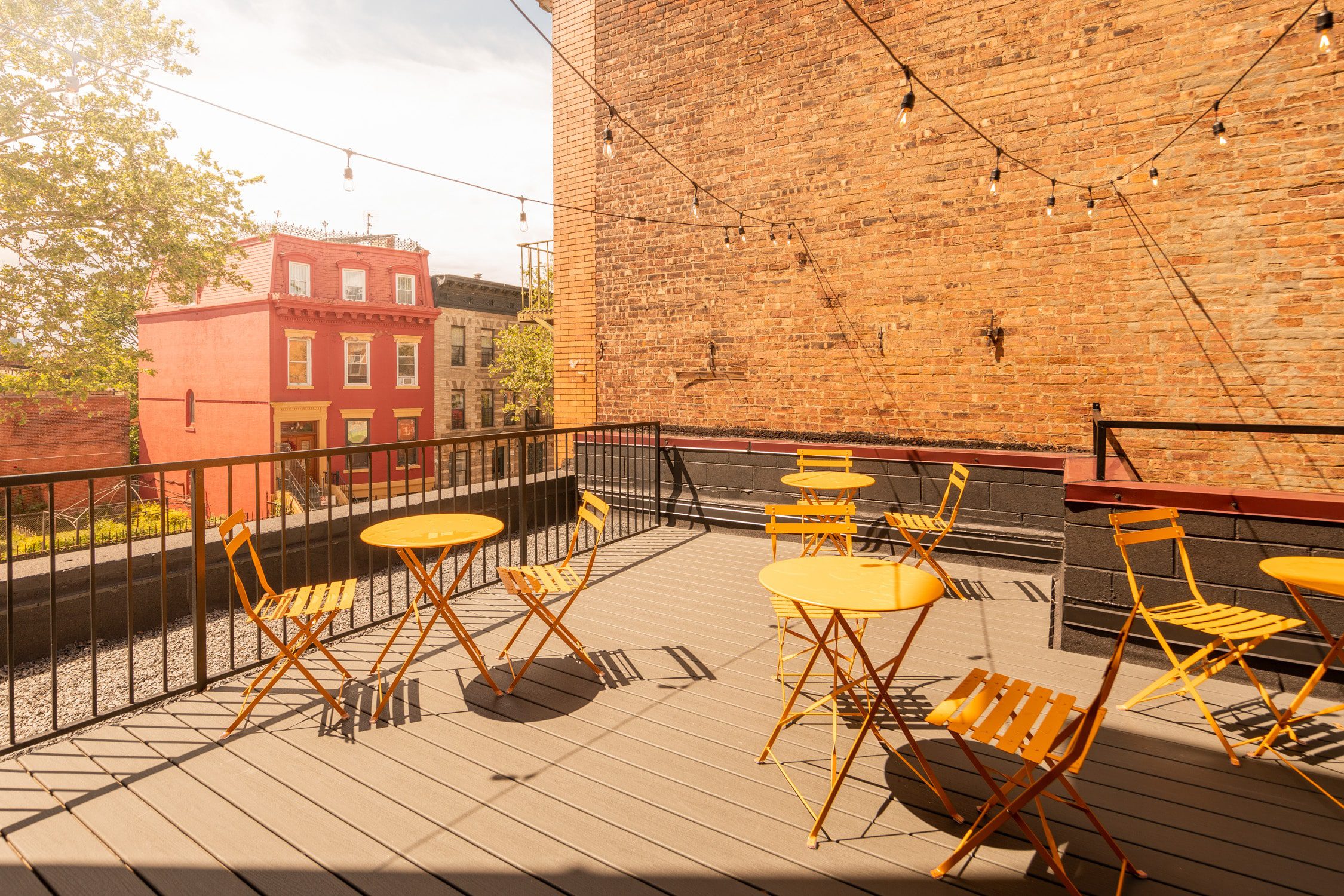 With Cohabs, you get comfortable, safe, and reliable accommodation for the price of a typical New York studio apartment—without the endless extra expenses. Coliving with Cohabs covers all your utilities, weekly cleaning costs, a monthly delivery of house supplies like toilet paper, and monthly breakfasts—they even provide gyms on-site, so you don't have to pay for an external membership or commute to a gym. You won't have to take on expensive burdens like buying furniture for a room or apartment, which can quickly eat away at your savings. Instead, you'll save an average of over $400 a month.
Community at Cohabs NYC
As Daniel Clark says, "It can sometimes be lonely in New York, especially if you're just arriving from another place." New York is a city where it's easy to feel like just one of millions, where so much chaos is going on around you at all times that it's hard to figure out where you fit. It also lacks the type of "hostel culture" that's so prevalent in other parts of the world—affordable, social hubs where meeting people and working remotely are seamless. That's where Cohabs and its "instant community" come in.
https://www.youtube.com/watch?v=A90GaLF53Bo
With tons of community events like after-work drinks, huge holiday dinners, and (coming up in 2023!) live concerts, Cohabs makes sure its inhabitants are part of a collective. You'll have the unique opportunity to live with and learn from people all over the world, without having to manage the various meetup apps and groups that come along with moving to a new city on your own. In fact, if you live in a Cohabs NYC house, you'll get access to an organized platform that tells you about upcoming events, community happenings, and even member move-out days. Since New York's post-Covid population of remote workers is currently at 20%, there are lots of people who are now home for most of their day, so a sense of togetherness is more crucial than ever. Cohabs provides comprehensive group fitness classes to ensure that even if you're working from home, you have chances to get up and stay active.
In New York, it's also very important to feel like an integrated part of the community you live in. Neighborhoods are constantly changing, and it's natural to want to get to know your area and the other people who live in it. To help, Cohabs organizes community service outings and group volunteering at food pantries, so inhabitants can purposefully work on building community. Not only will you be working together with the rest of your house, you'll develop relations with the outside community.
Even the buildings at Cohabs have been specifically chosen to provide inhabitants with an authentic New York experience. With a "hyper-curated" floor plan and layout, the buildings (all owned by Cohabs, therefore not subject to the whims of a random landlord) feel cozy and one-of-a-kind, unlike other, more cookie-cutter New York coliving spaces. That, coupled with Cohabs' customer-centric policies, aims to make inhabitants feel like they're part of something special.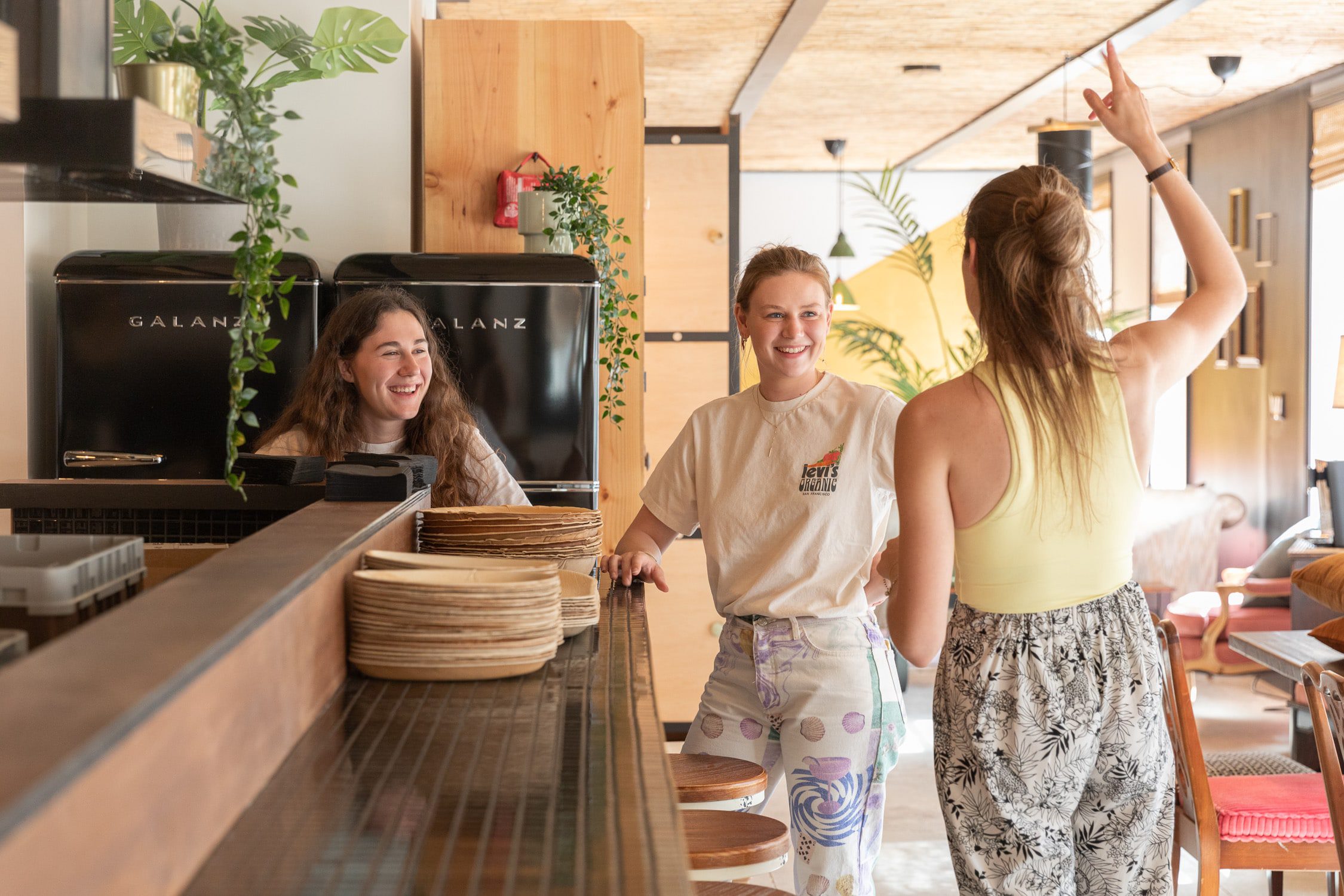 How Do I Get Started?
As previously discussed, Cohabs lets you apply for a room in their New York houses on their website, which is a quick and easy process. Upon approval, you have lots to look forward to—community meals, getting to know all types of new people, and working from home in a relaxing, supportive environment. With the amount of money you'll save (and headaches you'll avoid) by coliving, you'll be able to afford to do more of what you came to NYC to do. You'll also have the once-in-a-lifetime experience of becoming part of a group of people who will be a valuable part of your time here. Whether you're in New York to work remotely, study, or just spend some time in one of the greatest cities in the world, Cohabs will help you adjust and make you feel at home.