Iceland is an island nation of just over 103,000 km2. It is located in the North Atlantic Ocean, between Greenland, Norway, and the United Kingdom. It is a stunning place to explore for any adventurous digital nomad!
The country is geologically very active. Iceland is said to be a Land of Fire and Ice – 11% of the island is covered by glaciers, and has over 20 active volcanoes. Thermal pools, erupting geysers, waterfalls, glaciers, black beaches, and Aurora Borealis have made Iceland a landmark for postcards. Some Photoshop-like postcards, since it's hard to believe such landscapes exist in reality.
What makes Iceland so special is the fact that there are no trees, bushes, fruits, and vegetables – only stones, moss, and yellow grass. The colors of the landscape range from yellow and brown to gray-olive and dirty green. Iceland has a thousand shades that are constantly changing. You can come across horses, sheep, and geese everywhere. There are countless rivers, streams, and waterfalls.
If all of this caught your attention, here's a guide on being a digital nomad in Iceland and making the best of the experience!
Digital Nomad Visa in Iceland
A decade of the rapid growth of tourism in Iceland culminated in 2018 when the island was visited by 2.3 million tourists. The number of foreign guests at the time was seven times higher than the number of inhabitants!
Since the pandemic made tourism stagnant, Iceland has opened its door to digital nomads. The amendments of the new Law allow Americans and citizens of other countries who do not normally need a visa to stay in the country.
The Icelandic visa for digital nomads is one of the shortest in terms of duration – it is only valid for six months. The basic conditions are similar to others: you need to have your own business or work for a company based outside of Iceland and earn a minimum of $7763 per month. Also, you must present proof of health or travel insurance, and the cost of obtaining your visa is about $60.
You can get health and travel insurance easily from providers who cater to digital nomads, like SafetyWing. Their coverage extends all over the world and renews automatically.
How to set your budget?
Is Iceland expensive? Depends where you are from, but most people would say it is. It might not be expensive if you live in San Francisco or London and you are used to a portion of fish with fries costing $30 , but for an average visitor – Iceland is quite expensive.
It should be noted that the exchange rate of the Icelandic krona has changed in 2021 and it is getting cheaper. Many places in Iceland have also lowered their prices because of the coronavirus.
For 17,500 ISK ($165) a day, you can stay in a budget hotel and eat for most of your meals.
It is most profitable to buy in supermarkets such as Bonus, Netto, Kronan, but these stores are not available in all places. For example, bananas are around  $ 2, milk is $1.6, a box of eggs is $3.5, and fresh chicken is $ 16. If you want to save money, ignore 24/7 stores that are primarily for tourists and are more expensive.
A taxi will normally cost you around $120 from the airport. Almost all natural sights are free.
If you like to drink alcohol, you can save money by going to the duty-free shop at the airport first because alcohol is very expensive in Iceland.
Why should you choose Iceland as your next destination?
Gastronomy
Not so long ago, Icelandic cuisine consisted of lamb stew and fish porridge. Today, some of Reykjavik's restaurants are on the list of the best in Europe. The meat is usually smoked, and the delicious dish hangikjöt (smoked lamb) is one of the most popular meals. Among dairy products, a big favorite with visitors is skyr (whey), especially when served with fresh blueberries in late summer. Shark is a specialty in Iceland that you must try.
If you go to restaurants, it's good to know that the bill in almost all places is paid at the bar after you eat. It is mostly paid by cards, so can forget cash if you're moving to Iceland.
Reykjavik
Reykjavik is the capital of Iceland and is known as the safest city in the world. The police in the city literally have nothing to do! 60% of people in Iceland live in the capital and it is still such a small city that you don't really need to spend more than 2 days to explore it. Steam from the hot springs in the area inspired the name of the city, which can be translated as Bay of Smoke. Reykjavik is a place of exciting possibilities surrounded by amazing landscapes, a cosmopolitan and charming city that continues to nurture a traditional, stress-free lifestyle.
Bridge between continents
In Iceland you can visit the place where the Eurasian and American tectonic plates separate. Every year they move 2 cm apart, and the bridge is a symbol of the connection between the old and the new world.
Blue lagoon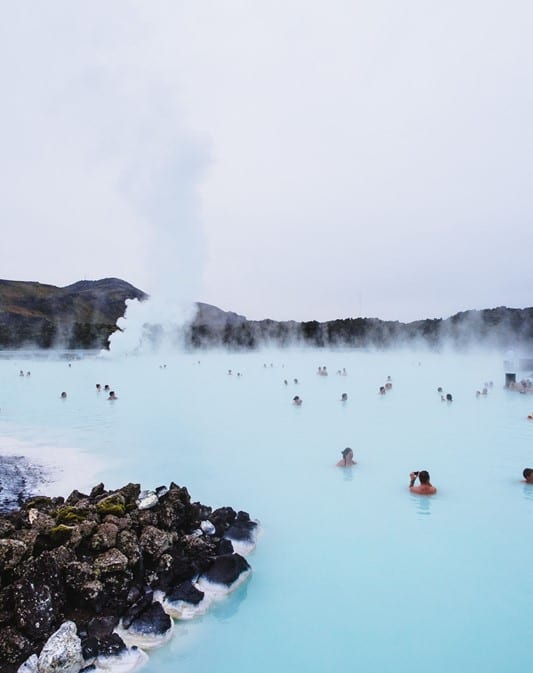 The most famous Icelandic geothermal beach is the Blue Lagoon, which is known for its natural and healing properties, and is located about 40 minutes from Reykjavik. Here you can bathe in geothermal water of unusual blue color and extremely good effect on the skin whose temperature is around 37-38 degrees Celsius. The pools in the Blue Lagoon have 9 million liters of geothermal water coming from the depth of 1981m. Thanks to the coronavirus, there is no crowd in the lagoon, and the prices are much, much lower. For $44 you can bathe, get a towel, a drink and a face mask. The mask you get is made of silica (white mud from the lagoon), and you can pay extra for masks made of algae, lava or minerals.
Aurora Borealis
If you are looking for the best place where you can observe Aurora Borealis, Iceland is the right destination for you. You may even be lucky enough to catch the mystical green light on a cold and peaceful winter evening. You can go on an adventurous Superjeep trip or test your luck waiting for the lights to appear in one of the many geothermal pools in the country. The best time to see the so-called Aurora Borealis is between September and mid-April, which is why tourists often visit Iceland outside of the clear and warmer summer months.
Interesting facts about Iceland
Many Icelanders believe in trolls and elves
There are no snakes or mosquitoes in Iceland, but that is why they have annoying flies!
Beer Day is celebrated on March 1 because from 1915 to 1989, beer was banned in Iceland
There is no McDonalds in Iceland, Reykjavik is the only capital city in Western Europe that does not have this popular fast food restaurant
Iceland does not have an army, and the police do not carry guns – there are very few crimes in the whole country
Iceland has a nomination committee that approves or rejects people's names
The longest word in Icelandic is: vaðlaheiðarvegavinnuverkfærageymsluskúraútidyralyklakippuhringur