Being a digital nomad allows a life full of freedom and flexibility. You can travel from place to place while working remotely using a laptop. However, this of course increases your carbon footprint and with climate change concerns growing ever more real, we all have a duty to lessen our impact on the planet. A great way to become a more eco-friendly digital nomad is to slow down and choose an eco-friendly city to stay in for a while. Less moving around will further reduce the negative impact you have on the environment.
Slowmadism is better for the environment and for your health. Having the peace of mind while travelling can be even more guaranteed with having an emergency fund, a plan B and the right travel and health insurance specifically for nomads, as your lifestyle is not the same as that of a tourist. Check SafetyWing's nomad insurance package.
Read on to discover the best eco-friendly European cities for digital nomads.
Amsterdam
The Netherland's capital is full of green aspirations. By 2030, they aim to have emission free transport, use 50% less raw materials, and reduce CO2 emissions by 55%. With eco-friendly fashion and plant-based eating becoming increasingly popular in addition to bicycles largely being used as a form of transport, Amsterdam is already achieving many green goals.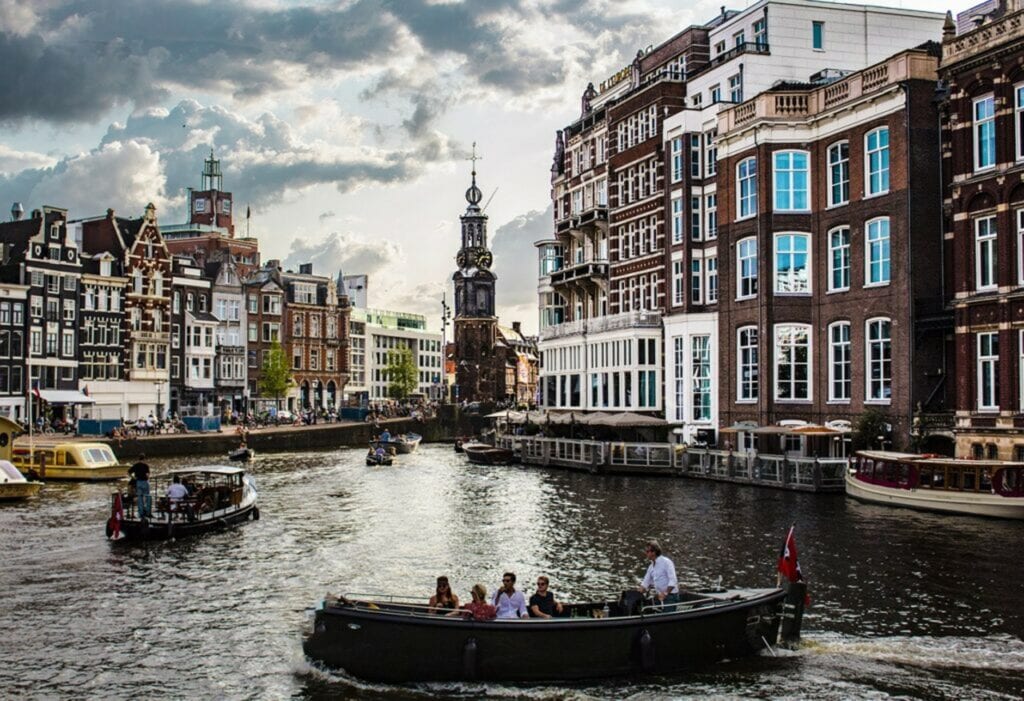 Why is Amsterdam an eco-friendly city?
Sustainable eating
Amsterdam is home to an astonishing 800 restaurants offering meat-free options. To make this even better, most restaurants use only local produce. You will be highly unlikely to find a McDonalds or Burger King in this eco-friendly city. Amsterdam is proud of their own traditional recipes. This means that the local community benefit rather than fast food chains taking all the profit.
Eco-friendly clothing
Amsterdam are leaders of textile recycling and clothes can even be borrowed from a library! Along 'The Ninth', Amsterdam's famous shopping district, you will find mostly 2nd hand vintage shops. The world's first sustainable fashion museum is also found in Amsterdam.
Bike-friendly
Bicycles are the preferred mode of transportation. For those who don't own bikes, there are bike rentals all over the city. With canals providing shortcuts and many of Amsterdam's most popular areas within walking distance of each other, this city is very bike and walk friendly.
Why is Amsterdam suitable for digital nomads?
Endless places to work
In addition to all the restaurants, there are an abundance of digital nomad friendly cafes and bars to choose from of which most often have excellent Wi-Fi. If you would like something more 'work oriented', then check out one of their many co-working spaces.
A safe place
When it comes to safe cities, Amsterdam is usually up at the top. According to the Economist, it is the safest European city and the 6th safest major city in the world. Although that being said, I would be wary of the red-light district area in the evenings.
Easy to get around
In Amsterdam, it is super easy to get from A-B by walking, cycling or by using the sustainably developed and efficient public transport. Between buses, trams and metros, almost the entire city is covered.
Oslo
Norway's capital is another European city with high green aspirations. As part of their new climate strategy, the city is developing ways to cope with future impacts of climate change. They are also aiming to have a 95% reduction in their greenhouse gas emissions by 2030 and plan to have only zero emission transport by 2030.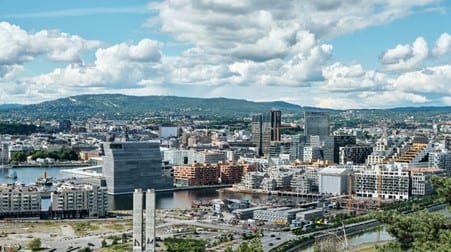 Why is Oslo an eco-friendly city?
Lots of green space
95% of Oslo's citizens have a park or open green space less than 300 metres from where they live. Most green areas are linked by paths making them easy to get to.
Climate budget
A climate budget was implemented in 2017. Authorities are now required to 'count carbon' to find out where emissions need to be reduced. Part of this funding has also gone towards educating young people about climate change and emission reduction at the Climate House.
Energy reduction
Oslo is proud to be home to the highest number of electric vehicles in the world. Additionally, as cyclists are now taking precedence over cars, the Car-free Liveability Programme has been implemented. This involves repurposing parking spaces into areas and facilities that benefit the community, including bike lanes, benches and green lungs. Also put into effect is the world's most advanced intelligent street lighting which can reduce energy used by streetlamps by up to 70%.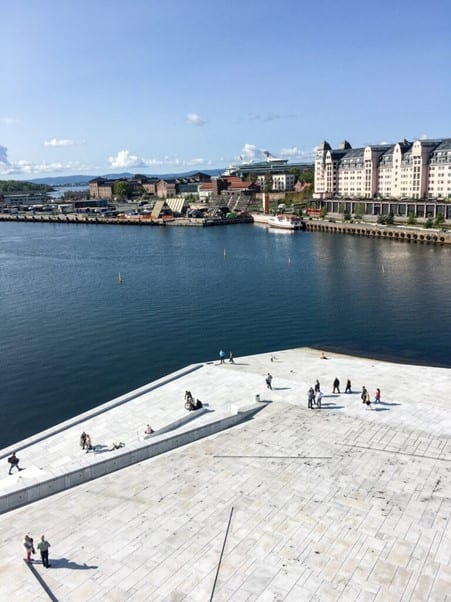 Why is Oslo suitable for digital nomads?
Plenty to do
With more than 50 museums, many of which are free, you will not be lost for things to do in this modern Norwegian capital. You should also check out the royal palace and their famous opera house. Take a trip along the Fjord as well.
Lots of workspaces
With such fantastic Wi-Fi coverage in nearly all public places in Oslo, this offers up most of the city as a place to work remotely from. There are endless digital nomad friendly workspaces from cafes and restaurants to co-working areas throughout the entire city. Better yet, this means there are lots of places to test out local Norwegian food. Also, with many well-connected parks, there are also plenty of outside spaces available for working in during the Summer.
Easy to get around
The city as a whole may not be as easy to walk around in comparison with other European cities such as Amsterdam, but the city centre itself is walk and bike friendly. There are 250 bike stations to easily hire bicycles from. Also, getting to places out with the centre is very easy with all the transport options Oslo has available.
Copenhagen
With organic food available around every corner, more than two-thirds of the city's hotels proudly owning eco certificates, and electric transport all over the city, this bustling Danish capital is no stranger to sustainable living. Copenhill, a green landmark, turns waste into energy to supply tens of thousands of houses and businesses. The hill is also home to a year-round artificial ski and snowboard slope as well as a green space for hikers.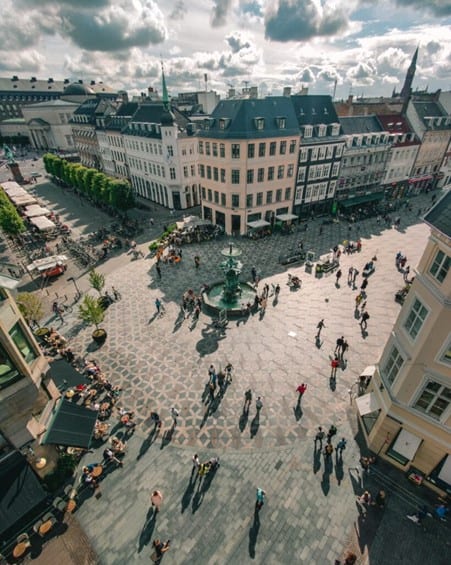 Why is Copenhagen an eco-friendly city?
Sustainable eating
Around 88% of food consumption in Copenhagen is organic. This green European city is home to many sustainable restaurants and there are even eco-friendly food markets. Reffen is a food market that follows the principles of 'reduce and reuse'.
Green spaces
Most residents in Copenhagen are able to reach an open green space within 15 minutes. A future 70-acre nature reserve is planned for the North Harbour area. Much of this area has already had sustainable adaptations put in place such as grass roofs that are able to filter rainwater and also keep buildings insulated.
Green transport
With many citizens pedalling their way to work on a daily basis, this city is overrun with bicycles. Copenhagen has recently started using electric transport as part of their bid to becoming carbon neutral by the year 2025. Two new billions dollar metro lines are also currently being built to reduce reliance on cars.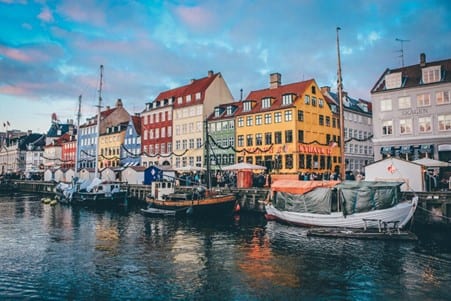 Why is Copenhagen suitable for digital nomads?
City life and beach life
Staying in Copenhagen gives you more than plenty of access to beaches and water baths while also providing the 'city feel'. You can bathe in one of the centrally located harbour baths or head to Amager beach park which has white sand for over 4 kilometres.
Happiest European city
This Scandinavian city is said to be a happy one. Citizens may pay high taxes, but this goes towards improving the cities infrastructure and living standards to make life more comfortable. Also, an important part of Danish culture is 'Hygge' which refers to being cosy and feeling content. Like most of Denmark, in Copenhagen, contentment is found in the littles things in life such as simple family dinners.
Incredible cuisine
In Copenhagen, you will find an abundance of Michelin Star restaurants. If your budget can't stretch that far then head to Reffen hall for the best street food in Denmark. With chefs constantly trying to compete with each other, the food at this market is world class.
Zurich
This Swiss city is often reported to be the most eco-friendly city worldwide. Zurich works to increase awareness of climate change and so both city officials and locals make a conscious effort to live more sustainably. A focus on prioritising outdoor space and on using public transport systems helps to reduce Zurich's emissions.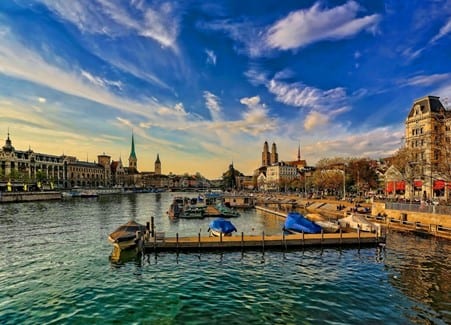 Why is Zurich an eco-friendly European city?
Public transport
As well as being highly sustainable, Zurich's transport system is one of the most well-coordinated and efficient around the world. To fully encourage the use of public transport, parking spaces have even been removed. There is only 1 space per 1,200 square meters. Zurich also makes use of light rail which is regarded as one of the most sustainable forms of transport.
Green energy
Zurich is aiming to have every citizen use no more than 2000 watts of energy per hour by 2050. Also, this eco-friendly European city has set a target to use 100% renewable energy by 2020. With the investments they have put into sustainability, they are currently on target for this.
Nature
Zurich may be the largest city in Switzerland, but it still has plenty of nature. There are several high-rise buildings but to balance this out, there are many green spaces extending out towards Lake Zurich. Also, the city is surrounded by hills and trees and within the city, 25% of the land is covered by forests.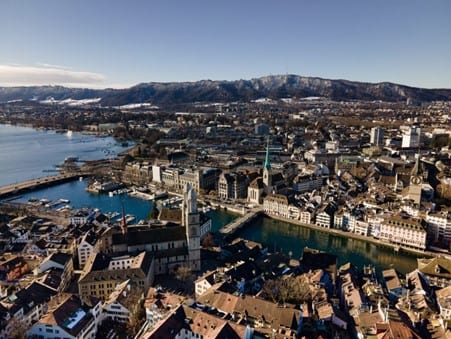 Why is Zurich suitable for digital nomads?
Both modern and historical
Zurich has become gradually more modernised and has now transformed into one of the world's most liveable cities, the old look to the centre is still very much intact though so Zurich provides the perfect balance of modern and ancient in terms of how the city looks. All the amenities that a digital nomad could possibly need are on tap from excellent Wi-Fi city wide to high levels of safety as well as high walkability and efficient transport. However, to escape modern life for a while, you can dive into the history of Zurich.
Lots of outside activities
As well as the luxury shopping and epic food on offer, Zurich plays host to many fun activity's year long. Try out your skiing skills at a nearby resort in the Winter while taking in the view of the Swiss Alpes. During Summer you can enjoy lake Zurich and have fun at the summer parade. Whatever time of year you visit, there is always an opportunity to get out in nature.
Plenty of food choices
The city has many diverse eateries from idyllic pubs to street food festivals and pop-up restaurants in empty factories. Taste test Swiss bites at the annual food Zurich festival! For a more lavish experience, head to a Michelin star restaurant. Zurich is home to the highest number in Europe.
Berlin
Berlin, the capital and largest city of Germany boasts of a rich and vibrant culture. With a hugely intriguing history, this European capital is highly attractive to visitors from around the world. Whether you are a history buff, a foodie or a party animal, Berlin will definitely be able to cater for your needs. Over the years, Berlin has been increasingly adopting more sustainable initiatives which not only benefit the planet but the locals as well.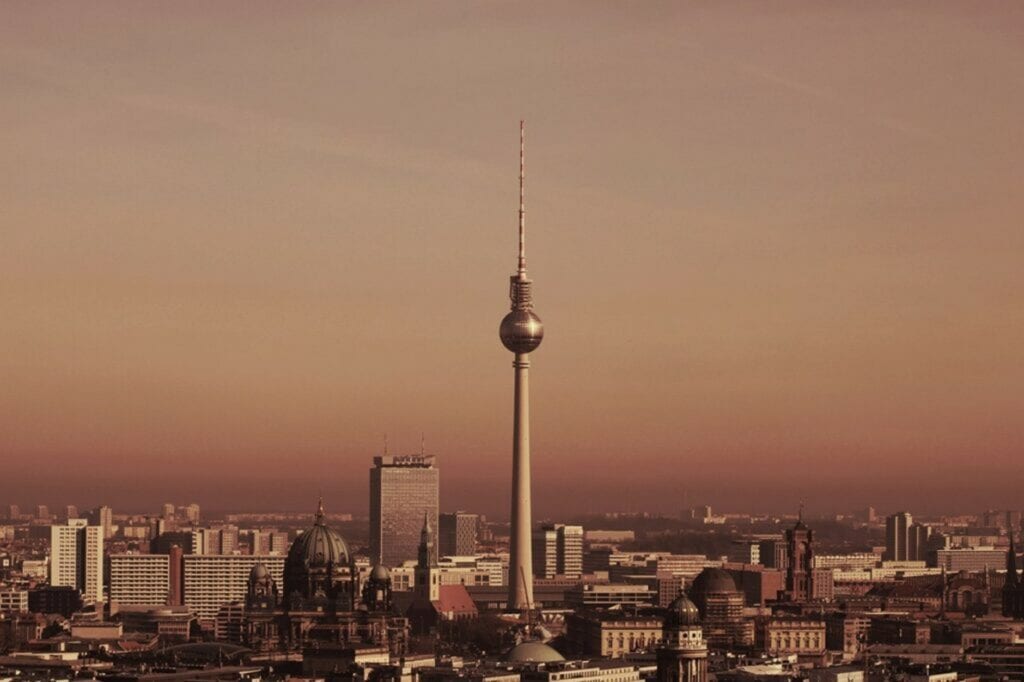 Why is Berlin an eco-friendly city?
Recycling
Over 8500 citizens and more than 400 companies are employed to help with recycling schemes in Berlin. It is no wonder that Germany has one of the highest recycling rates worldwide. The companies employed vary from classic disposal schemes to technology-based companies which transform recycled items into new products. One efficient scheme is taking plastic bottles and glass bottles to the shop and being paid to recycle them.
Eco-tourism
Many eco-friendly tourist activities can be found within this densely populated capital. Head on an eco-tour and revel in a sustainable shopping or food experience. Or go on an eco-tour of the city in an electric rickshaw taxi. This multi-cultural eco-friendly city is constantly full of unconventional and creative ideas. Many green ideas can be found in the Kreuzberg area, tourists are welcome to take part in any of their projects from zero waste schemes to sustainable fashion plans.
Sustainable fashion
Berlin is a very hip, fashion forward city full of young people with fresh innovative ideas for sustainable fashion. As well as clothing being recycled efficiently in Berlin, there are many certified shops showing off various eco-designs for fair prices. As the vibrant, fun social scene of Berlin attracts more and more young people, Berlin's green fashion is fast growing.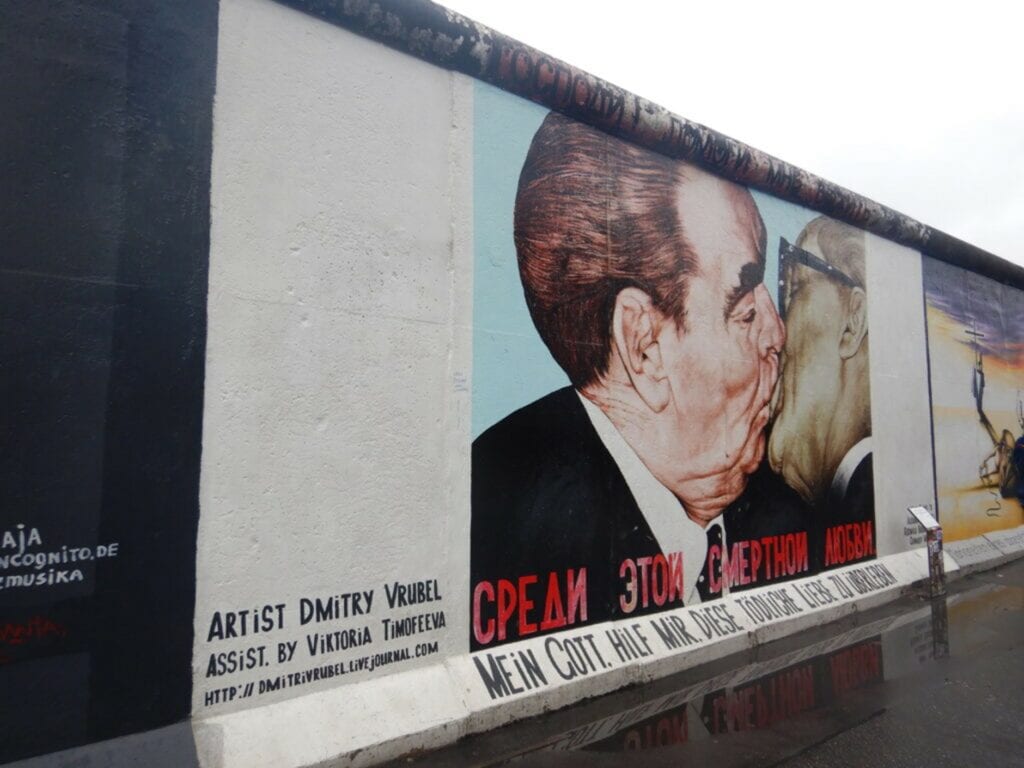 Why is Berlin suitable for digital nomads?
Hugely diverse
What once was a divided city unaccepting of outsiders, has now become a multi-cultural treasure fully accepting of any one from anywhere. In fact, Schoneberg, a neighbourhood in Berlin is the world's first gay district. Anyone will feel accepted in this European city where diversity is very much welcomed and celebrated.
Something for everyone
Berlin has an abundance of things to do. There are many art museums and galleries, definitely check out the East side gallery. For those into food and drink, there is a never-ending eclectic range of places to choose from. You will find yummy bites and beverages from all cultures but in particular German choices such as tasty Kartoffelsalat and Weizenbier. Also, with stories of the past round every corner, Berlin is perfect for the history buff. You can check the amazing architecture throughout the city as well or participate in one of many activities going on. There really is no end of things to do.
Easy to meet people
With so much happening in and around Berlin, you will find that you meet people very easily. Also, a 3rd of citizens in Berlin are not German so there are a whole community of travellers and expats to meet up with. Berlin's many digital nomad friendly workspaces and parks provide further opportunities to meet people.
As a digital nomad, you have the opportunity to choose where to stay. Do the planet a favour and choose an eco-friendly European city.