Even though digital nomadism, or remote-working while travelling around the world, existed since the 80s, 2014 is regarded as the year digital nomadism really exploded.
It was a time where more companies became open to the idea of hiring remote workers; thus, enabling more people to travel while working online or freelancing.
In 2014, companies like Hacker Paradise started organizing trips for nomads, Remote Year launched and promoted the lifestyle of working remotely while travelling. Terms like co-working spaces and co-living arrangements became familiar to more and more people.
In the same year, there was another important event in the world of digital nomadism; the launch of Nomad List.
Nomad List is a platform where remote workers around the world can find all the data they need to choose their next destination. It's also a place where nomads or nomad wannabes can discuss, review and chat about all different data for all nomad destinations and experiences around the world.
The data is collected and updated regularly, which means you will have the latest information available about a certain destination.
The mission that Nomad List was built on, is to support the remote work movement and its acceleration. It started as a platform dedicated for digital nomads, and expanded to cater to all remote workers anywhere around the world.
The Data
You can find all kinds of data that relates to digital nomadism experience. This data, was available before, however, it was dispersed over multiple sources between websites and blogs. It was more subjective and usually depended on the opinion of 1 author.
Nomad List filled this gap. It started out as a spreadsheet with 25 cities that was crowdsourced. As a result, the data was inconsistent; that's when the platform switched to public data from international organizations.
The system gathers millions of data per second, filters out the outliers and thus, presents results that are closest to accurate.
The list has all the cities in the world with a population over 500,000, and almost all (99%) of the cities with more 250,000 inhabitants. Cities are ranked on multiple factors like internet speed, safety, weather, cost of living, racial tolerance, air quality, nightlife, LGBTQ+ friendliness, walkability and traffic among others.
The Ranking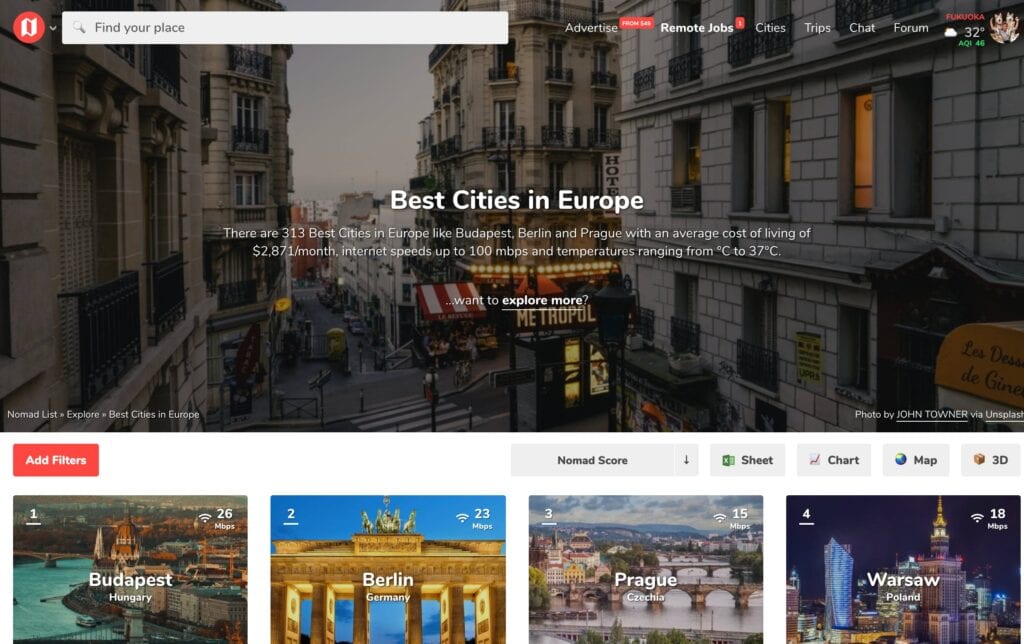 Cities receive a "nomad score" based on the score they receive in all the evaluated factors. A higher weight is given to cost, climate, internet speed and safety. If a city has high racial tolerance, accepts LGBTQ+, has low pollution levels and fun nightlife, it's also likely to receive a high nomad score.
The current city with the highest overall score is Lisbon, Portugal and the lowest is N'Djamena, Chad.
These scores are updated every 10 minutes.
The Users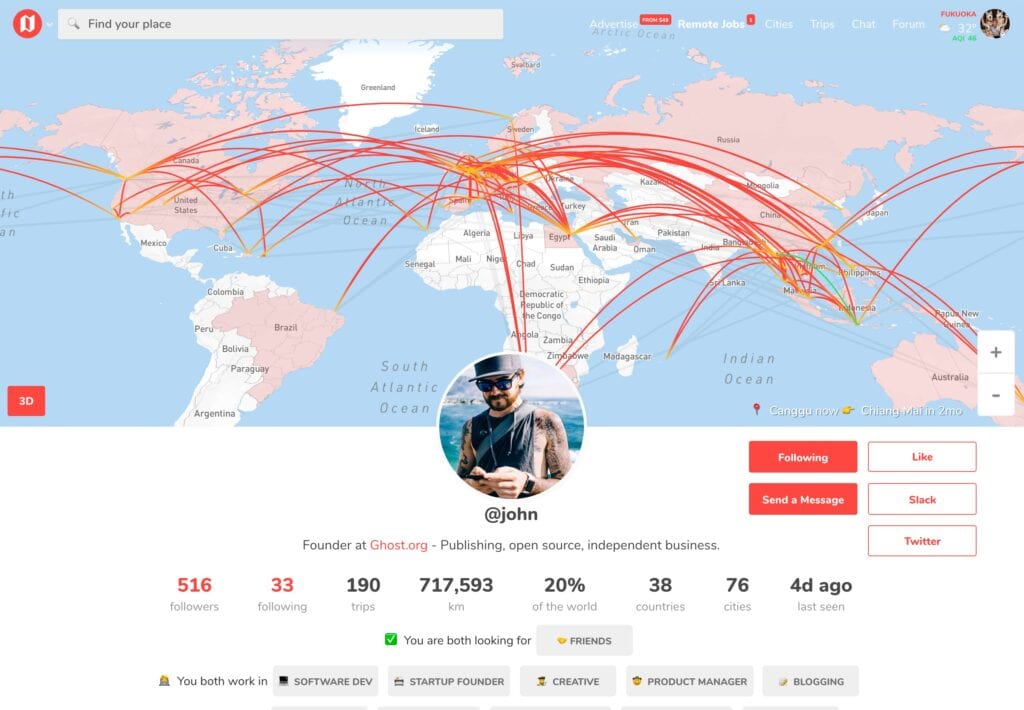 Since launch, the site has had more than 95 million visits and has more than 10,000 members.
Most of the data is available for free users. You can browse different cities, see the rankings and almost all the data about different destinations for free.
Subscribers get access to a slack community wherever they go, a forum and a chat. They can also log their trips and arrange meetups with people in the same destination.
The site makes money from subscriptions and advertisements and has become a multi-million-dollar business in the recent years. Nomad List are open about their policy for subscriptions and explain in detail why it is necessary to support the development and the data of the platform to continue offering the best service to their users.
Is it worth it?
Well, It's really up to you and your preferences. But we can help you with what to consider.
If you need to check the data on a certain destination, compare destinations based on the factors evaluated or to be prepared for what's to come, then the free version could be just fine for you.
Being a paid member has its merits. The access you will have to the slack community and the forum, means you will not have the nomad experience on your own. You can connect with nomads in the destination you want, ask all the questions you have and make friends or even make business connections.
There are many groups on Facebook that serve the same purpose, however the benefit of Nomad List is that you have everything in one place.
Predictions for the (near) future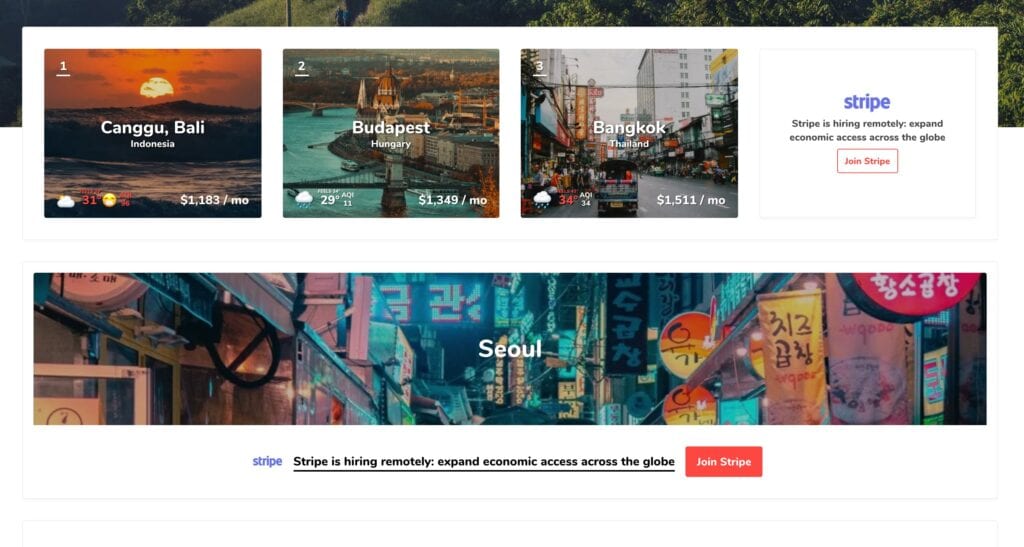 There is a prevalent prediction that by 2035 around one billion people will be working remotely whether for the whole year or just for a part of it. By that date, digital nomadism is expected to become a mainstream mode of work in Western Europe, USA and Canada.
Until now, most remote workers and digital nomads are from developed economies, however, it is expected that in the near future, developing countries in Asia and Africa will start becoming part of the movement.
The fact that the COVID-19 pandemic pushed millions of people around the world into remote working, gives hope that people working from home will understand and adapt to remote work and soon, they will be adopting it as a lifestyle.
As for predictions for the next "hotspot" for digital nomads, Nomad List says it is difficult to anticipate. But, looking at their trends page, we can predict that Indonesia and Mexico will continue to rule in 2021.
What is your favorite platform for information on nomad destinations?