According to the recent study carried out by Forbes, Budapest –the capital of Hungary was recognized as one of the most attractive places in Europe for digital nomads, taking the third place after Madrid and Istanbul.
Located in the heart of central Europe, with stunning architecture, fabulous café culture and affordable cost of living, it's no wonder the city is so appealing to digital nomads.
So if you are one of those expats willing to experience the life in this fabulous city with the rich history and a contemporary artistic style, read on! Below is all you need to know about the cost of living in Budapest, tips on finding accommodation as well as the best coworking spaces and leisure activities.
Make sure you have travel and medical insurance in place for your trip, you can choose a provider that covers digital nomads like SafetyWing.
Cost of living and infrastructure
Since the currency in Hungary remains the Forint, the price levels of goods and services in Budapest are relatively low compared to other European cities – as an expat, you will need around 1300 Euros to live in the city.
Even though the rent rate cannot be called the cheapest in Europe, the good news is that just like in many other cities the rent prices in Budapest have gone down with the beginning of the pandemic. The rates for a one-bedroom apartment outside the city center start at 121,000 Ft (340 Euros) per month. If you prefer to settle in the central area, however, be ready to pay around 160,000 Ft (440 Euros).
Prices in the Budapest supermarkets are approximately the same as in other European cities. But if you go for the local food from the markets, you will pay considerably less.
If you prefer eating out, Budapest has thousands of various restaurants, cafes, bistros and bars to choose from. A meal in an inexpensive restaurant will cost as little as 2,500.00 Ft (7 Euros), whereas a three-course meal for 2 people in a mid-range restaurant will be around 12,000.00 Ft (33 Euros).
The transport system of Budapest includes buses, trains, trams and metro, which are fairly priced and well-organized. A monthly pass for all means of transport costs 9,500 Ft (26.4 Euros).
Another popular way to get around the city is by bike. We recommend such rent services as MOL Bubi or Donkey Bike, which are easy to find and use with the special app. After the ride you can return the bike to an available drop-off location.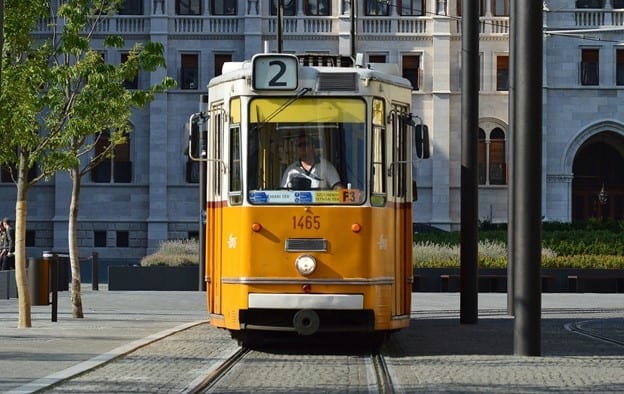 Finding an apartment
If you are staying in Budapest for longer than a month, it is pretty reasonable to think about the long-term rent. The most popular websites for finding apartments online are alberlet.hu (with an English version available) and ingatlan.com.
Another option is to search for accommodation through Facebook groups. There are for instance such groups as Budapest, Hungary Apartment Rentals or Budapest flats and apartments for rent. Join them and check the available offers daily!
Whichever option you may want to choose, don't be afraid to contact real estate agents while searching for the place to stay. They know the city better and will help you find a suitable apartment. Besides, you won't have to worry about the commission for their service – in Hungary it is usually paid by apartment owners. The rental contract is generally signed for a year and a two months deposit is required.
Which district to choose
The choice of district obviously depends on your lifestyle and preferences. Budapest is divided into 23 districts and has 2 parts – Western (Buda) and Eastern (Pest), separated by the river Danube. Both Western and Eastern sides have their advantages and are popular among digital nomads.
Buda is the oldest part of the city and this is where all the famous landmarks are located. That being said, it is also known as a quiet and residential area with lots of parks and green areas. Pest is more lively and energetic and would probably be more appealing to you if you are a single digital nomad who enjoys the bustling culture and vibrant nightlife.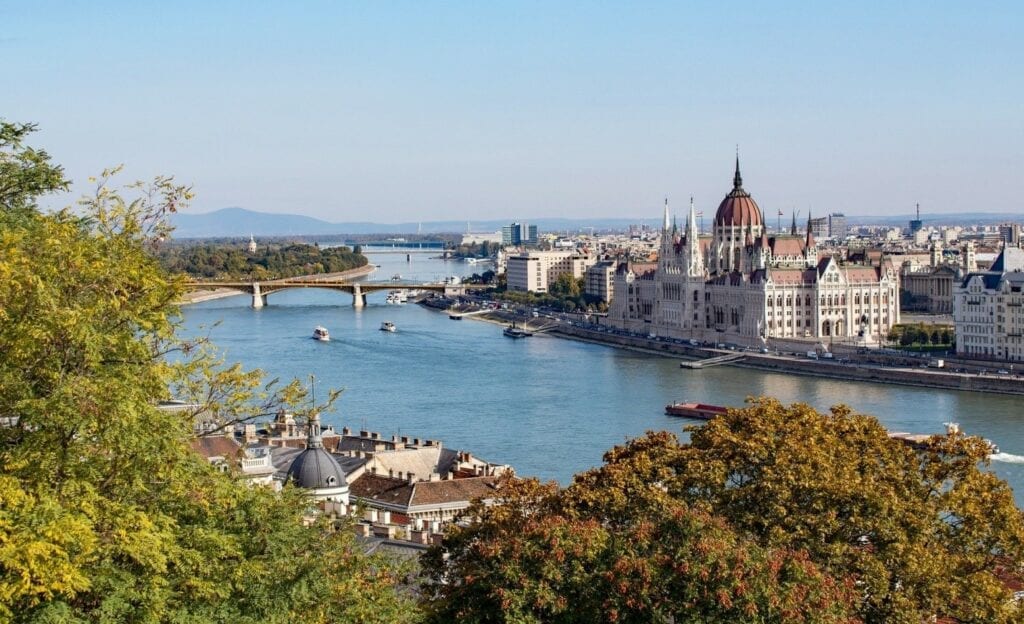 Coworking Spaces
One of the reasons why Budapest is well-liked by digital nomads is that it has fast Internet and great opportunities to work, whether it is done from a café, where you can relax with a cup of espresso and get your work done or from a proper office environment where you can get to know other fellow nomads. Luckily, there is a plenty of both cafes with Wi Fi and coworking spaces around the city, so there should be no problem finding a place that would suit your business needs and working style.
The most popular and highly reviewed coworking spaces in Budapest are Káptar, Impact Hub Budapest, Urban Lobby, Kubik, Mosaik, Muse and Csalogány47. Prices vary from 60 Euros to 150 Euros a month.
What to do in Budapest
Budapest is known not only for being a top hotspot for digital nomads, but also a popular tourist destination. So if it is your first time in Budapest, you should definitely explore the city as a tourist first!
Budapest has a lot to offer: from museums and impressive architecture to numerous thermal spas. The must-visit tourist attractions of Budapest are Budapest's Royal Palace, the Hungarian State Opera House, Parliament Building, and the neoclassical Hungarian National Museum.
Definitely take a cruise down the Danube River, preferably at sunset. A night cruise lasts from 1-2 hours and prices start from only 8 Euros.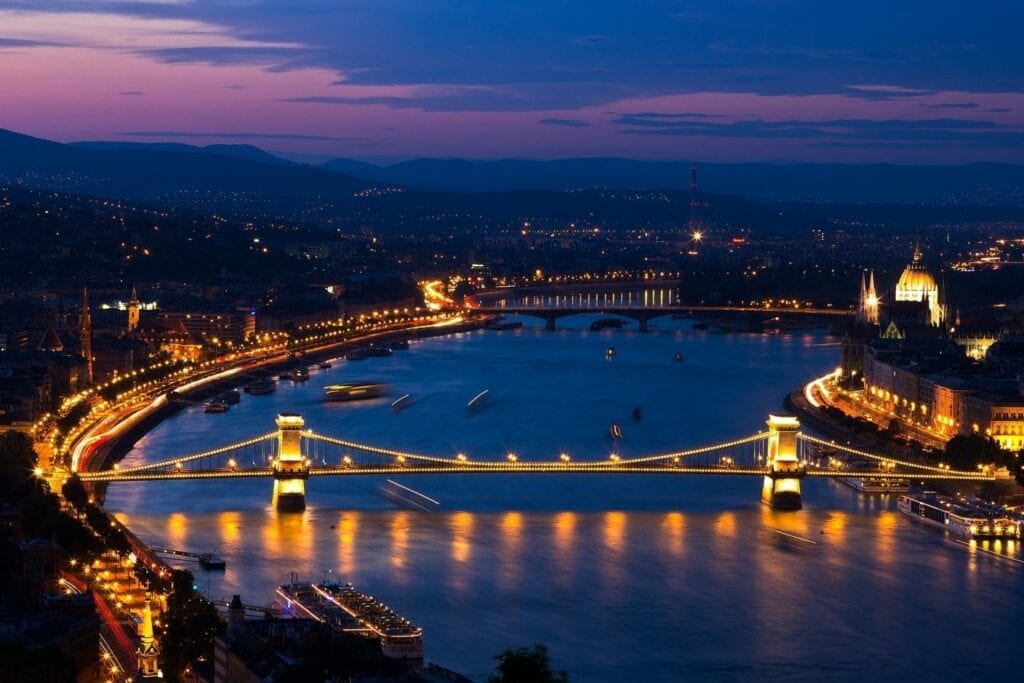 Apart from the sightseeing there are many outdoor activities that you can do in Budapest. For example, if you want get away from crowded places, you can take a walk in the City Park, the largest green area in central town, or go hiking around the Buda hills with amazingly beautiful views of the city.
Also have a walk on the Margaret Island where you can not only see the medieval ruins, but also have a drink in one of the terraces or enjoy a picnic there.
And of course make sure you don't forget to visit one or several of the Budapest's thermal baths, where you can experience the fun of bathing in outdoor pools or relax while getting massages and other spa treatments. The most famous of them are Szechenyi Baths and Gellert Baths, Lukács Thermal Bath and Veli Bej.
At night we would recommend going to one of the world famous mythical ruin bars in the Jewish Neighbourhood. Nowadays, these bars are not just a place to have a drink, they can offer much more than that – starting from local markets and games to free concerts and other interesting events.
What do you think about the Hungary's capital? Do you agree that it is one of the best places for digital nomads? Let us know in the comments below!