How to Become a Digital Nomad
An Ebook for every digital nomad who aims for success and wants to improve their productivity and well-being.
By Digital Nomads Andy Stofferis (Belgium) & Sam Roberts (UK).
125 pages.
Ebook Content
Imagine living the lifestyle you want while making money and working anywhere in the world. Imagine enjoying the beaches in Bali and then experiencing the beauty of Cape Town, South Africa.
It sounds like living the dream — travel anywhere you want, make money doing something you love, all while living your life to the fullest.  It's not a dream, though — a growing number of digital nomads are ditching the traditional 9-to-5 life, choosing to take control of their lives.
So what exactly is a digital nomad?
Digital nomads are everyday people who are location-independent and who use technology to perform their job, living a nomadic lifestyle. They work remotely, telecommuting as opposed to being physically present at a company's headquarters or office, and have the freedom and flexibility to work anywhere in the world.
How to become a digital nomad provides practical in-depth advice on how to go about it. From how digital nomads make their money and the best locations for digital nomads to booking flights and accommodation and so much more.
Chapter 1 – How to get started
The first chapter looks at how to get started as a digital nomad and includes in-depth knowledge on how you can prepare to begin living a life of freedom.
Chapter 2 – Planning and Preparing for the digital nomad
This chapter covers a host of things that you'll need to be aware of and prepare for as you take the plunge into a nomadic lifestyle.
Chapter 3 – The best destinations for digital nomads
Now that you've done the groundwork, the next and most exciting decision to make is where in the world you're going to travel to.
This chapter covers the best and most popular digital nomad locales and includes everything you'll need to know about each location.
Chapter 4 – Looking after yourself
In chapter 4, read how you can maintain the perfect work-life balance and why self-care is an incredibly important aspect of the DN lifestyle.
Chapter 5 – How to network and find new clients as a digital nomad
If you're a freelancer or business owner, you'll need to know how to network effectively and how to obtain new clients while you traverse the globe. This chapter describes how you can effectively and successfully accomplish this task.
Chapter 6 – Create your own DN routine and keep it up
Just as you would stick to a routine working a traditional 9-5, the same rule applies when you're a DN, The only difference is that you're managing your own schedule and time and will need to create a solid routine to help you stay on track
Chapter 7 – Slow Travel vs Fast Travel
What duration should you choose? Chapter 7 takes a look at the differences between the two and will help you select the duration suited to your needs.
Chapter 8 – The best places to work from
A great perk of the DM lifestyle is having the ability to set up shop anywhere, any place, and at any time. From designated co-working spaces to coffee bars, this chapter looks at the pros and drawbacks of the various locations and also gives you a heads up on what to look out for when selecting the perfect spot.
Chapter 9 - Enhance communication
Traveling non-stop and finding yourself in different time zones is a common challenge facing DNs. This chapter looks at ways and means that will help you stay ahead with tools, tips, and tricks to help you communicate effectively no matter where you are.
Chapter 10 – Building your Brand
Building your online brand is absolutely essential if you're a digital nomad and takes time, hard work, and patience. Read how to apply methods and strategies (for all if you're starting a business) that will set your brand apart from the rest
Chapter 11 – Budgeting your digital nomad life
The cost of living and expenses varies from country to country so having a detailed budget is an essential part of living as a digital nomad. Learn how to create a budget that will get you through to your next journey with some spare change to help you enjoy the sights and sounds of your location.
Chapter 12 – Setting goals and track it
Setting goals is easy. Tracking them and ticking them off your list is a whole new playing field. Chapter 12 contains everything you need to know to effectively set and track goals to help you stay focused especially on those "bad" days that make you want to throw in the towel.
Chapter 13 – Taxes and legal stuff
The final chapter talks you through all the legal and tax stuff you'll encounter as a digital nomad. Ever heard the saying the only certainties in life are death and taxes, well as a digital nomad, you're not exempt from paying taxes but thankfully we'll reveal smarter and more efficient ways to help you sort out your finances and help eliminate those other pesky visa and business issues.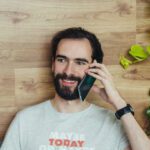 Andy Stofferis
As a digital nomad, Andy has been traveling and working remotely from 40+ destinations (Kazakhstan, Chile, Budapest, Thailand, London) over the past 6 years. 
He's running a full remote digital marketing agency and helped more than 60 happy customers including EDF, Accor Hotels, Carrefour, European Commission. 
He recently launched Xpoint, a company focused on remote work productivity and well-being for companies and freelancers.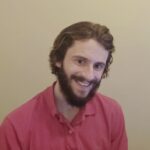 Sam Roberts
Sam is a freelance digital marketer from London.
He has traveled to 40 countries and worked remotely as a digital nomad.
He believes remote working is the future of the global economy and a very important part of how the world operates.
Or simply send a message at andy@sendabee.com